has been added to your cart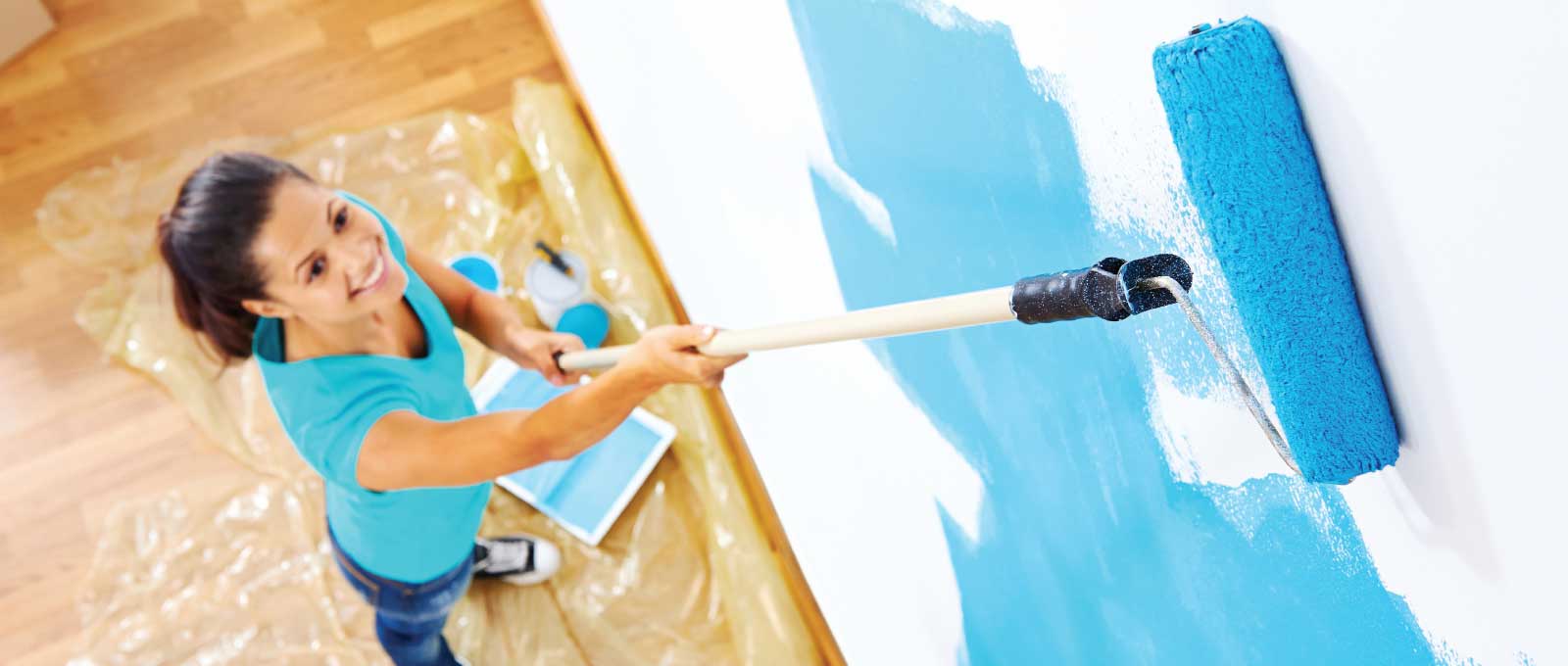 Do Your Interiors Need a Lick of Paint?
Posted on: August 10, 2015
Painting a room is a great DIY project, but it can call for a little advice. Here are the five steps you need to go through to achieve a great result.
The winter months might not seem like the best time of year for a painting project. Taking on the exterior is a big no-no in the wetter seasons, which can leave you feeling a little claustrophobic in your decorating options.
Never fear though, because inside spaces are still a blank canvas where you can exercise your creativity without stepping in a single puddle. Whether you just want to breathe some fresh life into a kid's bedroom or give your whole interior a new look, a fresh coat of paint could be the ideal solution.
If you are ready to get out the old clothes, paint brushes and let your creativity run wild, here are some of the steps you'll need to go through to create a masterpiece on plasterboard.
1) Decide on the scope of your project
Just about every house in Australia has a half-finished DIY project lurking somewhere that is crying out to be completed. Painting your walls is easy to forget about, especially if you've bitten off more than you can chew.
For a weekend project, make sure you aren't committing to too much work and can complete the project quickly. A big job like painting your whole house's interior should be taken on one room at a time, rather than trying to blitz the whole thing in a few days.
It also pays to be specific about how big the project is. Boil it down to the square metres that you are looking to paint and think about any trims, skirting boards and door frames that might take longer to cover. This can also help when it comes to buying the exact quantity of paint to match an interior space.
Remember too that rough or textured surfaces will require around 20 per cent more paint than a smooth surface, something you'll need to bear in mind to prevent underordering your chosen colour.
2) Choosing your indoor paint
This is probably the most fun stage for any budding DIYer, but is also the one that can stall an ambitious plan if you can't find the right hue for your home.
White is a perennial favourite in Australia, especially if you are looking to brighten up your interior while the weather remains grey outside. Otherwise, you might want to get a bit more creative, introducing a bold orange or red to your rooms to really give them some personality.
It's also worth thinking about what you use a room for. Kid's bedrooms can definitely stand up to bold primary colours, while a spare bedroom should be relaxing and tranquil. Your colours will need to match other decorating choices like your furniture, flooring and curtains or blinds.
3) Get your equipment in order
Once you have a tin of paint in one hand, you'll then need a paintbrush for the other. Even a small room will require a number of different brushes to help you finish the job, from narrow ones to cover delicate work around windows and door frames through to a roller kit for covering expanses of wall.
As well as brushes, you need to think about any other equipment you might call upon, like ladders, scrapers and masking tape. All of these are required to effectively prepare a wall before it can be transformed to a new colour.
4) Prepare the wall
Now that you have all the equipment and paint you need, it's time to get stuck in.
The first step involves preparing the surface you are looking to cover with a new colour by thoroughly cleaning the surface. If there are holes, hair-line cracks or any other pieces of minor damage that might affect your paint, make sure to seal these using a specialised filler product.
Remember that filler will shrink as it dries so you might need to apply a second layer once the first has hardened to create a flush surface.
For a sharp finish, you should also use painter's tape around areas that aren't being painted or are being painted separately, such as skirting boards. Not only does this give you a much cleaner finish, it can take a lot of the stress out of the painting process.
5) Start painting
Once the wall is as flat and clean as possible, it's time to get out the brushes, put on your overalls and start transforming the room.
The first layer should always be a base coat. This combines paint with filler agents, helping to smooth out any tiny cracks and imperfections that you weren't able to fix the first time round. Then, apply a layer of paint, wait for it to dry and follow it up with a second. Once you have completed that second layer, see what the room looks like and, if it needs a third coat, don't be afraid to repeat the process.
If you have used tape to give a clean finish, make sure to run a knife along the painted edge before you try to remove it. That will prevent the dried paint from ripping when you try to pull it away from the wall.
By following these five steps, it won't be long before you are enjoying a fresh new room with an eye-catching design that looks great and gives your house a whole new vibe. Make sure to check out the range of painitng products and supplies avaliable at Stratco.