has been added to your cart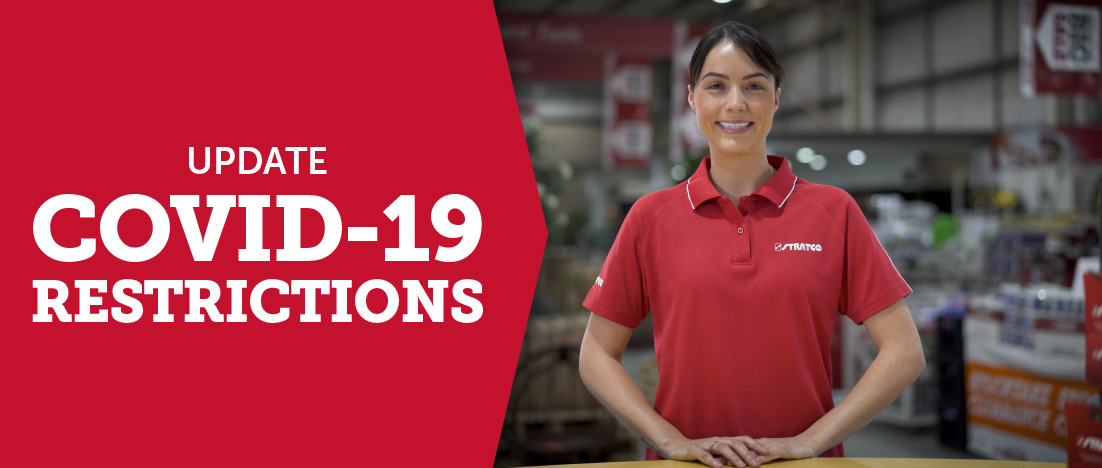 COVID-19 (Coronavirus) Victoria Update:
Standard Opening Hours Resume Saturday October 30
Standard Opening Hours Resume Saturday October 30
We look forward to welcoming you in store with standard opening hours Saturday October 30! In the meantime, all Stratco Victoria stores remain open Monday to Friday for trade customers and collection of orders. See trading hours for the latest opening hours and pick up times. You can also visit stratco.com.au or call us on 1300 165 165 to place orders.
Entry Requirements
Please follow guidelines provided by the Victorian Government including face masks, QR code sign in and social distancing.
Additional Hygiene Measures
First and foremost the health and wellbeing of our people is paramount and accordingly, we have adopted the guidelines provided by the Victorian Government, Federal Government, and the Department of Health. We have also implemented additional cleaning and sanitisation measures that we believe are necessary for our stores and facilities to mitigate the risk posed by Coronavirus. Each store has responded accordingly, please respect the measures put in place by Stratco Management.
Shop online at stratco.com.au or phone 1300 165 165
You can still shop online at stratco.com.au or over the phone on 1300 165 165 (Mon-Fri). You can either Click & Collect from your local store during opening hours, or have your purchase delivered to your door. We will continue to offer non-contact options for those who require this service.
Phone Orders and Customer Service 1300 165 165 Monday - Saturday
Our friendly customer service team are ready to take your order over the phone Monday to Saturday. They can also assist with the HowTo knowledge and advice for your outdoor living projects.
Trade Customers
Trade customers can choose to either visit us in store or place orders over the phone on 1300 165 165 Monday to Friday. We can prepare your order for delivery or non-contact collection during store opening hours if required.
No Disruption To Manufacturing
Our manufacturing and warehouse facilities remain open Monday to Friday as we continue to produce and store our suite of products. This includes manufactured to order jobs for trade and general customers.
More Information
Our position is to continue to monitor the situation daily and act in a balanced but decisive manner and always in the best interest of our people and customers. We will continue to communicate updates to you as and when appropriate.
We thank you for your ongoing support and custom, it is greatly appreciated. Please contact our friendly customer service team on 1300 165 165 Monday to Saturday if you would like any further information.
Regards
Drew Heidenreich
Stratco Victoria State Manager