has been added to your cart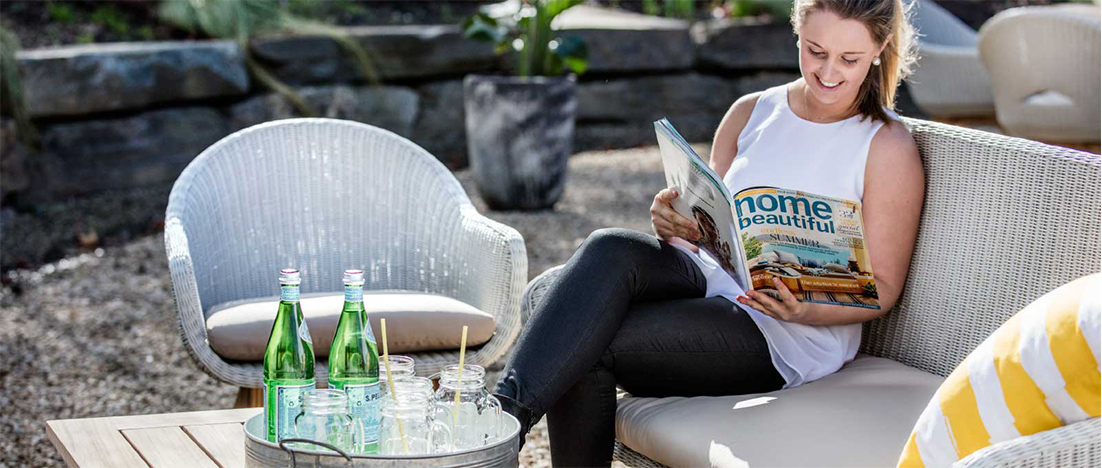 5 ways to get your outdoor area ready for spring
Posted on: September 18, 2015
Spring cleaning your entertainment area doesn't have to be expensive or time consuming. Here are five easy ways to give your backyard the lift it needs.
Has your outdoor entertainment space been neglected over winter?
A 2014 survey by design firm Houzz confirms Australians' love for the outside, with only 1 per cent having no outdoor area and it remaining the top priority for renovation in the upcoming year. If you haven't gotten round to it, now's the perfect time to spring clean your patio so it's ready for those summer barbecues.
Here are five easy ways to make any backyard look brand new, as well as allowing you to use your deck in the unpredictable spring weather. Outdoor areas don't have to limited to pristine sunshine and once you've implemented these ideas, you won't want to wait until summer to invite your neighbours around!
1) Cushions and curtains
Jazzing up your deck with some cushions and colourful throws is an easy way to give a washed-up looking patio a spring facelift. They create an inviting look and can brighten up any dull looking backyard. Best of all, they can be personalised to your taste. A wide variety of colours and designs, including patterns and phrases, are easily available for cushions and blankets.
Why not go for a theme? A Mediterranean style rug with some cushions to match and even a few candles can create a romantic looking entertainment area.
Curtains are not purely aesthetic, they also provide that much sought after privacy. Long white chiffon curtains are perfect for providing shelter from the sun or light breezes and add an elegant touch to any space. Cushions and blankets also serve a practical function, providing that little extra warmth needed in the evening.
2) Don't get swept away
Sick of waiting for summer to use your patio? There are ways to weather proof your outdoor entertainment area. While curtains can provide some shelter, something a little more heavy weight may be needed to fight the wind.
Installing a sunroof or gazebo can protect you from the elements while allowing enjoyment of your backyard, no matter the weather! Ensuring your outdoor entertainment area is functional through installing a roof can transform how you view it, and allow you to get much more use out of it.
3) Out with the old, in with the new
Buying new, modern furniture is an easy way to dramatically change any area. A patio is no different, and there are so many ways to be a little adventurous with the furniture you choose due to the wide range available. If you are after something a little less traditional, why not go for a hammock?
4) Lighting
Adding unconventional lighting is another simple way to transform your outdoor area. It's difficult to go wrong with string lights; they tend to suit most environments and come in a variety of colours and shapes.
Hanging lanterns create a similar effect, whether you want a classic white or are after more colour. Fairy lights are a popular option, with the Houzz survey indicating it was the second most sought after garden feature (21 per cent).
Candles are an alternative source of light that can take your deck from dated to dignified. They can also be functional, with citronella candles doubling as mosquito repellant, allowing you to spend evenings outdoors with worrying about insects. The Victoria government's Department of Health emphasises the effectiveness of these candles in small outdoor areas in reducing mosquitos.
5) Outdoor bar
Want an outdoor kitchen but don't have the space? An outdoor bar could be the answer you've been looking for. A drinks station adds to the decor as well as preventing those multiple trips to the kitchen for more beverages. A drinks station with glasses at the ready is perfect for lemonade on those extra hot days or a couple of evening beers.
Bar furniture is easy to store, can make any outdoor area look classy, is perfect for entertaining and comes in different styles to suit your personal taste.
For those who do have the space, a bar shed can give you your own personal tavern in your home. Perfect for entertaining and easily enclosed and stored in your backyard.
Stratco has a wide range of outdoor furniture that can lift any space to the next level.