has been added to your cart
Stratco's Strategy of Growth
With over 70 years' experience in the building and home renovation markets Stratco has become one of the largest producers and marketers of quality building and home improvement products in Australia and is actively pursuing a place on the world stage.
Stratco now has state of the art manufacturing facilities in all mainland states of Australia along with a network of home improvement stores throughout the country.
Over 70 Years of Service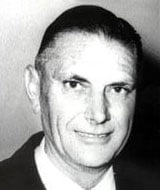 In the early 1940's a young A. E. Stratton established a plumbing company out of his home in Adelaide.
Following years of dedicated effort through some very tough times, encouraged by his success and the unrelenting support of his wife Mavis, he incorporated Stratco Metal Pty Ltd in 1948 to manufacture sheet metal products for his plumbing company to install.
It was during these humble beginnings that Stratco's solid foundation was laid.
We simply want to continue to produce and market quality products, innovate new products and back them with qualified people who offer friendly service and advice
Timeline
| | |
| --- | --- |
| 1941 | A. E. Stratton established a plumbing business out of his home in Adelaide, South Australia. |
| 1948 | Stratco Metal Pty Ltd was incorporated and started operations at Eastwood in Adelaide, South Australia. The company was formed to manufacture sheet metal products for plumbing companies. |
1950 - 1959
| | |
| --- | --- |
| 1954 | Stratco moved to a new, larger factory at Richmond in Adelaide, South Australia, where a greater range of products were able to be manufactured. |
| 1957 | The Stratco culture of innovation and awareness of industry needs was established with the introduction of new products such as stainless steel cisterns, solar hot water services and ventilating roof skylights. |
| 1959 | Australia's first multi-profile gutter roll-former was designed and made by Stratco. The machine was able to manufacture three profiles of gutter; Quad Gutter, Hi-line Square Gutter and OG Gutter. |
1960 - 1969
| | |
| --- | --- |
| 1964 | A new 65 tonne Chambers and Corner mechanical brake press enabled Stratco to bend metal in lengths up 12 feet with 18 inch right hand angle bend. It was one of the first machines of its kind in the sheet metal industry. |
| 1967 | A. A. Stratton became Managing Director and injected Stratco with a new spirit of innovation and a vision of national and global expansion. |
1970 - 1979
1972

The award winning Stratco all metal 'Clickfast' Fascia and Gutter System was launched. The product received an Australian Design Award and a Classic Design Award from the Design Council of Australia.

1975

Stratco began manufacturing in Victoria and established itself as a competitive force in the housing and renovation market.

1978

Stratco entered Western Australia and was quickly accepted by the market due to its wide product range and relentless focus on customer service.
The innovative Modular Rainwater Tank was introduced into the Australian market and gained immediate consumer acceptance.

1979

The first home improvement store opened under the name of 'Stratco Sales Centre' at Richmond in Adelaide, South Australia.
The stylish Stratco Good Neighbour Fence was launched. With no unsightly post and rails, clean uncluttered lines are enjoyed by neighbours on both sides of the fence.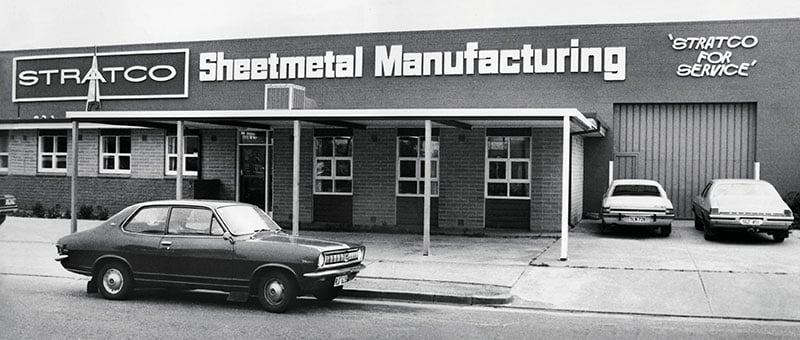 1980 - 1989
| | |
| --- | --- |
| 1981 | The Great Outback Verandah system was developed and launched by Stratco. |
| 1983 | Stratco began operations in the Northern Territory where it showed flexibility and a willingness to tackle projects in cyclonic regions. |
| 1984 | Stratco commenced manufacturing in Queensland where its ability to respond quickly to the needs of the steel roofing market generated steady growth. |
| 1985 | The South Australian manufacturing operations moved from Richmond to a new state of the art factory at Gepps Cross in Adelaide. The new location included a large, modern retail sales facility. |
| 1986 | Manufacturing operation commenced in Tasmania to service the local market. |
| 1988 | Stratco entered the New South Wales building and home improvement market. Customers responded favourably to the extensive range of Stratco products, short lead times and the strong customer focus. |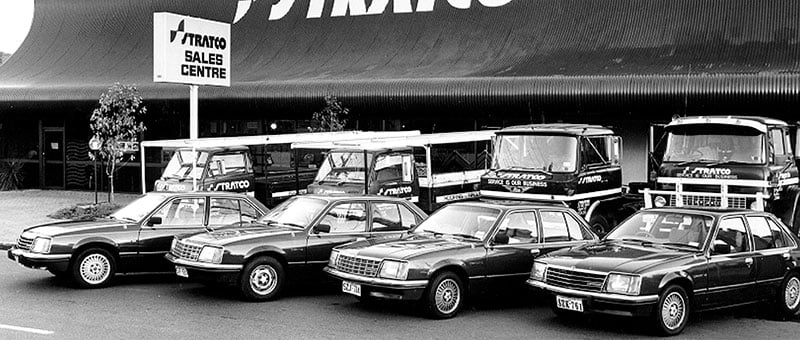 1990 - 1999
1992

Stratco expanded beyond the borders of Australia and opened its first international division in Christchurch, New Zealand.
Stratco launched the innovative Outback® range of Verandahs, Patios, Carports and Pergolas.

1998

The Lonsdale branch in South Australia moved to its current location and Stratco Home Improvement Stores were born. This marked the beginning of a dedicated effort to establish Stratco as a force with in the hardware retail market.

2000 - 2009
2001

The first Stratco 'Big Shed' home improvement store opened at Gepps Cross in South Australia.

2003

Stratco Gepps Cross 'Big Shed' won the Hardware Store of the Year (Over 2500m2) Award from the Hardware Association of South Australia.

2004

Stratco Queensland outgrew their Crestmead facility and relocated to the current Ormeau site.
Stratco Goolwa won the Hardware Store of the Year (Under 1000m²) Award from the Hardware Association of South Australia.

2005

Stratco St Agnes 'Big Shed' won the esteemed Hardware Store of the Year Award from the Hardware Association of South Australia.
Stratco Goolwa won the Hardware Store of the Year (Under 1000m2) Award from the Hardware Association of South Australia for the second consecutive year.

2006

Stratco began manufacturing in Auckland, New Zealand, to service the North Island market.
The Canberra operation was expanded to better service the local market.
A partnership with Oxfam Australia was developed to provide clean water to communities in Sri Lanka's Hambantota district. Clean water was provided to 500 families in Sri Lanka.

2007

The successful Outback range of products was expanded with the launch of the Outback Sunroof opening louvre roof verandah and the Outback Curved Roof verandah.
Stratco worked with World Vision to provide ten 10,000 litre water tanks to schools in Uganda.
Stratco Gepps Cross 'Big Shed' won the esteemed Hardware Store of the Year Award from the Hardware Association of South Australia.

2008

Stratco partnered with World Vision to fund The Chama Water and Sanitation Project in Zambia where more than 97% of households do not have year round access to clean water.

2010 - 2019
2010

Stratco Cooldek insulated panel system was launched, providing a roof, insulation and ceiling like finish all in one product with superior spanning capabilities.
The ingenious Handi-Mate Shed range was released, offering both hinged or sliding door options in a strong and sturdy design - with all sizes supplied in easy to transport boxes.

2013

The new Stratco Edge Gutter presented smooth, straight lines and a striking aesthetic with generous water carrying capacities and hidden fixings.

2014

The revolutionary Stratco Pavilion was launched, providing an unparalleled aesthetic through classical architectural proportions combined with a modern colour palette to redefine alfresco living.
Stratco St Marys 'Big Shed' won the esteemed Garden Centre of the Year Award from the Hardware Association of South Australia.

2015

Stratco Ambient Blinds were developed and launched to provide the ultimate screening solution for any outdoor area.

2016

The Stratco Pavilion Allure was a latest addition to the Pavilion range with an innovative opening roof providing the very best in all-season alfresco living.
Stratco's new co-extruded Coloured PVC Downpipe system was released with an exceptional high gloss exterior grade finish providing superior, long lasting protection and colour.
Stratco begins operations in the USA, providing a range of innovative products to the American market.

2017

Stratco launches Stratco Exhale Ventridge specifically designed for metal roofs on sheds, garages and housing, providing free flowing natural ventilation with a noise free, low profile design.
Building on the design success of Stratco's original Clickfast Fascia and Gutter System, the Torrent Spacer Gutter Clip aids the overflow of water from gutters during exceptionally heavy rainfall periods.

2018

Stratco releases Hiland Tray Snaplock and Nailfix, modern architectural roofing and walling profiles with concealed fasteners providing a clean finish with smooth, uncluttered lines..

2019

Working in conjunction with the Cancer Council, Stratco launched National Patio Day on the first Saturday of Summer, raising funds to support Cancer Council's life-saving research, prevention, advocacy and support programs.