has been added to your cart
Get all you need to complete your outdoor project
What our customers are saying about Stratco
Sharing the love for our delivery driver Callum. Callum is exceptional at his job & customer service. He goes above & beyond every time. Thanks Callum. Brisbane Roller Doors
Brisbane Roller Doors, Wednesday, January 16, 2019 4:26:49 AM
Stratco Management Good morning, In the everyday living people can be quick to point the negatives. I would like to do the opposite in my purchasing experience with your Crestmead store. My wife and I purchased a Patio, screens and decorative fencin...
Terry Manthey, Wednesday, January 16, 2019 12:31:52 AM
I visited Stratco at Doveton with a specific slat-fence requirement. Within minutes, Greg was able to provide a solution. Not being familiar with the product, he patiently explained the solution, components required and tips on installation. He made ...
Chris Koh, Tuesday, January 15, 2019 6:51:10 AM
Thanks to Darryl Kay at Stratco St Agnes who kindly made us up some sausage holders for Highbury Primary's Schools movie night. A great example of helping out the community!
Laurene Trus, Tuesday, January 15, 2019 5:19:04 AM
I just had the pleasure of dealing with Ashleigh while purchasing a gate. I must say her knowledge of product was second to none. She put up with constant questions and gave me the advice i needed. When buying a gate in Newcastle, make sure to give t...
Justin Withers, Monday, January 14, 2019 9:45:08 PM
Sophia at the Bunbury store is amazing. With recently renovating, I had visited other hardware stores but had to return stuff cause it was incorrect. Everything I purchased and her suggested products thru Sophia was 100% correct. If you are renovati...
brandy, Monday, January 14, 2019 7:53:05 AM
Callum is our regular delivery driver and he is amazing. Always takes care of our goods, helpful, friendly and polite. We need more Callum's at Stratco!! Keep up the great work. A big thanks from the team at Brisbane Garage Doors.
Megan Dunn, Friday, January 11, 2019 2:03:55 AM
Callum delivered our materials yesterday and went out of his way to carry the materials into our back yard for us. We appreciate his efforts and found him polite and cheerful.
Ken Alder, Thursday, January 10, 2019 2:25:30 AM
I have delt with David Orrock from Stratco in Pakenham. Excellent customer service and very glad to help. Thank you
Loukas Drosos, Monday, January 7, 2019 5:44:35 AM
Our experience at Stratco Goolwa has always been of excellent service and knowledge. In particular, Ellen and Gary have both been extremely helpful, this is the key to having the right staff that we will always go back the Stratco Goolwa. We thank ...
Ann, Wednesday, December 19, 2018 10:56:51 AM

Connect with us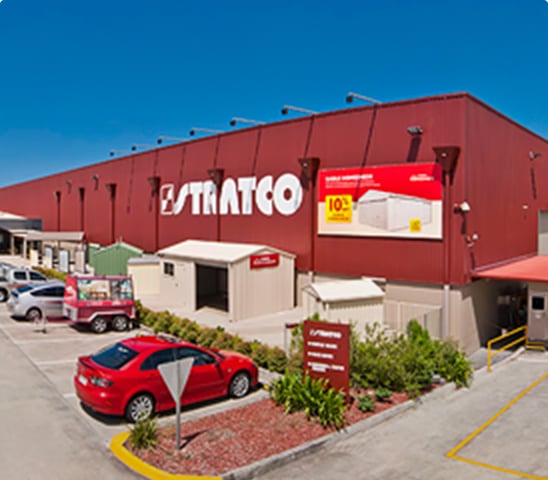 Find your nearest store
Find your nearest store by entering your suburb or postcode below.