has been added to your cart
Get all you need to complete your outdoor project
What our customers are saying about Stratco
I've been dealing with Peter from ferntree gully store for a number of years now and have found him exceptional to deal with, they provide excellent product & service, any issues are resolved with no questions asked Gippsland Fencing
Troy Cooper, Wednesday, October 17, 2018 9:18:56 AM
12 out of 10. Went into Stratco FERNTREE GULLY last week and I spoke with Shaun regarding a patio and shed for my house. One of the best services I have ever received. Made the experience feel so smooth and relaxed. Once I get all my details I will ...
L Taz, Tuesday, October 16, 2018 10:59:10 PM
As A long Term Stratco customer we have come to rely on quick turn around for supplies. Stratco has provided us with great service every time. Our Driver Callum is Great. Always on time and helpfull. Very Freindly guy and nothing is too much trouble....
Steve Utz, Tuesday, October 16, 2018 3:18:33 AM
I was looking to purchase the Batten Xpress panels from Stratco at Thornton and was provided with information by Ashleigh. Every question I had was answered so well that I ended up ordering more products and will be returning again due to the excelle...
Murray, Monday, October 15, 2018 2:18:32 AM
Purchased Xpress batten fence from the store in Deer Park. Received a good amount of information about the product and also got several options prices, which helped to lock in this option with the client on our end. Product was delivered on confirm...
Alex, Sunday, October 14, 2018 9:50:37 PM
We went in to the st marys branch and was served by a gentleman called simon. He spent alot of time with us advising us about oiling decking. As we are new to this he demonstrated and recommended products. And we spent over $200 due to his excellent...
Laura lewis, Sunday, October 14, 2018 2:03:58 AM
Chris at Stratco is always helpful when I am trying to do some DIY. He listens, catches on to what I am saying and offers advice and products to complete the job. His efforts are seamless, and I always leave with confidence to carry out my 'mission' ...
Pauline O'Sullivan, Friday, October 12, 2018 12:37:26 AM
Delivery Driver Callum We had Callum out today to deliver our garage doors, very helpful, Very positive. He has delivered to us before was great then too, he is a real credit to your company.
Brisbane Garage Doors, Wednesday, October 10, 2018 5:58:39 AM
I have been dealing with stratco thornton for over 5 years now. Ash little looks after all my jobs her professionalism is absolutely outstanding she goes over and beyond too make my experience dealing with sheds and patios a breeze cant recommend her...
Luke, Tuesday, October 9, 2018 9:57:15 AM
Callum, my delivery driver went out of his way to make things easy for me. He was really helpful. I look forward to seeing him next time
Wendy, Monday, October 8, 2018 4:50:04 AM

Connect with us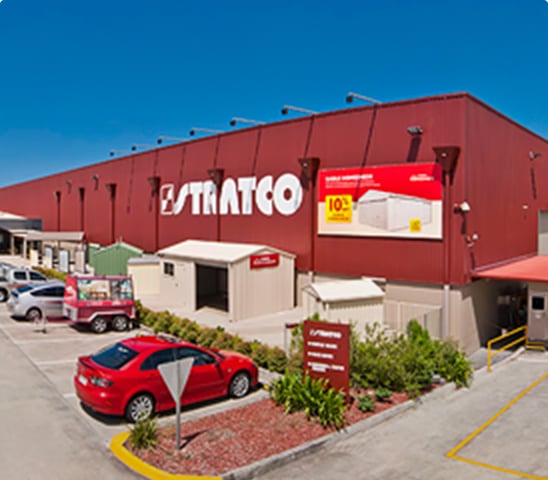 Find your nearest store
Find your nearest store by entering your suburb or postcode below.