has been added to your cart
Get all you need to complete your outdoor project
What our customers are saying about Stratco
Can't recommend highly enough, Callum is always on time, professional and is meticulous with all of our deliveries. Exceptional customer service, thank you.
Door Repairs Brisbane, Monday, October 22, 2018 6:18:13 AM
Steve the driver did an excellent job carefully delivery & placing my product carefully where i needed them. Real gentleman very pleasant & professional with a very pleasant attitude. Thank You very much:)
John Korov, Monday, October 22, 2018 3:49:41 AM
Stratco ST AGNES - Adam is completely customer focused and assisted with our selection of the the products that suited both our needs and budget. Adam's solid product knowledge and highly personable approach was greatly appreciated. I can't speak hig...
Hung Truong-Tran, Sunday, October 21, 2018 10:29:40 PM
What a fantastic day we had cooking a sausage sizzle at Stratco Thornton NSW The Food War Inc. would like to thank Stratco and Matt for the generous support we have received financially, enabling our organisation to continue helping the community,tha...
Joanne Reynolds, Sunday, October 21, 2018 11:13:02 AM
Excellent customer service by representative named Damien. Very helpful. We had a lot to be organised and nothing was a problem for him. Very helpful, friendly staff member.
Lou Warman, Saturday, October 20, 2018 5:04:49 AM
Damian at Balcatta store on Thursday 18 October 2018; brilliant service! They were short of at least 2 staff but had a steady stream of customers and non-stop phones ringing. Despite all this Damian was really helpful, didn't rush me, and only took ...
Peter Manning, Saturday, October 20, 2018 2:41:21 AM
With an intention of building a rather large verandah, we approached Stratco. The end to end experience has truly been exceptional. They enabled us to execute our project with a full understanding of how and what we need to do, under budget, on sched...
Wendy Brink, Friday, October 19, 2018 11:17:42 PM
I had a great experience with Stratco. The staff at their Archerfield store where fantastic and very helpful with what I needed. Gary the installer went above and beyond as well. He did a very professional job cleared some trees and he even brought m...
Scott, Thursday, October 18, 2018 9:10:06 PM
We would like to say thank you to Callum the Stratco delivery driver. We had a large order of roller doors and Callum was very helpful with the delivery as well as very professional. Thanks again from Caboolture Garages.
Jerome Turner, Thursday, October 18, 2018 4:46:15 AM
I've been dealing with Peter from ferntree gully store for a number of years now and have found him exceptional to deal with, they provide excellent product & service, any issues are resolved with no questions asked Gippsland Fencing
Troy Cooper, Wednesday, October 17, 2018 9:18:56 AM

Connect with us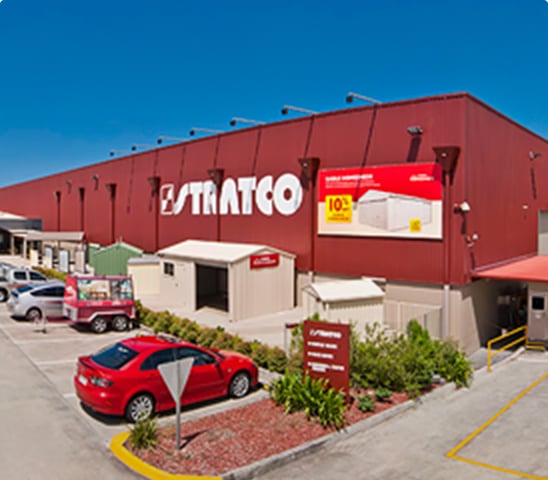 Find your nearest store
Find your nearest store by entering your suburb or postcode below.