has been added to your cart
Black Friday is Coming
Massive discounts on select products only.
Get all you need to complete your outdoor project
What our customers are saying about Stratco
We would like to say that Callum (delivery driver) was exceptional with outstanding customer service. He went above and beyond to make sure everything was fine and did everything to ensure all our needs were met. He took great care of the product ens...
Friday Kathryne Benbow, Monday, November 19, 2018 11:38:25 AM
I found the staff in the Pakenham Stratco firstly Cassandra then followed and finalized by Brett to go above and beyond their duties to help me customize a pergola that would suit my needs. I had a few issues with council regulations and every time...
Sue Adams, Monday, November 19, 2018 1:37:22 AM
I have had dealings with Ashleigh previously and as always she is more than willing to assist. Yesterday, 18/11 was no exception when I sought some info to add a awning onto an existing shed. Her product knowledge and genuine effort to provide great ...
Chad Fairclough, Monday, November 19, 2018 12:03:44 AM
Matt really looked after me while purchasing a carport. He could have just sold it and said goodbye but he went that little further making sure I got what I needed. Organised delivery there and then, even when it was out of the area. He made good con...
Chris Aartsen, Sunday, November 18, 2018 2:15:05 AM
We have dealt with Noreen a couple of times and found her extremely kind, generous and attentive. Great customer service skills and knows her product. Very rare to find this day and age outstanding customer service skills. Well done Noreen and an ass...
Gail Constantinou-Alexandrou, Friday, November 16, 2018 5:10:16 AM
Friendly knowledgeable staff. AAA+++
John Attard, Tuesday, November 13, 2018 8:21:23 PM
Matt from Statco at Thornton NSW was very helpful and generous with a donation of painting supplies so we could finish our Dental Clinic in Jiwaka PNG . Thank you very much!
Adrian Roach, Tuesday, November 13, 2018 12:17:08 AM
Drivers Darren and Steve from Deer Park Stratco are great, friendly and very professional.
Mistie Foley, Sunday, November 11, 2018 11:20:42 PM
I had the pleasure of visiting Stratco Canning Vale on two occasions to organise a pergola. It was not a straight forward build and required some additions and alterations. In fact I had to go away and make some more measurements and return again whi...
Paul Shephard, Friday, November 9, 2018 3:15:25 AM
Friendly and helpful all round, including sales and delivery. I found the in-store display quite useful, as I could see how things would fit together. Excellent finish on the products.
George Hansper, Tuesday, November 6, 2018 11:39:32 PM

Connect with us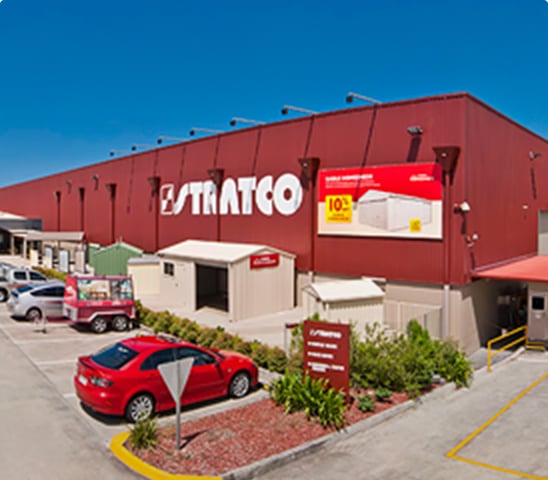 Find your nearest store
Find your nearest store by entering your suburb or postcode below.