has been added to your cart
Get all you need to complete your outdoor project
Stay Warm This Winter
With a huge range of indoor and outdoor heating, Stratco has the HowTo to keep you warm all winter
What our customers are saying about Stratco
We were looking for outdoor blinds at Stratco Smeaton Grange today and was served by Terina. She was knowledgeable, friendly and honest when she was giving us a quotation. Also note that that quotation came back to us very quickly. Great service and ...
Rosheen Delos Santos, Saturday, August 17, 2019 3:03:13 AM
Got our delivery of our new shed today. Callum was extremely efficient and very skilled using the crane on the truck to unload the heavy boxes in a very neat and ordered manner. He was very friendly and happy to help.. Thanks Callum
Janet Crew, Friday, August 16, 2019 5:13:00 AM
Scott and his team have just finished my custom fence, and I couldn't be happier! Professional standard and everything is how I wanted it. Such pleasant guys to have the job done with. I couldn't thank them enough or recommend them more. Great work a...
Joy Day, Friday, August 16, 2019 4:51:53 AM
The Stratco team helped fulfil a long-time project for my brother and I. Our custom built garage covers 60 square meters of "man cave" environment. Once you experience all four seasons including severe storm conditions, one can appreciate the quality...
Tony Dipastena, Friday, August 16, 2019 2:03:32 AM
Click and collect works really well. Excellent light fitting product at cheapest price ever. Also recently purchased a lawn mower and very impressed with the product.
Julie Thew, Thursday, August 15, 2019 10:16:15 AM
Great product, very prompt delivery! And my item was on sale!!
LYNETTE RICE, Wednesday, August 14, 2019 6:16:17 AM
Customer service from Ashleigh, from our first enquiry through to delivery was outstanding.
Linda Turner, Wednesday, August 14, 2019 3:27:45 AM
Awesome service thanks
Muriel douglass , Wednesday, August 14, 2019 12:52:46 AM
I always forget about stratco compared to Bunnings. But staff happier and good range
M townsend, Tuesday, August 13, 2019 3:47:14 AM
Online ordering was very easy. Free delivery and efficient delivery.
Raymond Doro, Monday, August 12, 2019 4:37:51 AM

Connect with us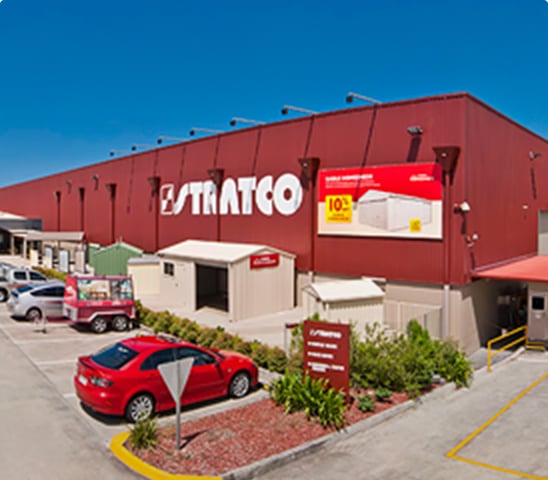 Find your nearest store
Find your nearest store by entering your suburb or postcode below.
Own it now, pay later
Learn more