has been added to your cart
Get all you need to complete your outdoor project
Stay Warm This Winter
With a huge range of indoor and outdoor heating, Stratco has the HowTo to keep you warm all winter
What our customers are saying about Stratco
Excellent communication and fast delivery service
customerzoe, Saturday, August 24, 2019 4:57:19 AM
A Huge thankyou to Steve driver who dropped off a new shed to us,I had no one to assist with getting shed into garage, he got it off truck and into garage wihtout any grumbles having to do it all on his own. Very friendly,polite and courteous. Thank...
lisa turnbull, Friday, August 23, 2019 3:00:26 AM
A shout out for Callum - very professional, friendly and courteous. He was even accommodating with my monster dog who thought he was delivering roller doors for him to play with. Staff like Callum go a long way toward stratco securing return busines...
M, Thursday, August 22, 2019 9:12:02 AM
The service we received was efficient and effective and well priced. The delivery man, Nathan Monk, was helpful and helped us to get the product into the write spot for our work. He is based in Fyshwick ACT. He had an excellent attitude and was wanti...
Robert Ross, Thursday, August 22, 2019 6:40:43 AM
Dion delivered our order, he was attentive, caring and takes pride in his job. Thank you for the great customer service !
Amy Kettner, Thursday, August 22, 2019 5:02:01 AM
It is with great pleasure to write this review for one of the Stratco's staff members, Dion. He was so helpful, polite and respectful. Thank you for a great customer service.
Peter Odisho, Wednesday, August 21, 2019 6:53:33 AM
Great customer service and friendly staff make all the difference when shopping. Thanku stratco
Nicola , Wednesday, August 21, 2019 4:15:00 AM
We purchased a garage and did not need it straight away, Matt from Thornton put it aside until we needed it with no problems. Then once it was delivered we wanted to change a few things, once again Matt had no issues with helping with ordering the pa...
Jacqueline Bugeja, Wednesday, August 21, 2019 1:37:53 AM
Easy online purchase and fast delivery.
customer, Wednesday, August 21, 2019 1:23:39 AM
Here at Queensland Shed Installations we see many transport companies and drivers ,but Callum from Stratco far exceeds the rest . His attention to detail and courteous behaviour makes it a pleasure to see him roll in the driveway .
Randal Pfuhl, Tuesday, August 20, 2019 3:34:17 AM

Connect with us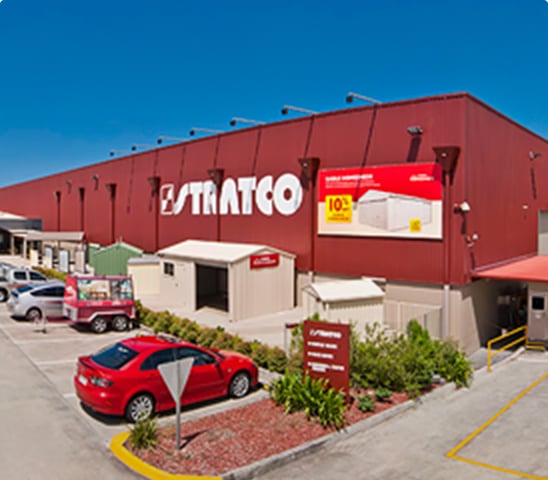 Find your nearest store
Find your nearest store by entering your suburb or postcode below.
Own it now, pay later
Learn more