has been added to your cart
Get all you need to complete your outdoor project
What our customers are saying about Stratco
Sahi, our delivery driver is one of the best delivery drivers we have ever come across. Very nice and super helpful, went above & beyond to help with our delivery. Very happy with the service by Scott as well, very helpful & had everything prepared ...
Peter N, Monday, June 24, 2019 9:13:07 AM
I visited your Canning Vale store and was assisted by an Asian man named Ray. He not only sold me a chain saw but started it and ensured that it was in good working order. I then purchase an aluminium gate which he collected all the parts for and he...
John bradley, Monday, June 24, 2019 6:30:11 AM
Very polite and professional service from the delivery driver Darren. Called before arrival and put items in convenient place. Michael
Michael O'Connor, Monday, June 24, 2019 3:06:31 AM
Quick easy online purchases and del..
Cath Summers , Monday, June 24, 2019 12:36:19 AM
Quick delivery Product exactly what we were after Very easy to assemble Great value for money Thank you very much
customer, Monday, June 24, 2019 12:06:01 AM
Always a good experience. Help when you need it, great prices, easy through plenty of checkouts and will assist with heavy objects to car.
Cheryl Rae, Sunday, June 23, 2019 5:46:59 AM
Have been going to Stratco Pakenham, awesome service from David Orrock very professional and will continue to get my materials for my projects !
Jarrad Alston, Friday, June 21, 2019 10:39:00 AM
Whether making a purchase ONLINE or INSTORE I have always found shopping at STRATCO to be an easy and very pleasant experience' Top Quality Products at competitive prices' with Excellent Lotalty super saver membership rewards and bonuses' Is the rea...
S . McDermott , Friday, June 21, 2019 4:03:17 AM
We bought a product on line that was not available in store or online from Bunnings although that's where we originally were getting it, Stratco had it on line took about four days to be delivered and we finished our project. Thanks Stratco
customer, Thursday, June 20, 2019 8:05:44 PM
Thank you Callum Big thanks to Callum. Callum delivers regular to our garage door business and nothing is too much trouble, always prompt aways phones before, we really appreciate his service Stock is always correct and secure. *****
Bob Wilson, Thursday, June 20, 2019 10:59:58 AM

Connect with us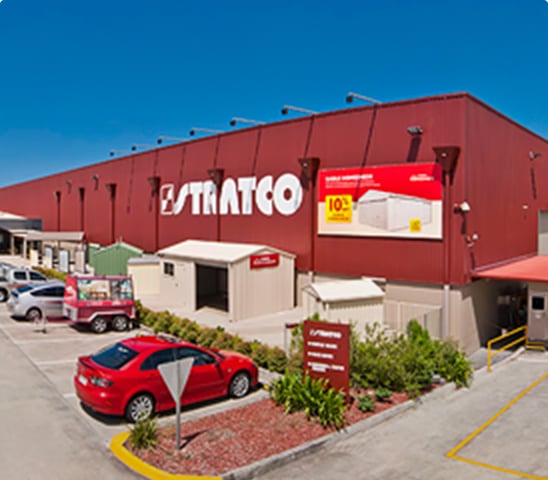 Find your nearest store
Find your nearest store by entering your suburb or postcode below.
Own it now, pay later
Learn more