has been added to your cart
Get all you need to complete your outdoor project
What our customers are saying about Stratco
We have dealt with Pakenham store extensively purchasing quite a number of products. David Orrick was excellent providing fantastic service, nothing was to hard for David, thanks mate great service
Bob, Thursday, February 21, 2019 9:16:03 PM
My Husband and I got assistance from Dave at the Pakenham Store. I honestly have to say, he is one of the best store assistants I have ever dealt with. He was able to help us come up with an idea that suited our budget and we were still happy with. ...
Sharon N, Tuesday, February 19, 2019 11:02:40 AM
Jonathan Cheng from Stratco Epping branch was one of the most helpul sales people I have ever dealt with. He was always willing to assist and offer advice, which made planning my home shed very easy. When it came time to build the shed he was willing...
Napoleon Paschalis, Monday, February 18, 2019 10:30:27 PM
Visited the Packenham store, was impressed by the strong product knowledge and ability to deliever brilliant customer service by David.
Krishna , Monday, February 18, 2019 9:59:45 PM
Our sales person Jack Rout from Malaga branch was awesome. From greeting us upon entering the shop until we closed the purchase with our dyi patio, Jack was professional and helpful, he provided helpful tips and good advise. Hands down aswell for his...
James H, Sunday, February 17, 2019 3:30:53 AM
I visited the Stratco Smeaton Grange store on Thursday to get help with replacing polycarbonate panels on our pergola damaged in the recent hail storms. Rob referred me to one of his trusted roofers who visited and quoted that afternoon and we placed...
Brian Morris, Saturday, February 16, 2019 12:17:14 AM
I'm an elderly lady who shopped at Busselton Stratco Store. The staff were amazing, very friendly and helpful. I purchased goods that I could manage to take to my car, but they were extremely kind and took goods out to my car. Well I can assure you t...
Marie Harper, Friday, February 15, 2019 12:57:00 PM
Thanks Steve awesome service!!!
Scott Kerr, Wednesday, February 13, 2019 9:28:09 PM
Good afternoon, I have visited your Pakenham store a couple of times chasing fencing quotes. which I am close to finalising this month. I have spoken to David and Shaun. both are very knowledgeable , very polite and help with any question I know. I r...
Aman Amanasta, Friday, February 8, 2019 6:32:41 AM
David Orrock from your Pakenham office did a fantastic job and followed our requirements exactly and that made our job of building our front fence a much easier job. My wife and I took a day and a half to install the aluminium slates and got a great ...
Lewis Stone, Thursday, February 7, 2019 9:04:29 AM

Connect with us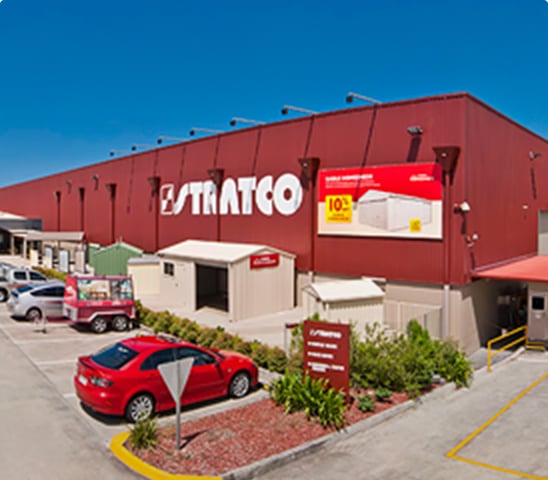 Find your nearest store
Find your nearest store by entering your suburb or postcode below.