has been added to your cart
Guaranteed Christmas Delivery
Monday the 17th is the final day to get your order in for guaranteed delivery before Christmas of stocked items only (does not apply to manufactured goods). Click & Collect in-store is available right up until Christmas!
Guaranteed delivery before Christmas has ended.
Get all you need to complete your outdoor project
What our customers are saying about Stratco
I had e excellent service from David at the pakenham branch. he was very knowledgeable of the products and got my order ready fast and hassle free. I highly recommend him and the Pakenham store.
chris, Wednesday, December 12, 2018 12:38:32 AM
we received exceptional customer service from Peter at Stratco. the quailty of your products was oustanding and came in at a very competitive price. we looked around at several options and the service andf product that was given from Stratco was fan...
Geoff Feltham , Tuesday, December 11, 2018 6:36:44 AM
Hey guys just received my strap for my Helson 1000m. Blue Silicone rally strap! Most excellent Perfect match love it! Thanks so much H;Rosenboom. I highly recommend these people super fast delivery too!
H.Rosenboom, Monday, December 10, 2018 8:33:55 PM
I just want to thank Callum for his professionalism when he does his deliveries. He is extremely helpful and checks everything is correct and we are happy before he leaves.
Wendy Stokes, Monday, December 10, 2018 4:20:31 AM
I just want to say thank you for James at Stratco in Worongary. I was sent to find brackets for our hm by my husband and I was sent with no info on what type it was . James went above and beyond in his customer service never once minding the pains I ...
JULIA CARDOZA, Monday, December 10, 2018 12:31:58 AM
Emailed through a list of materials to Matt and received a quote within a few hours. Whole process was very easy and straight forward, great communication.
Sam , Sunday, December 9, 2018 10:49:49 PM
I was unsure about my decking and blinds project for my patio. Ben from the Canning vale WA store was very helpful in finding the items I needed and his cheerful advice was reassuring. I have now completed my decking and will be at Stratco for my bl...
ed lim, Thursday, December 6, 2018 9:51:30 PM
Excellent work Driver Dave Allen was very helpful. He managed to pilot the load to exactly where I needed it to go. No fuss very efficient in spite of the fact the culdesac that I live in is extremely hard to get long loads into. He made it all very...
David Moran, Wednesday, December 5, 2018 7:43:10 AM
Team members Teri & Bruce have been a pleasure to deal with. Nothing was a problem for them. Follow up phone calls and products delivered on time. Friendly, efficient and helpful. A refreshing attitude to service. A well deserved 5 STARS.
Anne, Richmond NSW, Wednesday, December 5, 2018 5:26:02 AM
My family recently purchased for our country property a large shed from Greg at your doveton store. Right from my wife's first call, my many visits into to the store to modify the design through to the delivery of our shed, Greg was such a help. Even...
Dwalli, Sunday, December 2, 2018 2:58:51 AM

Connect with us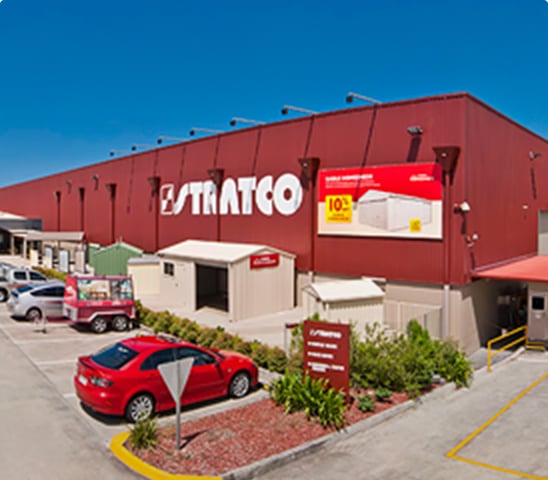 Find your nearest store
Find your nearest store by entering your suburb or postcode below.