has been added to your cart
Get all you need to complete your outdoor project
What our customers are saying about Stratco
Friendly knowledgeable staff. AAA+++
John Attard, Tuesday, November 13, 2018 8:21:23 PM
Matt from Statco at Thornton NSW was very helpful and generous with a donation of painting supplies so we could finish our Dental Clinic in Jiwaka PNG . Thank you very much!
Adrian Roach, Tuesday, November 13, 2018 12:17:08 AM
Drivers Darren and Steve from Deer Park Stratco are great, friendly and very professional.
Mistie Foley, Sunday, November 11, 2018 11:20:42 PM
I had the pleasure of visiting Stratco Canning Vale on two occasions to organise a pergola. It was not a straight forward build and required some additions and alterations. In fact I had to go away and make some more measurements and return again whi...
Paul Shephard, Friday, November 9, 2018 3:15:25 AM
Friendly and helpful all round, including sales and delivery. I found the in-store display quite useful, as I could see how things would fit together. Excellent finish on the products.
George Hansper, Tuesday, November 6, 2018 11:39:32 PM
Fast delivery and very helpful delivery driver (Callum). Thank you!
Tom D, Tuesday, November 6, 2018 3:17:37 AM
Visited Stratco Gepps Cross Sth Aust today and the lady that assisted us went above and beyond with assisting with a water feature, customer service in this store is superb from the manager through the entire staff. The staff member's name was Eiren,...
Sandra Williams, Saturday, November 3, 2018 2:24:29 AM
Troy (Stratco Epping) and installers George(GE Trade services) and Sam (SM installs) exceeded my expectations. They installed a gable shed for me and they did a top job and went above and beyond what was required. They have great attention to detail ...
Lee Lanzafame, Thursday, November 1, 2018 10:59:49 AM
I visited Stratco at Kadina today. I was very impressed with the prices and quality of the garden centre. The range was great. I wish it could be bigger. I was served by Glennis who was more than helpfull..
Tiffany, Thursday, November 1, 2018 4:28:19 AM
IAN THIRD - STRATCO CAMPBELTOWN - LEGEND.. I recently visited Stratco Campbeltown and was assisted by Ian Third. He was nothing short of extremely helpful, professional, and friendly. I received all of the help and support I needed. Ian's product k...
Justin , Sunday, October 28, 2018 12:09:32 AM

Connect with us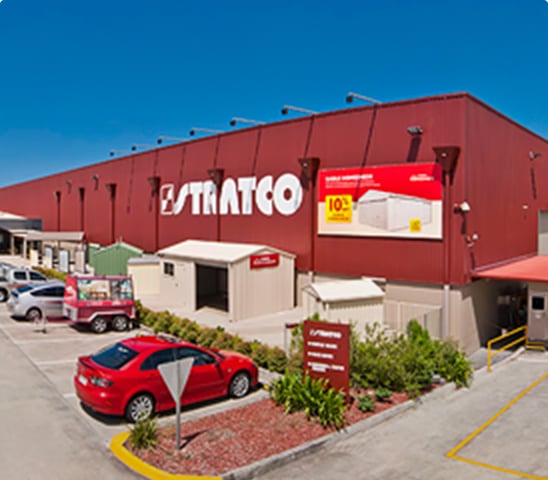 Find your nearest store
Find your nearest store by entering your suburb or postcode below.