has been added to your cart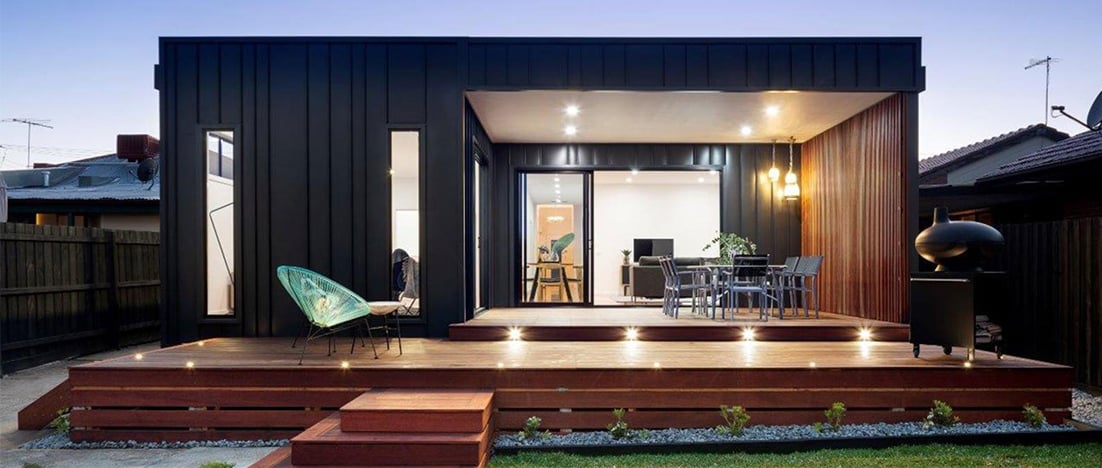 Hiland Tray Delivers Stunning Renovation
Posted on: 31st of July 2019
Home renovations made easy for a Victorian property developer couple with the use of Stratco Hiland Tray roofing and walling sheets.
This striking 'Californian' styled bungalow in the heart of Preston, Victoria, has received the renovation of a lifetime with the help of some ingenious uses of Stratco products. Fusing together both classic and contemporary design, property developer couple Mary and Steve have been able to complete their goal of building an 'ultra modern' extension onto this 1920s investment property. This property features Stratco's Hiland Tray standing seam roofing and wall sheets made with colourbond steel, creatively applied to the exterior wall to work in total contrast with the traditional weatherboards in the outdoor entertaining area.
The Stratco Nailstrip Hiland Tray is a modern architectural roofing and walling profile that provides a clean finish with smooth, uncluttered lines. The light steel cladding can be secured directly over plywood or may be used to span over timber / steel battens.

To execute their vison, the couple enlisted the help of the Stratco team who gave them the advice and expert product knowledge they needed to find the right product for the job. Prior to the renovation, Mary and Steve contemplated the idea of using standing seam wall-cladding but were concerned about the cost impact on their renovation budget. However, after liaising with Stratco they found a solution that provided the same stylish aesthetic they were aiming for, just at a very competitive price! Stratco knows property development can be a costly task, so they were able to provide Mary and Steve a product that works within the parameters of their budget without having to sacrifice quality.
The installation has proved advantageous to the Melbourne property developers due to its cost effective, time sensible fitting procedure and flexible design model. They were able to select a variety of Hiland Tray sheets at different width dimensions with the purpose of producing a 'unique architectural' random-vertical-line style for the exterior of the Preston home. This extension had been made even easier by the fit to finish look the sheets provide that has required no further maintenance post renovation e.g. Render over foam, painting of weather boards etc.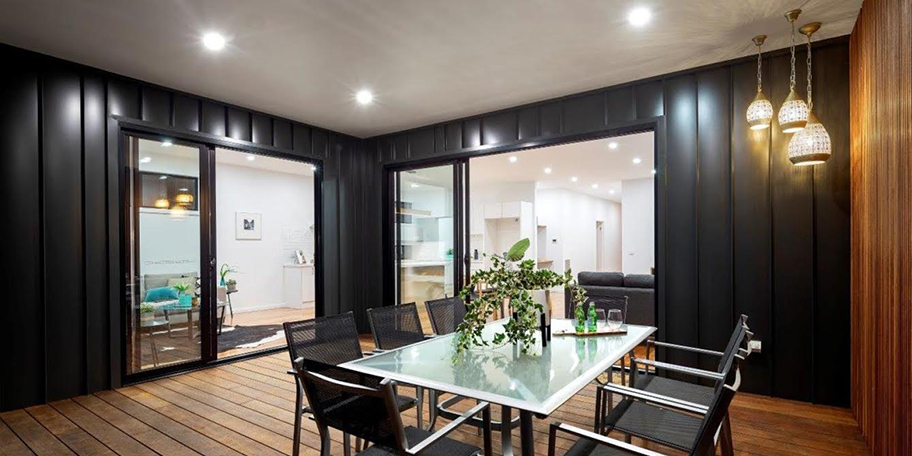 The installation was headed by Andrew Ryden of AARC Services, who worked closely with the developers and kept in consistent correspondence with the Stratco team throughout the expansion.
The final product had been well received with Mary and Steve stating;
The end result was as good as expected. We will, and already have used Stratco again and will continue to sing their praises.
If you are currently in the process of renovating a property and would like to add a stylish and unique feature to the development, contact one of our stores, or better yet come in and see our cladding range for yourself. Our team will be able to provide you with everything needed to make the property development as easy and enjoyable as can be.
For further information view our current range of roofing and walling products.