has been added to your cart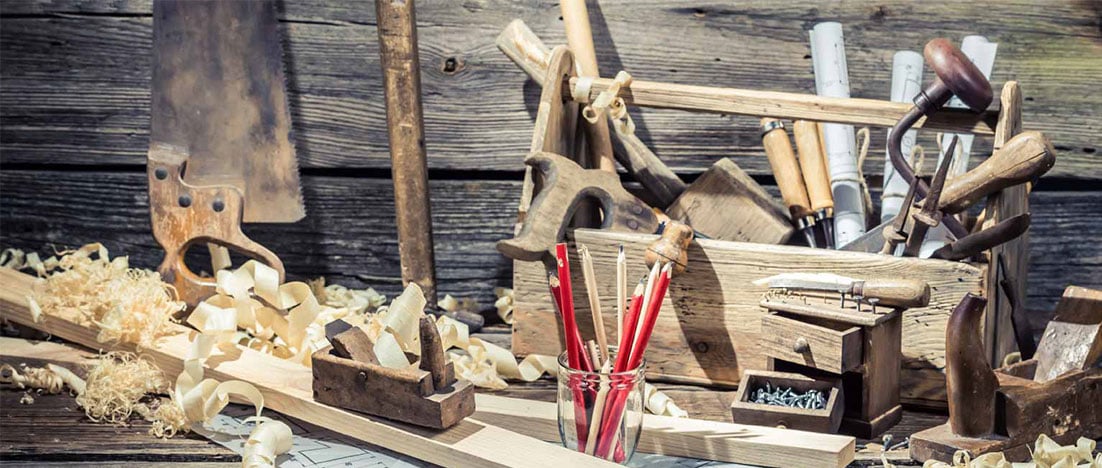 Are You Ready to Start Upcycling?
Posted on: August 1, 2015
Upcycling items in your home can be a great way to save the planet and exercise your creativity at the same time, provided you have the right equipment.
Recycling has been with us for a long time now, but savvy homeowners are catching on to a new and far more creative trend; upcycling. Rather than simply put an item into a green bin, upcycling involves injecting a bit of creativity and fun into saving the planet.
All it takes is some imagination, a few items around your house that are ripe for a new purpose and a few DIY essentials for you to get underway with your very own upcycling project.
Before you get out the overalls though, we need to understand what upcycling is and why it has become so popular.
What is upcycling?
Upcycling refers to the process of taking items that would otherwise be thrown out and repurposing them into quality objects with a completely new lease of life. Whether you're looking at old tyres, shipping pallets and any other standardised items are great for these projects, but anything you have considered throwing out could be the foundation of a new venture.
These smaller DIY projects may not be on the same scale as some of the home improvements that Australian families go in for, but they can still provide a great weekend activity to get the family involved.
Of course, you can always go in for something bigger if you want. Once they get the taste for upcycling, many people will move on to larger pieces of furniture or elaborate decorations, all constructed from items that would otherwise be thrown out.
What you'll need to get started: The upcycling basics
Once you've decided to give upcycling a try, the first thing you will need is a project in mind. Maybe you want to create a new side table, or perhaps you just want to get more use out of your wardrobe by breaking it up with some creative storage.
If you are struggling to think of something, consider looking at the sort of things you are throwing out and how they might be repurposed. If you've just upgraded to a new ladder, maybe convert the old one into a bookshelf or similar storage solution.
Once you have a project in mind, here are a few of the general supplies you will need to really get started:
A basic hardware set
Most upcycling won't be too taxing on your DIY toolkit but you will still need to be sure you have a range of tools to finish your project in good time.
Hammers, screwdrivers and utility knives are all the sort of equipment that you will already have around the house and are a great start to your next project. A level and a quality measuring tape will also ensure your project looks great at the end.
Something more ambitious may leave you requiring a wider range of tools, from a plane to a soldering iron. These smaller items can expand your upcycling endeavours to much more creative projects.
Painting equipment
Have you noticed that everything looks better with a little paint? A drab room can be given a whole new look with a fresh coat to bring it up to date, not to mention hiding the scuff marks.
The same is true when you are upcycling. A mundane item can be completely transformed if you introduce a splash of colour, helping it to blend in seamlessly with your existing colour scheme. Even if you're going for a rustic design, some fresh paint can still make a big difference to the final product.
To do this, you'll need some basic equipment - some paint brushes and brush cleaner, along with your paint of choice and equipment to prepare a surface, like sandpaper and a paint scraper. Sample paint pots are great for upcycling projects because they will give you just enough to paint a smaller item, without committing to 10 litres of the same colour.
Knowing your limits
While DIY is something of a national institution, there are always going to be limitations to the sorts of tasks you can undertake. Working with electricity is a major hazard, so maybe steer clear of repurposing that old kettle into a customised light fixture and leave this work to the experts.
As well as limits to your own skills, it's also important to start small, at least until you really get the hang of it. Having a house scattered with unfinished projects isn't going to be very satisfying or add any real value to what you have started so far.
If your tinkering is taking over the house, it might be time to invest in a space to really exercise your upcycling creativity. A dedicated garden shed can provide a haven to pursue your passion for upcycling - you could even build your very own 'she shed' around the idea.
Upcycling is certainly a trend that has the potential to change the way you think about using and reusing items throughout your home. Once you have a project in mind and the tools in your tool belt, the only question is: What's stopping you? As always, the freindly staff at Stratco are ready to help with any enquires and the shelves are stocked with all the tools and supplies you might need.