has been added to your cart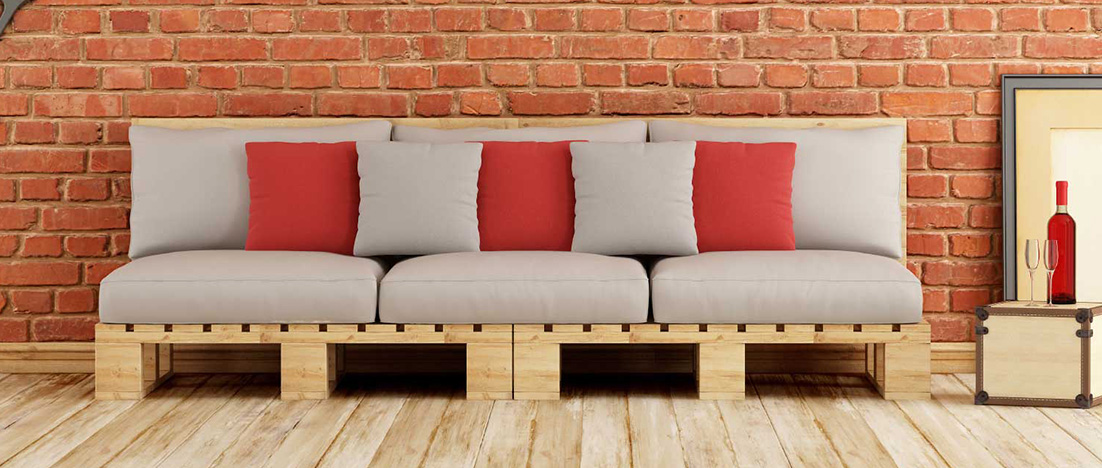 How to Build Your Own Pallet Furniture
Posted on: August 24, 2015
Don't throw away those pallets just yet - with just a bit of upcycling creativity and effort, you can create some great personalised furniture for your home.
Wooden pallets: great for shipping large quantities of goods; not so useful for anything else. Or so it would seem.
Contrary to what you may believe, those boring wooden slats are the perfect building blocks for some great homemade tables, sofas, chairs and more. Are you ready to jump on the upcycling craze and make your own customised furniture?
Here's how to get started.
Find your pallets
First off, you'll need to find a number of pallets in decent condition, depending on the size of the item of furniture you want to make. Have a hunt around behind warehouses, stores and other similar places, remembering to ask the owner before taking them.
Once you've got your pallets, it's time to grab your hardware tools and get cracking!
Chop it up
The great thing about pallets is how easy it is to convert them into furniture. You can pick them apart to get the individual planks you need, or cut them into certain configurations to make specific furniture parts, such as backrests for a sofa.
Just make sure you have a high-quality handsaw at your disposal for the cleanest results and to keep yourself safe.
Put it together
With all your pieces ready to go, the next step is to put them all together to create your piece of furniture.
Using a power drill will save you heaps of time and effort and ensure your work both looks neat and is safe and sturdy.
Add the finishing touches
Now your furniture has taken its basic shape, it's time to add some last touches to make it ready for use!
Run a sander over the erstwhile pallets to get rid of splinters and make the surface smooth and comfortable. Once that's done, give it a fresh lick of paint in your favourite colours.
Personalise it!
You should now have a finished product you can install anywhere in your home, but you can always take a few extra steps to truly make it your own. If you've built a pallet sofa, for instance, you can line it with some comfy cushions (upcycled too, of course!) to create an inviting place to recline on.
If you want to get extra creative and resourceful, you may even want to use a few hinges to make your furniture more manoeuvrable. With these simple fixtures, you can create foldable, space-saving tables or built-in storage spaces, for example.
You're really only limited by your own imagination, so grab those worn-out pallets and get started on your upcycling project today! As always Stratco has everything you need to get started.