has been added to your cart

Meet Amy And Her Motorbike Shed
Amy Bartsch started motocross riding at the very young age of 4. As soon as Amy turned 5 she decided to take it to the next level and started competing in motocross bike races. The jumps Amy performs in motocross bike races now can be as high as 100-120 feet!
As a junior, she was "always motorbike riding with the boys as there were never enough females" participating in motocross. Through her hard work and determination, she has inspired many other girls to simply "give it a go" and also take up motorbike riding, with some going on to participate in motocross racing.
See Amy's video below or read the full story to learn more about Amy and her motorbike shed.
How Stratco Has Helped Amy With Her Motorbike Shed And Motocross
Motorbike racing is very costly, so Stratco has been able to sponsor Amy to help her continue excelling in the sport.
It is an expensive sport, so it is great to have sponsors help you out.
Amy also purchased a high-quality Stratco motorbike shed to conveniently store her motorbike, along with other motocross related items (such as her many trophies)! She purchased a Stubbie Roller Door Shed which is a robust outdoor storage shed that is halfway between a garden shed and a garage. Amy mentioned the Stubbie Shed was "the perfect size to keep a bike in and it's very secure", both important factors to consider when purchasing a Stratco Shed.
Stratco used strong, galvanised C-section beams to construct the frame of Amy's motorbike shed. The hi-tensile eaves and ridge connection brackets provided a seamless portal frame structure that was engineered to provide additional torsional strength to her shed.
Amy's Motorbike Shed
Amy chose to have a roller door on her shed which made it "nice and convenient" perfectly accommodating her motorbike whilst not taking up too much room.
The functionality of the motorbike shed is not limited to storage, Amy also works on her bike in the shed, such as fixing it or making alterations. Since the motorbike shed had lighting installed Amy also isn't restricted to daylight when it comes to being in her Stratco Shed.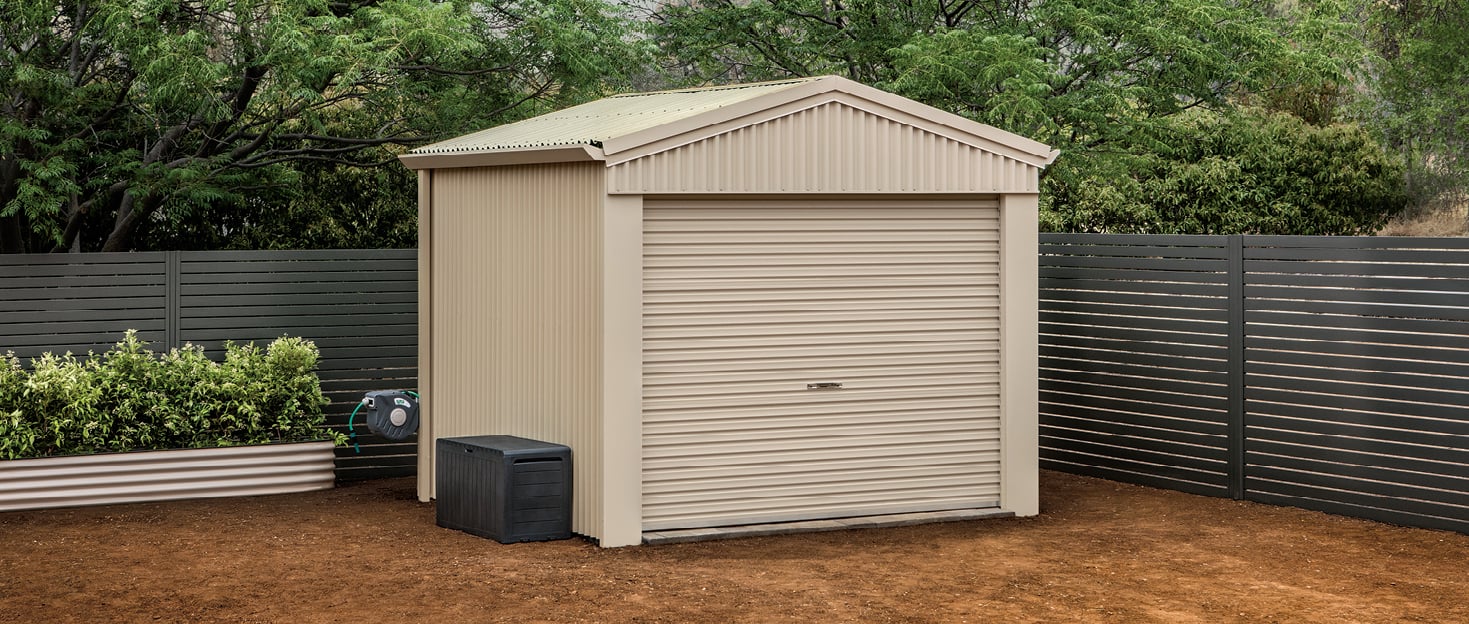 Installation Of The Motorbike Shed
As mentioned above, Amy's motorbike shed has many features including a roller door and lighting which may sound difficult to install without professional help, however, Amy and her partner assembled the whole thing themselves.
The couple was able to clearly understand how to assemble the motorbike shed with Stratco's easy to follow instructions. Everything required to build the motorbike shed was supplied in the boxed kit with two footing options included in the box to either fix the columns into the ground with concrete or pin them onto concrete with footing stirrups. Amy said the whole process of building the motorbike shed was so simple.
We also offer additional extras for the Stubbie Shed such as:
Personal access door
Louvre or sliding windows
Remote controlled roller door motor
Spinning ventilators
Even with all the extras, Stratco still provides easy to follow instructions for DIY however if you require assistance we can provide a Stratco Recommended Installer as well.
Despite building the motorbike shed herself, Amy found the service that she received at Stratco to be amazing.
I am really happy with the end result of the shed, and it's fit for what I need.
Request A Quote For Your Own Motorbike Shed
Stratco was able to provide Amy with the storage solution she envisioned for her motorbike. Whether you want to build your own shed like Amy or have it installed, Stratco is here to help. Request a free quote or call us for pricing and further details today.
What's In Your Shed?
Already have a Stratco Shed at home fit for purpose, email us with photos and contact details. You never know, your shed might feature in our next catalogue photoshoot.