has been added to your cart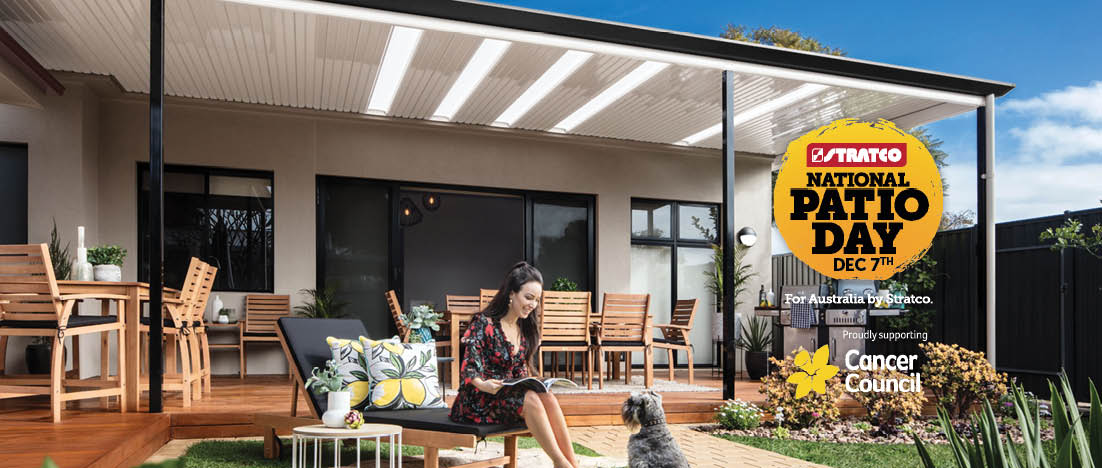 This year Stratco are partnering with Cancer Council for National Patio Day to raise awareness and vital funds to support Australians impacted by Cancer.
This year, National Patio Day will be Saturday 7 December.
Skin cancer accounts for the largest number of cancers diagnosed in Australia each year, emphasising the importance of this new national campaign.
Over many decades, Stratco Outback Patios have provided vital shade to hundreds of thousands of families so that they can enjoy our iconic Australian summer with friends and family in the comfort of their backyards. - Ben Miels, CEO of Stratco.
Summer is the ideal time to entertain, so celebrate the start of summer by hosting your own National Patio Day event. Help educate those around you on the importance of sun safety and raise funds for Cancer Council. Every $50 you raise provides an extra entry to win either a Hafele Alfresco Kitchen valued at $5,000, or one of seven $500 Stratco gift cards*. You will also receive a free National Patio Day host pack when you register online.
Show your support now to Cancer Council by registering to Host a National Patio Day event.
Stratco Patios enable you to enjoy outdoor living with an attractive and functional outdoor area, enhancing any home and lifestyle. With the wide range of verandah, patio, carport and pergola solutions, there is a patio suited for everyone. Purchase your Stratco Patio now and have it in time to host your own event for National Patio Day. In the meantime, Stratco will be donating a minimum of $50 for every patio sold until November 30*.
Already have plans? Let us know what your plans are for National Patio Day and go in the draw to win great prizes, including a Pop Up Patio valued at $700! Enter by commenting on the competition post at Facebook or Instagram.
Have Facebook? Add the National Patio Day frame to your Profile Picture to help raise awareness for this new national campaign.
For more information, or to register visit nationalpatioday.com.au or call 1300 65 65 85 to receive your free National Patio Day host kit.
With your help, we're getting closer to a cancer free future every minute, every hour, every day.