has been added to your cart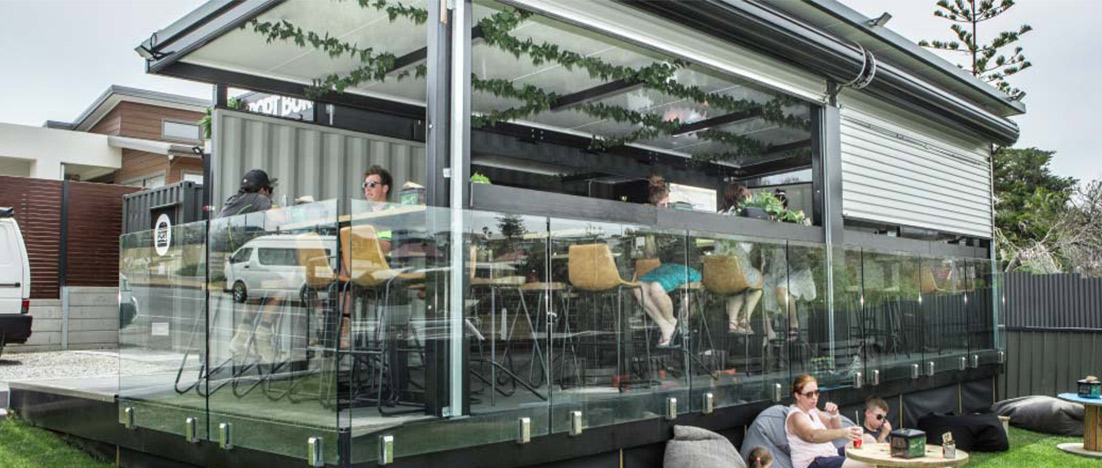 Stratco Outback Patio Creates The Hottest Burger Joint In Town!
Posted: March 27, 2019
A new innovation has arrived at Port Noarlunga, South Australia … Port Burger!
Only a few metres from the beach, featuring gourmet burgers served with locally sourced produce, Port Burger delivers a great atmosphere thanks to an innovative combination of a Stratco Outback Patio attached to a shipping container. Ryan Thorpe from Port Burger contacted Stratco when he had a dream for turning his once pop-up burger place, into an eye-catching 'funky' masterpiece along the coast.
Port Burger features Stratco's Outback Patio with Cooldek roofing. The insulated roofing provides a cool area for customers on hot summer days, while the roller doors shut out the cold weather and wind on the cooler days. Stratco's Cooldek roofing provides a sleek design making it a fresh and innovative place for customers to relax in, which is exactly what Ryan was looking for.
Ryan's dream was to bring something new and different to the area with their funky atmosphere. The dream of using shipping containers had been an idea of Ryan's for over 5 years, but he just needed a team that could help him pull it together smoothly with a modern and clean design. It was a new and exciting project for Stratco and we were happy to give it a go. During the process it became clear there would be a range of challenges with attaching a Patio to the shipping container. This is where Stratco's Engineers came in and it was discovered that custom brackets needed to be made to complete the custom patio job.
The final product looks amazing and business has only boomed since the new Stratco Outback Patio has been installed. The feedback from customers has been amazing. If you're in the area, get along to Port Burger at Port Noarlunga and enjoy some great food and unique atmosphere. Visit the Port Burger Facebook Page for more details.
If you have your own unique idea for a custom designed carport, patio, shed, or veranda, Stratco has the expertise to help you realise your dream. Contact us for a free design and quote today.
You bring the dream, Stratco will bring the How To.
Ps, we love the burgers too!