has been added to your cart

Meet Wade Fletcher. Co-owner of Hills Sustainable Gardens & Proud Stratco Shed Owner.
Wade co-founded Hills Sustainable Gardens (HSG) in 2014 with a very small team in his spare time. HSG began its service in the Adelaide Hills and now extends to all suburbs of South Australia with staff who are qualified and experienced horticulturalists. The team of nearly 20 specialise in landscaping and maintaining projects from domestic to large properties including cellar doors.
"I envisioned my backyard to be an entertaining area and that's where the Stratco Shed fits in perfectly with the rest of the yard"
Wade and partner Maddie were looking for an outdoor entertaining solution to complement their native backyard to suit all seasons. Situated in the Adelaide Hills, South Australia, the couple wanted a space they could incorporate a fireplace into for the cold winter nights. Wade and Maddie visited Stratco Mount Barker and spoke to one of our HowTo Experts about their dream backyard and Stratco Shed. The team created a 3D design to visualise exactly where the shed was going. The Stratco Shed fit the purpose of an entertainment shed, or man cave if you like, ready to entertain family & friends all year round. Wade installed the gable roof shed himself with the help of some friends over 2 days, thanks to Stratco's easy to follow instructions.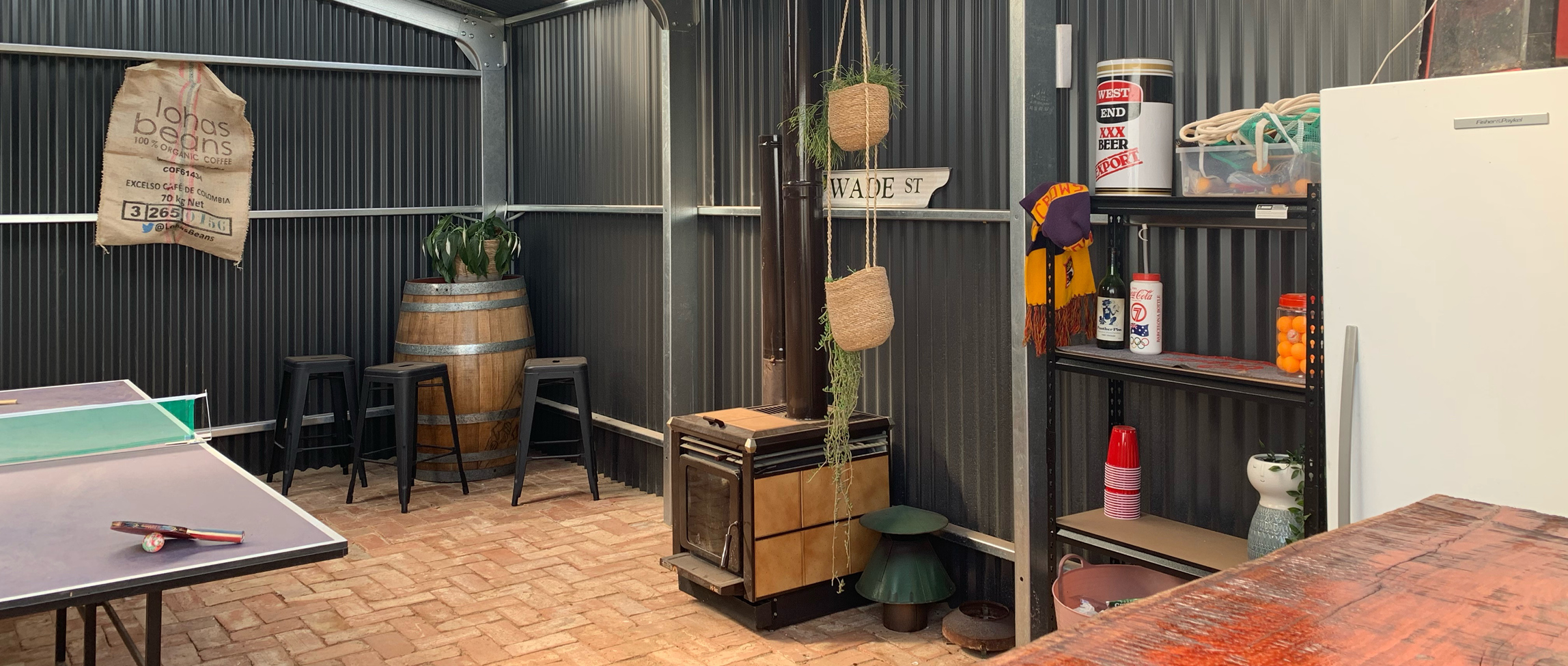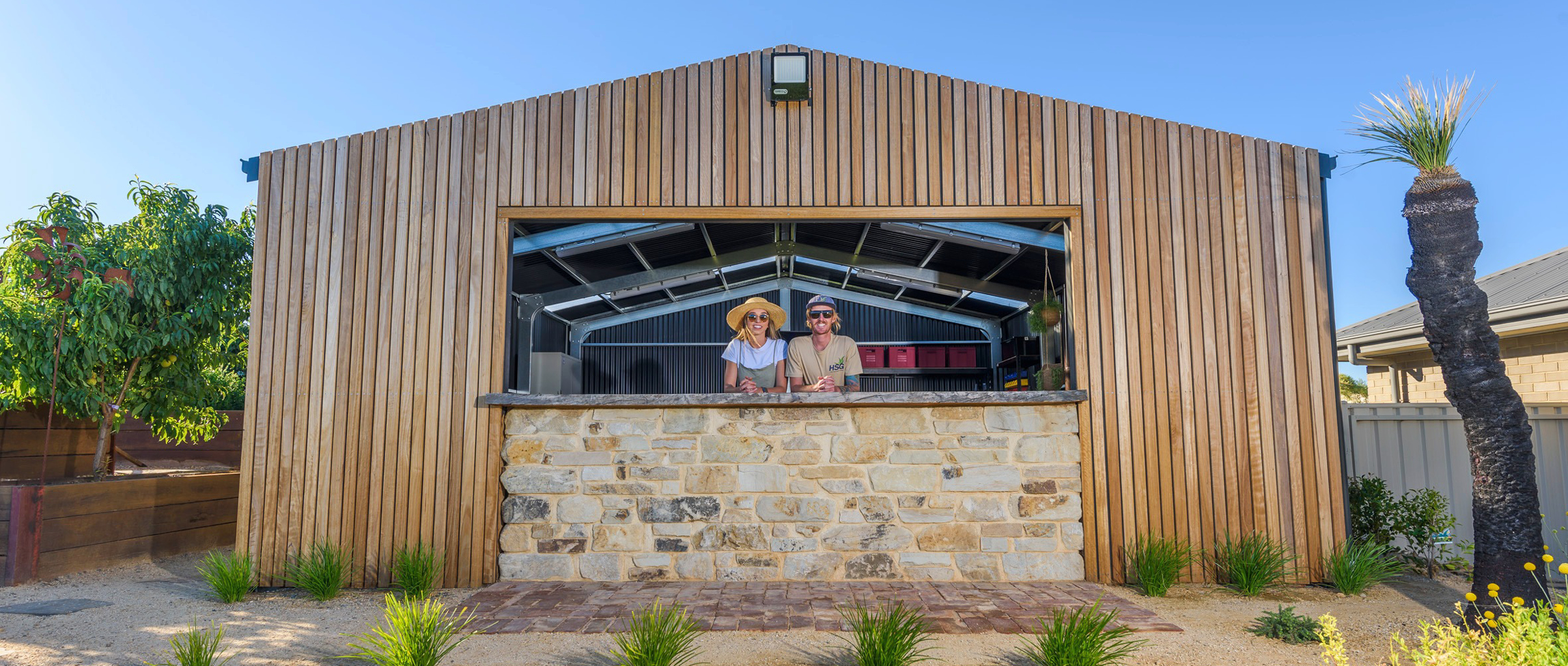 The couple really wanted to customise the shed to suit their backyard, so Wade had the unique idea of creating his own front wall design for the shed. Wade built a plyboard subframe behind the timber slats which was weatherproofed, then visited the Basket Range quarry and hand-picked the stone to build the small wall below the river gum bench. "We mortared that in and put reinforcing bar through the middle before mounting the benchtop on".
Stratco Garages and Outdoor Sheds offer stylish, high-quality storage and protective solutions for all types of properties. The Gable Roof Garage features a practical pitched roof and takes full advantage of the floor space available, whereas the pitched roof minimises the heat build-up ideal for the warm summer days and increases your storage space on the inside.
Stratco provided a great solution for the entertaining area leaving Wade and Maddie very happy with the end result and the quality of the product. "The most rewarding part of dealing with Stratco was the customer service and the organisation of the business," said Wade.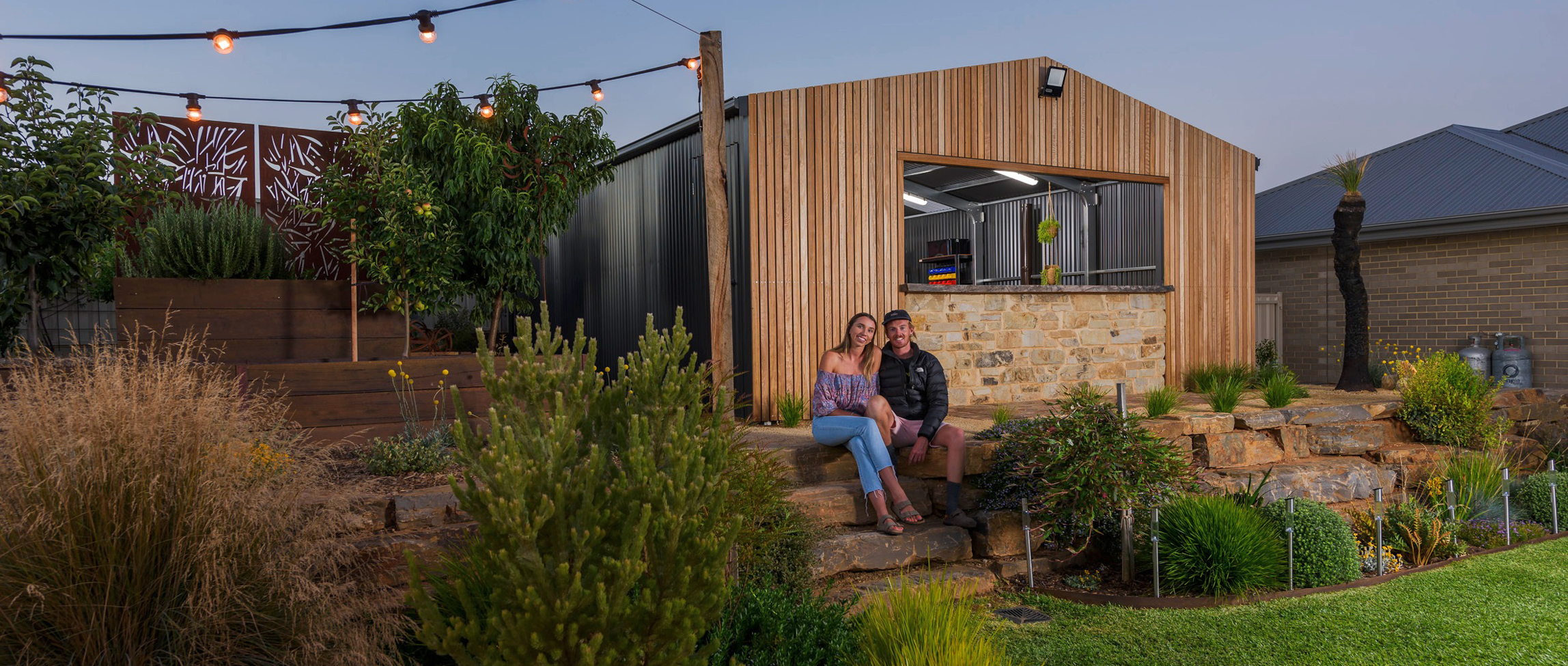 "I look forward to coming home to my backyard and my Stratco Shed to spend time with family and friends"
Still want more? Watch our interview with Wade.
Time to create your outdoor entertaining area? Request a free, no-obligation quote or give us a call on 1300 165 165.
What's In Your Shed?
Already have a Stratco Shed at home fit for purpose, email us with photos and contact details. You never know, your shed might feature in our next catalogue photoshoot!