has been added to your cart

Enjoy Your Patio Through Winter With Outdoor Heating
Posted on: April 5th, 2019
With a variety of stylish and practical outdoor heating options available,Stratco has the solution for keeping you warm outside this winter.
Do you find that your outdoor areas get neglected through the colder months in favor of staying warm inside? Well, that doesn't have to be the case anymore.
In considering how to keep you and your guests warm and cozy in your outdoor space, the two main options are either a Patio Heater or a Fire Pit. Both options have many variations and their own lists of pro's and con's. Deciding between the avaliable options will depend on personal preferences and their suitability in the proposed space. Below is a guide to help you determine which heat source is best for your outdoor living area.
Gas Patio Heaters
Gas patio heaters are capable of heating large areas with the use of a gas bottle and are commonly used in commercial settings for this reason. Children and animals are safe around pole style patio heater's such as Stratco's Patio Heater as there are no flying sparks or embers. Patio heaters heat quickly, provide a lot of heat and are low maintenance.
If you plan on spending a lot of time outdoors this winter on a deck or under a patio, then a patio heater may be perfect for you. Below are a series of Pro's and Con's for Patio heaters to aid in your decision.
Pros
Temperature Control
Warms large areas
Easy to move
Low maintenance
Provides quick heat
Can be used safely around pets and children
Safety features
Perfect for usage under a patio or on a deck
Cons
Gas is an ongoing expense
Doesn't produce much light
Requires a relatively flat surface
Electric Patio Heaters
Electric patio heaters are also avaliable as an alternative to traditional gas patio heaters and are suitable for outdoor heating in addition to indoor heating if needed. These heaters are commonly found in a "strip" form which makes them easy to install on surfaces including the roof, allowing for an even heat dispersion from the heater surface. The designs of electric patio heaters are often less obtrusive than gas heaters aswell, yet they are still capable of providing enjoyable and gentle warmth at minimal operating costs.
Pros
Stylish and unobtrusive design
Produces gentle radiant heat
Temperature control
Safe to use in poorly ventilated areas
Low maintenance
Easy to install, mount and plug in
Cons
Slower than gas heaters to warm up a space
Limited placement as requires a power source
Electricity usage can become expensive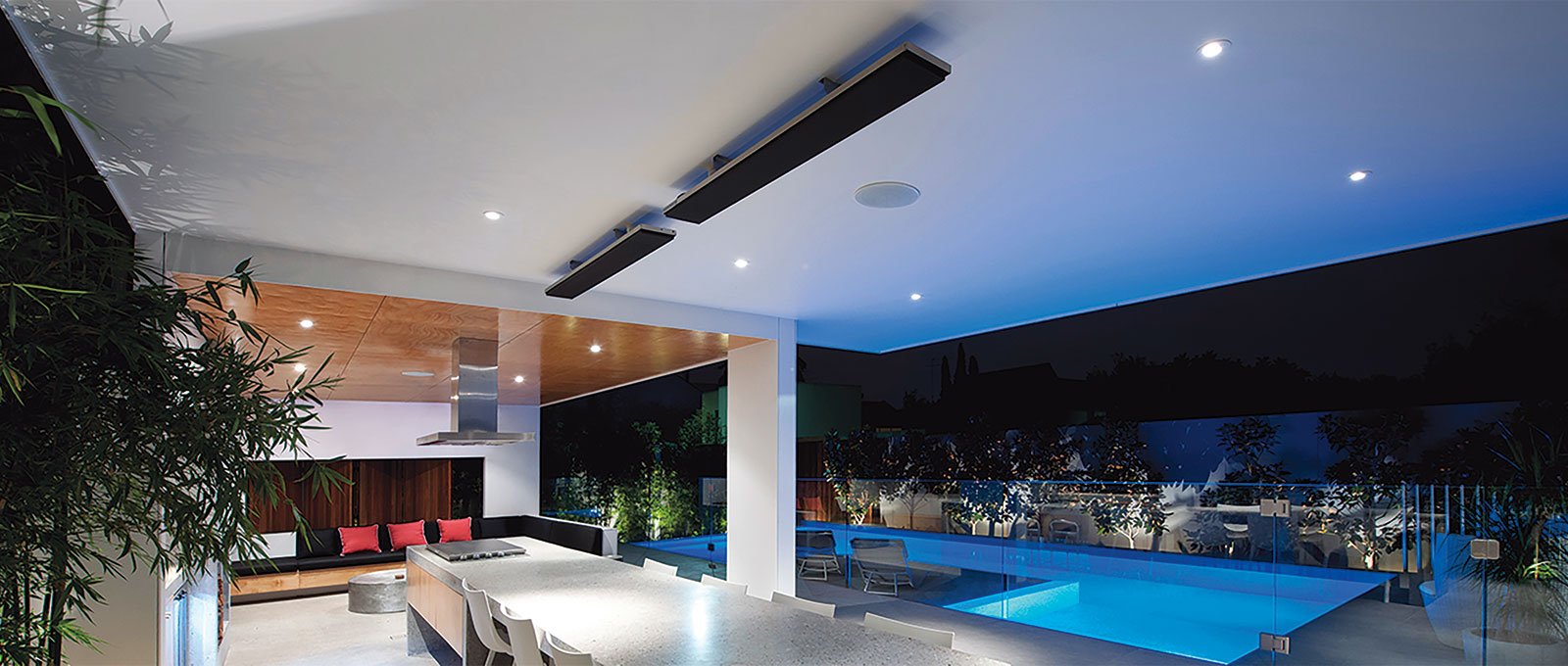 If you have decided that a patio heater is the right choice for your outdoor setting, make sure to check out the range of affordable patio heaters at Stratco.
Fire Pits
If you are looking for a more authentic outdoor winter experience, then a fire pit may be what you're after. Fire pits are a great alternative to open fires as they safely contain the fire itself and can also be moved around with ease. Wood or coal is typically used as fuel, making fire pits cheaper to run than patio heaters.
Fire pits can also help you to create the perfect atmosphere for any outdoor winter gathering, providing warmth and the ideal flame for roasting some marshmallows. Below are some Pro's and Con's of owning and operating an outdoor fire pit.
Pro's
Different design options
Provides warmth and light for entertaining
Can be moved easily
Less messy than traditional campfires
Marshmallow and food roasting capabilities
Con's
Danger of open flames and embers
Lack of temperature control
Not recommended for undercover areas
If a fire pit sounds like something you would like in your backyard, Stratco has a range of fire pits in many different shapes and styles to choose from and firewood avaliable. Traditional round style fire pits are available while Stratco also stocks a variety of stylish pits to suit any back yard.
Stratco's range of outdoor heating products are avalible online and in store. If you are still unsure about what style of outdoor heating you would like to try this winter, get in contact with us or visit your local Stratco store for all the help and assistance you might need.