has been added to your cart
Stratflo Louvre Vents
Stratco
SKU: Stratflo-Louvre-Vents
Designed to withstand the cyclonic conditions found in the tropics, Stratflo Louvre Vents offer building ventilation with the extra security that single or second stage louvres provide against extreme weather. Whether you want to install it yourself or require assistance, we are here to help. Contact us for pricing and further details today.




Secure ventilation designed to withstand cyclonic conditions
Stratflo louvre Vents provide a secure, visually appealing solution to the challenge of increasing building ventilation, particularly in hot and humid climates. The louvres are designed to resist the intrusion of wind driven rain, and can be constructed with insect screening if required. Louvres fitted with a second stage vent provide extra security and weather protection for cyclonic conditions. Stratflo louvres are approved by the Darwin Building board.
Brochures & Installation Guides
Stratflo Louvre Configurations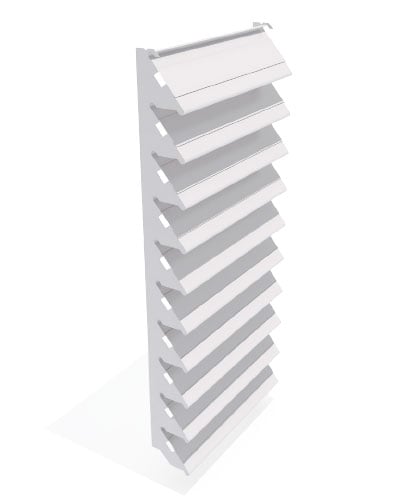 The Benefits of a Well Ventilated Building
Building insulation is not enough to prevent heat from radiating into living areas. Adequate ventilation encourages the flow of fresh air through the building and roof spaces. Excess heat and moisture can be removed naturally through strategically placed louvre vents.
Louvre vents combat mould, mildew, dry rot and damp insulation by removing the heat and moisture that leads to these problems occurring. Damp insulation is also less efficient, resulting in higher heating and energy costs during winter. Stratco Louvre vents offer a cheap, energy free way of providing adequate air circulation.