has been added to your cart
Roller Garage Doors
Stratco
SKU: Roller-Garage-Doors
Stratco Garage Roller Doors are some of the smoothest and quietest roller doors on the market. We follow a strict check list using the highest quality parts to produce superior garage roller doors. This style of roller door can be ordered to suit your exact requirements. Whether you want to install it yourself or require assistance, we are here to help. Contact us for pricing and further details today.




Keep safe and secure with a strong and durable Stratco Garage Door
Stratco Roller Doors are made to the highest manufacturing standards to provide the smoothest, quietest roller doors on the market. We follow a strict checklist using the highest quality parts to produce our superior quality doors. Using the best quality springs ensures the door will operate up and down with ease for years to come. Locks are fully fitted to all doors in manufacture. Stratco Roller Doors use a heavier duty bottom rail for extra security and strength. Nylofelt strip is used to give the door a noiseless and grease free operation.
Brochures & Installation Guides
Big Or Small
Stratco produce all standard size roller doors as well as customised doors up to a huge 5.6 metres wide and 5 metres high. Counter top and/or personal access doors are also manufactured, starting as small as 900mm wide.
No Room? - No Problem
Need to get a motor into tight side room? Recess drum wheels are available by request. In conjunction with the RDO 12 slim line 24V high torque motor, door and motor can be fitted onto 'a 90mm post'. We can also manufacture a reversed-roll roller door for the purpose of fitting the door to the outside of your opening.
Great Finish
Stratco Roller Doors feature a chrome lock which provides an appealing finish and greater longevity over a plastic lock. 'Key-to-like' is available by request.
Roller Door Dimensions
Roller Door Dimensions
Door Series
Opening
Height (mm)
Headroom (mm)
A
B
C
D
E
A & AA
1200
430
265
165
460
2200
450
270
170
485
2400
455
275
180
505
2800
485
295
190
515
3000
495
300
195
525
B
3900
525
310
210
565
4600
535
325
210
580

5100

550
340
210
595
Cyclock Roller Door
Superior Strength And Security
Stratco Cyclock Roller Doors have been developed to provide great strength and security through its unique design and outstanding engineering. The Cyclock Roller Door Guide Channel System holds the door firmly in position to prevent damage caused by high winds. It also acts as an extra safe-guard against 'break-ins', because it is extremely hard to push the curtain inwards to gain unwanted entry.
Designed And Engineered For The Extreme
Cyclock doors incorporate a unique Triple Tracking System that interlocks with the locking hooks that are secured to each side of the door. This prevents the door from coming out of its tracks in a high wind environment. The design of the doors together with Cyclock system ensures a smooth operation with exceptional wind load characteristics.
Wind Loads
Where there is a C2 Wind Load Rating for areas subject to high wind conditions, or for very wide openings, roller doors should be fitted with Cyclock to prevent the curtain from disengaging from the guides under wind pressure.
Australian Standards Compliant
Investigation and calculations for the Stratco Cyclock System comply with Australian Standard AS/NZS 1170.2:2011 Structural Design Actions, Wind Actions, AS4100 Steel Structures, AS/NZS 4505:2012 Garage Doors & Other Large Access Doors, subject to proper fixing of the bracket to an approved supporting structure for Cyclock Doors up to 5400mm wide.
---
Garage Door Accessories
Emergency Key Release
Allows access to the garage in case of malfunction or power failure.
Battery Back-Up
Also used in case of malfunction or power failure, the battery back-up allows electronic operation of your garage door.
Digital Keyless Entry Wireless Keypad
Allows entry into your garage if a hand transmitter is not available. A wall mounted keypad with cover that can be programmed with codes from 4 to 8 digits for maximum security. Includes a back-light for your convenience when used in poor lighting situations.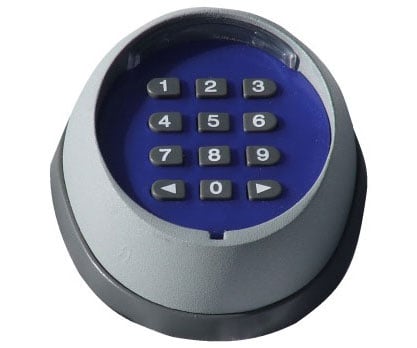 Multi-Function Hand Transmitter
Stylish and robust remote that can be used for up to four individual doors operators.
Photo Eye Protection
Transmits an invisible light across the inside of your garage door opening, providing added protection against a door operating when a car or person is in the door opening area.