has been added to your cart
Sectional Garage Doors
Stratco
SKU: Sectional-Garage-Doors
Create an elegant and sophisticated impression to your property with a Sectional Garage Door from Stratco. Sectional Panel Lift Garage Doors are available in a range of styles and colours to suit your home. Whether you want to install them yourself or require assistance, we are here to help. Contact us for pricing and further details today.






Create an elegant and sophisticated entrance with Stratco Sectional Panel Lift Doors
Create an elegant and sophisticated entrance with Stratco Sectional Panel Lift Doors. Made from hinged panels that slide along tracks as the door opens and closes, Sectional Garage Doors do not protrude into the driveway when operating and lay parallel with the ceiling when open. For openings with low ceiling heights, Sectional Panel Doors are often a better fit than roller doors.
Our sectional garage door is one of the strongest available. We use galvanised steel hinges that are fully adjustable, so the outside finish is perfectly flat and has minimal gaps around the edge of the door. Looking at the Silvain style sectional door, it is almost impossible to see the joins in-between the panels. This creates a truly professional clean look for your door.
All parts are hot dipped galvanised with quality grade steel ribs (not zinc plated, or plastic struts) used between the panels for greater strength. 25,000 cycle springs are used as standard. Higher cycle springs can be manufactured for unit complexes and other doors that require commercial frequency opening.
Brochures & Installation Guides
Renowned for reliability, safety and durability
Stratco Sectional Garage Doors door offer the following features:
Features the latest anti-finger-crush design
Super quiet, low maintenance
Requires minimum drive-through clearance
Operates by lifting vertically, hinging at the top of the opening and running
horizontally under the ceiling
Rigid, Premium Pre-Painted Colour Coated Steel with attractive woodgrain or smooth finishes
Optional durable powder coat finish in a huge range of decorator colours
Manufactured to span widths up to a massive 6700mm wide
Customised springing to ensure the lightest possible opening operation
Heavy duty galvanised steel tracks, wind struts and fittings
Custom-made sectional doors are also available.
---
The Silvain
The 'Silvain' door is designed to depict a timber plank door but with the durability and strength of steel. It is a wide timber board design with attractive embossed design and a woodgrain pattern.

---
The Smooth
Features a smooth ribbed panel design for a contemporary slatted appearance.
---
The Flat
Features a wider flat panel design for a minimalist look with clean, sharp lines.
---
Insulated Sectional Doors
Our insulated doors are core filled with dense foam. The double sided panel looks just as good from the inside as it does from the outside. Each individual panel is fitted with a rubber seal between the joins to keep the house cooler in summer and warmer in winter. The core filled insulation is made to exceed European specifications. Rubber or brush seals can also be fitted to the opening.
---
Garage Door Accessories
Emergency Key Release
Used in case of malfunction or power failure, the emergency key release is especially useful if there is no other access into the garage.
Battery Back-Up
Also used in case of malfunction or power failure, the battery back-up allows electronic operation of your garage door.
Digital Keyless Entry Wireless Keypad
The digital keyless entry wireless keypad allows entry into your garage from outside if a hand transmitter is not available. A keypad with cover that can be programmed with codes from 1 to 6 digits for maximum security, includes a back-light for your convenience when used in poor lighting situations.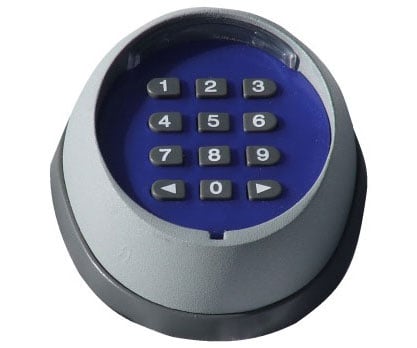 Multi-Function Hand Transmitter
A multi-function hand transmitter may be used for up to four individual doors and gates.
Photo Eye Protection
Our Silent Guard non-contact reversing system transmits an invisible light across the inside of your garage door opening, providing added protection against a door operating when a car or person is in the door opening area.