has been added to your cart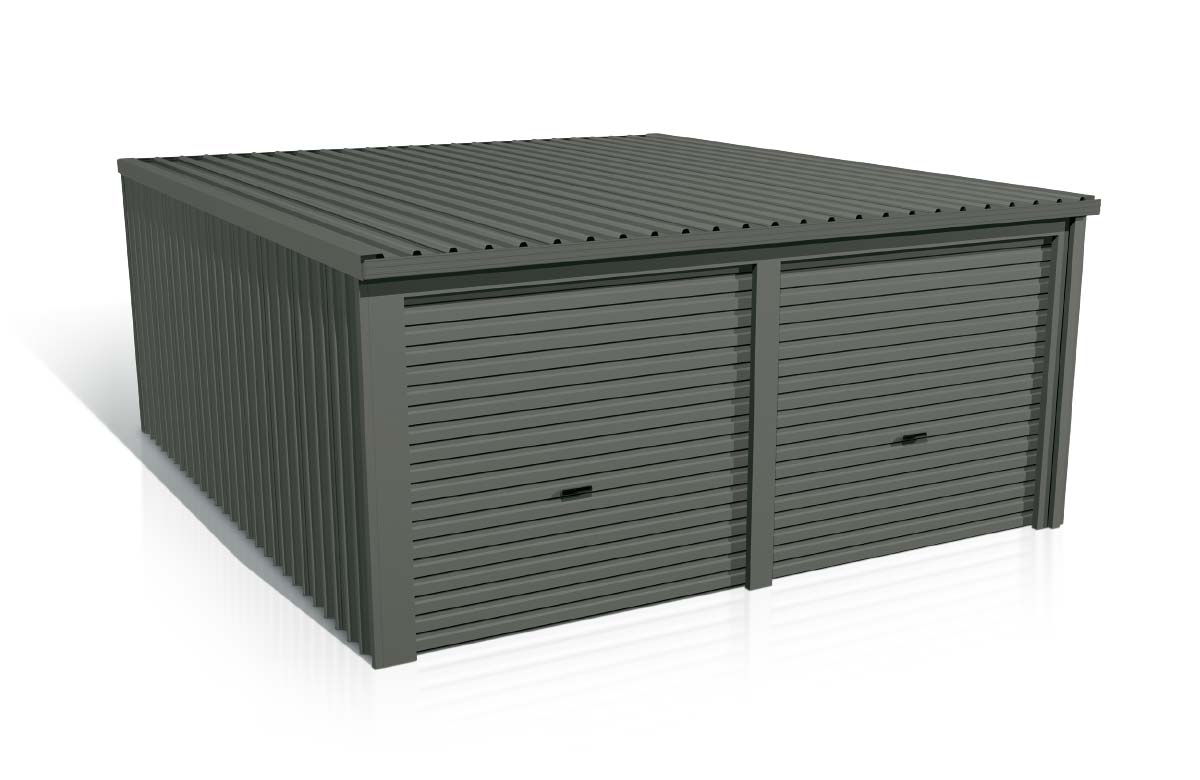 Flat Roof Shed
Stratco
SKU: Flat-Roof-Shed
Simple, clean and understated lines are a feature of the practical and economical Flat Roof Shed or garage. With a wide range of garage sizes to choose from, there is a Flat Roof Outdoor Storage Shed to suit every requirement. Your shed/garage will be custom designed and made to suit your exact requirements. Whether you want to build it yourself or have it installed, we are here to help. Contact us for pricing and further details today.


















Quality Garages and Storage Sheds
Robust and practical sheds for storage and protection.
The range starts with a large garden shed named the Potter, which is a robust, practical storage shed. After the Potter the Flat Roof Shed becomes a true garage with roller doors fitted as standard, perfect for use as a carport.
Available in a wide range of colours, Flat Roof Sheds come standard with gutters and downpipes. The roof and walls are clad with Prodek® steel sheeting. Single sided colour is used on the garage walls, while the roof is unpainted zinc/al. The roof is also available in all single sided wall colours, however additional costs apply. Deep 50mm ribs in the Prodek profile make it strong and durable, this allows the inside of the garage to have a clean, uncluttered appearance without the need for support rails.
Brochures & Installation Guides
Shed Sizes
All Flat Roof Sheds, except for the Potter, are available with the Handiman Extension, which adds an extra two metres to the length of the shed. When storing a vehicle, the Handiman Extension gives you the extra room for further storage on the back wall.
Flat Roof Sheds have 13 different sizes.
There are seven single sized sheds and six double sized sheds.
All Flat Roof Garages are available in 2400mm and 2700mm heights.
Except for the Potter storage shed which has a wall height of 2100mm.
Shed Sizes
Size
Name
Width (mm)
Length (mm)
Single
Potter
3355
4110
Universal
3460
5960
Handiman Universal
3460
7910
Spacemaster
4110
5960
Handiman Spacemaster
4110
7910
Workshop
4765
5960
Handiman Workshop
4765
7910
Double
Duo
5415
5960
Handiman Duo
5415
7910
All Rounder
6015
5960
Handiman All Rounder
6015
7910
Leisure King
6715
5960
Extended Leisure King
6715
7910
Note: Some sizes are not available in all states, please check with your nearest Stratco for availability.
Sheds Engineered for Strength
Flat Roof Sheds of all sizes are suitable for use in wind speed areas of W28 (N1) and W33 (N2), while only Single Flat Roof Garages are available In W41 (N3). Stratco Garages are designed for non-cyclonic areas. For your guarantee of structural integrity, all calculations and tests carried out on the Flat Roof Shed range have been certified by recognised, independent structural engineers.
Flat Roof Shed Options
Shed windows.
Personal access door.
Coloured roof.
Dust resistant foam strips to fill any gaps.
Garage roller doors can be fitted with a remote controlled door opener.
Installation
Flat Roof Sheds are developed with the do-it-yourself builder in mind. For a simple 'bolt together' assembly, Stratco Garages feature pre-cut and pre-drilled framework and pre-cut steel sheeting. Instructions that are easy to follow are included. Alternatively, a list of qualified builders can be provided by Stratco to do the job for you.
Garage Maintenance
Your Stratco Flat Roof Shed will maintain its good looks for longer with a simple wash and wipe down with a soft broom. Stratco Garages are produced from the highest quality materials and will provide many years of service if the important recommendations set out in the 'Selection, Use and Maintenance' brochure are followed.