has been added to your cart
Experience the best of outdoor living with a Stratco Verandah, Patio, Carport, Pergola or Awning. Open your home to the outside and create a patio space that can be enjoyed throughout the year. Under a Stratco Patio you are protected from the elements, expanding your possibilities for entertaining, storage or enjoying your garden.
Stratco is the only major manufacturer of verandahs, patios and carports that has a nationwide chain of home improvement stores and a highly professional network of Authorised Dealers. So you can be sure we have your outdoor lifestyle needs covered.
Talk to Stratco when making a decision about the best verandah or patio for your home. There is a location near you with stores in every major city including Sydney, Canberra, Melbourne, Adelaide, Perth, Darwin and Brisbane. Stratco have all the design and advice to make the process easy.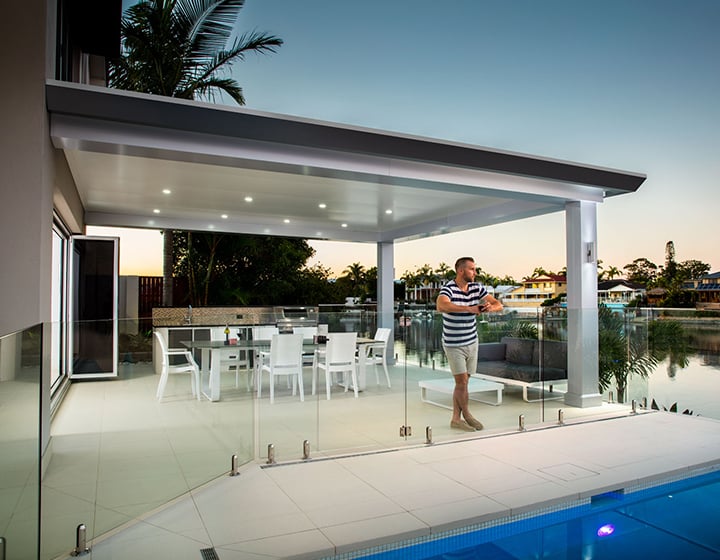 Need Some Inspiration?
Open your home to the outside and create a space that can be enjoyed throughout the year with our huge range of outdoor furniture and cooking products. From barbecues and pizza ovens to bar tables and outdoor settings we have everything you need to fit out your perfect outdoor space. For those wanting extra protection from the sun, breezes, rain and insects you'll love our Stratco Ambient Blinds.
What our customers are saying about Stratco
Great website to find, order and pay for stock. Same day supply at Virginia. Order advice by phone stock was available. Trouble free access to collect goods. Friendly staff.
Greg, Saturday, November 28, 2020 8:53:51 PM
receiced cupboard within good time when assemlping it there was a dint in door frame . below the left hand door ...and the two locking rods were loose in the panel. had diffictualy getting them out and reattaching to center handle and working out how...
mal smith darren cowan, Wednesday, November 25, 2020 2:01:07 AM
Thanks Callum for your great and friendly service.
Cameron, Wednesday, November 25, 2020 12:07:13 AM
Extremely happy with service and the product looks fantastic
Glenda, Tuesday, November 24, 2020 4:30:27 AM
Thanks to Dion for his on time, efficient delivery this morning!!!
Samantha Deeming, Tuesday, November 24, 2020 12:44:33 AM
A big thank you to Callum our delivery driver always so friendly and nothing is ever a problem :) Thank you Gold Coast Door Centre
Amanda Colby, Monday, November 23, 2020 5:55:19 AM
Driver was very friendly and helpful, Organised the delivery where I needed it to be. Great job
customer, Monday, November 23, 2020 1:33:16 AM
This is a shout out to Callum! Callum is a Stratco Driver and we can not talk highly enough of him. His service and communication was 10 stars! Thanks Callum!!!
Lisa Litchfield, Monday, November 23, 2020 12:24:59 AM
I just ordered a frontier car port. The lovely sales guy that helped me (Dan Singleton) Super approachable and made the whole process really easy and efficient. Said he will keep me in the loop with my order and he has been. Definitely recommend :)
Samantha Sauer, Monday, November 23, 2020 12:04:24 AM
The service from the team has been excellent, particularly Shane in the call centre. He's been very responsive and helpful with my shed purchase.
Adrian Hocking, Sunday, November 22, 2020 6:32:47 AM