has been added to your cart
Rainwater Tanks
Stratco tanks and water storage solutions to help you save on your water bills.
Stratco water tanks integrate effortlessly into your home water system. When combined with a wide range of Stratco Rainwater Tank accessories, they provide a complete water storage solution.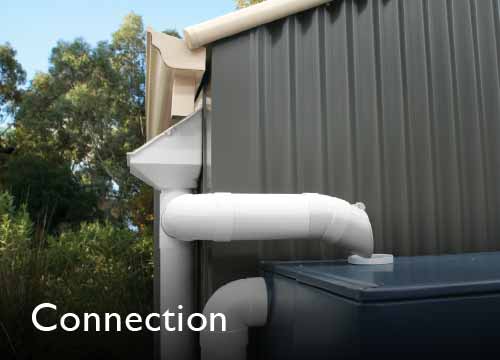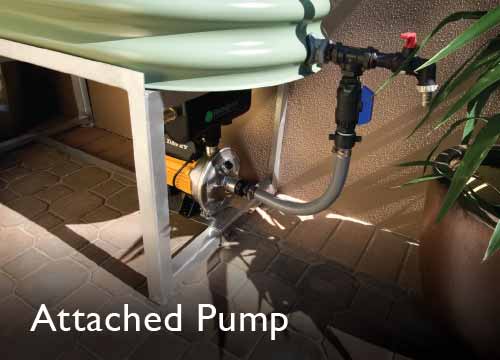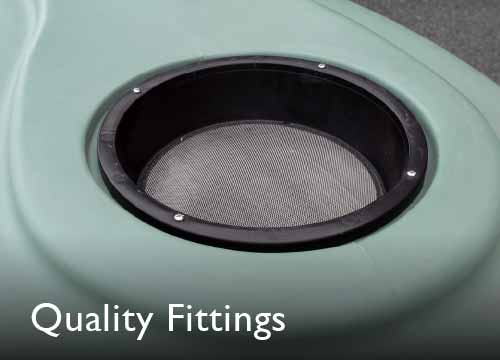 Large Range
With an extensive range of water tank sizes and styles, there is a tank to fit your water storage needs. From plastic or poly tanks to steel water tanks in both corrugated and slim designs, there is a style to suit your home or business.
Poly Water Tanks
Stratco poly tanks are produced from a polyethylene that has a food grading and is resistant to harmful ultraviolet rays. Poly rainwater tanks have excellent impact resistance and will not corrode. Manufactured in one piece with a thick wall, using an advanced plastic rotomoulding method to deliver one of the cleanest, strongest and most durable tanks on the market. Stratco poly tank styles include:
The Aqua-Line, with its modern, contemporary style, smooth surface and attractive strengthening ribs.
The Aqua-Link, an innovative tank with stylish rounded curves. Aqua-Link is made up of 1100 litre modules that can be linked together.
Steel Water Tanks
Steel rainwater tanks produced by Stratco are manufactured to the highest quality standards in a wide range of styles and colours. The Aqua-Barrel, Aqua-Classic and Aqua-Quad are constructed using corrugated Aquaplate® steel. A food grade polymer skin coats the inner surface of Aquaplate steel to provide clean, healthy rainwater and a long useable life. The steel water tank range includes: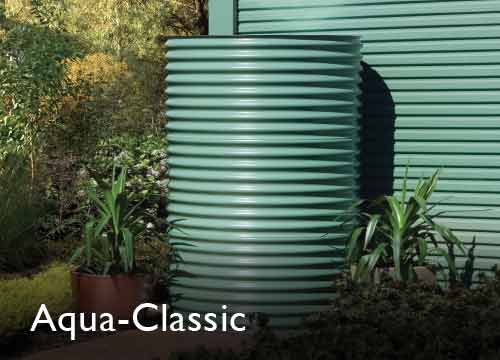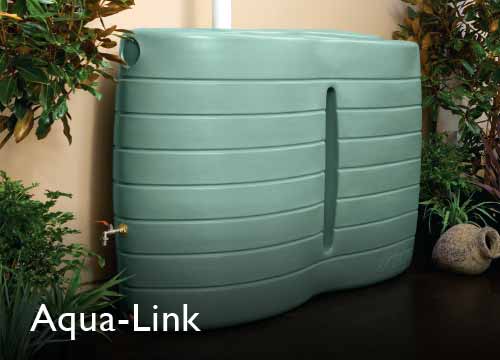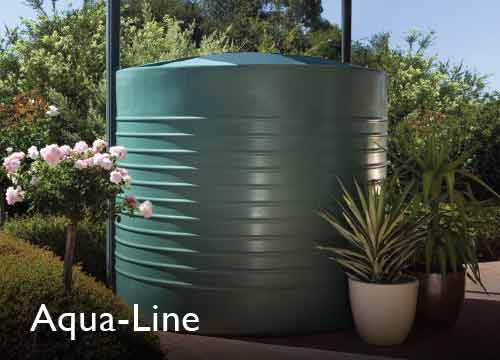 Water Storage
Rainwater is a valuable natural resource that can be collected as an environmentally responsible way to provide real cost savings to any home or business. Homeowners and urban planning authorities are recognising the benefits of rainwater collection and water storage with new legislation being introduced in many areas.
A rainwater tank can save up to 100,000 litres of water a year in an average home. Collected rainwater can be used to water the garden, wash the car, or as drinking water. With additional plumbing and a pump, a tank can be used to flush the toilet, fill a washing machine, fill a water heater or be used through a cold water tap.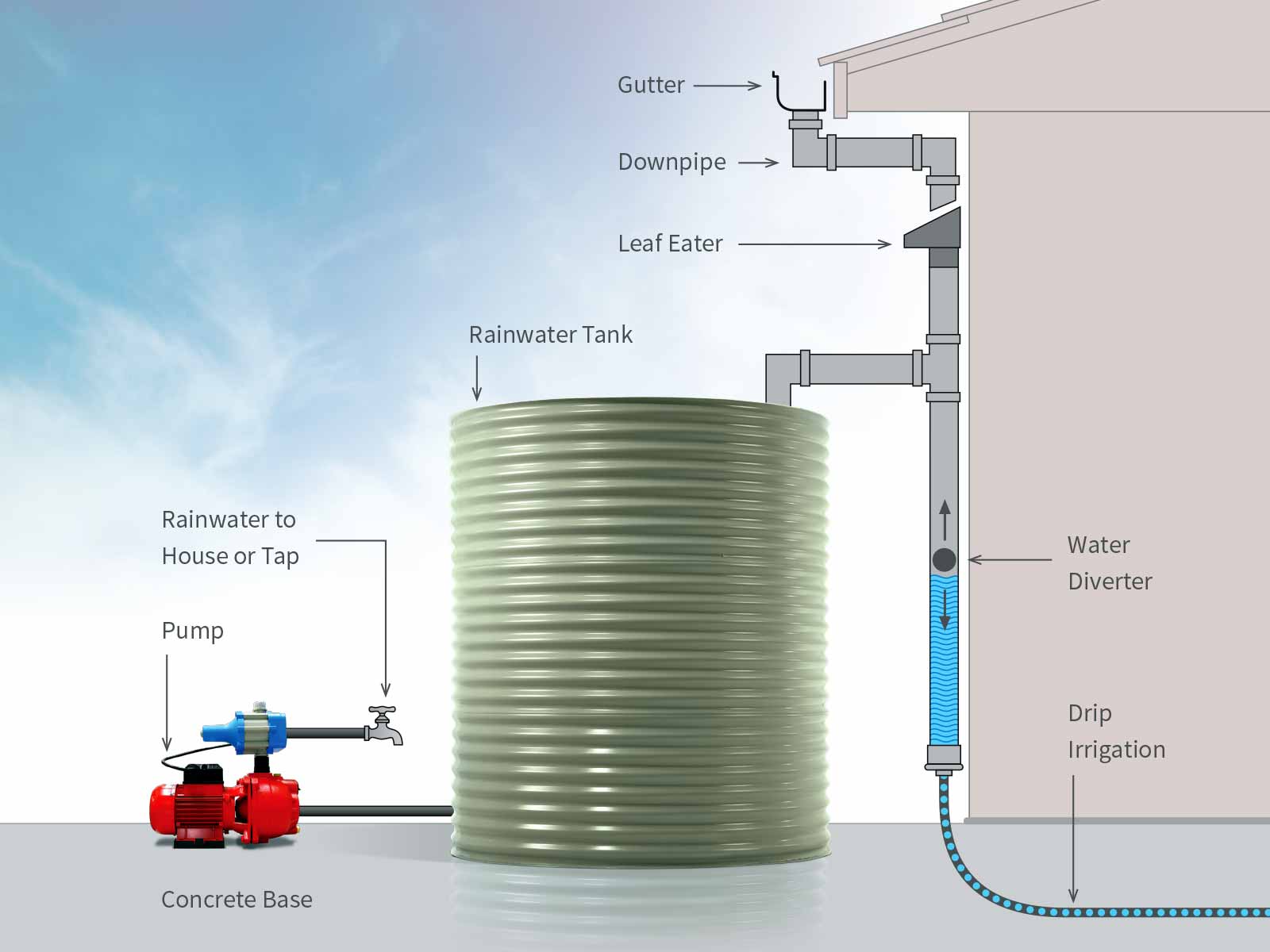 Pumps and Water Tank Accessories
Get the full potential out of your rain water tank with a complete range of pumps and accessories from Stratco. A wide range of pumps are available. The pump you choose will depend on the water tank size, the requirements of the appliance that will feed from the rainwater tank, the diameter of the plumbing pipes and the pressure required.
If you choose to run your appliances solely from tank water, you may need a top-up facility to fill part of the water tank with mains water when the rainwater gets low. When connecting to mains water, a backflow prevention device is needed to prevent the reverse flow of polluted water from contaminating drinking water. Some pumps have backflow and top-up devices built into their design. Stratco can supply separate top-up devices, backflow prevention devices and any pipes and fittings needed to complete the system.
Talk to Stratco when making a decision about what tanks, pumps and accessories are required for the application. With stores in all major cities including Brisbane, Sydney, Canberra, Melbourne, Adelaide, Perth and Darwin, there is a location near you. When installing, never attempt to install a tank to mains water without a qualified plumber.
What our customers are saying about Stratco
Did a click and collect order, arrived at store before it was ready, staff were extremely helpful to get the order out.
customer, Tuesday, November 19, 2019 9:35:13 PM
Excellent service,fast delivery great products
customer, Tuesday, November 19, 2019 2:53:21 AM
I would like to pay tribute to one of the staff members at Capalaba store - Angel. who from my observation is outstanding. Efficient, friendly and does her very best with every customer that was her responsibiltiy. She is a credit to Stratco and I ...
Vivienne Ruth Parminter, Monday, November 18, 2019 10:57:50 PM
carmello deserves a wage rise.rgds mike.
mike gielis, Monday, November 18, 2019 9:44:19 AM
Delivery was on time, Sam the truck driver was amazingly helpful in getting the delivery in and helping unload as well as communicating on the way. Getting stuck into the shed build now - can't wait to have it finished - Team at the store was great ...
Peter Spalding, Monday, November 18, 2019 12:29:04 AM
Gave me a phone call with an approx time of delivery. Arrived with in the time mentioned. Removed items as close as possible to the house. Helped move items to the back of the house. Very helpful and polite.
Leo Maxim, Saturday, November 16, 2019 2:13:33 AM
Big thanks to Paul at Stratco Deer Park for all his help with my shed purchase. Nothing was too much trouble, from design to delivery. Special mention to Darren who delivered the shed. What a sensational effort!!! I highly recommend Stratco for any...
Liz Trin, Thursday, November 14, 2019 1:52:41 AM
Goods were delivered to our home promptly. No problem whatsoever. Goods were exactly what we wanted. Could only say that we are extremely pleased with Stratco's service.
Kim Atkinson, Thursday, November 14, 2019 12:24:21 AM
Big thanks to Scott @ Deer Park for all the help along the way from design to final product and Sam for the great delivery service provided.
Peter Christodoulou, Wednesday, November 13, 2019 10:25:38 AM
Thanks Sam for a great service getting my carport delivered straight into my shed so I don't have to tie it down to stop it blowing away. The delivery semi made my big yard look small.
Trevor Mirams, Wednesday, November 13, 2019 2:11:19 AM