has been added to your cart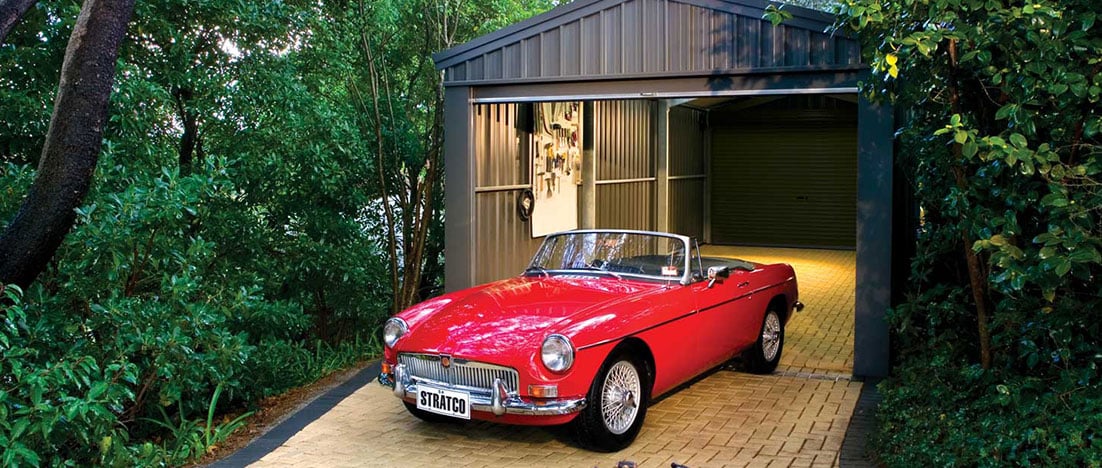 How to Design and Build Your Ideal Garage
Posted on: 31st of May 2019
Choosing the right size and style of garage can be a difficult process, so here are a few tips to help you build your ideal garage.
If you are in the market for a new garage, there are many factors you will need to take into consideration before making a purchase. Important factors include the size of your garage, style of garage and material selection.
Size of Garage
The size of garage you should purchase typically depends on 4 things: land space available, vehicle needs, storage needs and open space requirements.
1. Available land space
Firstly, the available land space should be observed to determine the maximum space available for the garage. If the garage is going to be used for car storage, car access to the garage should also be considered. To provide a basic idea of the space required, typical internal dimensions of Australian garage sizes are as follows…
Typical garage dimensions for a single and double garage in Australia are
Single Garages = 3.5m wide by 6m long with a 2.5m wide door
Double garages = 6m wide by 6m long with a 5m wide door
2. Vehicle requirements
As the most common purpose of a garage is to house cars, it is important to determine how many cars you plan on fitting in your garage and their size. One option is to measure the height, length and width of your vehicle/s to ensure they will fit, making sure to consider if you might buy a bigger car in the future.
Without getting a tape measure out, typical large Aussie cars, such as a commodore or falcon are around 5m long and 1.9m wide. This means that in a standard sized single garage (3.5m by 6m) you would have 80cm on space on either side of the car and 50cm of space in front and behind the car. In a standard sized double garage, you could allow a 60cm gap between the cars in the middle to allow the same 80cm of space on the outside sides of the cars and 50cm in front and behind.
To open the car door and get in and out of your vehicle easily, you should allow a space of at least 80cm down the side of your car. If you have a larger car or have trouble getting in and out of cars, a wider garage should be considered to compensate.
if you have a vehicle with above average height, including a van, SUV or 4WD vehicle, make sure you have also considered the garage clearance height required for your vehicle.
3. Storage needs
Next, your storage requirements for your garage should be considered. In a standard sized single (3.5m x 6m) and double garage (6m x 6m) there is very little space around the car/s for storage. If the garage is going to be used solely for car storage than a standard sized garage may be suitable. If you are planning on storing anything else in your garage, then a larger size garage will be necessary.
If you are planning on using your garage for storage, adjustable shelving and cabinets are great and safe options to store away your things. A typical two door cabinet or heavy-duty rack will have a depth of around 50-60cm and in order to utilize them properly you may want to space these storage solutions even further from a car than a regular wall. Therefore, if you would like to place storage options down one side of your garage then widening the garage by at least 70cm is recommended or alternatively the length of the garage could be extended back in order to fit storage options along the back wall.
If you are interested in incorporating storage into your garage, Stratco has an extensive range of garage storage solutions available online and in store.
The following diagram should provide an idea of what a garage with storage could look like. The following example is 7.4m wide by 7.2m long.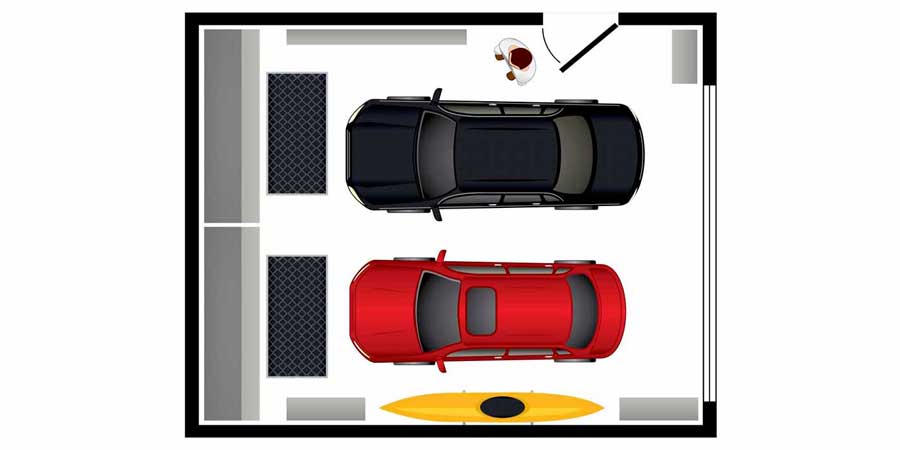 4. Open space
The amount of open space for manoeovering around the car/s and storage solutions should also be considered. The 80cm allowed on either side of the car to open car doors should provide enough space to walk past but if you would like a more spacious garage, then you may want to widen the gap. Allowing for extra walking space at the front of car/s in the garage may also be worthwhile in case of cars being parked further forward than usual which may make it difficult to get past. You should also consider extra width should you have any special access needs with wheelchairs or walking frames for example.
Style of Garage
Stratco offers 4 different styles of garage to suit your needs.
Form and function come together in the classic shape of the Gable Roof Shed. Featuring an extremely practical pitched roof, the Stratco Gable Roof Garage and garaport range takes full advantage of the floor space available. Perfect for all your outdoor storage needs.
Designed for use in cyclone prone areas, Cyclonic Gable Sheds are built to withstand extreme weather conditions. Perfect for all your outdoor storage needs.
Simple, clean and understated lines are a feature of the practical and economical Flat Roof Shed or garage. With a wide range of garage sizes to choose from, there is a Flat Roof Outdoor Storage Shed to suit every requirement.
Large farm sheds and commercial garages that are big on space, storage, quality and durability. Stratco Rural and Industrial sheds are big, they can be tailored to your needs and are engineered to be a lasting investment.
Flooring Options
While most garages feature a concrete floor, there are other options available to improve the look and functionality of your garage floor.
1. Interlocking Garage Floor Tiles
One option is to use interlocking garage floor tiles to cover a concrete floor. Made from heavy duty vinyl, rubber or PVC, most floor tiles are designed to snap together, making them easy to install and replace. These tiles are particularly useful for protecting your existing garage floor from stains and cracks. Damaged tiles can be replaced cheaply and easily. Interlocking floor tiles also come in a variety of styles and colours to allowing you to style your garage with unique patterns and borders. If you like the idea of interlocking garage floor tiles, take a look at Stratco's range of garage floor tiles.
2. Concrete Sealer
An affordable but effective option to improve the look of your garage floor is to simply seal it. Sealing your concrete floor will result in a slight sheen which can improve the look of your garage floor in addition to making it more resistant to stains. Solvent based sealers will work better than water based sealers but require a longer period of airing out following application.
3. Epoxy
An increasingly popular option is to use epoxy to cover your garage floor. Epoxy provides one of the toughest and most durable finishes you can apply to your garage floor while significantly enhancing the aesthetics of your garage. Different coloured stones and chips can be added to the mixture to create a long lasting textured surface which is resistant to stains.
Standard Vs Custom Design
Each garage can be custom designed and made to suit your exact requirements. Stratco can assist you with designing a shed to suit your exact size, shape and accessory requirements. Stratco sheds come in a wide range of color options and can be further customised with options including open bays vs enclosed garages, internal walls, sliding or roller doors, sky lights, windows, ventilation and more. Stratco can also create an interactive 3D model for you to review and share with friends and family before making a decision. Alternatively, standard garage designs are available and can provide a more cost-effective, quick and easy garage solution.
Council Approval Process
It is important to understand your local council requirements before building your Stratco garage. Stratco can assist you with working through this process.
D.I.Y Garage Vs Installed Garage
Whether you would like to build it yourself or have it installed, we're here to help. Should you wish to build it yourself, your garage will come with all the instructions you need to build your own dream garage. If you would prefer to have it installed, we can also assist in connecting you with an installer and arranging a quote.
If you are considering a new garage or would simply like some more information, contact us today or view our range of garages and carports online.