has been added to your cart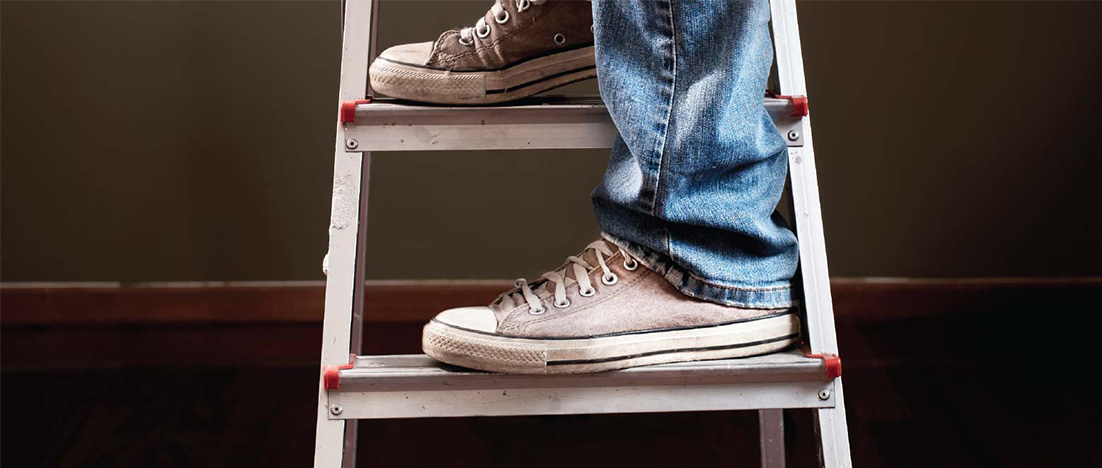 Is it time to upgrade your ladder?
Posted on: May 11, 2015
If you perform elevated work on a regular basis make sure your ladder is suited to the job. Here are a few tips to help you make the right decision.
At some point in your DIY tenure, you are sure to encounter the need to perform 'elevated work'.
Depending on the nature of the job you could stand on your tiptoes, get on top of a chair or pull out your trusty ladder. However, before you set foot on the rungs consider this, 1,668 Australians were hospitalised in 2011-12 due to falls from ladders and 85 per cent of these mishaps happened when performing maintenance work around the home.
Now we are not suggesting you live without light bulbs, or put up with dusty cobwebs.By all means, prune those trees, paint your ceilings and fix your roof but not without first taking a long good look at your ladder - is it time you got a new one?
How to know if your ladder is safe
According to Product Safety Australia. You should not use a ladder if it has any of the following signs:
Rust, corrosion and warping
Missing rivets
Loose or cracked rungs or hinges
It does not have non-slip safety feet or they are not in good condition
Also, make sure it is the correct height for the job. When using an extension ladder make sure it can extend a minimum of one metre over the top of the resting surface.
How to choose the right ladder
If it does turn out that the ladder is not safe for use, then it is time to look at upgrading your ladder.
First, consider the nature of the work you perform - is it simple household jobs? Will you be accessing heights that a basic ladder cannot reach? Are you going to use it indoors or outdoors or both?
If you use your ladder for small and basic projects, which are mostly performed indoors then you should consider a domestic step ladder. These are easy to store and have a multitude of uses.
DIY enthusiasts who do a variety of jobs around the house could look at double-sided ladders that provide safety and versatility.
For those who take their DIY more seriously, a work platform is the best option. With stability and a variety of uses they are quite suitable for complicated projects.
A real challenge is working with uneven surfaces. If you usually find yourself dealing with these, consider an extension ladder. It will not only provide stability but also let your reach higher than your usual ladder.