has been added to your cart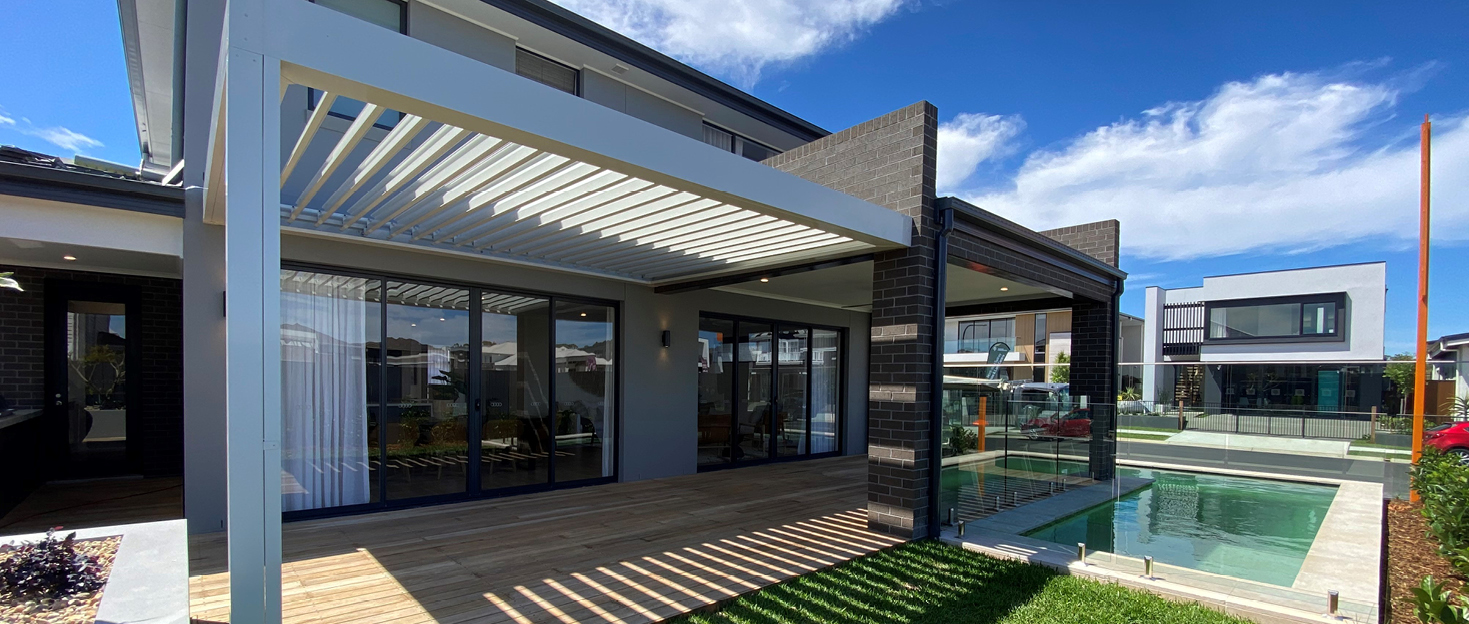 Masterton Homes, an experienced award-winning home builder in New South with over 30 display homes around Sydney, understand the value a quality outdoor living space can add to any home.
Masterton Homes was looking for a partner who could design and build outdoor living spaces to complement and add value to existing and new display homes. The quality of the patios needed to match the high quality of their homes with complementary colours and architectural features. They also needed to work within a budget and required minimal disruption with efficient, safe installation on open display homes. They were also looking for advice and expertise from a partner they could trust. Stratco was the obvious choice.
Working with our experienced design team, the Stratco Pavilion Patio range was selected, offering a range of features including:
Classical architectural proportions with larger columns and bulkheads
The distinctive design of the Stratco Edge Gutter
Meticulous attention to detail with integrated LED lighting and concealed fasteners and downpipes
The clean design and thermal comfort of the insulated Cooldek roofing with Pavilion Slique
The versatility and style of the Pavilion Allure louvres
The open space created by minimal columns and maximized roof spans
The range of colour and design options ensuring the patio complements the home
Our design team were instrumental in helping Masterton visualise the end product and select the most appropriate options for each home. This made the process easy for Masterton while providing confidence the finished patio would deliver an outstanding result for each display home.
"Masterton uses Stratco Patios to enable our display homes to have extra outdoor Living space with a fast build process" - Anthony Campanale , Design Manager at Masterton
Mitch and his team at Bush Constructions have installed the majority of the Masterton Display Home patios. With over 10 years of building experience, all the required licenses and exceptional service, Bush Constructions were the perfect installer for the job. Installing into existing display homes, Masterton requested we keep disruption to a minimum and were surprised at how efficiently we could install each patio while maintaining a safe environment for display home staff and visitors. The team at Masterton Homes were impressed with Mitch's professional and flexible approach, bringing the designs to life. When you have your Stratco Patio installed by an Authorised Pavilion Dealer, you can be confident the installer is fully trained and backed by Stratco to deliver a quality build. The project was also a great experience for Mitch and his team.
"Bush constructions have had the pleasure of working alongside Masterton and Stratco to design and build the ideal outdoor living areas" – Mitch Bush, Owner at Bush Constructions.
Take a look below to see a selection of Masterton Display Homes showcasing the Stratco Pavilion Patio range or request a free quote for your own Stratco patio today.
Masterton Homes Patio Display 1: Pavilion Allure at Warwick Farm Experience Centre, NSW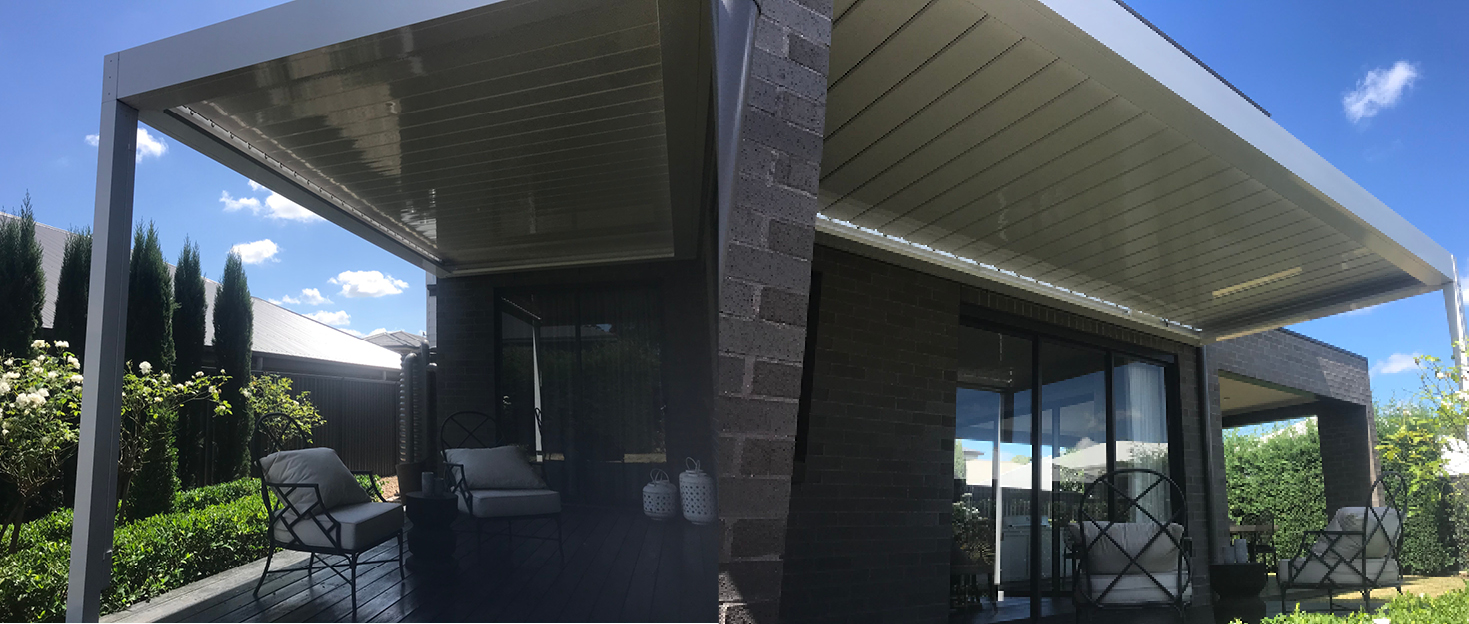 This Warwick Farm display features the Pavilion Allure, offering the best in all-season alfresco living with opening and closing louvres. The remote-controlled opening louvres have a flat ceiling appearance when closed as shown by this display home. The closed louvres will prevent rain, create shade and help ventilation control throughout the year.
Masterton Homes Patio Display 2: Pavilion Allure at Warwick Farm Experience Centre, NSW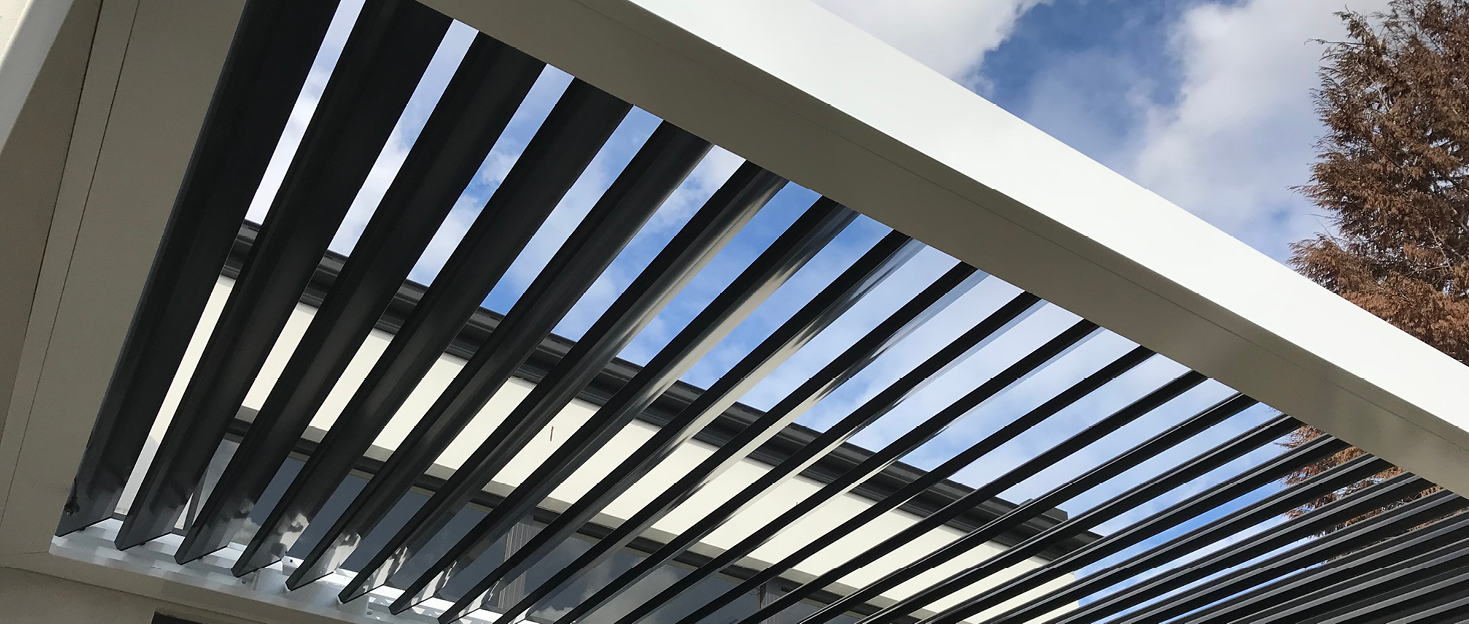 This Warwick Farm display home features the Pavilion Allure. With the Allure Louvres partly open, the refreshing airflow will condition your outdoor living space, especially if there's a cool breeze. Angle toward the prevailing breeze to push the air in and down, or simply angle away from the breeze to allow fresh air circulation. In doing so, fresher and cooler air will allow a new comfortable outdoor experience, especially during summer.
Masterton Homes Patio Display 3: Pavilion Allure at HomeWorld Warner Vale, Central Coast, NSW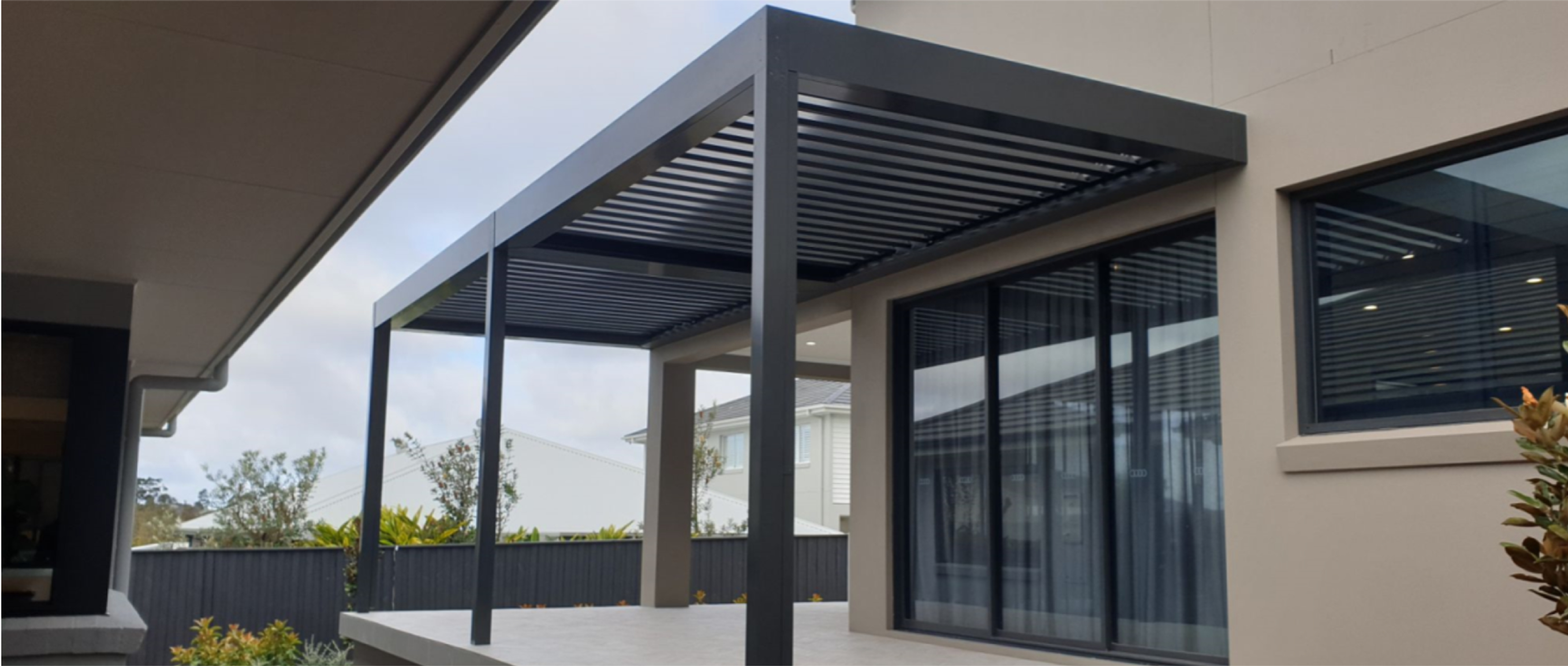 This Central Coast display home features the Pavilion Allure. The Allure louvres allow deep side channels to direct water flow to smartly designed internal box gutters and away through downpipes. If the louvres are open and the rain sensor detects any water, it will automatically close all louvres, providing market-leading rain and weather protection, all year round.
Masterton Homes Patio Display 4: Pavilion Allure at Housing World Wongawili, NSW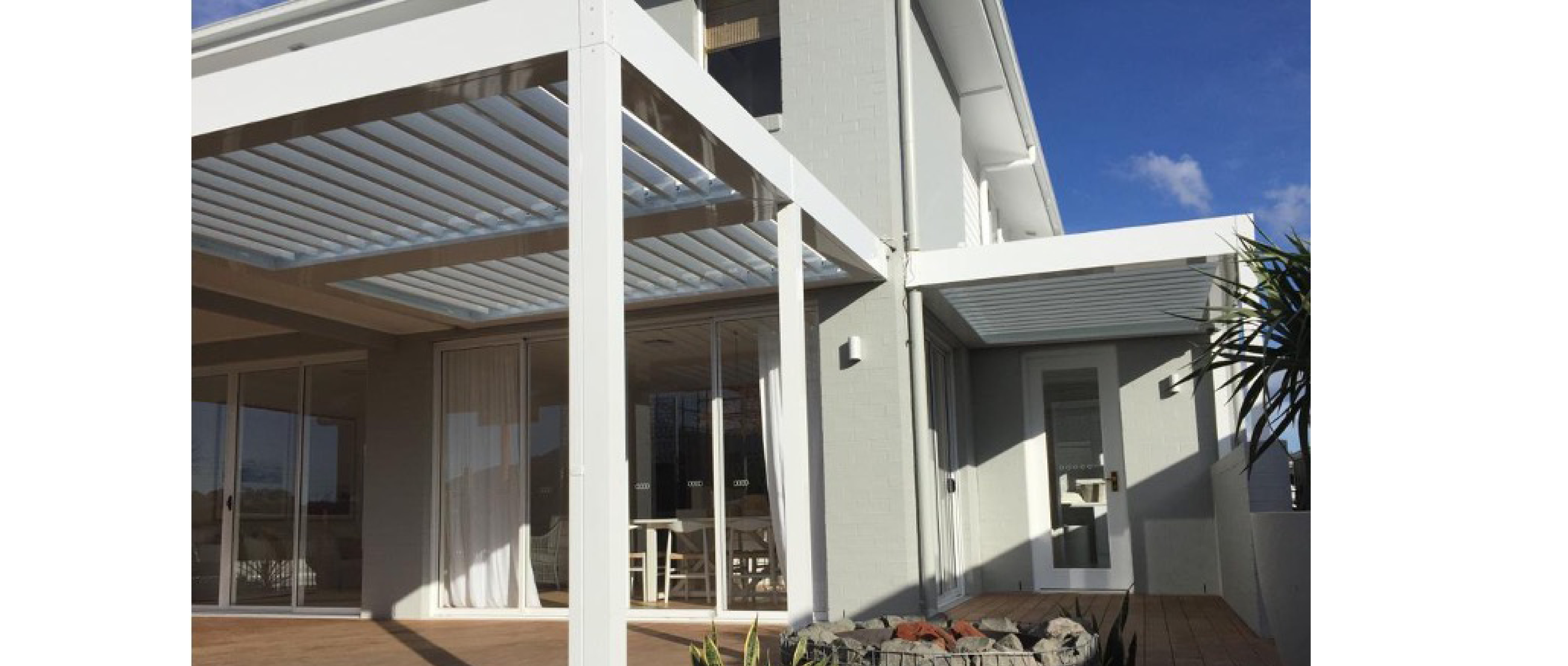 This display home at Wongawilli, New South Wales showcases one of the exquisite colour choices that the Pavilion Allure offers. The palette of colours has been inspired by nature and reflects the earthy hues that are seen in the Australian landscape, bridging the gap between urban life and our native environment. These colours are mixed and matched to illuminate and reflect the energy of any environment, bringing vibrance yet modernism to the outdoor area.
Masterton Homes Patio Display 5: Pavilion Allure at HomeWorld Box Hill, NSW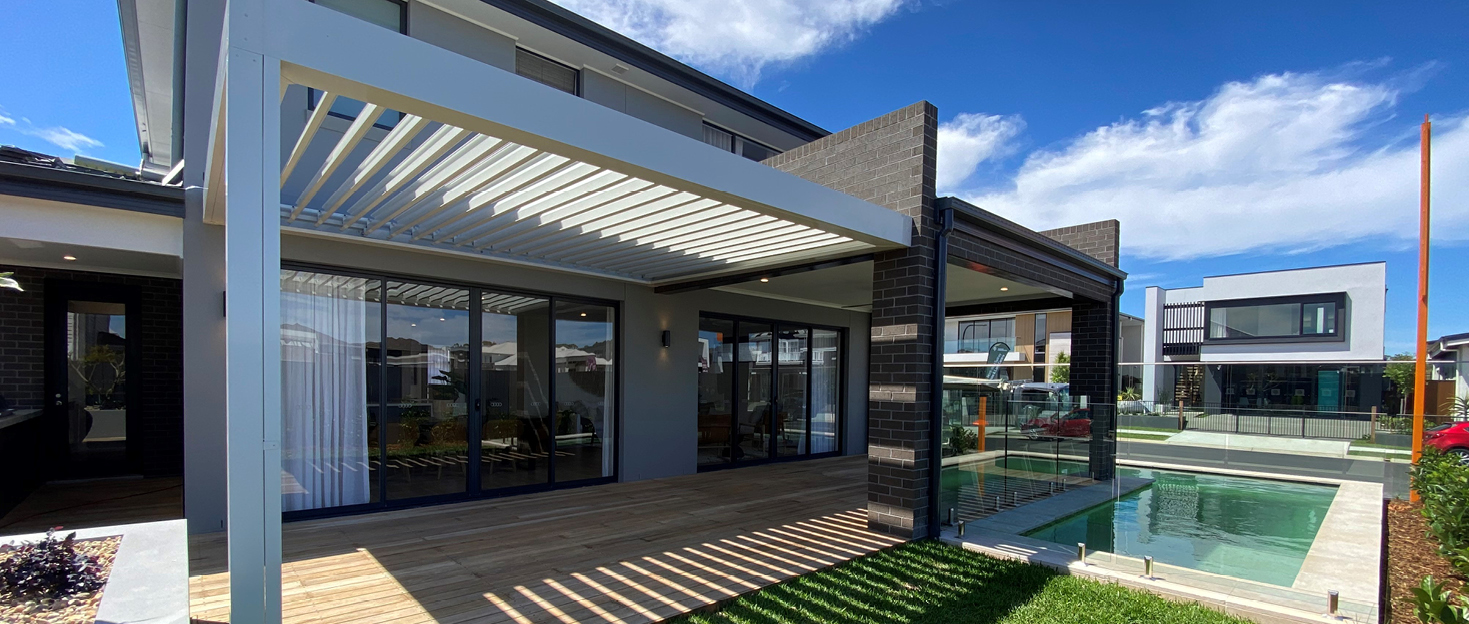 The Box Hill display home also features the Pavilion Allure. A single Allure unit can cover an impressive 24m2, and several units can be joined together and operated by a single (replaceable) remote control.
Masterton Homes Patio Display 6: Pavilion Slique at Warwick Farm Experience Centre, NSW

This Warwick farm display features the Pavilion Slique with Cooldek Cool Light. With more slender proportions and an ultramodern aesthetic, the Pavilion Slique is perfect for executive townhouses or urban homes, bringing a new level of sophistication, elegance and glamour to your alfresco living area. The combination of Cooldek Cool Light and Cooldek insulated roofing provides the best of both worlds. The Cooldek roof provides comfort and shade while the Cooldek Cool Light allows natural light to shine through.
Locations
If you're in New South Wales and you want to take a look at these stunning display homes up close, you can find them within these locations:
Pavilion Allure Displays:
Masterton Homes Experience Centre, Warwick Farm - 2 Sappho Road, Warwick Farm, NSW 2170
Masterton Homes, HoneWorld Warnervale - 38 Virginia Road, Hamlyn Terrace NSW 2259
Masterton Homes, Housing World Wongawilli - 9 Starling Street, Wongawilli NSW 2530
Masterton Homes, HomeWorld Box Hill - 17/25 Gizi St, Box Hill NSW 2765
Pavilion Slique Display:
Masterton Homes Experience Centre, Warwick Farm - 2 Sappho Road, Warwick Farm, NSW 2170
Request A Free Quote
Let us help you bring your own outdoor living dreams to life. Request a free quote for your own Stratco patio today.