has been added to your cart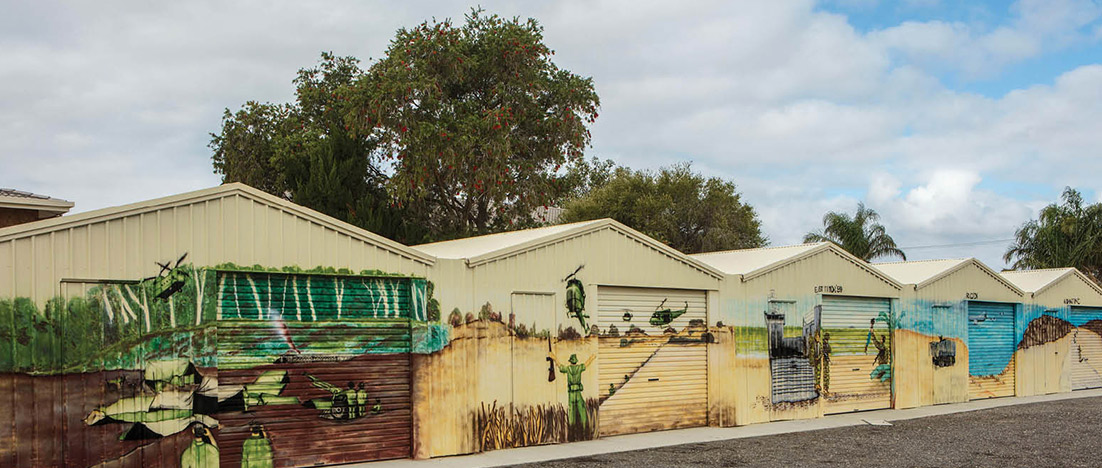 Stratco Garages Provide The Perfect Canvas For Vietnam Vets
Posted: May 22, 2019
"The artwork was a part of us and our history, so we had it replicated."
These Stratco Gable Garages have been used in a way never seen before! The South Australian branch of the Vietnam Veterans Federation were forced to relocate late in 2018 due to upgrades to the Marion train lines. This gave them the opportunity to relocate and think about the features they'd like included in their new property.
The VVF came about after the Vietnam War when they were rejected from the RSL, so made their own group. The VVF is located in Marion next to the Marion RSL where they actively seek the welfare and health of Naval, Military and Air Force Veterans and their families. The VVF were supplied with a building on site with the Marion RSL, however they needed more storage space and started their search for the perfect sheds to meet their storage needs.
The VVF considered a range of shed and garage suppliers and found Stratco offered the best solution for their needs. Stratco Garages offer stylish, high quality storage and protection solutions, making them perfect for any outdoor storage needs. Stratco sheds can be custom designed and made to meet your exact requirements, which made them perfect for the VVF.
VVF received some great support, bringing their idea of painting a mural across the garages to life. Construction was funded by the State Government and VVF.
Two sheds feature artwork inspired by the VVF, and the remaining three are inspired by the Marion RSL. One end of the shed also features three service men from the Army, Navy and Air Force which faces the memorial service area for constant viewing.
Customsed Design With Mezzanine Level Storage
To come up with the ideal proposal for the VVF, Stratco met with the veterans multiple times to obtain a thorough understanding of their needs, and explain their options. The VVF decided on five Stratco Gable Garages in a row with walling sheets placed in between to create a great canvas for the artwork. Additionally, it was decided that some of the garages should be installed with a mezzanine floor for extra storage.

The Stratco engineering team were able to design and deliver a unique mezzanine solution. The mezzanines are completely freestanding, designed to butt into the framework design of the garage, keeping them safe and secure. This unique mezzanine solution maximises use of space, providing versatile storage options.

The ability to custom design and engineer a solution to meet their needs was one of the major reasons for selecting Stratco. When building a patio, shed or garage with Stratco, our professional design and engineering teams work with you to understand your needs and will custom design a solution to meet your requirements.
The Stratco team worked closely with the local council and an installer to ensure the VVF enjoyed a hassle free, seamless process in obtaining council approval and having their unique garage solution delivered and built in a timely manner.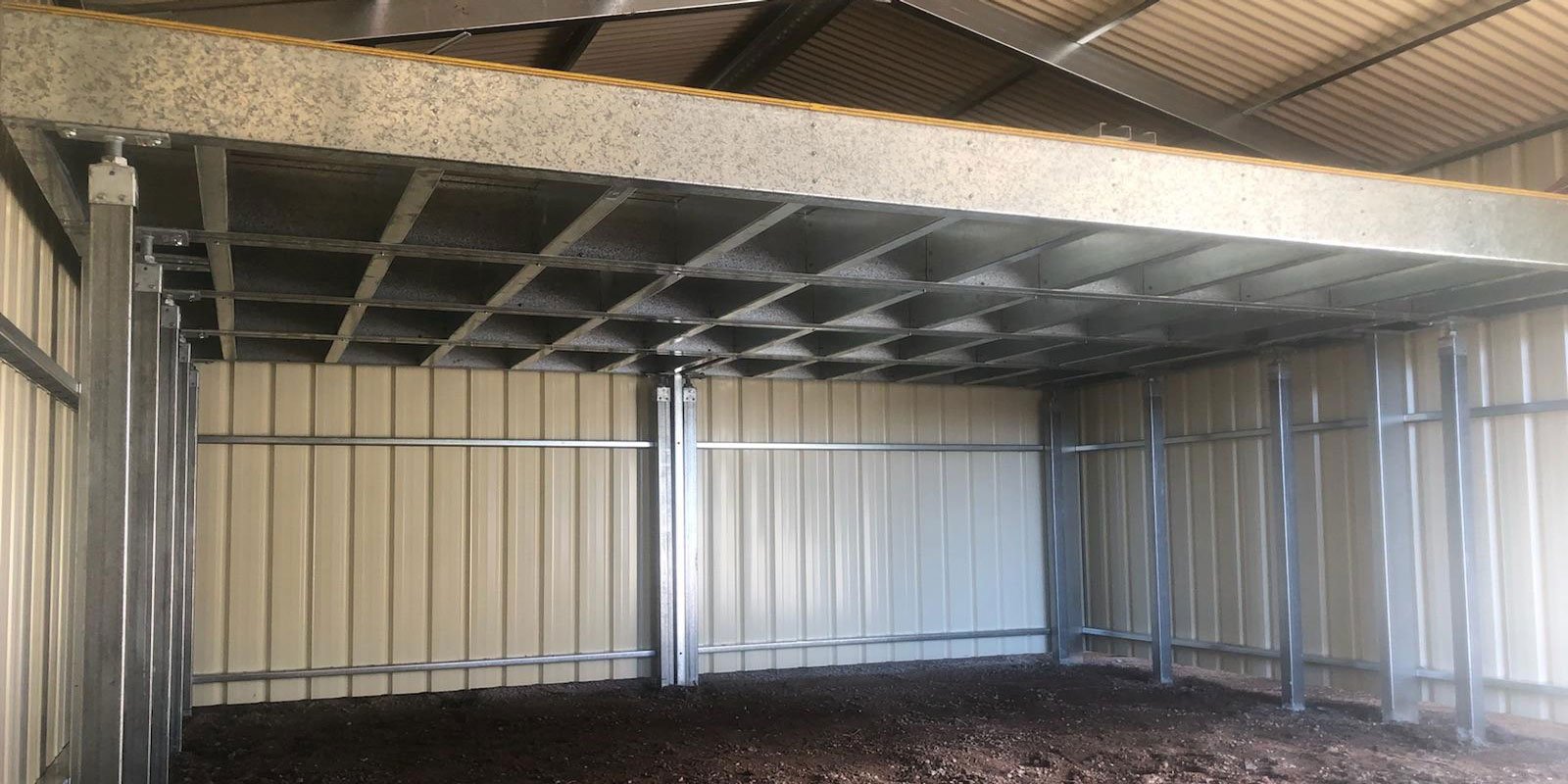 These garages hold a special place for the VVF as they replicate the artwork on the old building which they called home for 20 years. The artwork was done by Jemahl Casper, an Australian Army Reservist who also assisted the Federation with removing graffiti from the old site.
The garages were ideal for what they wanted, being used for storage with the Marion RSL. The Federation are very pleased with the end result, receiving many positive comments and enjoying their new home. This is a great demonstration of how your Stratco Shed can be even more than a great quality outdoor storage facility, converting five sheds into a stunning piece of art with powerful meaning.
Whether you would like mezzanine level storage, wide spanning solutions, additional height or are looking to fill a unique shape, our team will work with you to find a solution. The Stratco team will provide you with everything you need to obtain council approval for any unique, custom designed shed, garage or patio. We will also provide you with an interactive 3D model you can share with family and friends while your product is being manufactured to meet you exact needs. The VVF found that working with Stratco provided them with peace of mind and confidence they were getting a high quality solution that would meet their requirements.
Contact us for a quote on your own custom Stratco shed today or view our range of sheds online.