has been added to your cart

Meet The Horse Shed Owners
Megan Jones, pictured above, is an equestrian eventer for Australia and owner of Hallmark Farm. She and her husband James Deacon live on their property in Woodside, located in the Adelaide Hills which is also where their horse shed is situated.
See Megan and James below in a video on Hallmark Farm or read on for the full story.
The new Stratco Stable Shed is an important structure for Hallmark Farm, which is Megan's base. Here Megan and her team offer coaching, training for elite level competition, rehabilitation services and agistment which explains why she is "very, very busy". The horses also live in their stables, within the new custom built horse shed.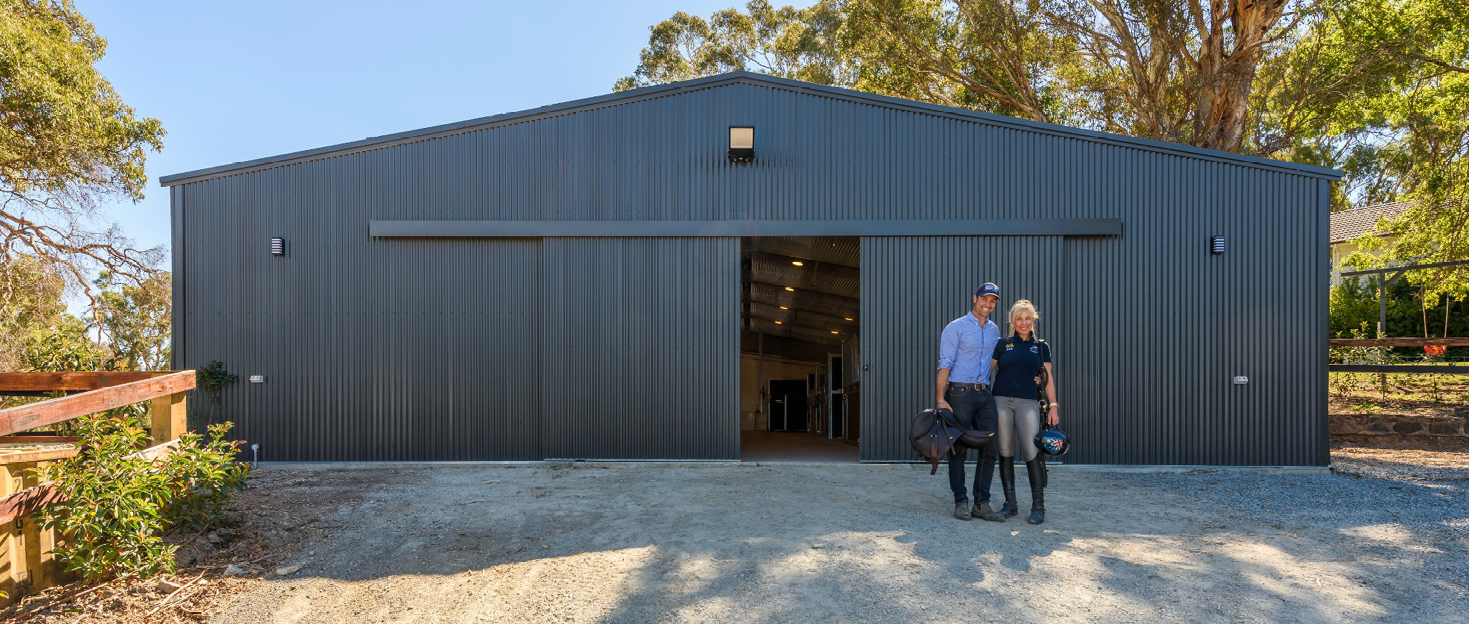 Devastation Of The Cudlee Creek Fires
Prior to the Cudlee Creek fires, Hallmark Farm housed 8 stables across 2 horse sheds. Sadly, the horse and hay sheds were burnt down in the Cudlee Creek fires, along with the majority of their property. Fortunately, their house was saved.
During the clean-up of the burnt property, one of Megan and James' good friends asked who was going to rebuild the horse sheds and whether they had tried Stratco. James took the advice and gave Stratco a call. He was very impressed with the service he received. Stratco team member Adam was at their property within "5 seconds" according to Megan and James, to assess and begin designing and engineering.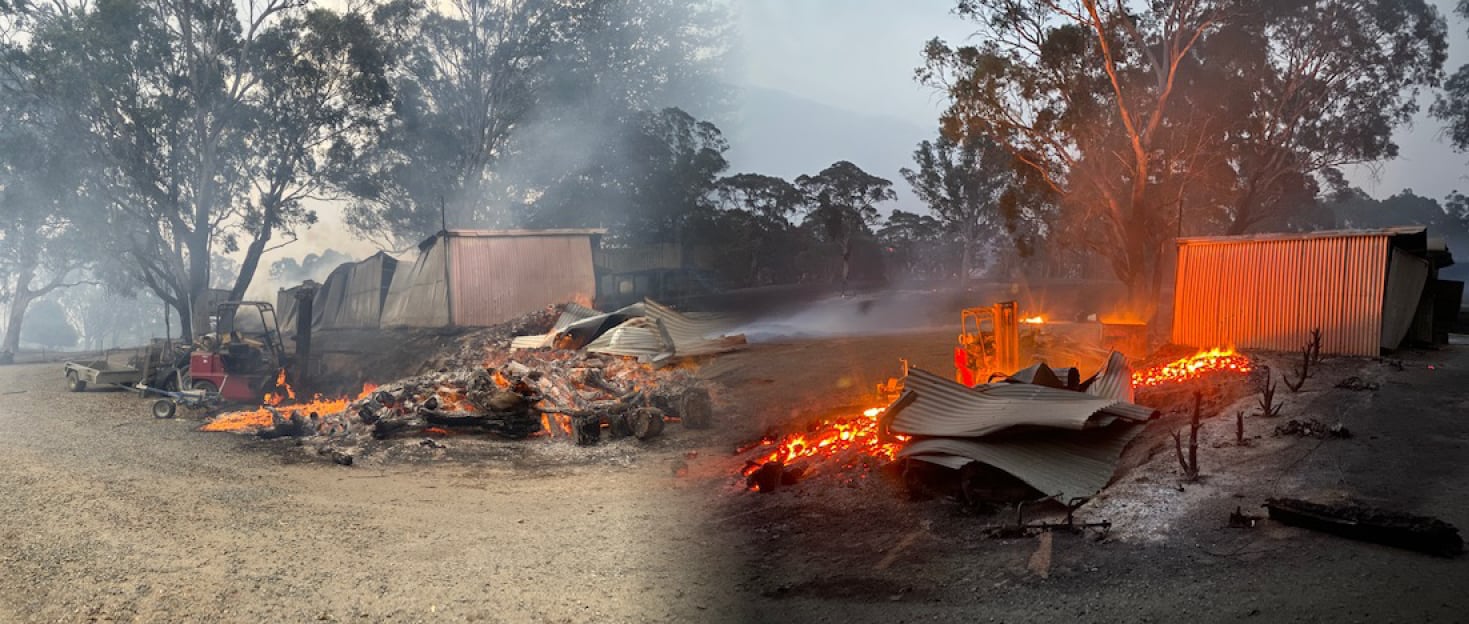 Custom Built Horse Shed: The Process Of Working With Stratco
Every step of the way has been butter.
Megan and James have loved the process of working with Stratco to rebuild the horse shed of Megan's dreams. The communication did not end after the Stratco Gable Shed had been built. Follow up was completed to ensure Megan and James were satisfied with their new custom rural shed. James expressed how pleased he has been with the process from start to finish, he went on further to say, "I cannot recommend Stratco enough for a custom built shed".
Stratco were able to custom design it to suit their exact requirements, and what was once two smaller sheds has been combined into one stable shed that is big on space, storage, quality and durability.
Megan and James are now able to have all their horses comfortably housed in stables within one single horse shed that is strong, high quality, well engineered and very importantly, big enough for their needs. A high quality shed is vital for horses living in areas where harsh weather conditions are a very real and consistent issue, such as the Adelaide Hills. Fortunately, Stratco could offer the solution that met all of these needs.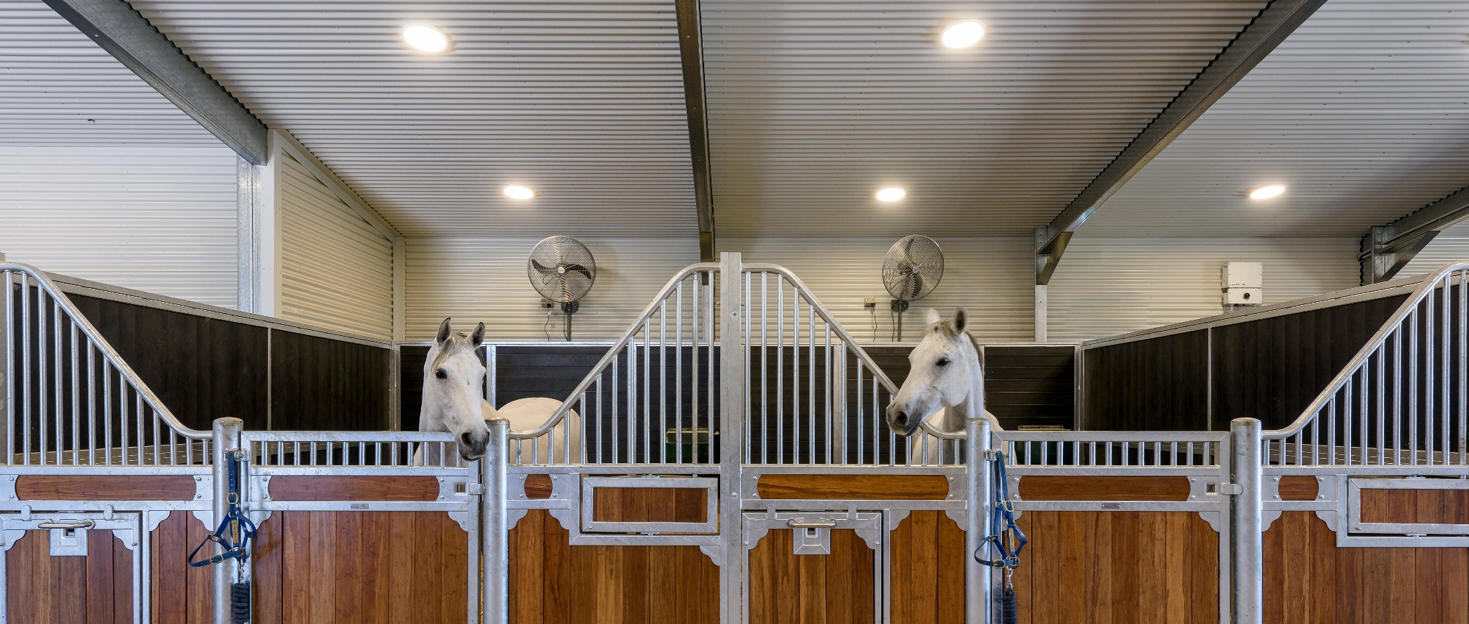 Purpose Built Ventridge
To allow the horses the comfort they need, Megan and James had Exhale Ventridge designed into the roof of the horse shed to allow for free flowing, natural ventilation. This is important given the ever changing climate in the Adelaide Hills. Exhale Ventridge allows hot air within the roof cavity to escape. Reduced air pressure forms as air flows over the roof, further aiding to draw the air out from the roof cavity. Air can then take the most efficient path, something that rotational ventilators cannot do. The ultra-low profile form of Stratco Exhale provides an aesthetically pleasing solution to roof ventilation.
"You can measure our happiness in smiles" James said as Megan stood next to him beaming from ear to ear. Megan says she loves the hay shed and that; "It's like a shed stable complex come true".
Megan explained, "I've always dreamt of having this kind of a setup and to have this build and the beautiful lighting and everything that comes with it… it makes me very happy and my horses extremely comfortable as well."
Despite their positive experience with Stratco, Megan and James were pleased to finish their new shed and finally move on from the devastation of the fires.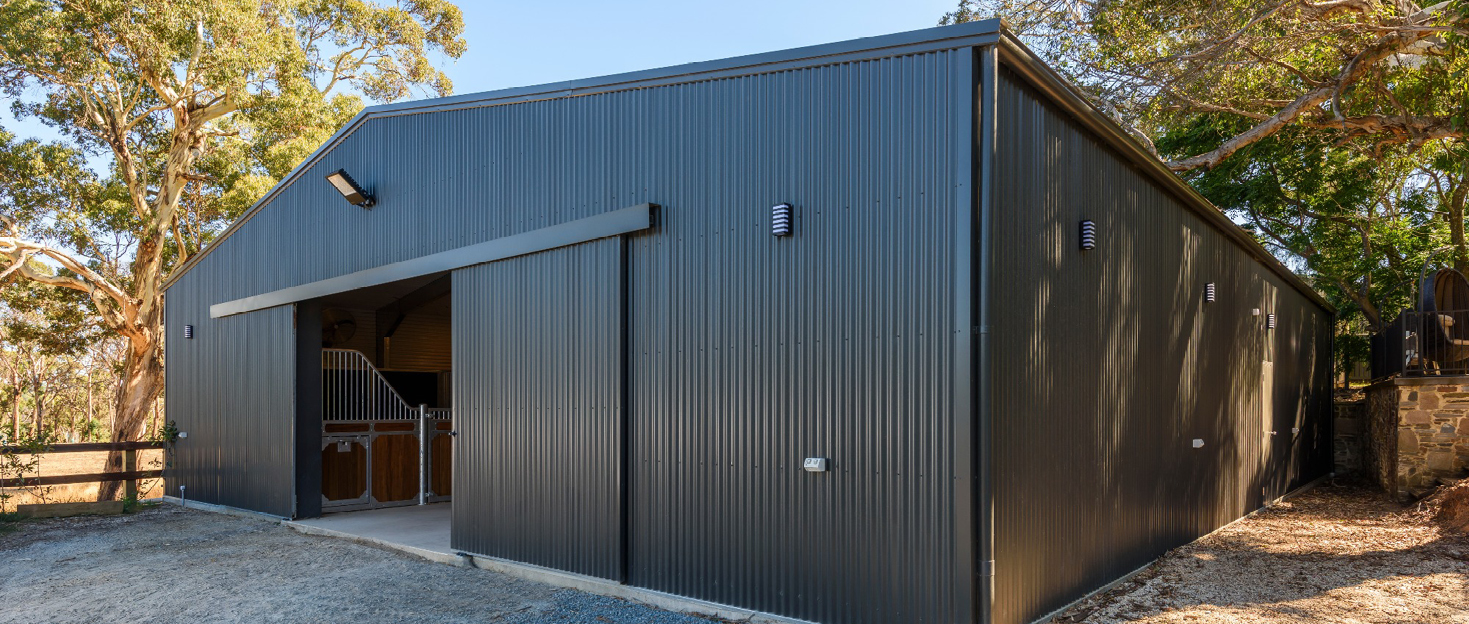 Request A Quote
Stratco rebuilt James and Megan's horse shed just the way they had envisioned. Whether you want to build your own shed or have it installed, Stratco is here to help. Request a free quote or call us for pricing and further details today.
What's In Your Shed?
Already have a Stratco Shed at home fit for purpose, email us with photos and contact details. You never know, your shed might feature in our next catalogue photoshoot.