has been added to your cart

Meet Tony and Calluna from Nairne in the beautiful Adelaide Hills.
Tony and Calluna moved into the Adelaide Hills almost 20 years ago due to wanting somewhere a bit smaller with less maintenance after retiring, and the couple absolutely love it.
After downsizing, Tony and Calluna were very focused on still having an outdoor life, hence, the construction of their new outdoor entertaining space is like another room for the small homeowners. The Stratco Outback Patio allows them to really enjoy the outside world without all the work attached to a property, leaving them absolutely thrilled. See why below...
Tony and Calluna approached Mount Barker Steel, an Authorised Stratco Dealer, who recommended a range of Stratco products to compliment the Nairne home including an Outback Patio and Ezi-Slat Fencing. Growing old, the couple was after a completely maintenance-free outdoor area.
All we have to do is wipe it down every now and again, it doesn't require any further effort. It's solid, reliable, and always looks good. This is now 2 years old, and it looks like the day it first went in.
The Build Process
The Stratco Patio has given Tony and Calluna a chance to enjoy more time outside entertaining with friends and family.
The couple visited the Mount Barker Steel showroom at Mount Barker and met Craig who took them through the project from beginning to end. Tony found Craig to be extremely professional with an abundance of experience exploring a wide range of products that could suit the customers' requirements.
The team at Mount Barker Steel later came to site to discuss the project needs and design. Calluna had some ideas but worked with the Stratco Dealer to fine-tune them to ensure the area was how she imagined. The couple found the process to be seamless, really enhancing their property in Nairne.
Going through Mount Barker Steel using Stratco products was seamless, easy, and straightforward. We had all the advice we needed and ended up with a very high-quality product.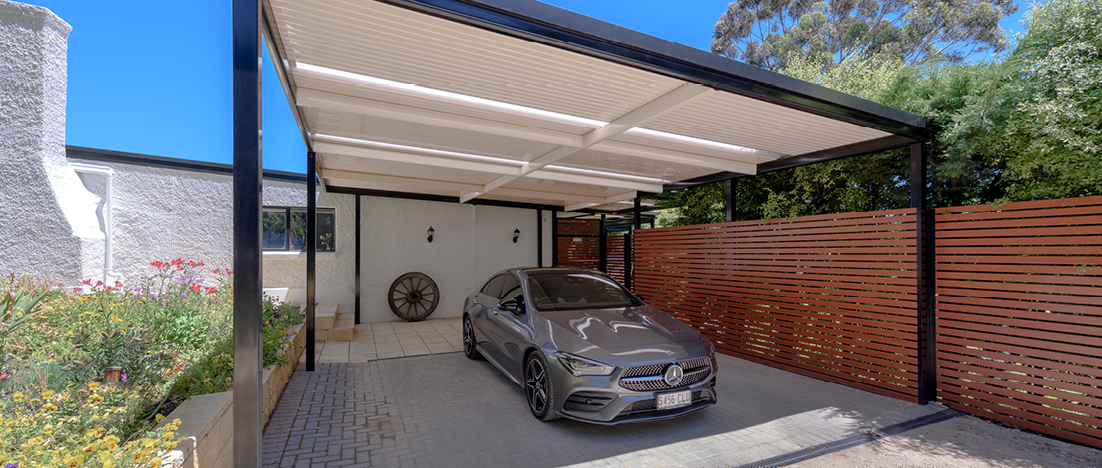 In addition to the entertaining patio in the backyard, Tony and Calluna needed a carport to protect their cars during every season. Calluna was worried that it would block the natural light coming into the side of the house. Keeping this front in mind, Mount Barker Steel added polycarbonate sheeting to various places in the design to allow the natural light to shine through and raised the height.
Overall, Tony and Calluna are very happy with their new Stratco entertaining area and fence, along with the carport to match.