has been added to your cart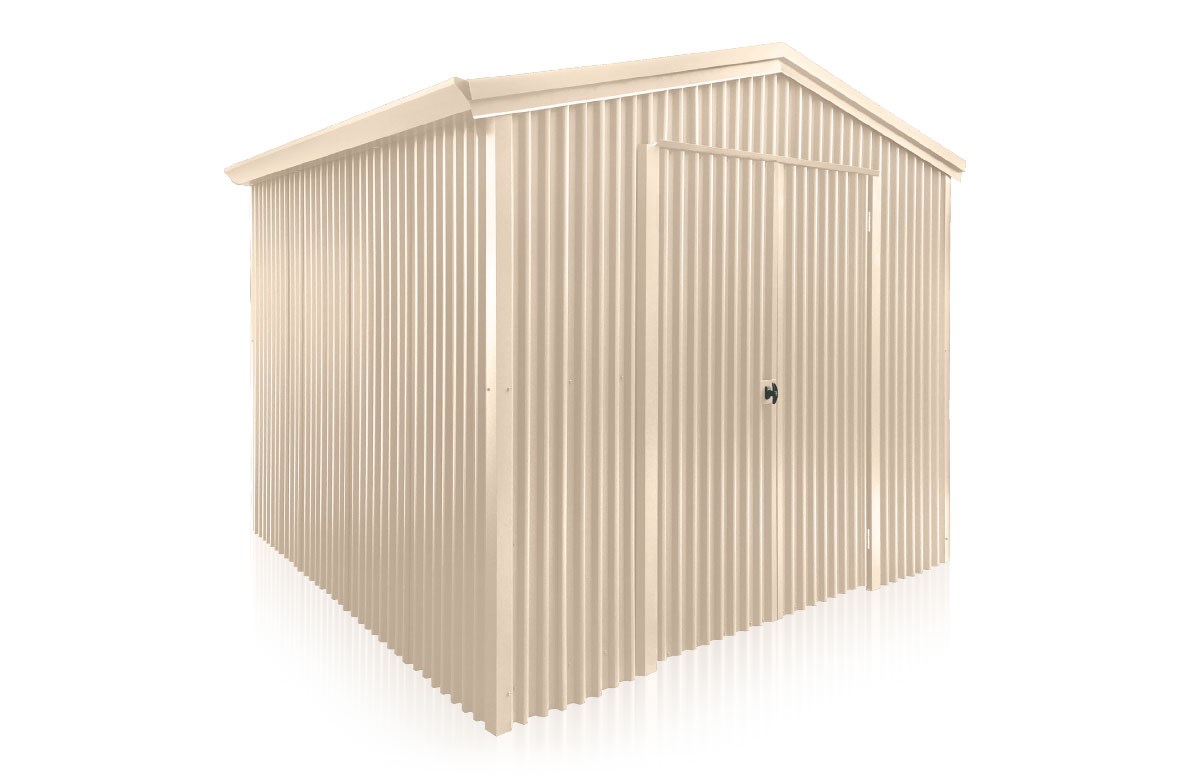 Stubbie Smartspan Hinged Door Shed
Stratco
SKU: GHSHTY8SDPME
About this product
The Stubbie Hinged Door Shed is a robust outdoor storage shed. Halfway between a garden shed and a garage. It features a gable roof, a double hinged door and strong steel framework.
Halfway between a garden shed and a garage, the Stubbie is the perfect storage solution
Designed to bridge the gap between traditional garden sheds and garages. The Stubbie Shed is a half length Single Gable Shed that is under 10m². Its dimensions are 3.16m wide x 3.16m long x 2.4m high (wall height at eaves)
Featuring all the benefits of a standard Gable Roof Garage, the Stubbie Shed has an extremely practical 15 degree pitched roof, and tough garage strength, steel framework. The Stubbie Shed is available in a range of popular colours.
Everything required to build your Stubbie Shed is supplied in the boxed kit. Two footing options are included in the box to either fix the columns in the ground with concrete or pin them onto concrete with footing stirrups.
Brochures & Installation Guides
High Quality Sheds, Built To Last
Strong, galvanised C-section beams are used to construct the frame of the Stubbie Shed. Hi-tensile bolted eaves and ridge connection brackets provide a seamless portal frame structure and are engineered to provide additional torsional strength.
Both the roof and wall cladding are manufactured from very strong and hard wearing coloured Smartspan® steel cladding. Attractive 160mm Edge Gutter and downpipes come as standard.
Dimensions
Dimensions
Width
Length
Wall Height (At Eaves)
3160mm
3160mm
2400mm
Nominal sizes shown. Width and Depth are measured to outside of the roof.
Package Dimensions
Width
1125mm
Height
170mm
Length
3240mm
Measurements are to the outer sides of the box.
Optional Extras
When ordering in-store or over the phone, Stubbie Sheds are also available with windows.
Louvre or sliding windows
The Stubbie Custom Shed is available with more options for customising.
Engineered For Structural Integrity
Stubbie Sheds have been independently assessed to meet all relevant Australian Building Standards. This gives you the confidence that a Stratco shed will stand the test of time. Stubbie Sheds are designed to suit wind speed areas N1 (W28) and N2 (W33).
Stubbie Shed Installation
With easy to follow installation instructions and featuring pre-punched and pre-cut framework and steel sheets for a simple construction, Stubbie Sheds are the ideal do-it-yourself project. Stratco can also provide a list of qualified garage installers to complete the job for you.
Shed Maintenance
With a simple wash and wipe using a soft broom, your Stubbie Shed will maintain its great looks for even longer. Produced from the highest quality materials, you can expect many years of service from your garage if the recommendations in the 'Selection Use and Maintenance Brochure' are followed.