has been added to your cart
Outdoor Bistro & Café Blinds
Maintain your privacy all year round and protect your family from the elements with Stratco's range of outdoor café blinds. With both made to measure and ready made Stratco have a solution to suit your home and budget.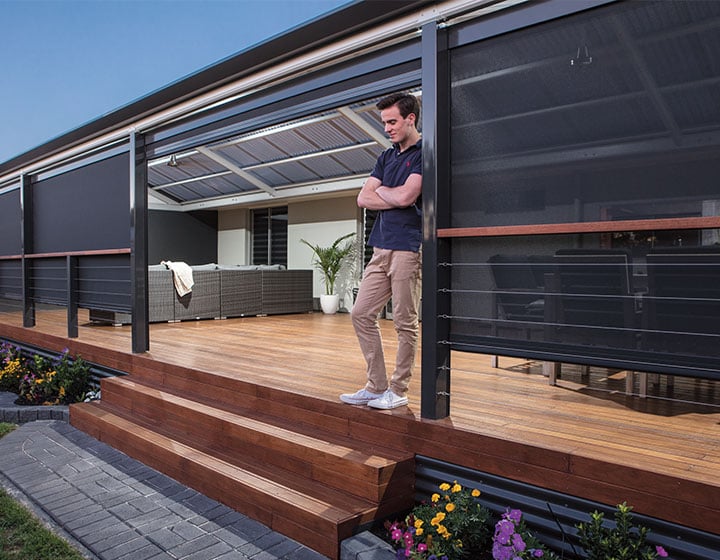 Made To Measure
Stratco Ambient® Outdoor Blinds
Ambient Outdoor Blinds from Stratco offer you a beautiful range of solutions to outdoor lifestyle issues such as sunglare, heat control, UV protection, privacy, and even insect control. To further enhance your lifestyle, all year round.
Specially designed for alfresco entertaining areas such as pergolas, verandahs and balconies, the Ambient Outdoor Blinds range attractively integrates into your design style. Equally suitable for domestic or commercial applications with design options to suit individual requirements and a wide range of environmental conditions.
Ready Made
Fabric & PVC Outdoor Bistro & Café Blinds
Available in a variety of standard sizes Stratco's range of ready made outdoor café blinds are available in-store and online, ready to go. Choose between fabric and PVC varieties to suit your requirements.
Outdoor café blinds transform your outdoor area into a functioning outdoor room. Perfect for enclosing areas such as patios, verandas, pergolas and balconies, protecting you from the elements. Outdoor café blinds maintain airflow and add insulation to your outdoor area meaning you can enjoy the outdoors all year round.