has been added to your cart

Not sure what to cook for National Patio Day? Here are some ideas for the Beefeater Bugg BBQ.
Small in size but big on heat with twin burners the Beefeater Bugg is the perfect versatile barbeque. The BBQ features two independently controlled stainless steel burners that ensure a superior performance. The Bugg is easy to clean and has a dual temperature control that will heat without flare-ups. Everything is just easy with the Bugg.
CLICK HERE for your chance to win a Beefeater Bugg BBQ valued at $699 so that you can try these recipes out for yourself on National Patio Day this December 7.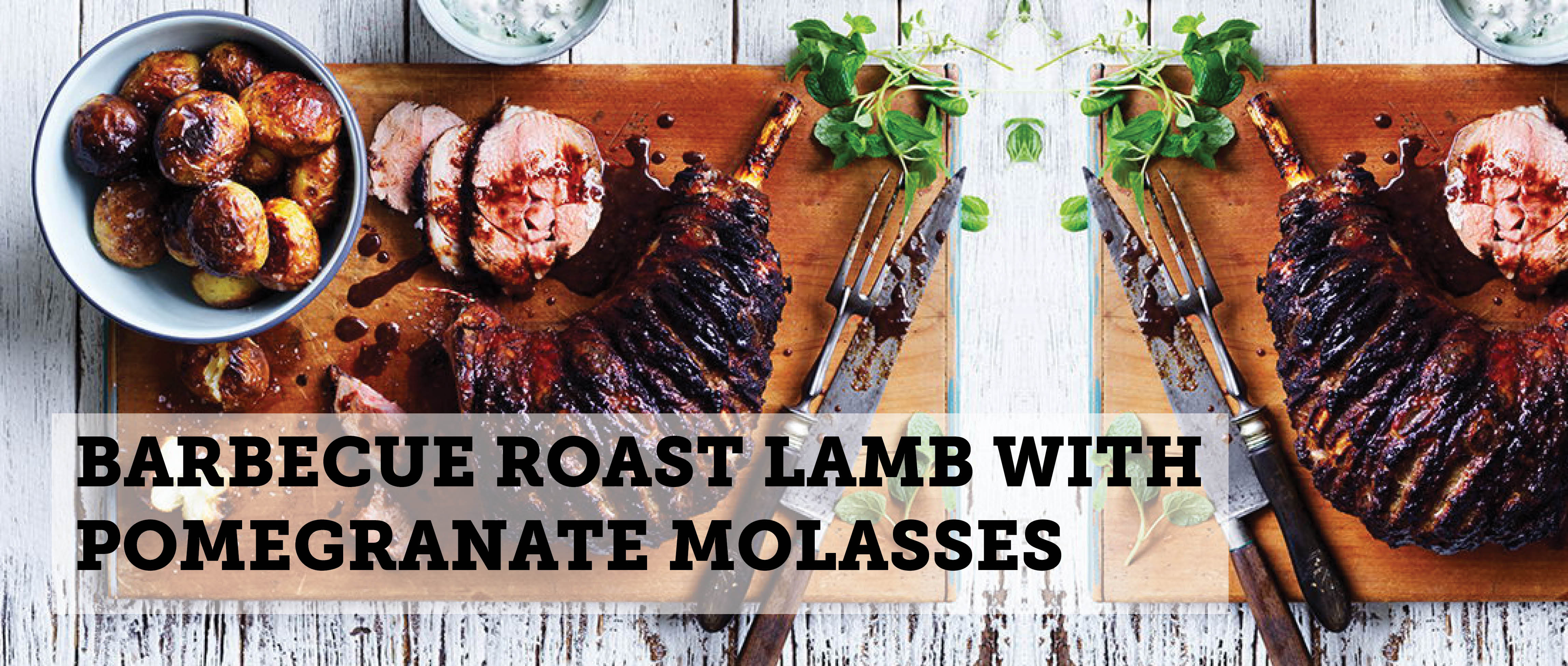 ---
INGREDIENTS

1.75kg easy carve lamb leg
Olive oil cooking spray
1kg chat potatoes
2 tbs olive oil
Mint tzatziki, to serve

Pomegranate Molasses Rub

1/3 cup pomegranate molasses (see tip)
2 large garlic cloves, crushed
1 tbs grated fresh ginger
1 tbs ground cumin
1 tsp sweet paprika
1 tsp ground cinnamon
1/2 tsp sea salt flakes, crushed
1/4 tsp black pepper
---
METHOD
Score the top side of the lamb leg in a crisscross pattern, ½ cm deep and at 1cm intervals.
Combine the pomegranate molasses rub ingredients in a large bowl. Add the lamb and turn to coat, pressing into the scored top. Set aside 15 minutes.
Meanwhile, cook the potatoes in a large saucepan of boiling salted water for 15 minutes until just tender. Drain well.
Grease the grill well. Place a drip disposable drip tray under the centre of the grill and then preheat the BBQ on high turning all the burners on. Place the lamb skin side down over the drip tray and BBQ for 10 minutes, turning to seal the lamb all over. Turn the burners off under the lamb so the BBQ is cooking by indirect cooking. Lower the hood and cook for 1 hour 20 minutes for medium (or 25 minutes per 500g for medium) or until cooked to your liking. Remove to a board, cover and rest 20 minutes.
While the lamb is standing, place the potatoes into a roasting pan, drizzle with oil and season. Place onto the BBQ, BBQ for 20 minutes, turning after 10 minutes, until golden and crisp.
---

---
INGREDIENTS

12 pieces of halloumi cut into approximately 2cm cubes
24 cocktail pickle onions
12 heirloom carrots caramelised in honey and butter, then cut into 2cm lengths
12 x 15 cm bamboo skewers

50g butter
125g almonds chopped
1 tablespoon chardonnay vinegar
Juice of 1 lemon
100ml olive oil
---
METHOD
Place 1 piece of halloumi followed by 1 cocktail onion followed by one piece of carrot on a bamboo skewer.
Repeat the process so you have 2 pieces of each ingredient on a skewer, then dress the remaining skewers and set them aside.
To make the dressing place the almonds and butter in a saucepan over medium heat.
Cook until the butter starts to foam and turns brown.
Add the honey and bring everything to the boil.
Reduce the liquid by half, then add the vinegar and lemon juice and reduce by two thirds.
Remove from the heat and allow to cool.
Once cool, add the olive oil.
To serve heat the BeefEater® BBQ to medium high heat.
Once hot, lightly oil the skewers then char grill until the halloumi is golden.
Arrange on a serving platter and dress with the honey and almond dressing.
---
How To Support Cancer Council this National Patio Day:
Get A Free Patio Quote
Over many decades, Stratco Outback Patios have provided vital shade to hundreds of thousands of families so that they can enjoy our iconic Australian summer. Stratco will be donating a minimum of $50 for every patio sold until November 30* to Cancer Council. Purchase your Stratco Patio now and have it in time to host your own event for National Patio Day.
---
Register Your Event To WIN And Get Your Free Host Pack*
By hosting an event, you will not only support Australians impacted by cancer, but you will be educating your family and friends on the importance of sun protection. Every $50 you raise provides an additional entry to win either a Hafele Alfresco Kitchen valued at $5,000, or one of seven $500 Stratco gift cards*. You will also receive a free National Patio Day host pack when you register your National Patio Day event.
---
Share Your Plans To WIN*
Let us know what your plans are for National Patio Day and go in the draw to win great prizes, including a Beefeater Bugg BBQ valued at $699! Enter by commenting on the competition post at Facebook or Instagram.
---
Add The National Patio Day Facebook Frame To Your profile
By adding the National Patio Day frame to your Facebook profile picture, you will be helping raise awareness for Australians impacted by cancer.
---
For more information, or to register visit nationalpatioday.com.au or call 1300 65 65 85 to receive your free National Patio Day host kit.
*See full terms and conditions for National Patio Day promotions.