has been added to your cart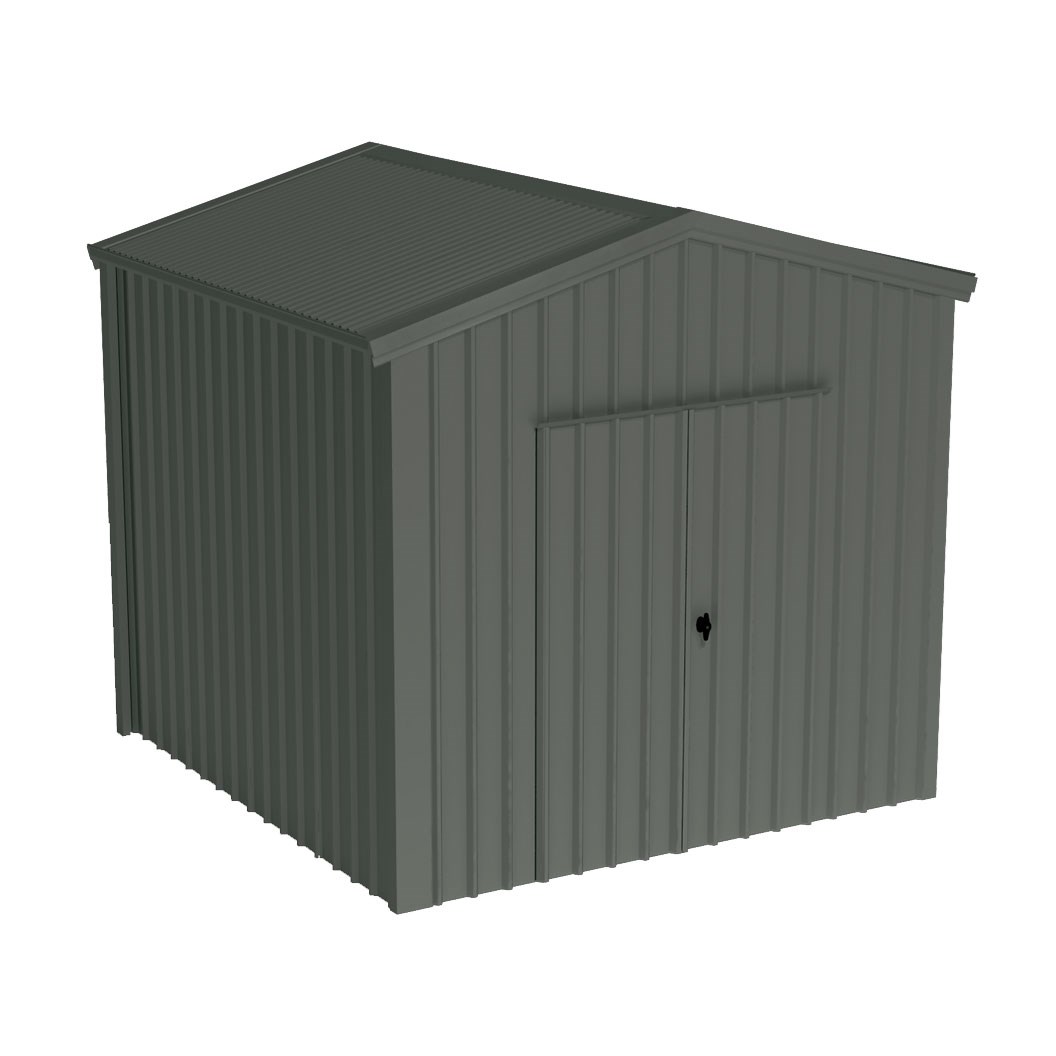 Domestic Gable Roof Shed Stubbie 3.16 x 3.16 x 2.4m Gable End PA Door
Stratco
SKU: OGHSTY8DOMSPASG
This shed design is applicable for a maximum non-cyclonic N2 wind classification. If in doubt regarding your wind classification, please contact your local council, certifying authority or Stratco for advice on 1300 165 165.
Note: The final design will be subject to verification of wind classification which may affect the price of the shed.
Our team will contact you after purchasing to confirm details of your order and delivery.
About this product
Form and function come together in the classic shape of the Gable Roof Shed. Featuring an extremely practical pitched roof, the Stratco Gable Roof Garage and garaport range takes full advantage of the floor space available. Perfect for all your outdoor storage needs. Your shed/garage will be custom designed and made to suit your exact requirements. Whether you want to build it yourself or have it installed, we are here to help. Contact us for pricing and further details today.
Install Your Gable Roof Garage
Check out our easy to follow installation instructions below!
Need your new Stubbie Shed installed? Contact Us.






















































Gable Garages and Storage Sheds
Strong and practical storage sheds with a timeless 15° gable roof design.
Strong, high quality, practical sheds and garaports that feature a classic 15° gable roof design. A pitched garage roof is more than just attractive, the gable design minimises heat build-up, increases storage space on the inside, and delivers the benefits of a self-cleaning shape on the outside.
Note: Standard double sided colours are displayed, however the complete range of single sided roofing colours are available upon request. Contact us for more information.
Brochures & Installation Guides
Install Your Gable Roof Garage
15 Deg Domestic Frame Install
Type 2 | 2x Roller Doors in Gable End
Type 9 | 1x Roller Door in Gutter Side
15 Deg Gable Roof Shed Install Time Lapse
Gable Shed Maintenance
With a simple wash and wipe using a soft broom, your Stratco Gable Garage will maintain its great looks for even longer. Produced from the highest quality materials, you can expect many years of service from your garage if the recommendations in the 'Selection Use and Maintenance Brochure' are followed.
Quality Garages Built for Strength
The frame of a Gable Roof Shed is constructed using strong, galvanised C-section beams. Hi-tensile bolted eaves and ridge connection brackets provide a seamless portal frame and are engineered to provide additional torsional strength.
Corrugated double sided colour steel is used to clad the shed roof and gutters and downpipes are supplied standard. The sheds double sided colour walls feature Superdek® sheeting, a durable and hard-wearing sheet due to the 28mm high ribs in its profile, or 16mm high corrugated sheeting for a more traditional look.
Shed Sizes
Domestic garages feature 19 sizes, based on two single size widths and three double size widths. The range starts with a smaller storage shed called the Stubbie Shed. Large Rural and Industrial Sheds are also available, click here for more information.
The Stubbie has a height of 2400mm.
All other garages are available in heights of 2400mm, 2700mm, 3000mm.
Custom heights up to 3000mm high are available.
Specifications
Size
Name
Width (mm)
Lengths (mm)
Single
Stubbie
3160
3160
-
-
-
Gem
3160
6210
7730
9260
-
Compact
3920
6210
7730
9260
-
Double
Family
5450
6210
7730
9260
12300
Deluxe
6210
6210
7730
9260
12300
Jumbo
6970
6210
7730
9260
12300
Note: Sizes shown are based on standard sheet coverages and are variable if required
Options in the Gable Shed Range
Gable Roof Sheds are available in a wide range of colours. Select either sliding garage doors or roller doors. If the side of the storage shed is to be built on a boundary, internal box gutters can be ordered. Optional extras include windows, skylights and single or double personal access doors, insulation and ventilation. Roller doors can be fitted with remote controlled door openers.
Attached Patios
Garaports
Insulated Cooldek® roof panels
Internal box gutters
Remote controlled roller door openers
Single or double personal access doors
Skylights
Wall ventilation louvres
Louvre or sliding windows
Roof and wall insulation
Safety mesh
Engineered For Structural Integrity
Gable Roof Sheds have been independently assessed to meet all relevant Australian Building Standards. This gives you the confidence that a Stratco Garage will stand the test of time. Gable Roof Sheds are designed to suit wind speed areas N1 (W28), N2 (W33) and N3 (W41).