has been added to your cart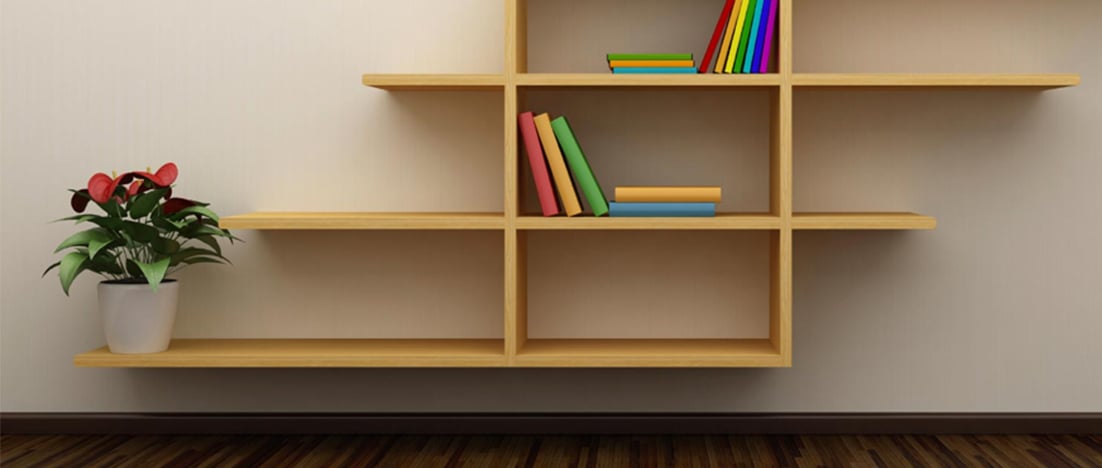 Creating Classy Shelving
Posted on: September 14, 2015
Floating shelves can help you organise clutter and add some style to the decor of your home.
As many families are living in smaller homes, storage and de-cluttering are becoming increasingly important. Shelving is a tried and true way to organise clutter but can often look unattractive and bring down the overall decor of a room.
Floating shelves are the perfect way to remedy this as they are a practical yet stylish way of creating extra storage space and contributing to the decor of a room.
Floating shelves can be used in an endless amount of ways, from the living room to the bathroom.
Practical benefits of floating shelves
Floating shelves can be used in any room to de-clutter a space or to free up other storage spaces such as cupboards or cabinets. Depending on the material used, most floating shelves can hold heavy items such as music systems or speakers to free up space for couches or coffee tables.
One way they can be used is to store your DVD or CD collection, providing a visually appealing way to showcase your collection without taking up floor space. Floating shelves can be used in an endless amount of ways, from the living room to the bathroom.
DIY that looks elegant and unique
Floating shelves provide a style benefit as well, the brackets are installed in a way that give the appearance that they are floating, hence the name. This creates a sleek and classy look, perfect for those wanting luxurious-looking DIY.
Once you have the right tools, floating shelves can be designed to suit whichever area you would like to utilise them in. Floating shelves allow you to bring your own unique design aesthetic to your home, ensuring your neighbour won't have the same one! Popular choices include a step design, corner shelves or even a honeycomb design.
Materials required
Building your own floating shelves not only gives you freedom of design but freedom of materials. Using copper shelves to store plants or glass shelves for awards can add that touch of class to any room.
However, painted wooden shelves remain the most popular choice as they suit the majority of decor and can be painted any colour. A popular choice is matching the colour of the wall for a clean look, such as white on white.
The material used will be designed in a certain way to support heavy objects. Instead of using traditional screws and brackets, they are designed in a way to be reinforced, by attaching screws into the wall and using durable materials.
No matter what the decor of your room is like, floating shelves can add to the beauty as well as provide extra room to help you de-clutter. Pop into your local Stratco for any advice on installing shelves or for any other questions you have on your DIY projects.