has been added to your cart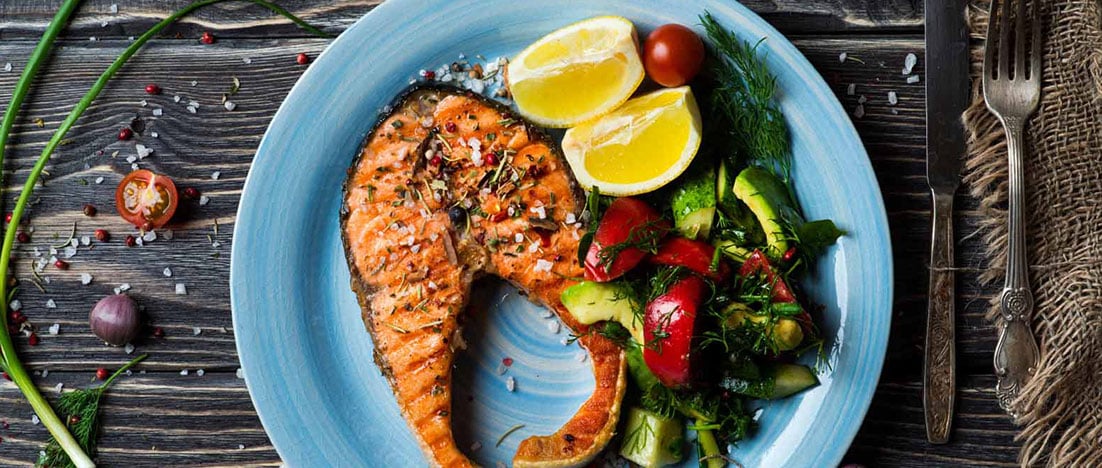 Crispy BBQ salmon with herbs and lemon
Posted on: March 22, 2016
Ingredients
1/2 Cup olive oil
2 garlic cloves, finely chopped
2 lemons, juiced
1/3 Cup dill, finely chopped
1 fresh red chilli, deseeded and finely chopped
1 bunch lemon thyme, roughly chopped
sea salt
freshly ground black pepper
8 x Atlantic salmon fillets, skin on
lemon wedges to serve
If you're not keen on eating fish skin, that's probably because you haven't tried it when it's been cooked till it's nice and crispy! It can be as good as pork crackling if done properly.
Combine oil, garlic, juice of 2 lemons, chilli, dill and lemon thyme in a large jug. Season with sea salt and pepper. Place salmon, in a single layer, in a large ceramic dish. Pour over half the marinade. Turn salmon over and pour over remaining marinade. Cover. Refrigerate for 2 to 4 hours to marinate. Remove from fridge 30 minutes before cooking.
Preheat a greased barbecue plate on medium-high heat. When your barbie is ready, lay your salmon, skin side down and cook for about 4 minutes. Carefully turn your salmon over, continue to cook for 4 to 5 minutes (depending on thickness) or until just cooked through. While it's cooking, gently ease the skin away from the fish and put it on the barbie alongside to crisp up. Brush the salmon with a little more marinade. Once it's just cooked through, lift the salmon carefully off the barbecue and place it on a nice serving platter or board. Serve with lemon wedges and crispy skin.