has been added to your cart
What Is Sunscreen Damaged COLORBOND® steel?
Whether you're installing a COLORBOND® steel roof, fence, wall, shed or patio, your painted steel surface can be damaged by sunscreen as shown in the image below.

Damage occurs when products such as sunscreen, containing semiconducting oxides including titanium dioxide (TiO2) and zinc oxide (ZnO) accelerate the degradation of the paint systems in your roofing material. The results when this occurs can be seen in the roofing images below.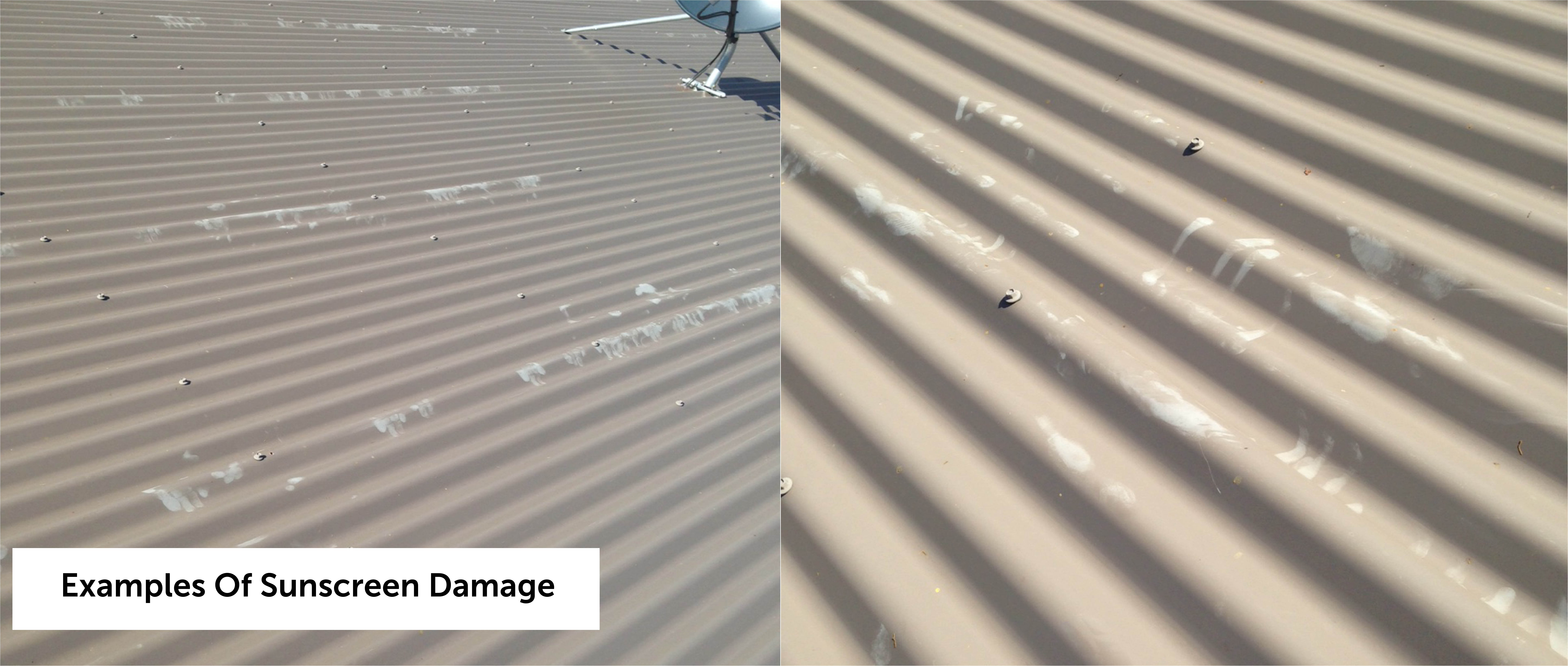 Inorganic Vs Organic Sunscreen
If the sunscreen you are using is inorganic it will be advertised as 'non-whitening' to skin product. However, the TiO2 and ZnO nanoparticles in these inorganic sunscreens work as a UV absorber and create photocatalysts (free radicals) which can produce the markings seen above on your painted steel. Free radicals can generate ample chemical reactions that are aggressive and cause damage to paint systems. These free radicals can work rapidly to significantly accelerate the impact of any weather damage.
However, organic sunscreen is proven not to produce free radicals in COLORBOND® steel paint systems. BlueScope have conducted extensive testing to confirm organic sunscreen does not impact the COLORBOND® steel paint system.
It is important to note the sunscreen damage is irreversible and the impacted areas cannot be cleaned. Attempts to do so may impact the corrosion resistance of the material. If your painted steel product has been damaged by sunscreen, BlueScope recommends replacing the product with new COLORBOND® steel if aesthetics is of concern.
HowTo Prevent Sunscreen Damage
Consider using organic sunscreen when handling any form of painted steel. This way if you do brush against the painted surface, the colour of the steel will not be compromised over time.
Wear clean, dry, cut-resistant gloves;
Suitable precautions must be taken for personal sun safety;
And you must prevent any products containing titanium dioxide (TiO2) and zinc oxide (ZnO) from coming in contact with COLORBOND® prepainted steel.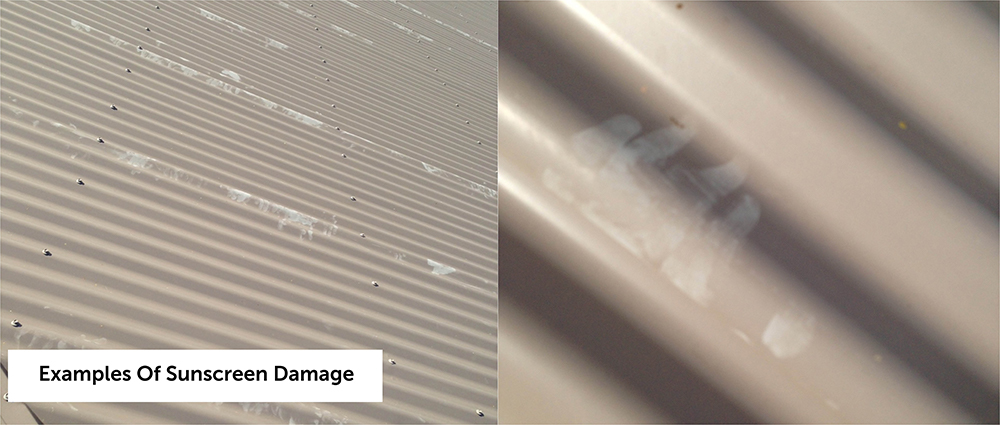 COLORBOND® steel with ORGANIC SUNSCREEN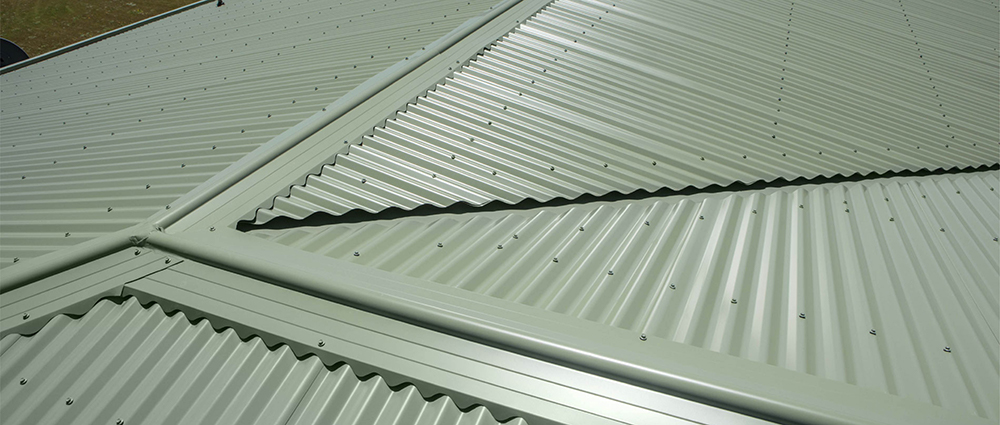 Using organic sunscreen and cut-resistant gloves will give you the best finish when installing painted steel products as displayed in the above example.
Which Sunscreen Should You Use?
We recommend using organic sunscreen when installing, servicing or in any other way coming into contact with your COLORBOND® steel product.
More Information
Contact us for more information or advice on sunscreen damage.
*Please note any corrosion to perforation or paint flaking or peeling caused by sunscreen is not covered by COLORBOND® steel warranties.