has been added to your cart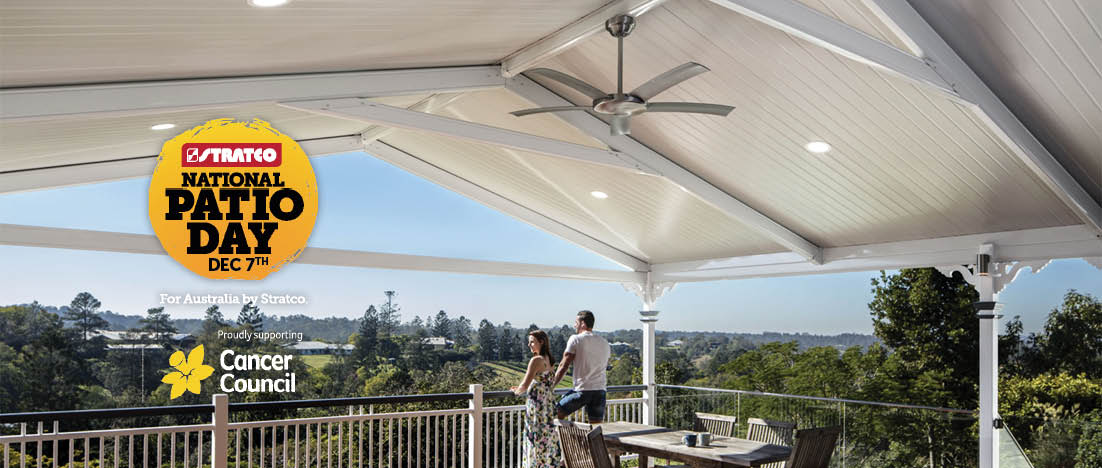 Did you know that at least two in three people are diagnosed with skin cancer before the age of 70?
Stratco and Cancer Council are calling on Australians to celebrate National Patio Day on Saturday 7 December to help raise awareness and vital funds to support those impacted by cancer.
Follow our 5 easy steps to protect yourself and others from the sun:
Use the SunSmart UV indicator to check the UV levels—if it's 3 and above, you need to make sure you protect your skin. Temperature is not a good indicator if sun protection is needed which is why checking the UV levels is so important!
Stay under the shade when hosting activities to reduce your UV exposure.
Protect your skin by wearing sun protective clothing, wraparound sunglasses and a broad brimmed hat to stop your skin from being exposed to the sun.
Continue to apply sunscreen every two hours during your time spent outside.
Avoid being outside during the peak UV level times of the day.
Cancer is a leading cause of death in Australia, with almost 50,000 deaths from cancer estimated for 2019. Help us, help you and all Australians to a cancer free future.
Not sure how to show your support to Cancer Council?
Get A Free Quote Now
Over many decades, Stratco Outback Patios have provided vital shade to hundreds of thousands of families so that they can enjoy our iconic Australian Summer. Stratco will be donating a minimum of $50 for every patio sold until November 30* to Cancer Council. Purchase your Stratco Patio now and have it in time to host your own event for National Patio Day.
---
Host a National Patio Day Event
By hosting an event, you will not only support Australians impacted by cancer, but you will be educating your family and friends on the importance of sun protection. For every $50 you raise it puts you in draw to win either a Hafele Alfresco Kitchen valued at $5,000, or one of five $500 Stratco gift cards*. You will also receive a free National Patio Day host pack when you register online.
---
Share your plans for National Patio Day
Let us know what your plans are for National Patio Day and go in the draw to win great prizes, including a Pop Up Patio valued at $700! Enter by commenting on the competition post at Facebook or Instagram.
---
Add the National Patio Day Facebook frame to your profile
By adding the National Patio Day frame to your Facebook profile picture, you will be helping raise awareness for Australians impacted by cancer.
---
For more information, or to register visit nationalpatioday.com.au or call 1300 65 65 85 to receive your free National Patio Day host kit.