has been added to your cart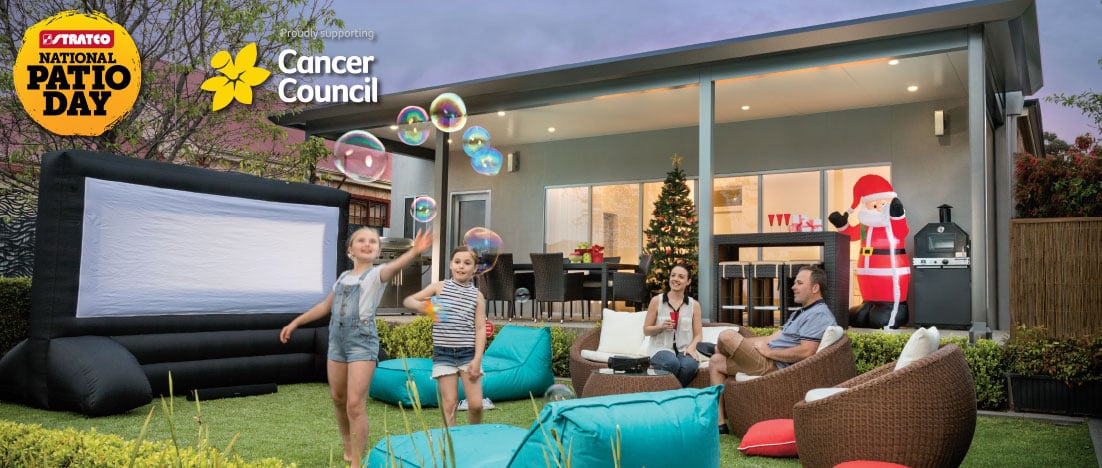 An estimated 145,000 new cases of cancer will be diagnosed in Australia this year, with that number set to rise to 150,000 by 2020. Cancer is currently the leading cause of death in Australia, and with your help we can make a difference.
Stratco and Cancer Council are calling on Australians to celebrate National Patio Day on Saturday 7 December to help raise awareness and vital funds to support those impacted by cancer. Help us, help you and all Australians to a cancer free future.
Want to fundraise?
Try the following ideas - Hosting a party? Stratco will provide a Cancer Council donation box in the Host Pack.
Host a giant Connect 4 tournament with your friends. Charge $20 to play and the winner gets a trophy.
Movie night under your Stratco Patio. Make up some tickets and sell them to your friends and family by charging admission.
Garage sale with all proceeds going towards the Cancer Council, as well as encouraging donations to your Cancer Council donation box during the sale.
Jigsaw race. Who can complete the jigsaw the quickest? Charge $2 to play and the winner gets a prize.
Trivia night. Test your family and friend's knowledge on Cancer, or anything? Everytime you get an answer wrong you make a donation, play until the donation box is full.
Find out how your support can help Cancer Council
Every dollar you raise through National Patio Day helps.

$25 can help equip ground-breaking researchers with the essential lab equipment they need to conduct their life-saving work.

$50 pays for a cancer nurse to provide free and confidential information and support on all aspects of cancer.

$100 can help provide accommodation for people with cancer during treatment.

$500 can help fund ground-breaking research into new ways to better detect, treat and live beyond cancer.
How else you can support Cancer Council this National Patio Day:
Get A Free Patio Quote
Over many decades, Stratco Outback Patios have provided vital shade to hundreds of thousands of families so that they can enjoy our iconic Australian summer. Stratco will be donating a minimum of $50 for every patio sold until November 30* to Cancer Council. Purchase your Stratco Patio now and have it in time to host your own event for National Patio Day.
---
Register Your Event To WIN And Get Your Free Host Pack*
By hosting an event, you will not only support Australians impacted by cancer, but you will be educating your family and friends on the importance of sun protection. Every $50 you raise provides an additional entry to win either a Hafele Alfresco Kitchen valued at $5,000, or one of seven $500 Stratco gift cards*. You will also receive a free National Patio Day host pack when you register your National Patio Day event.
---
Share Your Plans To WIN*
Let us know what your plans are for National Patio Day and go in the draw to win great prizes, including a Pop Up Patio valued at $700! Enter by commenting on the competition post at Facebook or Instagram.
---
Add The National Patio Day Facebook Frame To Your profile
By adding the National Patio Day frame to your Facebook profile picture, you will be helping raise awareness for Australians impacted by cancer.
---
For more information, or to register visit nationalpatioday.com.au or call 1300 65 65 85 to receive your free National Patio Day host kit.
*See full terms and conditions for National Patio Day promotions.