has been added to your cart

Hiland Tray Roofing & Walling creates the perfect duo for this stunning Australian woolshed and European mansard-inspired Byron Bay Home.
The stunning use of our Hiland Tray features in the structural design for the roofing and cladding of this amazing Byron Bay home, architecturally designed and constructed by Tim Sharpe!

The Byron Bay Barn House
This sweet space sheds an attractive design that delivers a clean and flat profile to the roofing and cladding of this build with the help of our popular Hiland Tray Standing Seam to suit the desired aesthetic. The spangled galvanised steel roofing and cladding finishes suit the subtropical coastal lifestyle of northern NSW for a unique take, not to mention a stunning low-maintenance addition.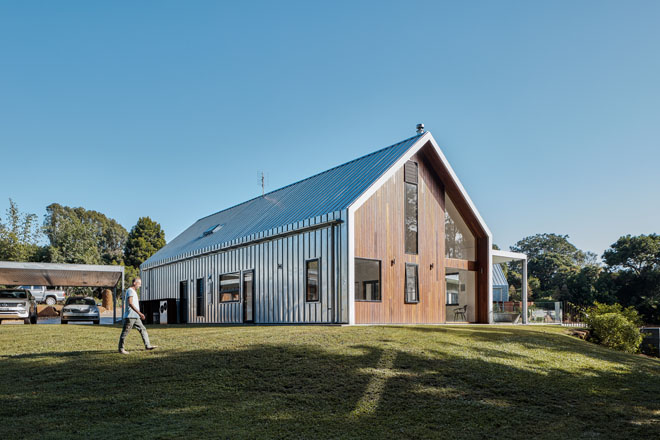 Hiland Tray Standing Seam Roofing & Cladding
Our most popular product for all your roofing and cladding aesthetics, the modern wide tray standing seam roofing and walling system is roll-formed in long single lengths and secret fixed or 'snap locked' to roof purlins and wall girts via a simple clip system. Available in a wide range of colours and widths, this standing seam style of roofing and cladding can be ordered to suit your exact requirements. Whether you want to install it yourself or require assistance, we are here to help. Contact us for more information and pricing today!
"Editor's favourite – The pitched gable roofs that are clad in spangled galvanised steel"
Shop our Hiland Tray Range Or Request A Free Quote Today!
Visit your local Stratco store, call us on 1300 165 165, request a free quote today!