has been added to your cart

Summer Gardening Tips
Posted on: February 12, 2019
We're having some pretty hot weather this summer, so here are a few tips to help your garden survive the heat.
Mulching is the first step; make sure that you have a good layer of mulch around your plants. This can be pea straw, sugar cane, pine bark or any of the other mulching products. Any of these will dramatically cut down the loss of water from around the plants root zone helping them cope with very hot days. Applying an application of Seasol or Go Go Juice to the soil regularly when doing new planting are also great ways to keep plants healthy in extreme heat.
Keep your irrigation in good working order, check regularly to make sure all the drippers / sprays are not blocked, fitting an irrigation filter is a must if not already done and maybe extend the run time to get water deeper into the root zone. Try to water with a hose early in the morning or late in the evening, this gives your plants the best opportunity to use the water you have applied.
You will have some plants looking a bit worse for wear with scorched foliage where they copped the brunt of the heat over the last few weeks. The temptation now is to go out and prune all that burnt foliage off to make the plant look better, but don't do that yet.
It's almost guaranteed that we will get more very hot days, February and March can both be extremely hot, and by pruning that damage off you encourage the plant to send out new, more delicate growth which is even more susceptible to the heat. Those damaged leaves will at least provide some protection for the rest of the plant underneath them and can be removed in five or six weeks time after the worst of summer has passed.
---

Meet The HowTo Team: Mark
Posted on: February 6, 2017
We talk with one of Stratco's shed manufacturers
How long have you worked at Stratco? 20 years.
What's the best part of your day? Working in a team environment and producing quality product for our customers.
What's the tool you wouldn't be without and why? Socket set, comes in handy for almost everything, fixing cars to putting together a new project.
What should people always do before... Measure twice and cut once. Always a great theory to practice, and always mow the lawn and fertilise before it rains..
What do you love about your shed? It's a great place to be able to work on a special project, like a motorbike or car.
When you're not in the shed, where would you rather be? Fishing with my mates, or spending time up the river with the family.
---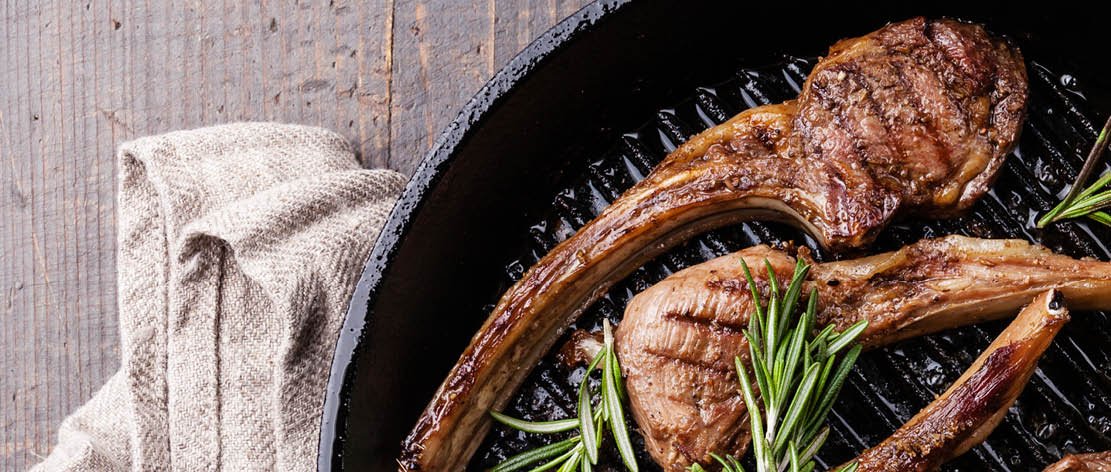 BBQ Lamb Chops
Posted on: January 24, 2017
BBQ Lamb Chops
2 teaspoons minced garlic
1 teaspoon rosemary leaves
1 teaspoon smoked paprika
1 teaspoon sea salt
1 teaspoon ground oregano
1/4 cup extra-virgin olive oil
6 lamb chops
In a bowl mix olive oil, sea salt, minced garlic, smoked paprika, oregano and rosemary.
Rub mixture all over lamb chops and let marinate in fridge for 1 hour.
Heat BBQ until it reaches medium - high heat.
Add chops and sear on one side for 2 minutes. Flip and cook on other side for a further 3 minutes.
Remove lamb from BBQ and let it rest for 3 minutes.
Serve with a fresh salad and enjoy!
---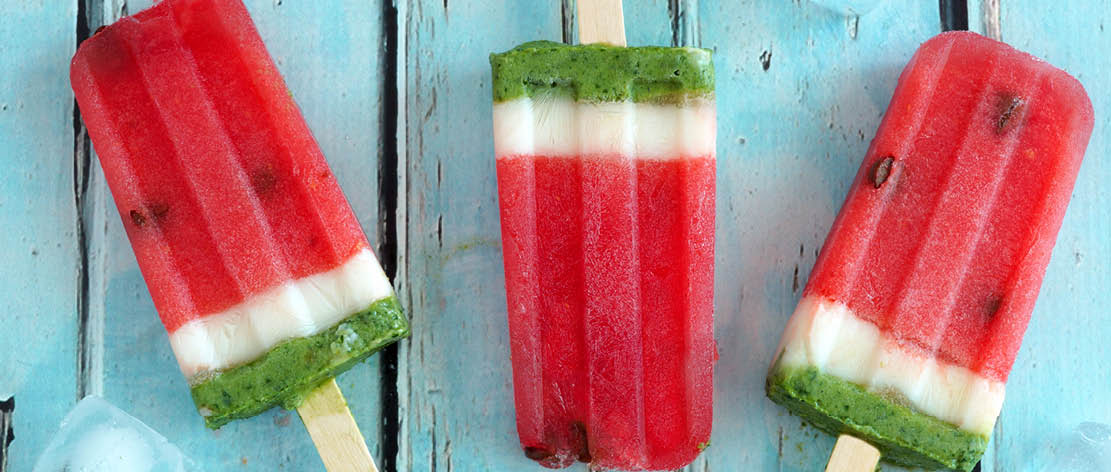 Watermelon Icy Poles
Posted on: January 17, 2017
Makes 10 icy poles
Coconut Layer
1/2 cup coconut cream
1/2 teaspoon vanilla essence
3 teaspoons caster sugar
Watermelon and Kiwi Fruit Layer
1/3 cup caster sugar
2 sprigs mint
400g watermelon (chopped with seeds removed)
3 kiwifruit (chopped with skin removed)
Combine coconut cream, vanilla essence and 3 teaspoons of sugar and mix thoroughly.
In a separate bowl combine 1/3 cup of caster sugar, mint and 3/4 cup water in a saucepan. Mix over over low heat until sugar dissolves. Once the sugar has dissolved, increase heat and let simmer until syrup thickens. Set aside and allow to cool for 20 minutes. Remove mint leaves. Reserve 2 tablespoons of the syrup to be used in step 5.
Blitz the syrup and watermelon in a food processor. Strain mixture through a sieve into a jug or container. Pour watermelon mixture evenly into your ten ice block moulds leaving enough room for the next two layers. Insert ice block sticks and place in the freezer for 2 hours.
Once your watermelon layer is frozen, pour coconut layer evenly into the moulds. Return to the freezer for 1.5 hours.
Blitz the 2 tablespoons of syrup you set aside in step 2 with kiwifruit in a food processor until smooth. Pour over the coconut layer and place in the freezer for 3 hours.
Take out of freezer as you need and enjoy!
---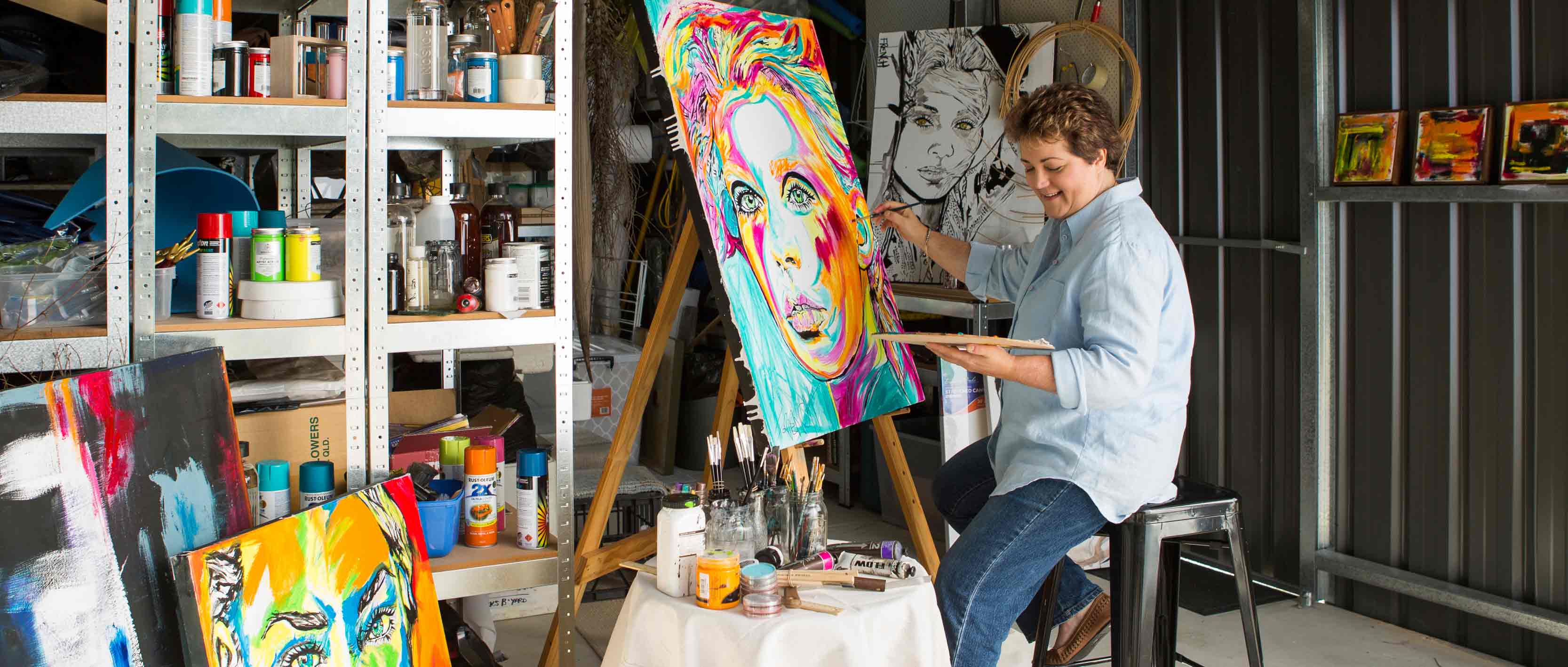 Do you have a space to pursue your passion?
Posted on: October 18, 2016
Meeting people, hearing their life experiences and learning from them is what inspires my art.
We recently caught up with the talented Joy French whose ideas and passion come to life when working in her very own shed turned studio. Joy's amazing artwork features in our latest Stratco TV Commercials.
What inspires you?
Meeting people, hearing their life experiences and learning from them is what inspires my art. I have a fascination with people/humanity. Contemporary Art is a vehicle to communicate, connect and gain a deeper understanding of myself. The pains, desires, and passions of the human condition, society and roles we play.
Where does your passion for art come from?
I have always been passionate about arts, even as a little girl I remember being very creative. However, it wasn't until I lost my mother and another special soul in a very short time frame that my passion for my art grew stronger. It became a tool for me to help me cope with my grief.
The arts give me purpose and inner peace. There is no greater drug than creativity especially when other people dig it also. It is very rewarding to see a piece finish and then actually have someone want to buy it. I get a real high from that its incredibly soul rewarding.
Is any of your artwork painted in a shed?
We have a double bay garage in our home that we have transformed into a studio. It's great to have a space at home where I can follow my passion and let my imagination come to life through my art.
How many years experience do you have?
I started the arts as a sculpture in 1995 and did that as a trade for four years. There was gap of studying other Arts, Film and TV, Visual Design, only to find Myself in portraiture in 2007 also tapping into the fashion industry. Essentially nine years painting professionally.
Are the subjects of your artwork all real people?
Most of the time yes, however sometimes I tend to create my own stories around them making them appear more charter-driven than anything else vivacious and animated, yet still true to reality in appearance and feeling.
What are you up to at the moment?
I am currently working on three commission portraits for clients. As well as my own series of themed pieces as a new online exhibit. Rebuilding my website and creating another production line of t-shirts with my prints on them. It's all keeping me very busy.
Travelling is definitely happening May next year heading to Paris, Rome, Tuscany, and Greece. Where I'm sure I will be taking my camera and grabbing some portrait images of willing muses from all different cultures. I am very excited about this trip. It is supposed to be my honeymoon however, lots happening. It is an exciting time. I am feeling very blessed.
How did it come about that your art featured in TV Commercial?
In my time as an artist I have made some wonderful friends that are incredibly inspiring and talented with what they do, Laura Elkington is one of those. Laura works in Film and TV and goes out of her way to support artist and friends with their trade. Laura contacted me to see if I would be interested in this particular gig and of course I said yes. I am very grateful to her for that. In this industry it's nice to form real connections with other inspiring creative's Like Laura. I really admire what she does It is great to have friends that can all support one another with our passions in life whilst on our creative paths. Laura had a commission portrait piece done from me a year or so ago.
We wish Joy all the best and can't wait to see her new series of artwork.
---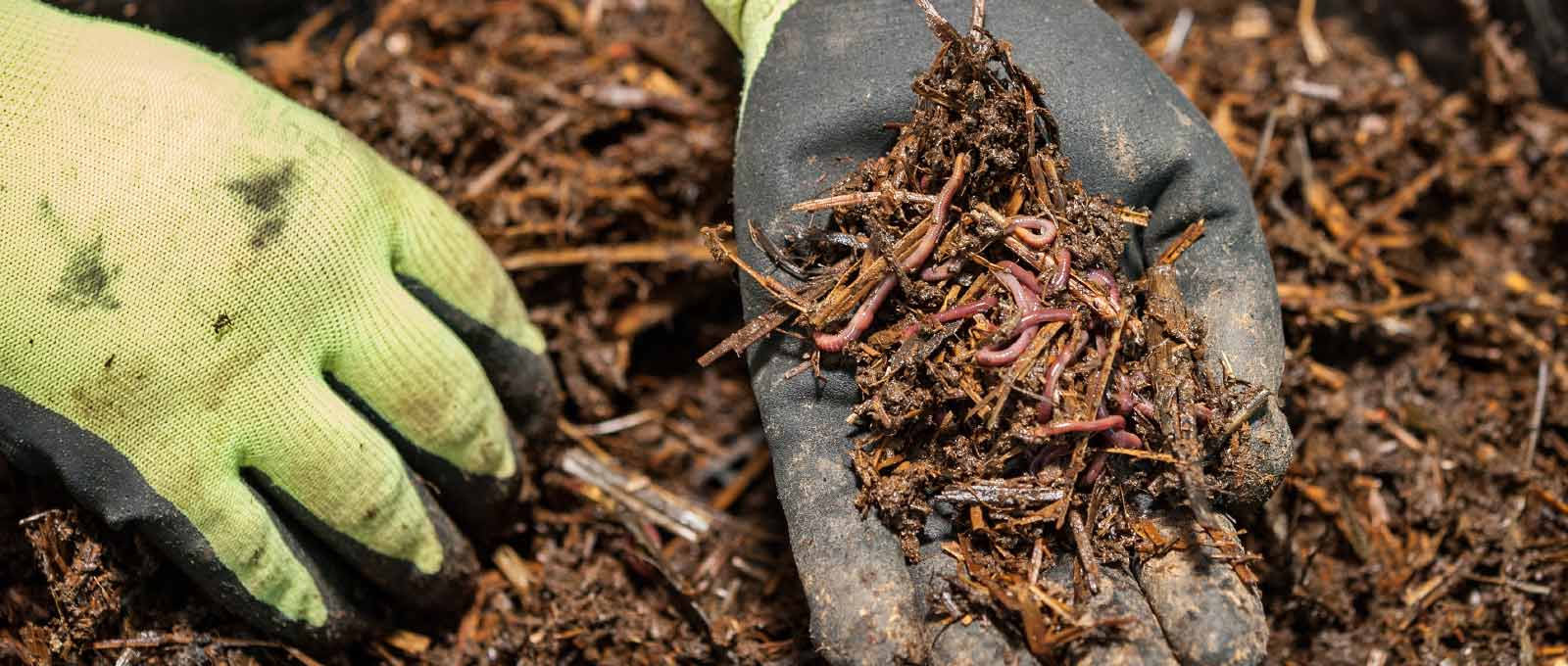 How to make your own compost
Posted on: April 20, 2016
Making your own garden compost is a lot easier than most people think. It's a cheap and natural way to fertilise your garden.
The great thing about Autumn is that it's the perfect time to start your own compost bin. Leaves are starting to fall from trees and it's almost a crime to put them in your green bin and not turn them into compost for your garden.
Having two or more composts is best. While you are using one lot the next batch it being created, keeping an on going, regular supply. They don't take up much room and will reward you with beautiful, rich, homemade compost for your garden. You can make your own compost bin from materials like netting or meshing or you can purchase one of the ready-to-use plastic units. There are numerous styles to suit every space.
4 Simple steps to creating great compost
1. Choose a location
It's important to find a suitable spot for your compost. To ensure your compost doesn't dry out, a semi shaded area in a backyard is perfect.
2. What to compost (and what not to compost)
Green ingredients:
Fruit scraps
Vegetable scraps
Eggshells
Coffee grounds
Tea Bags
Grass and plant clippings
Brown ingredients:
Fallen leaves
Dead flowers
Potting mix
Finely chopped wood and bark chips
Shredded newspaper
Straw
Sawdust from untreated wood
Hint: Make sure your material is cut into small pieces as these will break down more rapidly.
What not to add to your compost:
Anything containing meat, oil, fat, or grease
Diseased plant materials
Sawdust or chips from pressure-treated wood
Weeds that go to seed
Dairy products
3. Layering
Lay your dry matter such as twigs and straw at the bottom of your compost. This will aid drainage and help aerate the compost. Continue to add compost materials in layers, ensuring you alternate between dry and wet. Wet ingredient includes food scraps and teabags. Dry ingredients include newspaper, sawdust and leaves.
It's important to cover your compost to retain moisture and heat.
4. Maintenance
Turn your compost pile every few weeks with a garden fork to aerate the compost and to prevent it from getting smelly. This will also speed the composting process along. When adding new materials to your established compost, mix them in instead of layering.
Sprinkle water over the pile regularly but don't add too much water -- otherwise the microorganisms in your pile will become waterlogged and drown. If this happens, your pile will rot instead of compost.
Depending on the mix of ingredients the duration for the compost to turn into a rich soil can be anything from 6 weeks to 6 months.
---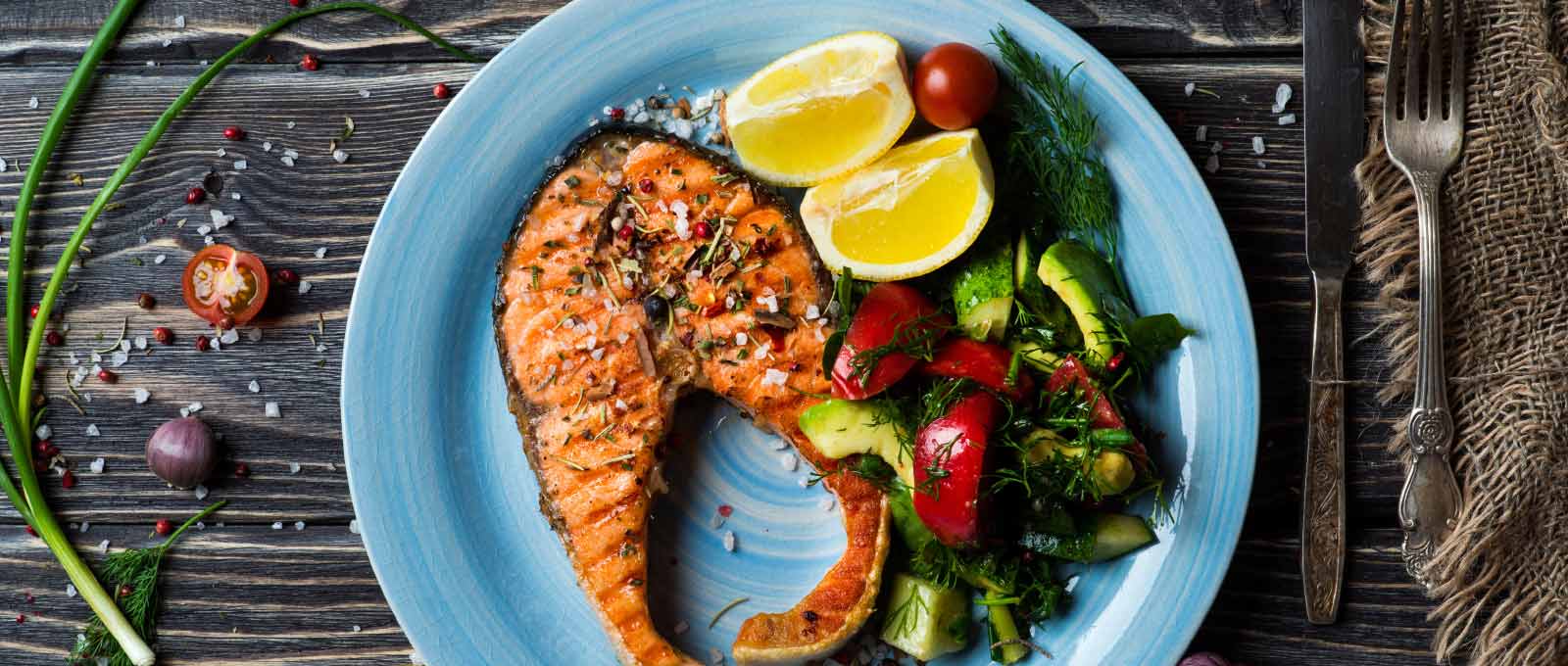 Crispy BBQ salmon with herbs and lemon
Posted on: March 22, 2016
Ingredients
1/2 Cup olive oil
2 garlic cloves, finely chopped
2 lemons, juiced
1/3 Cup dill, finely chopped
1 fresh red chilli, deseeded and finely chopped
1 bunch lemon thyme, roughly chopped
sea salt
freshly ground black pepper
8 x Atlantic salmon fillets, skin on
lemon wedges to serve
If you're not keen on eating fish skin, that's probably because you haven't tried it when it's been cooked till it's nice and crispy! It can be as good as pork crackling if done properly.
Combine oil, garlic, juice of 2 lemons, chilli, dill and lemon thyme in a large jug. Season with sea salt and pepper. Place salmon, in a single layer, in a large ceramic dish. Pour over half the marinade. Turn salmon over and pour over remaining marinade. Cover. Refrigerate for 2 to 4 hours to marinate. Remove from fridge 30 minutes before cooking.
Preheat a greased barbecue plate on medium-high heat. When your barbie is ready, lay your salmon, skin side down and cook for about 4 minutes. Carefully turn your salmon over, continue to cook for 4 to 5 minutes (depending on thickness) or until just cooked through. While it's cooking, gently ease the skin away from the fish and put it on the barbie alongside to crisp up. Brush the salmon with a little more marinade. Once it's just cooked through, lift the salmon carefully off the barbecue and place it on a nice serving platter or board. Serve with lemon wedges and crispy skin.
---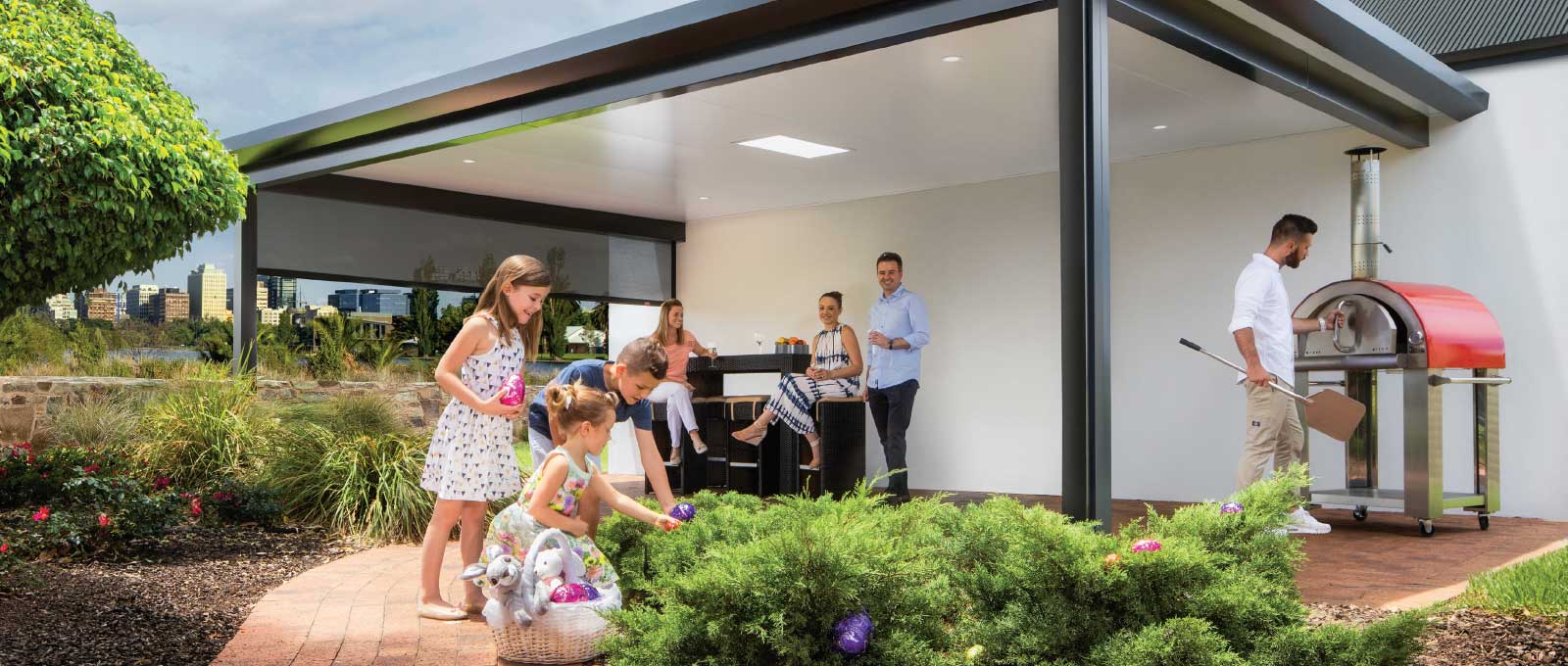 Easter Project Ideas
Posted on: March 22, 2016
Three Easter project ideas to get you out in the garden.
1. Build a 'Poultry Palace'
Chooks make great pets. They take your kitchen scraps and reward you with the tastiest, freshest eggs in town. Kids love feeding them and collecting the eggs. It's also a great learning experience for them to see eggs don't just come from the supermarket. The extra bonus is that chicken droppings are brilliant fertiliser. What's not to love?
Chicken coops come in all shapes and sizes to fit all budgets and they don't have to be an eyesore. Check out our great examples.
Chook house basics:
Make sure your structure is secure so predators like dogs and cats can't get in as well as vermin like mice.
Provide a covered are to keep your chooks out of the elements.
They'll need a covered, cosy nesting box to lay their eggs.
To make the coop easier to clean out give yourself as much access to the inside as possible.
Give your hens room to roam with a big outdoor area.
If your kids have flown the coop, turn their old cubby house into a henhouse!
Check with your local council before you bring your chooks home incase they have some rules and regulations on keeping chooks. There may be limits to the number of birds or the distance from boundaries. Most councils wont allow you to keep a rooster.
2. Garden Time!
Autumn is the time to get busy fixing things. Whether its sharpening the secateurs ready for a good prune, feeding the lawn and repairing summer damage, or planting in bare spots. Here's some gardening basics to get you out in the garden this Easter.
Mass plant bulbs for a floral spectacular in Spring. One of the best is the daffodil. Plant pointy end up in a well-draining spot in full sun or part shade. It pays to dig the soil well beforehand, working in a little blood and bone.
Fertilise your lawn. A sad looking lawn could simply be hungry. After all, a lot of energy goes into growing those lush blades, which are then regularly cut off and thrown away. Apply an organic fertiliser now and water in with eco-seaweed to stimulate activity. Avoid artificial fertilisers as they're usually to high in nitrogen and this imbalance can cause fungal problems.
Get composting. Rather than filing you bin with kitchen scraps and garden clippings, recycle them into a valuable resource: compost. Compost provides nutrients, boost soils water-holding capacity and does wonder for improving both clay and sandy soils.
Spruce up your tools. Use oil and a metal scouring pad on hand tools such as secateurs, shovels, gardening forks, hedging shears and more. Leave a light oil coating for future protection.
Create a mini kitchen garden on your patio or verandah in a half wine barrel. All you'll need is 4 bags of pitting mix, a bag of compost and seeds or seedlings.
3. Discover Your Backyard This Easter
We here at Stratco love the great outdoors and being able to enjoy our backyards with family and friends and Easter is the perfect time to do just that. We have put together some entertaining ideas to ensure that your Easter is both fun and easy so you can sit back and enjoy.
Fun Easter Egg Hunt Ideas
There's nothing better than an Easter Egg Hunt in your own backyard and we're sure both adults and children love to get involved, so we've put together some brilliant ideas for creating an egg hunt this Easter weekend for when your guests come over.
1. Use different coloured eggs for each person
Colour code the eggs you hide and give each person a different colour to hunt for. This will ensure that no one misses out and the kids can help each other find their eggs.
2. Create a map
Keep things interesting by drawing a map for everyone to use to find their eggs. You can even get creative by leaving extra clues at different areas around your back yard. The kids will love being sent on a treasure hunt and it will be sure to keep them busy.
Keep it Simple
Your Easter entertaining doesn't have to demand anything elaborate. Your guests will be happy with simple food, good company and a pleasant outdoor setting.
To brighten up your outdoor area, add a few cushions and a fun table centre piece… some scattered chocolate easter eggs and some greenery from your very own backyard will work a treat. Setting up tables in different areas of your backyard is great way to get your guests to meander. Having a refreshments table can also work really well.
It is without a doubt that any outdoor entertaining is going to include a BBQ and we have just the recipe for you to try this long weekend. Serve with roast potatoes and a fresh garden salad and your guests are sure to be back for more.
---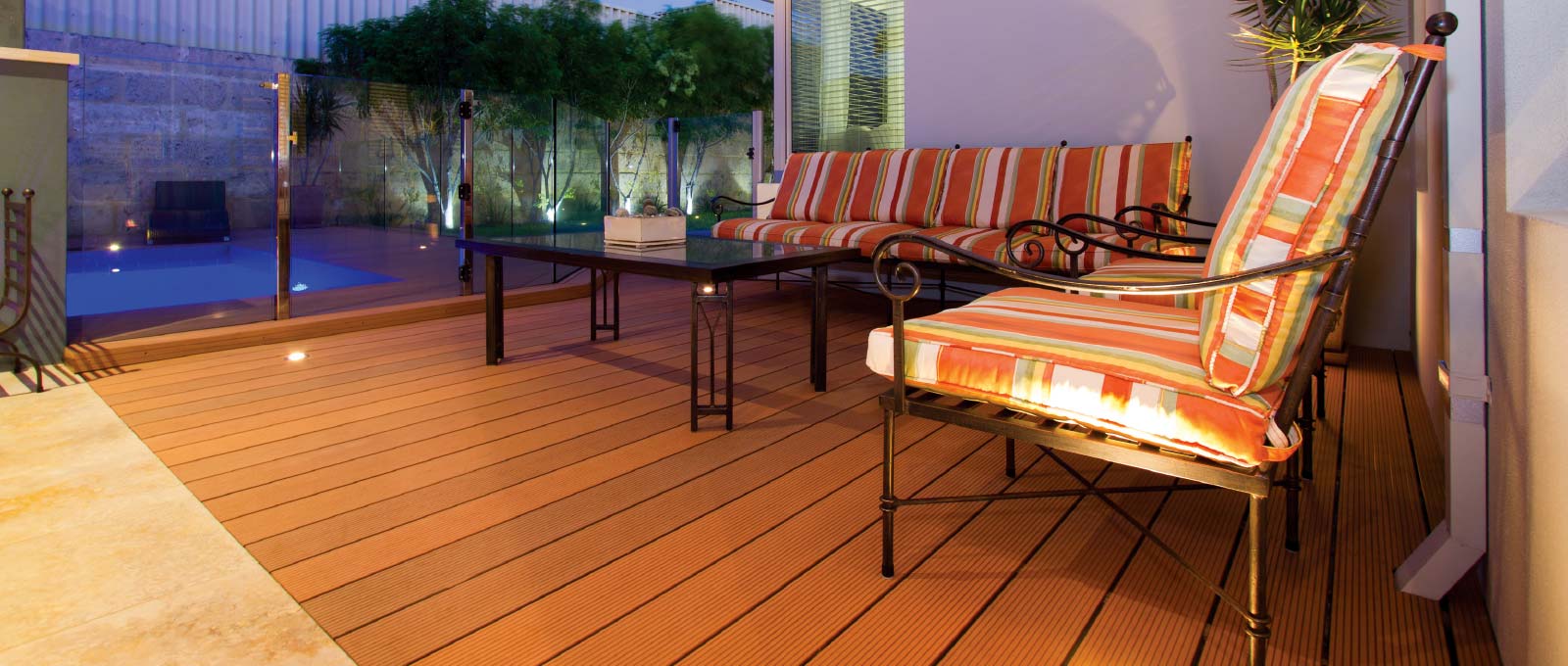 Thinking of refurbishing your deck?
Posted on: February 8, 2016
Here are three simple ways to update your deck for summer barbecues without having to worry about impacting the safety of the structure.
In many parts of Australia, outdoor entertaining is a popular part of life. Our homes are designed to reflect this, with many houses having a deck that helps create that indoor-outdoor flow.
Decks make for perfect entertaining areas, however they do require maintenance and of course, when doing any home renovation, safety should always come first.
Safety considerations
The NSW government reminds residents in its report, Deck and balcony safety: A practical maintenance and safety guide for your home, of the importance of safety considerations. It notes certain factors that can affect the durability of a deck, including:
Insects, such as termites, can weaken timber decks.
Exposure to moisture, whether from plants, a spa or other sources of water, can lead to water rot.
Is your deck placed near the coast? Corrosion can affect even steel structures and fixings, such as bolts.
Any extra weight may not have been considered in the original design and an overload can result in a deck collapsing.
As such, before adding extra features to your deck, ensure you are not affecting the safety of the structure.
How to give your deck an easy makeover
Here are three simple ways to improve your deck so you can get the most out of your backyard during those long summer evenings.
1) Give it a good clean
This may seem obvious but giving your deck a good scrub can make it look brand new. A fresh coat of paint or varnish can truly transform any timber, without having to worry about extensive outdoor renovations. Summer is the perfect time to do this, with the paint drying much faster in the heat.
2) Update the furniture
Nowadays, there is a wide range of outdoor furniture available. So why not go for something different? Try something new and creative, especially during the months when you and your family are more likely to use your deck.
A popular option is a large stone table, perfect for a barbecue or even a nice family dinner outside. Of course, ensure that your deck can sustain the extra weight first before adding furniture that is made of heavy material.
3) Large plants
Why not make the most of being outside? Tall ornamental grasses add that touch of nature while being easy to maintain and go with almost all kinds of decor. Of course, planter boxes achieve a similar effect and can include any flowering plants that match your patio.
Home improvement doesn't need to turn into a huge task, but can still transform how you see your outdoor space. Drop by your local Stratco with any questions on your latest DIY project; the team is always happy to help.
---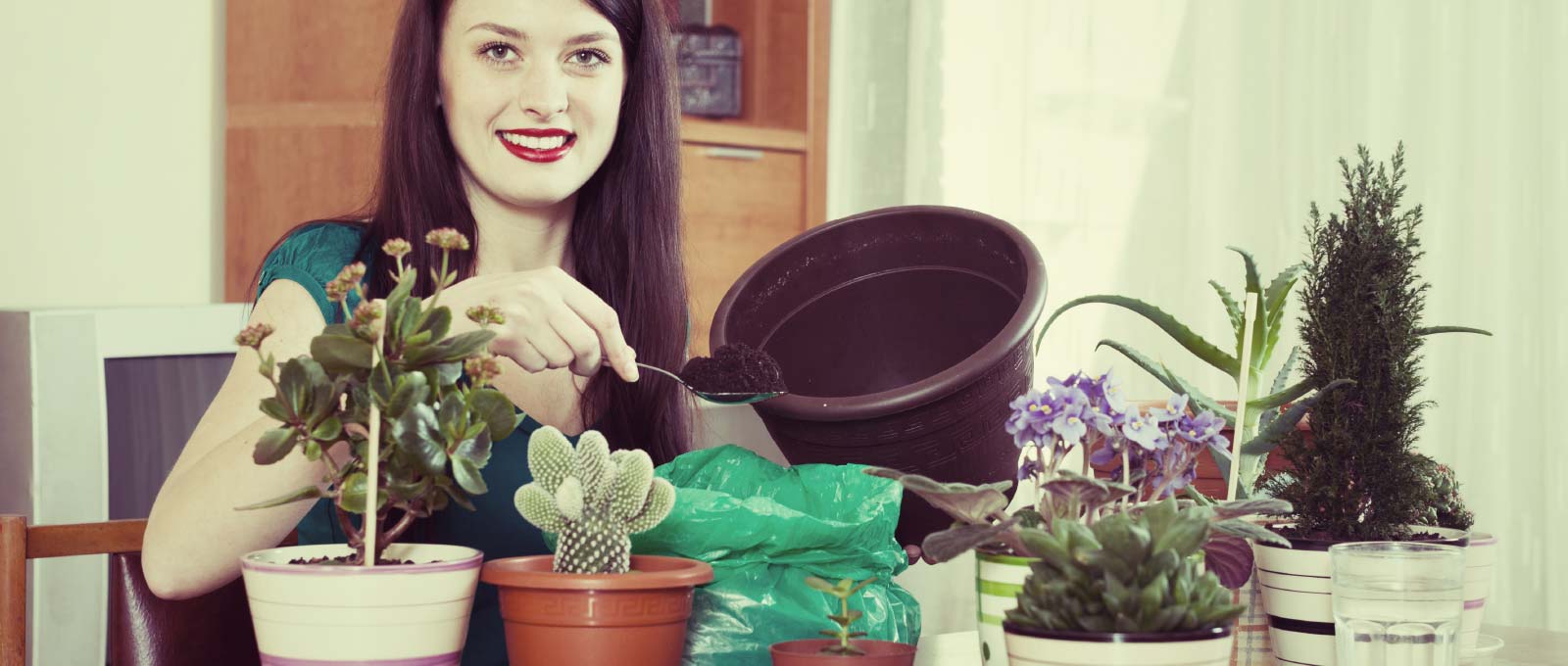 Bringing the outside in: A quick guide to greening your home
Posted on: December 10, 2015
Bringing the outside in can help every part of your home feel more inviting and inspiring. Here's three indoor areas to apply your green thumb.
There's something very satisfying about being surrounded by nature and it's certainly one of the great things about living in Australia. Even if you reside in the heart of the city, it doesn't take you long to get out of the urban jungle and be surrounded by the wide open spaces that Australia is renowned for.
Bring the outside in and make your home a true Garden of Eden.
Of course, you don't have to go far from home if you want to enjoy the restorative power of being in the great outdoors. With a little careful design, you can bring the outside in and make your home a true Garden of Eden.
Spring's also the right time to start thinking about how you can make your home a little greener. Just as you are considering how you can plant your garden ready for summer, think about how you can apply your green thumb inside to create a seamless transition between inside and out.
To help you along this journey, we've outlined three different areas where you can bring a little added greenery to your home.
The ultimate green kitchen
No, we aren't talking about your aunt's taste for lime-green cabinetry! The modern green kitchen is all about bringing in natural elements that can sit alongside the hustle and bustle of a busy family.
One of the best starting points for a greener kitchen is to think about what plants you regularly use in your cooking and then bring them indoors. No longer will you have to run out into the garden for a handful of tarragon, you can have all of your spices growing within arm's reach.
If you are in a warm climate, think about growing Mediterranean herbs along your window sill, as these need plenty of warmth and sunlight. Other ingredients like chillies can be great to have on hand in case you need to bring an extra zing to your cooking while Aloe Vera plants are a natural salve for any burns.
Introducing the outside to your living spaces
What do you associate with a living room? Peacefulness? Tranquillity? A space to relax and feel the weight of the world leave your shoulders?
For many of us, this is more of a dream than a reality. Busy family lives can make it very hard to find that Zen moment in your living room.
Just because this space is put through its paces by every member of the family doesn't mean you can't also introduce a little greenery. Living rooms are often the largest spaces in the house, so they can stand up to larger potted plants.
Of course, you also want to be sure you are positioning your greenery in the right place. If you have children, make sure only the sturdiest pot plants are within arm's reach. Smaller shrubs can be moved up high on bookshelves or shelving units so they are safe from adventurous youngsters.
If you have children, make sure only the sturdiest pot plants are within arm's reach.
Flowering plants are also great for this space, as they can bring a pop of colour and scent to your living room. Make sure you think carefully about how a certain colour will fit with your room and even consider little details like the pot you plant it in. These small choices will make all the difference to the feel of this space.
Bringing a little greenery into your office
Offices are the one part of your house which also has to give you a sense of direction and clarity of thought. Whatever its purpose, your home office needs to be a place of tranquillity and inspiration - also making it the prime location to introduce a few green features that can help you keep your focus.
In fact, a study from Human Spaces into biophilic design (the inclusion of plants and sunlight into working environments) found that natural elements can increase productivity by 6 per cent and creativity by 15 per cent. While the study was looking at big offices, there's no reason not to take the same approach with your home as well!
Also, consider whether you want an evergreen or a flowering plant. If you aren't in the room every day you might be better off picking a low-maintenance shrub or succulent that can handle a few days without watering. After all, when you do sit down in your office you'll want plants that inspire your creativity - not ones that need urgent resuscitation.
What's the next step?
While spring is in the air, make sure to think about how you can bring a little greenery into your property. You'll need a full range of plant pots and equipment like trowels if you want to craft a truly green home.
This is also the time to get a little creative. Getting out the paint brushes and customising each pot can be the perfect complement to some new-found greenery. You may even find that you need some storage for all your indoor and outdoor planting adventures, in the form of a dedicated garden shed.
Whatever your end goal, start with a trip to your local Stratco. Our team can help with every aspect of your next DIY project and our product range is second to none.
---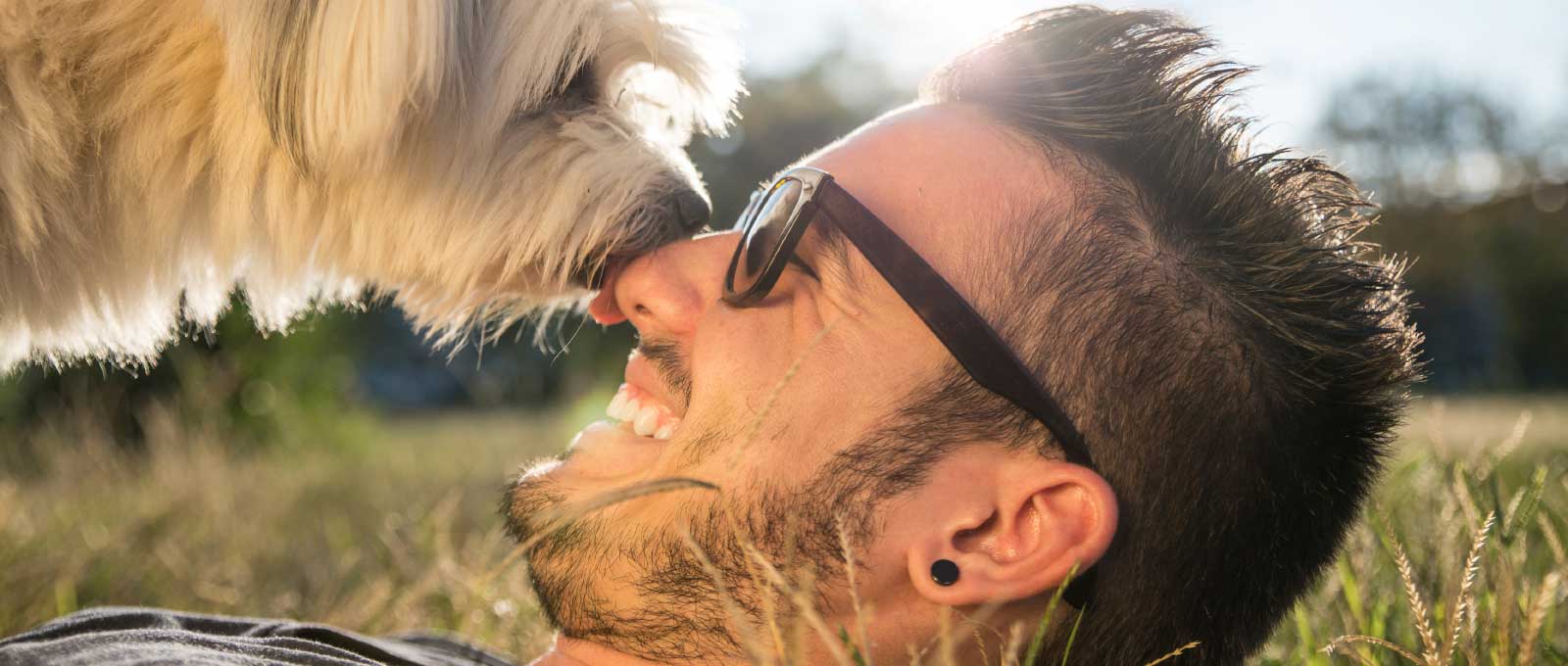 3 ways to prepare your yard for a dog
Posted on: November 26, 2015
Before adopting a dog, there are certain property requirements. Here are some simple ways prepare your household for a canine addition.
Are you considering a family pet?
Dogs have always been embraced by Australians for their companionship, loyalty and family-friendly nature. While there are many advantages to owning a dog, it is not a decision that should be taken lightly.
Rather, there are specific considerations that must be taken into account, particularly around your property. However, the right storage solutions and quality fencing can help simplify these requirements.
Half of Australians own a dog
Australians truly embody the idea that dogs are man's - or woman's - best friend. According to data collected by Roy Morgan Research earlier this year, more of us now live in homes with either a dog or a cat than with a child.
The research indicated that half of Australians (50 per cent) live in a household with a dog or a cat, compared to 35 per cent of homes with a child under 16 years old.
Roy Morgan Research Industry Communications Director Norman Morris notes the responsibility and cost that comes with owning a pet, particularly a dog.
"Ownership of cats and dogs has remained relatively stable in Australia over the last five years, with dogs the perennial favourite. Although the affection and companionship they give us is priceless, our pets do come at a cost," warns Mr Morris.
Pet-proofing your home
There are specific property requirements that potential owners should meet before bringing a dog home.
The Australian Royal Society for the Prevention of Cruelty to Animals (RSPCA), states that adopting a pet should never be an impulsive decision. In terms of property, there are specific property requirements that potential owners must ensure before bringing a dog home.
Before adopting a pet, the size of your property is a key factor, especially for larger dog breeds. If you have minimal yard space, it would be best to adopt a small to medium-sized dog. For those with larger outdoor areas, a larger breed would do well, such as a golden retriever.
Not only do you need adequate space, but your property must be secure. An untrained puppy needs to in an enclosed area and some breeds are more likely to escape even as the grow, such as beagles.
Nevertheless, there are many benefits to owning a dog. They provide companionship and can even bolster your home security. While there are a lot of consideration before bringing a dog home, transforming your property does not have to be a major task.
Here are three ways to prepare your property for a new member:
Storage
Dogs come with a range of needs, so finding somewhere to store their supplies can be difficult. A storage shed can keep leashes, pet toys, food and treats outside of the home and ensure everything remains well-organised.
Rather than contribute to clutter, utilising garden sheds as effective storage solutions can keep your household in order.
Dog kennel
Ensuring your backyard is suitable for your dog also minimises the amount of time your pet will spend inside. This makes cleaning much easier for you and ensures your pet is getting the fresh air and exercise it needs.
However, a dog still requires shelter and a space to rest. A quality dog kennel to match the size of your dog is a staple for any owner and can be easily placed in your backyard.
Fencing
As mentioned earlier, an enclosed outdoor space is imperative before adopting a dog. Organisations such as the RSPCA are likely to inspect your property to ensure there is adequate fencing when you choose to adopt. There are many benefits to installing fencing, and the modern range available ensures style remains a top priority.
Aluminium fencing can lift a front yard while still fulfilling it's functional purpose of securing your household for a dog. For something extra, why not install a sliding automatic driveway gate? A motorised remote gate opener makes getting in and out much easier for you.
Securing your property for a dog can be undertaken in a simple manner, with the help from your local Stratco. For questions on storage shed or fencing options, contact the team who are happy to help.
---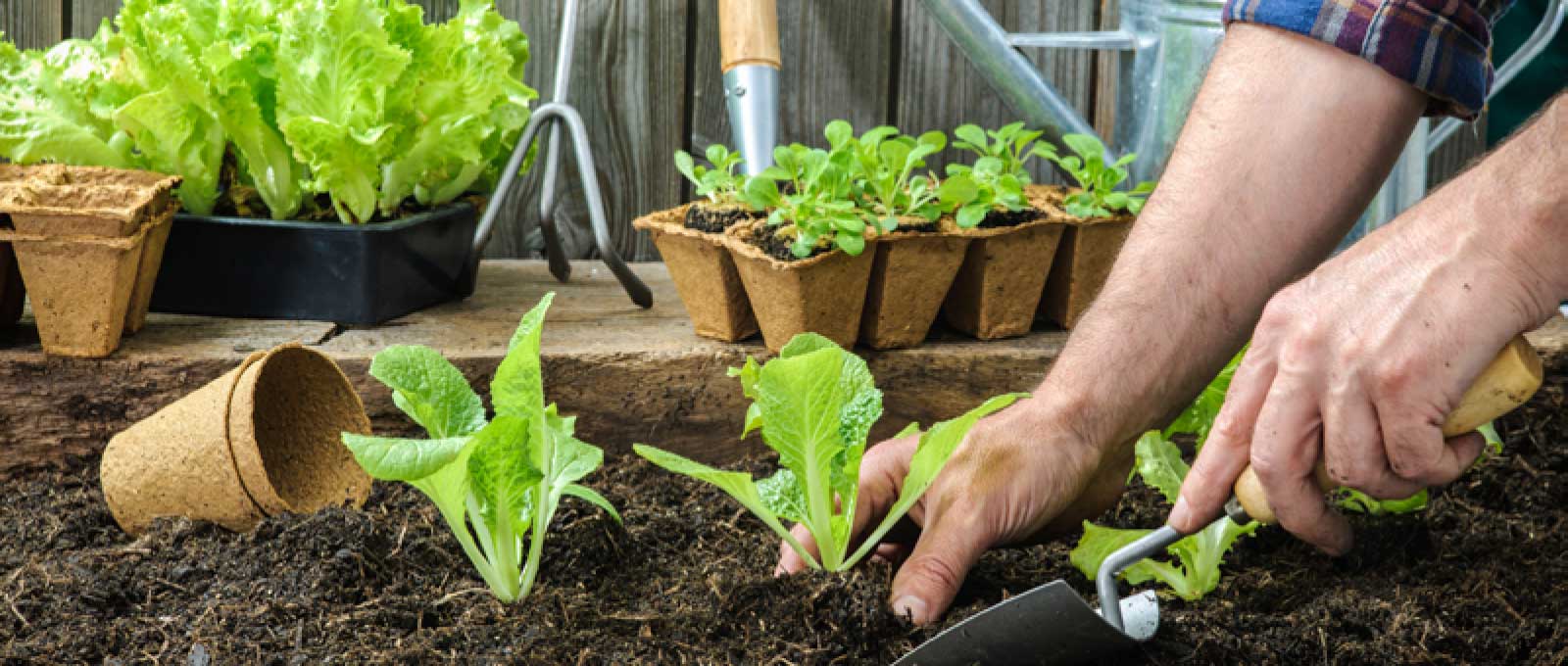 Are your vegetable garden attempts unsuccessful?
Posted on: November 12, 2015
If you are concerned about your family's fruit and vegetable intake, why not make your own garden? Here are some tips to ensure it lasts.
Spring brings the perfect gardening weather and there are a few staples that every home should have. A vegetable planter box is one such feature, be it small or large, and can be more than just a decorative addition to any backyard.
The functional nature of a vegetable planter box can result in a healthier diet for both you and your family. With National Nutrition Week just around the corner, there's no better time to start.
As always, putting the extra effort in to truly personalise it can create a unique feature of your home. The Victorian government also recommends involving children in the growing process to encourage them to eat healthier.
Encouraging more fruit and vegetable intake
As mentioned above, October 11 - 17 is National Nutrition Week, which is aimed at encouraging Australians to eat more fruit and vegetables. According to the Heart Foundation, only 5.5 per cent of Australian adults had the recommended intake of fruit and vegetables in 2011/12.
One way to get involved in this initiative is by making yourself a spring vegetable garden, a planter box is by far the most suitable structure and is easy to create yourself.
How to make a planter box
Before you start, you will need to get together the planks of wood to make the physical structure. These can range from some wood you have lying around to store-bought planks.
Once you have your material, all you require is the right tools like a hammer, nails and possibly a hand saw.
The advantages of creating your own planter box is that you can control the design. While store-bought planter boxes are a lot easier to set up,they do not allow you to control the material and look as easily. This could involve attaching the vegetable garden to your window sill or aligning the material with existing features in your backyard.
Of course, a raised planter box is easily bought if you do not have the time to make one. These are perfect for a vegetable garden and can be easily moved to where ever you would like to place it.
What should you plant?
There are a wide variety of fruit and vegetables that are relatively simple to grow from seed.
Strawberries are a great addition and your kids won't need convincing to eat them.
Tomatoes are another easy plant to grow and are perfect project for children.
Lettuce is a staple, for good reason. Perfect for burgers and salads, and for your garden.
Spring onions are simple to grow and go wonderfully with most dishes.
Don't forget
While many Australians love to grow their own vegetables, establishing a garden that is healthy can be difficult. Here are a few pointers that can help:
Fertiliser is an essential component to any healthy garden and when growing vegetables, it is important the soil has the right balance of nutrients.
Keeping pests away can be difficult and no one wants to lose their hard earned labour to sparrows or mice. An easy way to protect strawberries in particular is the use of bird nets that cover the plants, shielding them from hungry animals.
Plant mats can prevent the spread of disease and ensure the soil remains healthy. If you are unsure about a particular vegetable, use a plant bag to secure the well being of the surrounding vegetables.
Of course, all plants require care, even if it's minimal. Remember to water and weed when need be so you can enjoy your vegetable garden for longer.
All that's left to do is enjoy fresh fruit and vegetables from now through to summer. Remember to drop by your local Stratco for any tools you may need to spruce up your garden or advice on a DIY project.
---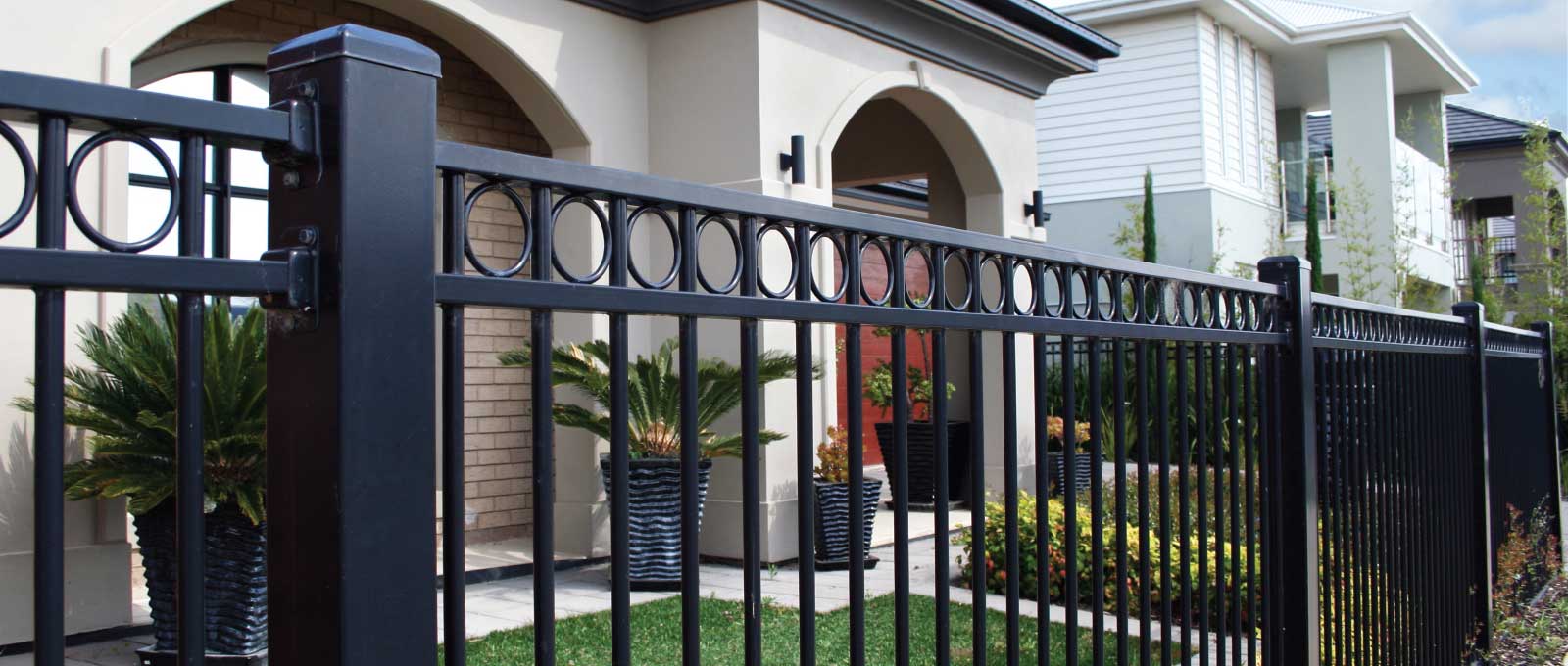 4 ways to enhance your front yard
Posted on: November 11, 2015
Concerned you have neglected your front garden in favour of your backyard? Improving your front? yard can be achieved in four simple ways.
Australians love an indoor-outdoor flow that provides privacy and space. The backyard is a quintessential example of this, with homeowners investing time and money into perfecting their outdoor area.
While maintaining a backyard is important, so is ensuring your front garden ties in well with your overall property. Creating the right ambience in your front? yard has significant benefits and can easily achieved with additions such as unique customised fencing and appropriate lighting.
Has a focus on backyards led to the neglect of front gardens?
Australians love to do up their backyards, viewing the space as perfect for entertaining guests, particularly during spring and summer. However, has our love for the backyard left our front gardens neglected?
According to a study from Griffith University, despite Australian houses increasingly having smaller space behind the house, front? yards are not utilised as well as they could be. As the average backyard starts to decrease, homeowners should start making use of the ample space in front of their houses.
While backyards provide privacy and the all-important outdoor entertainment area, there are are benefits to ensuring both spaces are up to scratch.
The advantages of a well-kept front yard?
A front garden is an excellent way to foster good relations with your neighbours while improving the overall look of your property.
Not only does it add to the overall decor of your home but can even increase the value. A recent Westpac study indicated that there was a 40 per cent rise in the value of residential renovations in 2014 and a further 89 per cent of those surveyed responded that renovation is a good strategy to increase property value.
"If you are renovating, not only are you improving your current surroundings and tailoring your home to suit your needs, but it can also add value to your property if you come to sell in the future," adds Westpac General Manager of Retail Banking Gai McGrath.
Here are four practical ways to improve your front garden:
1) Garden sheds
The right customised shed can contribute to the ambience of an area while still being a practical storage solution.

With backyard space decreasing, placing a storage shed in your front garden can free up more area behind your house. A shed may not appear to be an obvious choice to beautify an outdoor area. However the right customised shed can contribute to the ambience of an area while still offering a practical storage solution.
Opting for custom sheds rather than standard solutions allows you to match the appropriate colour to the style of your choice.
2) Plants
Many homeowners are concerned with maintaining a garden and the wrong plants can result in your garden looking dilapidated instead of elegant. However, there are many plants available that are low maintenance but still attractive. Try placing tall ornamental grasses or succulents that require minimal attention and pruning.
Placing the right planter box can also help you further control the way your plants grow.
3) Custom fencing
Creating a clear barrier between the sidewalk and your property can help define your home. However you want to make sure it does not take away from your decor. Unique and high quality custom fencing allows you to choose the right colour, style, latches and hinges for your front? yard.
For something a little extra, a motorised sliding gate for your driveway can set your property apart and is likely to increase its overall value.
4) Lighting
Front? yards require slightly different lighting and when done right, can really set your home apart. Similar to your backyard, decoration lighting can truly make your house stand out, as long as it is used in the right way. Drape the lights around a tree trunk or perhaps decorate the edge of that planter box you just installed.
Garden lights can also be used to emphasise the entrance as the main focal point, helping to guide visitors into your home in the most welcoming way possible.
With these simple concepts, maintaining your front garden does not have to turn into a big job. For answers to your home improvement queries, contact the team at your local Stratco.
---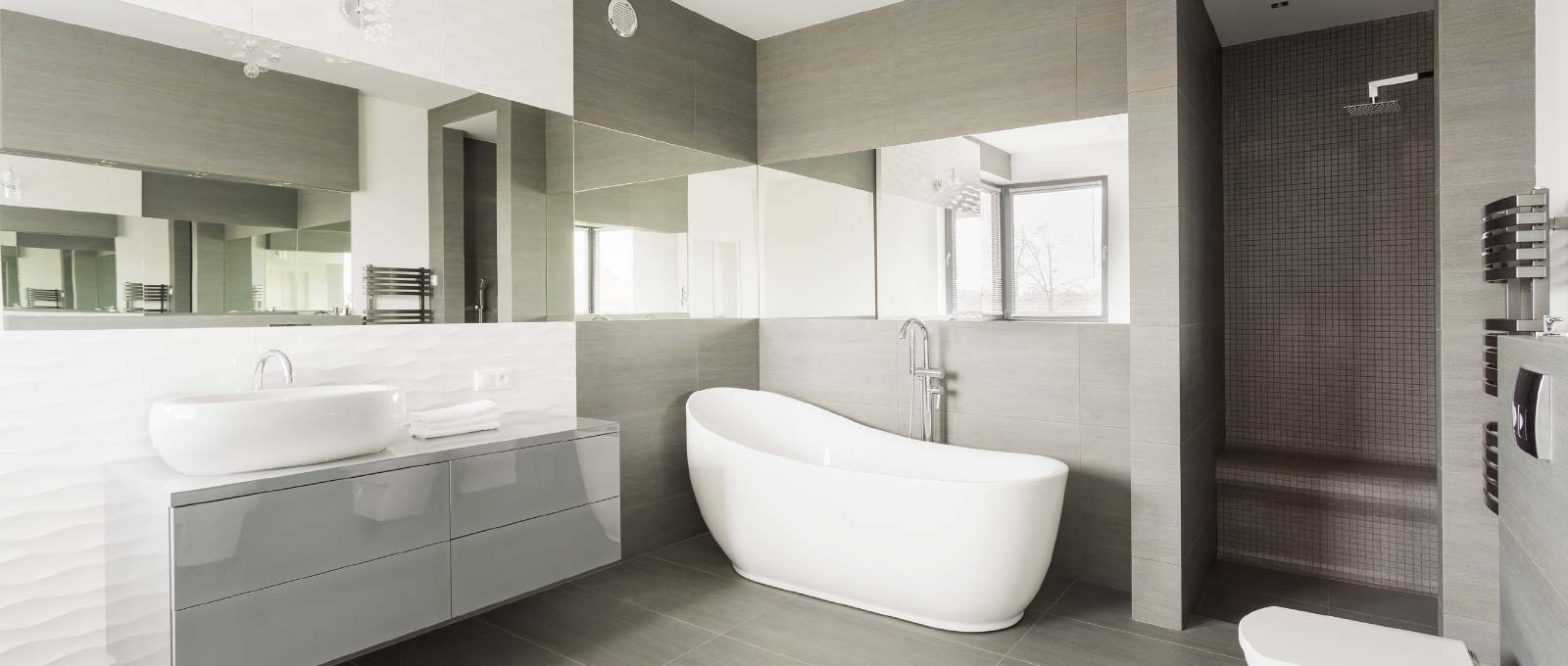 3 ways to update your bathroom
Posted on: November 2, 2015
Wanting to update your bathroom but concerned about it turning into a big job? Here are three ways the task can be minimised.
Want to renovate your bathroom without the hassle? For a quick facelift, it probably only needs a spring clean - and what better time then now?
Doing up your bathroom does not have to turn into a big project and can even be undertaken on a rainy day. Here are three easy ways to get the job done.
1) Clean and reshuffle
You'll be surprised by how many people amass bath and beauty products and forget to clear them out. A recent survey by Roy Morgan Research estimates that 6.3 million Australian women (aged 14 years and older) buy makeup in an average six months, it is likely that these products will collate over time.
Organising your bathroom can take minimal time and effort and de-cluttering can even help alleviate stress. The University of California studied households across Los Angeles and found that when they failed to manage their volume of possessions, it could lead to mothers being more stressed.
Simple storage solutions can make your bathroom look classier, with towels or other items organised neatly.
2) Re-paint
For those who have a bit more time, a simple coat of paint can go a long way in a bathroom. You can also choose a new colour or even give your current paint job a touch up. When choosing a shade, lighter colours work well to make a small space appear larger than it is. If you are looking for something extra, a feature wall can elevate any area, even a bathroom.
Painting does not need to be limited to the walls, but can help update an older-looking cabinet or shelf. For bathroom tiles, a thorough polish with the right equipment can make them look brand new. Ensuring you have the correct interior paint for the project is essential as well as the right tools.
3) Accessorise
Once your bathroom has been organised, you may find you want to change up the accessories. Updating shower curtains and vanity items can help give your space a modern, fresh look. Ensuring your bathroom's decor complements the rest of your home can lift this oftentimes forgotten area.
If you would like a more substantial change, why not update your vanities? This can work out cheaper than a full-scale renovation yet gives you just as much transformation.
Renovating your bathroom does not need to be a large-scale project and these simple steps can help start the spring cleaning in your home.
---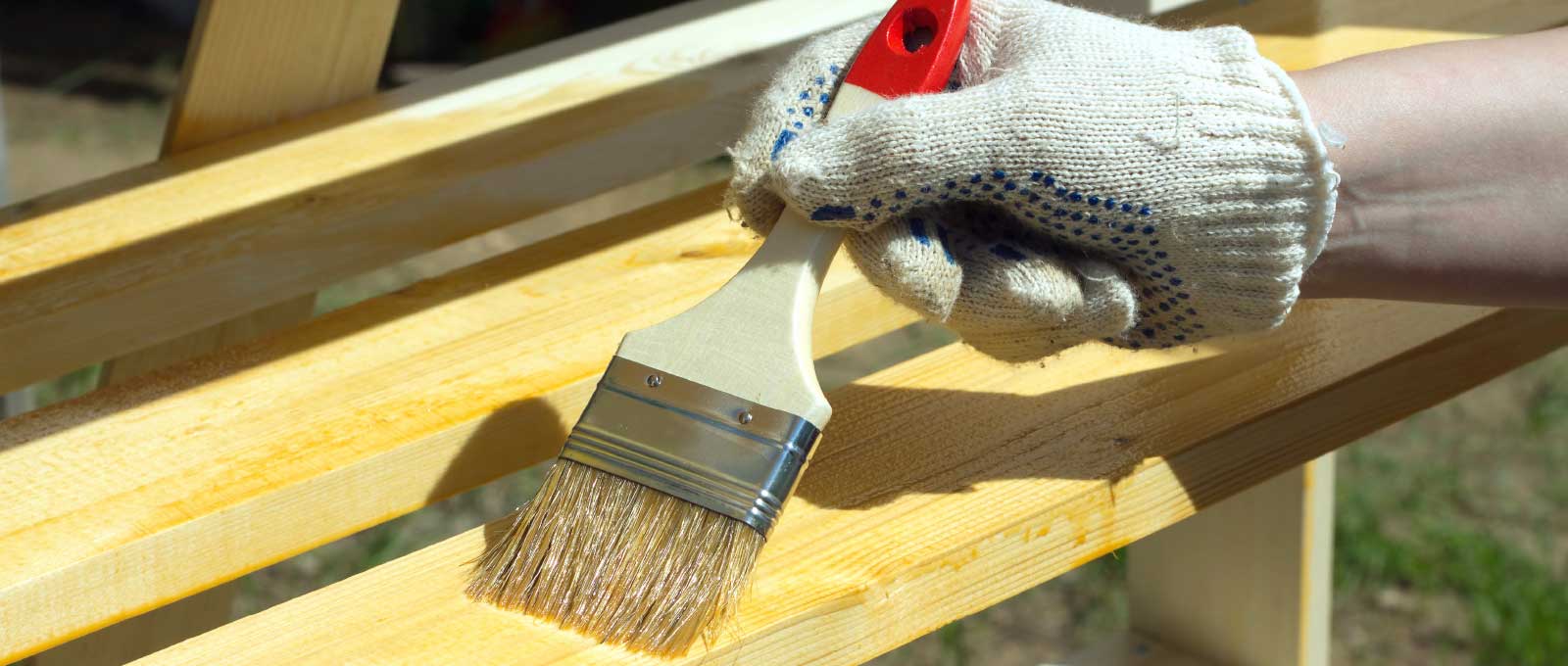 Update your outdoor furniture for summer
Posted on: October 13, 2015
Want to make the most of long summer evenings at home? Update your outdoor furniture and you may never want to leave.
Many a backyard is barely used during the colder seasons, and with summer on its way, you probably want to give your outdoor furniture a makeover.
While there is a wide, modern range of outdoor furniture available, there are still DIY options, for the very handy to those who are after something a little more simple.
A fresh coat of paint
If you're after something on the lighter side of DIY, you can never go wrong by updating your furniture with some paint. There are many ways to give dilapidated furniture a facelift, and once you have the right painting equipment, it is a simple and fun project.
This can involve spray painting the legs of furniture, or using stencils to create fun images. This is also a fun way to involve your children and allow them to get creative with the paint.
Research by the Penn State College of Agricultural Sciences in 2014 found that painting can provide benefits to children. The soothing activity is interesting to children, whether they employ a brush or their fingers. It can form an important aspect of their development and including them in a fun project can help foster their creativity.
Picnic table cooler
For those after something a little more challenging, a perfect summer addition to any standard bench is a drinks cooler.
Roy Morgan research from earlier this year confirms that Australians are drinking more and that the majority of respondents across all ages preferred drinking from the comfort of their own home. In light of this, a drinks cooler in your backyard can help create the perfect atmosphere for a summer barbecue or a quiet night in.
A traditional outdoor table can be lifted to the next level by inserting a drinks cooler in the middle. Perfect for entertaining or for relaxing on a summer evening with a couple of beers.
By taking out the middle panels, and inserting a planter box in the appropriate size, a cooler can be easily added to an outdoors table. In order to appropriately stabilise it, the right power tools such as an electrical screw driver can create a permanent fixture.
Once you have finished, add some ice and your drinks cooler is ready for summer!
DIY projects such as this one do not need to be complicated. Drop by your local Stratco with any queries and we'll be happy to help you pick the right products that suit your particular need.
---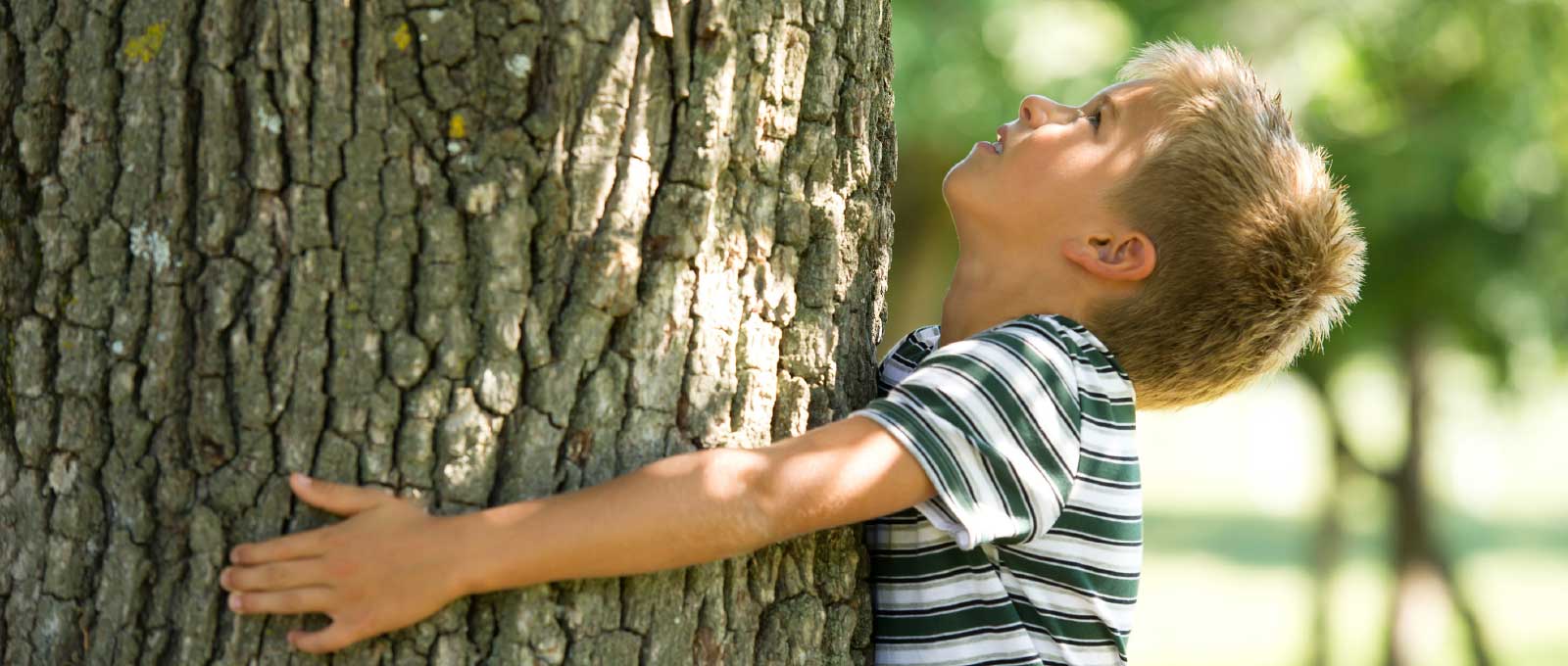 The benefits of a teepee tent
Posted on: October 7, 2015
A teepee tent is a simple solution to providing outdoor activities that also helps reduce the health risk associated with exposure to the sun.
With the summer holidays just around the corner, now is the best time to plan some fun outdoor activities for the school break. However, finding the right outdoor activity for your children that keeps them busy without exposing them to sunburn can be difficult.
Encouraging outdoor play key to reducing screen time
A combination of sun protection measures will provide the best protection, with shade being a key component.
The Australian Heart Foundation released a report comparing the recommended physical activity levels to what we're actually seeing. It suggests that parents should offer non-screen alternatives that encourage children to play outside in order to reduce the time spent watching TV or playing on smartphones.
A key reason why many Australian parents are concerned about their children playing outside during summer is the high risk of sunburn and skin cancer.
Applying sunscreen is the best protection, but the Skin Cancer Foundation warns this may not be enough on its own. It recommends seeking shade to help prevent skin cancer, especially between the hours of 10 am and 4 pm.
The Cancer Council of Australia echoes this sentiment, stating that a combination of sun protection measures will provide the best protection, with shade being a key component.
In light of this research, installing a patio for your outdoor entertainment area can provide the shade needed. Nevertheless, there will still be times when your children want to spend time in your backyard, which is not covered.
Creating a teepee tent can provide a solution to both issues as it not only encourages kids to play outside but offers shade, protecting them from the sun.
Why a teepee tent?
There are many benefits of teepee tents, and their size and shape make them suitable for inside as well as outdoors.
The tents are also easily adaptable for all ages, from young children such as toddlers to slightly older children who want a quiet space to read or play. Children aged one to five years should be active for at least three hours throughout a day, according to the Department of Health and Ageing. Incentivising outdoor play is a key way to ensure your children are maintaining the right levels of physical activity.
Teepee tents are not difficult to make once you have the right materials and appropriate tools. While these tents can be found in stores, making it yourself allows more creative control over what it will look like and how big you would like it. No matter what patterns or colours your child likes, a teepee tent can be easily personalised to cater to their taste.
Simple to make
Teepee tents are easy to make and only require minimal equipment. They can easily be made more complex, but here is a simple way of constructing one.
You will need four long wooden poles, which will form the structure of the teepee. Once you have these, drill a hole at the top of each pole and pull through some strong ropethat can hold the poles together. Ensure the rope has been tightly wrapped around the four poles.
Drape a cloth or material of your choice over the structure and using a screw, secure it in place. Using calico allows your children to design a pattern or drawing that involves them in the project.
Not only are these tents easy to create, they suit outside and indoors without resembling a traditional camping tent.
With summer approaching, having a teepee tent for your children to play in can be just what you need while you host a barbecue or want to do some gardening.
---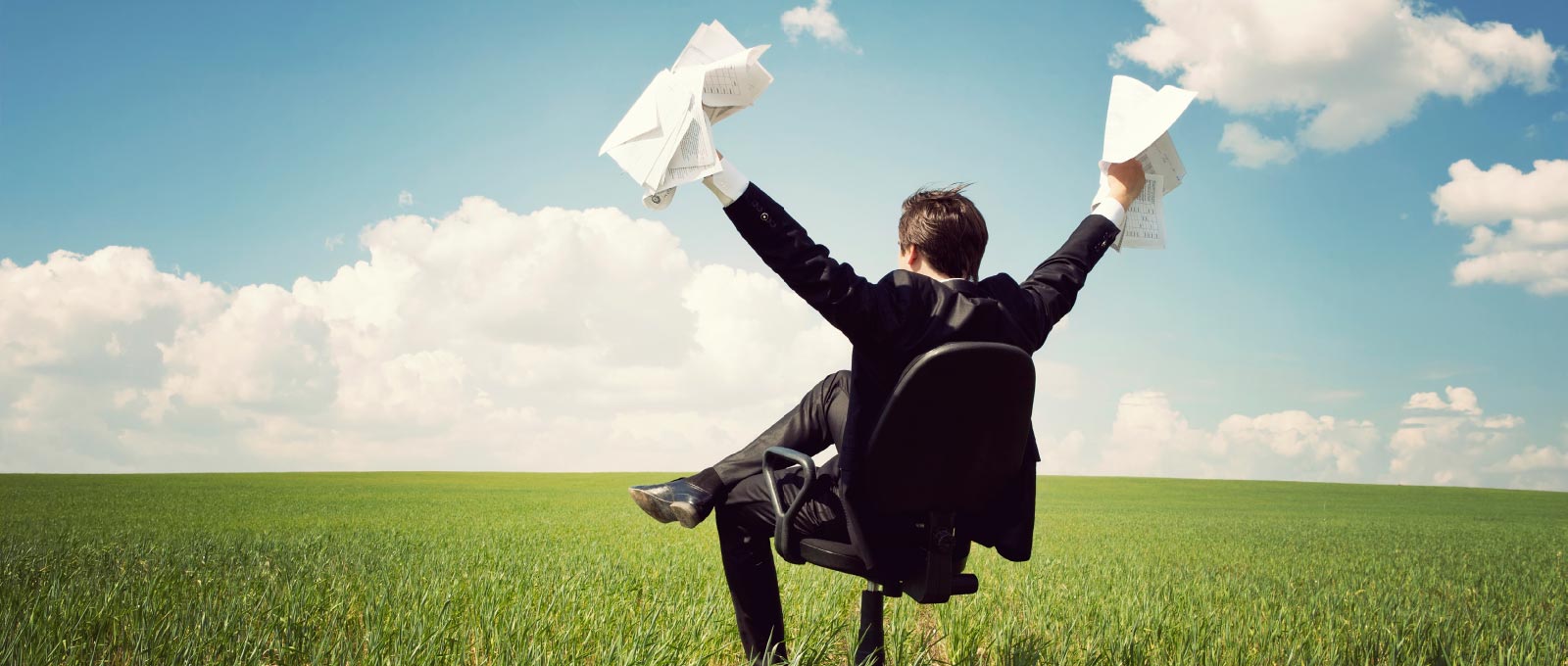 How to create your own backyard office
Posted on: October 1, 2015
Are you one of the 5.6 million Australians who work from home? Creating a dedicated office space can help facilitate a healthy and productive work life.
Do you work from home? Research shows you are not alone, with more Australians seeking the benefits of flexible work arrangements. As advancements in technology make collaboration easier, it's become a more feasible option for many workers.
However, finding a dedicated space that allows you to complete your work in peace can prove difficult. Not everyone has the luxury of an extra room that can be converted into a studio and for those who do, an office within the house can blur the lines between work and home.
More than half of Australians work away from office
Working from home resulted in a 13 per cent increase in performance and overall improved employee satisfaction.
Working from home can result in happier workers and increased productivity, according to a Stanford University study. It found that working away from the office resulted in a 13 per cent increase in performance and overall improved employee satisfaction. Perhaps this is why more Australians are opting to work away from the office.
In a 2014 study, the Australian government Department of Communications found that 51 per cent of employees work from their house in some capacity. The internet has facilitated this ease, resulting in 5.6 million Australians regularly completing tasks from their home.
These figures have been rising, as the Australian Bureau of Statistics found that in 2008, just 24 per cent of Australians worked from home. This was attributed to two key reasons: to catch up on work (34 per cent) and wanting an office at home with no rent (22 per cent).
Having a dedicated space in your home can facilitate productivity as it helps your mind focus. With the rise of effective digital communication tools, all employees are working from home in some sense. This makes having a home office that much more important, however, not everyone has the extra space. One way to combat this is by installing a shed as your own backyard office.
Benefits of a backyard office
The Australian Bureau of Statistics recorded a 6.9 per cent increase in house prices in Australia's eight major cities from March 2014 to March 2015. With average house prices increasing, many Australians simply cannot afford an extra room for a home office.
While a desk can suffice, not having a dedicated space can result in increased interruptions and work bleeding into your private life. Installing an office shed can provide the privacy you need in order to get your tasks completed for the day while still avoiding the commute into the office.
Just because your shed is for work, does not mean it has to be dull. Sheds are now available in a wide range of modern designs. The Handi-Heritage Shed is a one such example, that conveys charm and character. It is also easy to install as it is delivered in complete panels, ideal for those needing a home office as soon as possible. Of course, qualified installers are also available to set up your shed if need be.
Working outdoors also has health benefits, with research showing that taking a break and interacting with nature can improve productivity.
A 2008 University of Michigan study indicated that nature grabs our attention in a subtle way, giving our top-down attention abilities a chance to rejuvenate. Taking a quick break outside can improve performance and can do more for your brain than that third cup of coffee. With an office located in your backyard, fresh air is never going to be far away.
Sheds are easily personalised to create the perfect office for your needs, as they are essentially a blank canvas. Add some appropriate furniture, and your backyard office is good to go.
---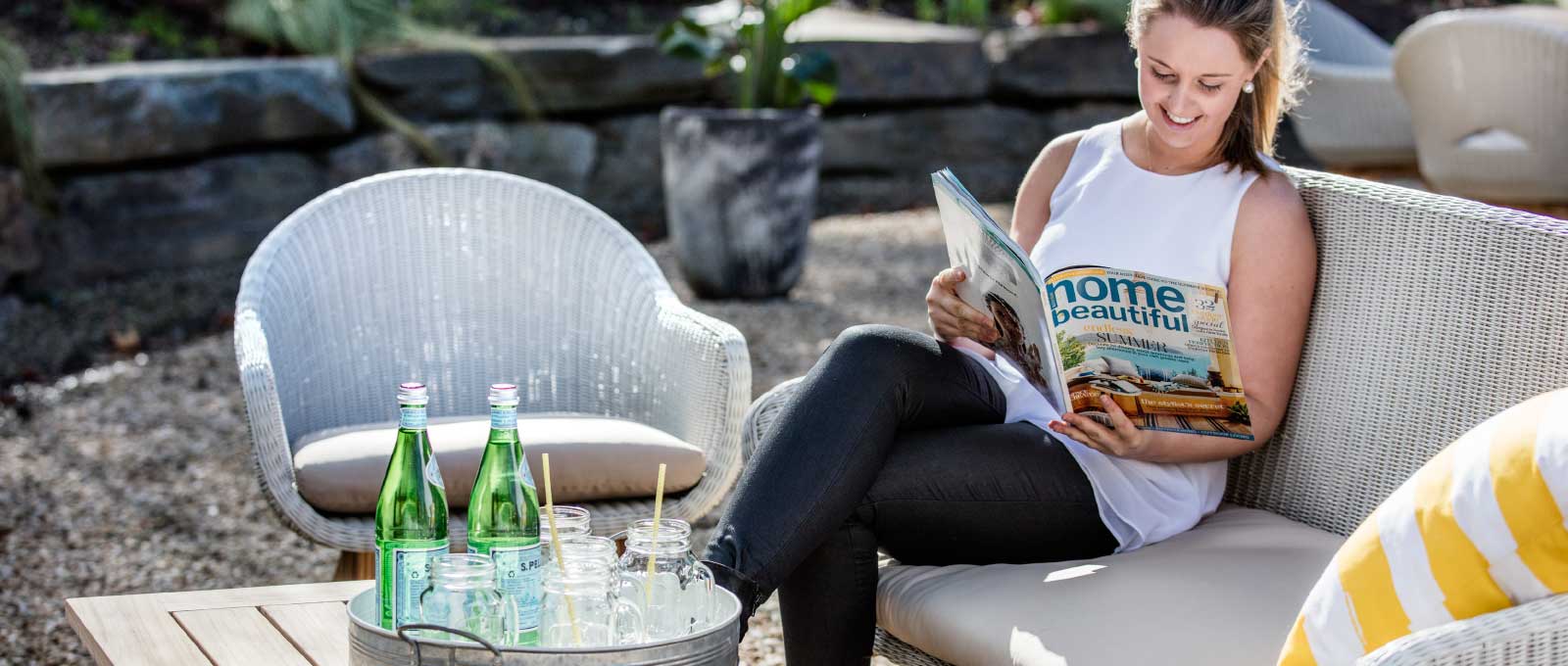 5 ways to get your outdoor area ready for spring
Posted on: September 18, 2015
Spring cleaning your entertainment area doesn't have to be expensive or time consuming. Here are five easy ways to give your backyard the lift it needs.
Has your outdoor entertainment space been neglected over winter?
A 2014 survey by design firm Houzz confirms Australians' love for the outside, with only 1 per cent having no outdoor area and it remaining the top priority for renovation in the upcoming year. If you haven't gotten round to it, now's the perfect time to spring clean your patio so it's ready for those summer barbecues.
Here are five easy ways to make any backyard look brand new, as well as allowing you to use your deck in the unpredictable spring weather. Outdoor areas don't have to limited to pristine sunshine and once you've implemented these ideas, you won't want to wait until summer to invite your neighbours around!
1) Cushions and curtains
Jazzing up your deck with some cushions and colourful throws is an easy way to give a washed-up looking patio a spring facelift. They create an inviting look and can brighten up any dull looking backyard. Best of all, they can be personalised to your taste. A wide variety of colours and designs, including patterns and phrases, are easily available for cushions and blankets.
Why not go for a theme? A Mediterranean style rug with some cushions to match and even a few candles can create a romantic looking entertainment area.
Curtains are not purely aesthetic, they also provide that much sought after privacy. Long white chiffon curtains are perfect for providing shelter from the sun or light breezes and add an elegant touch to any space. Cushions and blankets also serve a practical function, providing that little extra warmth needed in the evening.
2) Don't get swept away
Sick of waiting for summer to use your patio? There are ways to weather proof your outdoor entertainment area. While curtains can provide some shelter, something a little more heavy weight may be needed to fight the wind.
Installing a sunroof or gazebo can protect you from the elements while allowing enjoyment of your backyard, no matter the weather! Ensuring your outdoor entertainment area is functional through installing a roof can transform how you view it, and allow you to get much more use out of it.
3) Out with the old, in with the new
Buying new, modern furniture is an easy way to dramatically change any area. A patio is no different, and there are so many ways to be a little adventurous with the furniture you choose due to the wide range available. If you are after something a little less traditional, why not go for a hammock?
Stratco has a wide range of outdoor furniture that can lift any space to the next level.
4) Lighting
Adding unconventional lighting is another simple way to transform your outdoor area. It's difficult to go wrong with string lights; they tend to suit most environments and come in a variety of colours and shapes.
Hanging lanterns create a similar effect, whether you want a classic white or are after more colour. Fairy lights are a popular option, with the Houzz survey indicating it was the second most sought after garden feature (21 per cent).
Candles are an alternative source of light that can take your deck from dated to dignified. They can also be functional, with citronella candles doubling as mosquito repellant, allowing you to spend evenings outdoors with worrying about insects. The Victoria government's Department of Health emphasises the effectiveness of these candles in small outdoor areas in reducing mosquitos.
5) Outdoor bar
Want an outdoor kitchen but don't have the space? An outdoor bar could be the answer you've been looking for. A drinks station adds to the decor as well as preventing those multiple trips to the kitchen for more beverages. A drinks station with glasses at the ready is perfect for lemonade on those extra hot days or a couple of evening beers.
Bar furniture is easy to store, can make any outdoor area look classy, is perfect for entertaining and comes in different styles to suit your personal taste.
For those who do have the space, a bar shed can give you your own personal tavern in your home. Perfect for entertaining and easily enclosed and stored in your backyard.
---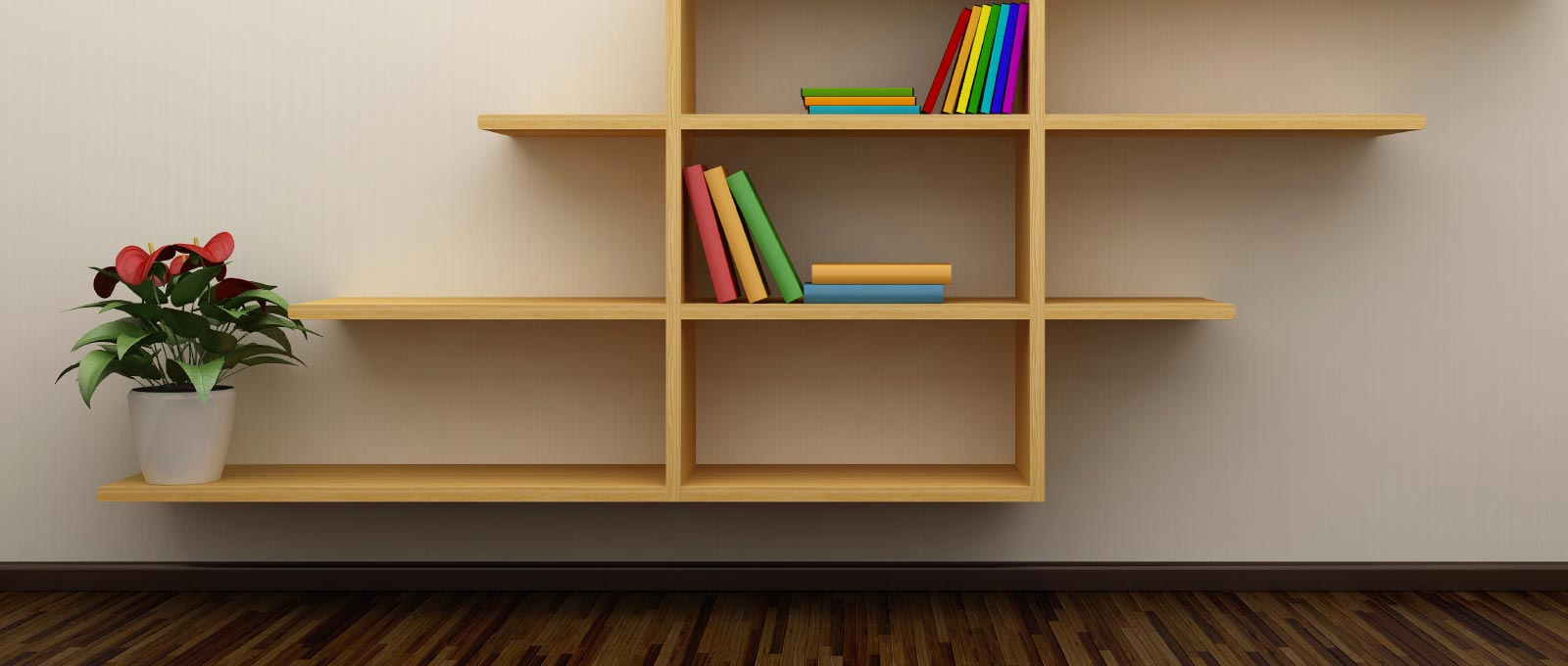 Creating classy shelving
Posted on: September 14, 2015
Floating shelves can help you organise clutter and instead of detracting from the decor of your home, adds to it.
As many families are living in smaller homes, storage and de-cluttering are becoming increasingly important. Shelving is a tried and true way to organise clutter but can often look unattractive and bring down the overall decor of a room.
Floating shelves are the perfect way to remedy this as they are a practical yet stylish way of creating extra storage space and contributing to the decor of a room.
Floating shelves can be used in an endless amount of ways, from the living room to the bathroom.
Practical benefits of floating shelves
Floating shelves can be used in any room to de-clutter a space or to free up other storage spaces such as cupboards or cabinets. Depending on the material used, most floating shelves can hold heavy items such as music systems or speakers to free up space for couches or coffee tables.
One way they can be used is to store your DVD or CD collection, providing a visually appealing way to showcase your collection without taking up floor space. Floating shelves can be used in an endless amount of ways, from the living room to the bathroom.
DIY that looks elegant and unique
Floating shelves provide a style benefit as well, the brackets are installed in a way that give the appearance that they are floating, hence the name. This creates a sleek and classy look, perfect for those wanting luxurious-looking DIY.
Once you have the right tools, floating shelves can be designed to suit whichever area you would like to utilise them in. Floating shelves allow you to bring your own unique design aesthetic to your home, ensuring your neighbour won't have the same one! Popular choices include a step design, corner shelves or even a honeycomb design.
Materials required
Building your own floating shelves not only gives you freedom of design but freedom of materials. Using copper shelves to store plants or glass shelves for awards can add that touch of class to any room.
However, painted wooden shelves remain the most popular choice as they suit the majority of decor and can be painted any colour. A popular choice is matching the colour of the wall for a clean look, such as white on white.
The material used will be designed in a certain way to support heavy objects. Instead of using traditional screws and brackets, they are designed in a way to be reinforced, by attaching screws into the wall and using durable materials.
No matter what the decor of your room is like, floating shelves can add to the beauty as well as provide extra room to help you de-clutter. Pop into your local Stratco for any advice on installing shelves or for any other questions you have on your DIY projects.
---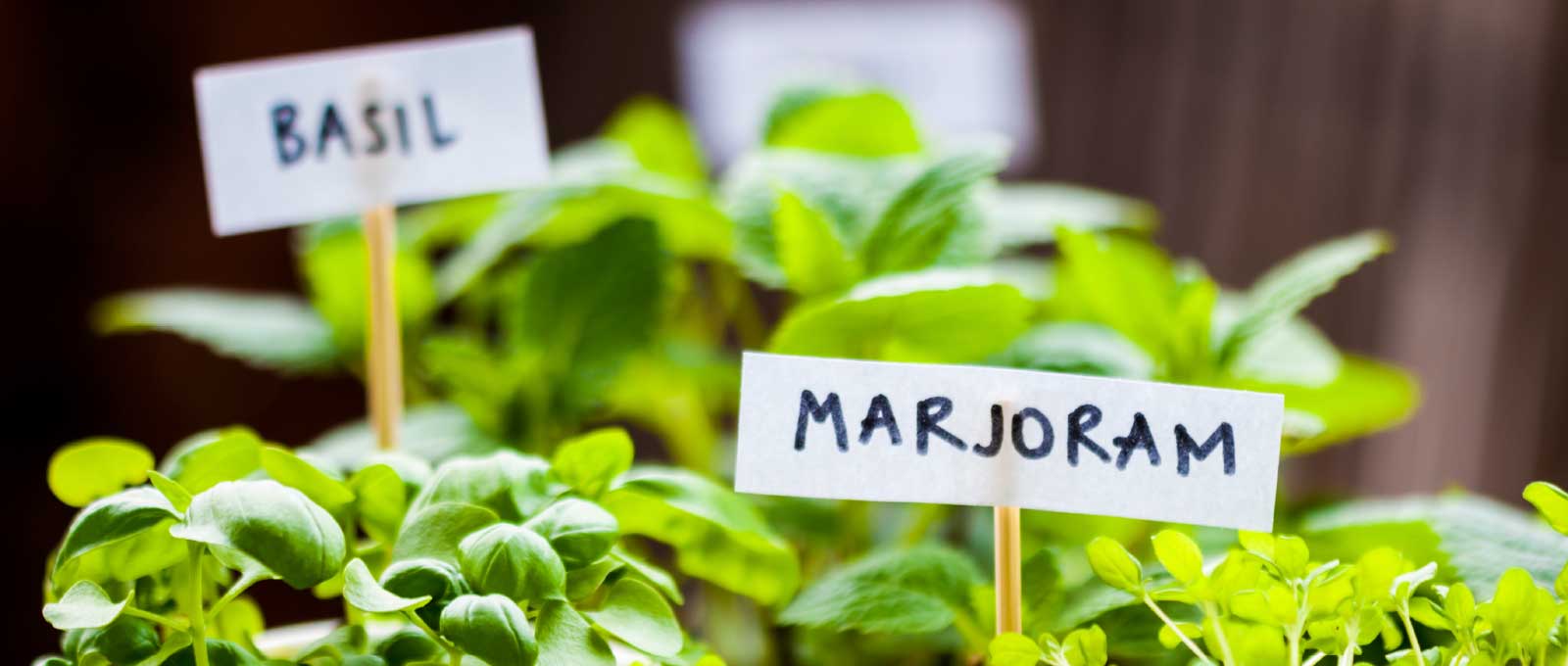 How to create a spring herb garden
Posted on: September 8, 2015
Whether inside or outdoors, herb gardens are easily personalised to your taste to add freshness to your decor and cooking.
With cooking shows like MasterChef and My Kitchen Rules dominating Australian TVs, more families are being inspired to become creative with their cooking.
Over half of Australian households are growing their own food, says the Australia Institute, which found that 52 per cent did so in 2014.
It also notes that despite the apparent popularity, numbers have remained steady for the past 20 years. Its research found that the main deterrents are a lack of suitable space and time.
The simplest way to start growing your own food is by creating your own personal herb garden.
With the onset of spring, there is no better time than now to make one.
You don't need green fingers to maintain herbs
Herb gardens require minimal thought, time and money as they are ordinary garden varieties that do not cost much to replace if need be.
Herb planters can add that extra touch to your lawn and garden, with brighter plants adding to the decor.
They can work just as well indoors, acting as a rustic addition to your kitchen as well providing easy access for cooking. They are flexible in the ways they can be grown, which allows more creativity, such as planting the herbs in individual mason jars or creating a hanging mini herb planter.
Not only do they add something special to your garden, but also to your dinner! Who doesn't love adding fresh herbs to their cooking?
Top 5 herbs for an indoor garden
Mint
Mint is a popular herb in many classic dishes and can also be used ground up to create a sauce to complement lamb dishes or vegetable soups. Mint grows very quickly, so it's best grown in its own individual pot to prevent it from taking over the planter.
Basil
A staple Italian herb that adds a touch of freshness to your food, basil is a good herb for beginners as it grows easily. Basil is a traditional Italian ingredient, recently popularised as the main component of pesto alongside parmesan cheese, pine nuts and olive oil.
Thyme
Thyme is a perennial herb, which means it can last for up to two years if looked after properly. Thyme is a wonderful addition to most dishes - adding it with lemon to rice is the perfect accompaniment.
Dill
Dill not only tastes great but also looks nice; growing dill in a jug or vessel of your choice adds a pop of green to any kitchen bench. Dill is an essential for fish and also works as an extra flavour for yoghurt dips or omelettes.
Rosemary
Just the smell of rosemary is enticing, and a small amount provides flavour for chicken, lamb, pork, salmon and tuna meals. It is important that rosemary is kept damp but not over-watered.
Herbs and spices provide extra flavour to a dish and are best when used fresh, and once you have the right tools, planting your herbs is not a difficult task.
Herb gardens are easy to make, take up limited space and add rather than take away from your decor. Here are a couple of ways for the more adventurous to get creative with their herb gardens.
Think outside the box
For the more artistic, an easy way to personalise a standard planter is by panting it.
Firstly, make sure you have the appropriate painting equipment, and that it is tailored for the material you wish to paint. Painting a store-bought planter box allows you to individualise it, as well as create unique designs, or even label your different herbs.
Another way to get creative with herb gardens is in the labelling. Little sign posts in the planter, tags on jars or even using mini blackboards can truly make your herb garden your own.
Making sure you have the right tools before starting a DIY project is essential to ensure you aren't wasting time. Drop by your local Stratco for any questions on this or any of your home improvement needs.
---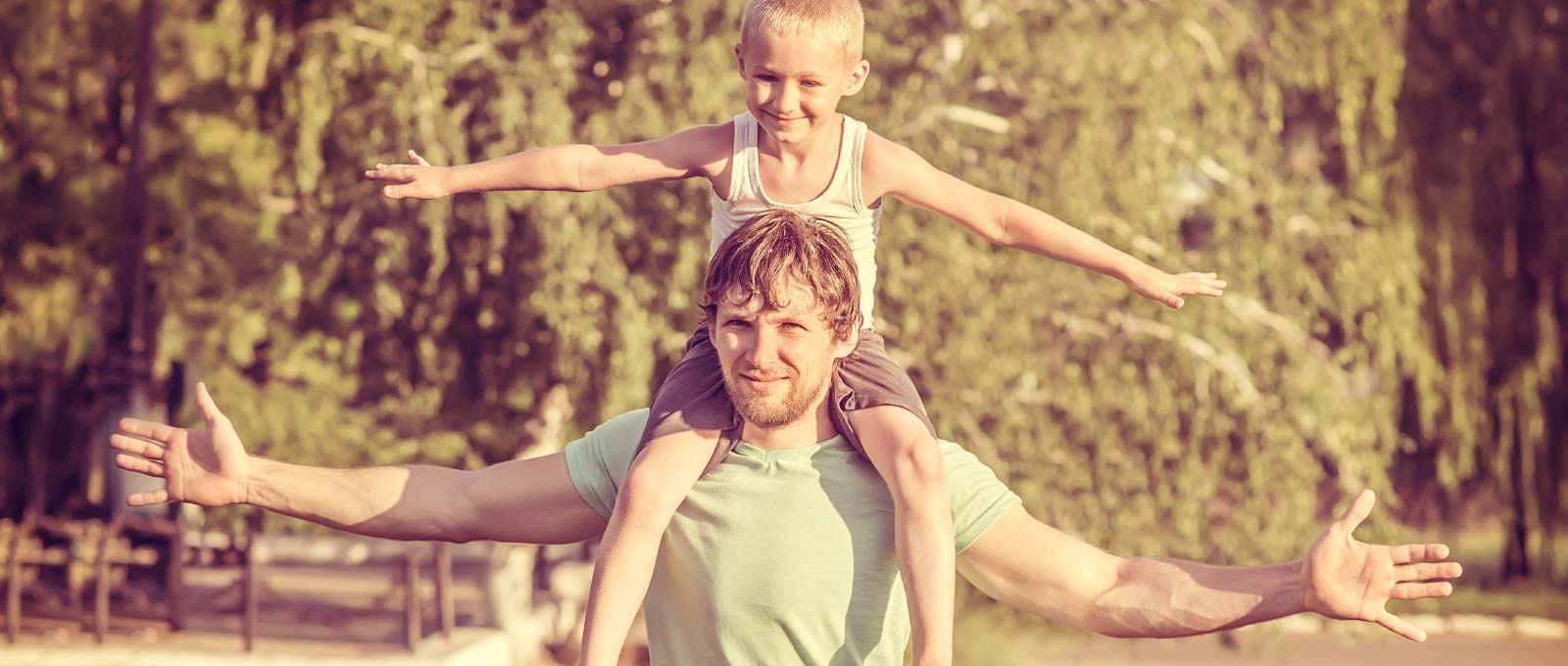 Creative gift ideas this Father's Day
Posted on: September 3, 2015
Struggling for gift ideas this Father's Day? A handmade gift done right could be the solution you've been looking for.
Struggling to think up that perfect gift from you and your children this September? With Father's Day just around the corner, the million dollar question is the same as every year.
What does he really want this Father's Day?
Despite the average Australian spending approximately $51.60 on their present, it might not quite be what he really wants.
Dads are notoriously hard to shop for. They have a tendency to request practical gifts and buying for the usual hobbies can wear thin very easily. Australians have been increasingly spending up to find that perfect present.
IBISWorld estimated last year that Australians spent $753.4 million on Father's Day, a 30 per cent rise on 2013.
Despite the average Australian spending approximately $51.60 on their present, it might not quite be what he really wants.
With gift ideas for Dad diversifying, it's difficult to find the perfect gift to say thank you (without breaking the bank).
A recent DealNews survey found that younger Dads are more likely to appreciate handmade gifts.
Nothing says it better than a gift made with love, but making that perfect, one-of-a-kind keepsake can prove to be just as hard. Including your children in the process doesn't have to be difficult.
Easy homemade gift he's sure to love
Handmade photo frames are an easy DIY project that your children can make, with supervision of course.
Simply buying a photo frame can veer on mundane but they can prove to be the most versatile gift, whether handmade or store bought.
Making the photo frame yourself, once you have the right tools, allows you to choose a variety of materials and shapes. If you are hesitant to make your own frame, there are plenty of ways to personalise a store-bought frame.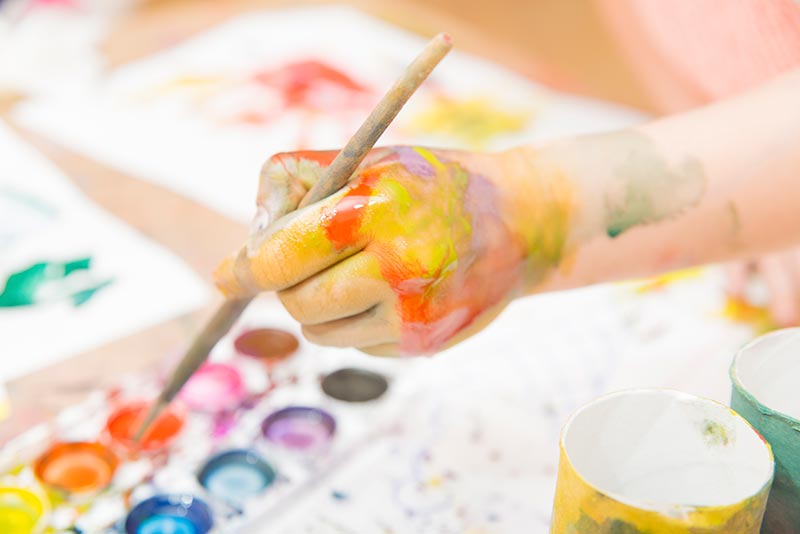 Painting a photo frame allows your children to get creative.
Here are the best ways to jazz up the traditional photo frame that your children can easily do with minimal guided supervision:
Include a message
Include words, a saying, names on the frame alongside photos. Adding a note written by your children, as simple as 'Happy Father's Day!', individualises a drab photo frame and serves as a reminder of the occasion.
This can also be done using scrabble tiles or lopping twine to make a word, such as 'family'. Get creative!
Paint the town red
Painting the frame yourself allows you to add that personal touch as well as ensuring the gift works well with the decor of your home. Of course, you want the present to be created by your children, and paint can get messy.
An easy way to let your children do the painting is to use foam brushes and lightly stamp the frame with different shades of one colour. It looks amazing when finished and is easy to do.
Another way to make an average-looking frame unique is to employ masking tape in order to create unique designs. This also allows you and your children to choose the colour palette and reveals a clean and sleek design when finished.
Father's Day doesn't need to be complicated; a thoughtful present created by your kids can take the stress off shopping, as well as keep them occupied for a few hours.
---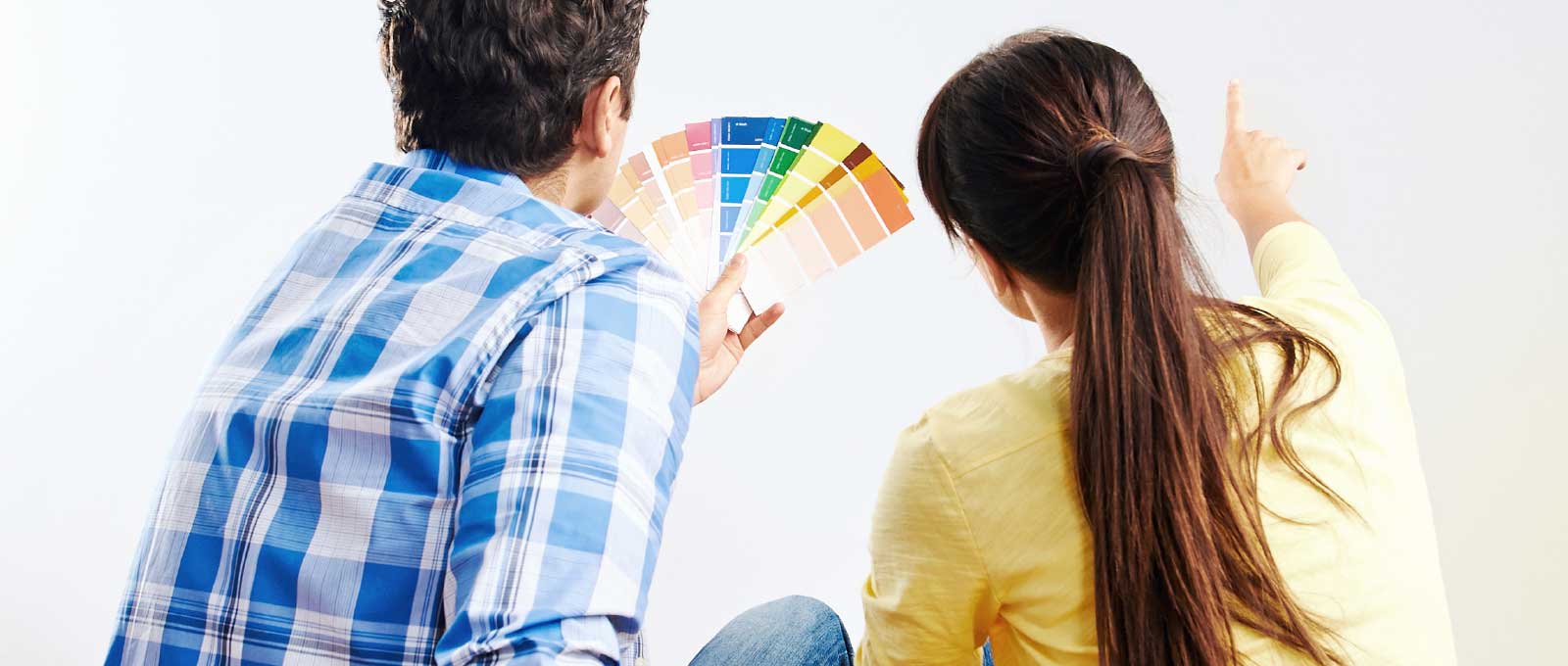 Can colour affect your child's mood?
Posted on: August 31, 2015
Different colours can affect the mood of your child. Choosing the right one may be more important than just taste.
Preparing a home to be the right environment for a child usually involves baby-proofing drawers and cabinets, but can also extend to creating the right space for your child to learn and grow.
In this sense, nothing is more important than the transition to your child's first bedroom. A child's bedroom is more than where they will sleep, it provides a sanctuary for them to absorb their surroundings as they discover new things each day. Designing a room to facilitate this involves a balance of lighting, layout and colour.
When choosing the right colour and lighting, many people opt for the colours they like but with young children, personal taste is usually not enough on its own.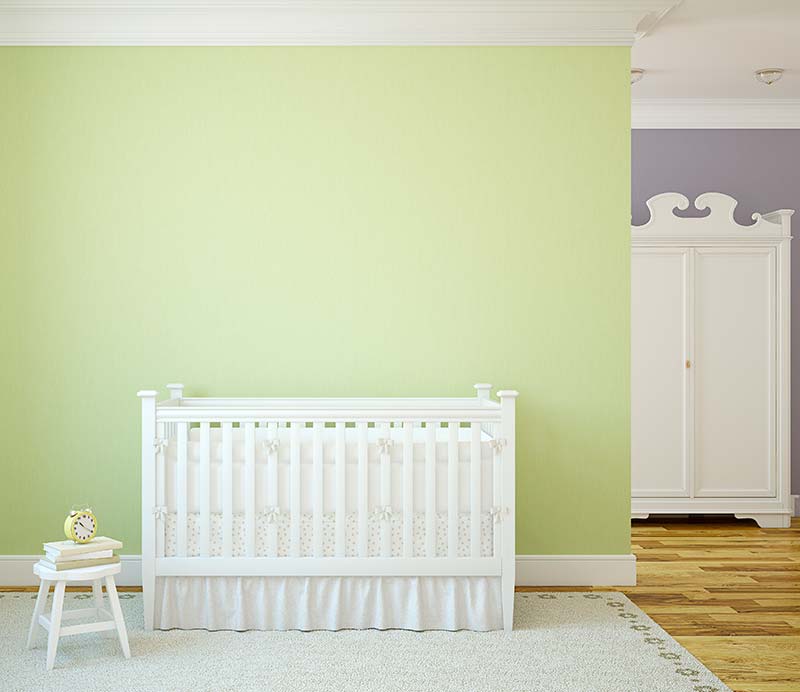 Soothing tones such as green work well for a nursery.
Research has shown that colour is imperative is hospital design, indoor work environments and most importantly, children's bedrooms. The significance of colour psychology dates back to renowned Swiss psychologist Carl Jung, who is best known for categorising different colour energies. Dr Jung famously argued that colour represents our main psychic functions as humans, and can be used to explain differing temperaments.
What could be more important than applying these principles to a child's environment?
Dr Jung famously argued that colour represents our main psychic functions, and can be used to explain differing temperaments.
With the wide range of colours available, choosing the right tone and shade can be daunting. Here are some emotional associations with colours that can help guide you in your decision making:
Blue
Blue is calm and soothing colour, traditionally associated with objectivity in a very subtle way. It also has a cooling effect, making it suitable for a warmer or more humid room. The right shade of blue can help create a tranquil environment for a child's room. It is important that a light shade of blue is chosen, as dark tones can convey cold emotions.
Green
Green is similar to blue as it also provides soothing tones, but differs in the way this is conveyed. Green portrays a more nurturing tone and can be effective in stimulating growth and fostering learning.
Yellow
Yellow triggers an automatic association with warm and happy rays of sunshine, making it a great colour for a child's bedroom. Yellow is known for evoking lively and cheerful feelings of positivity. However, it can be overpowering and offsetting - a bright yellow with soothing grey tones can create the right balance.
Red
Red elicits an instantaneous response of excitement; it is a strong and assertive colour associated with passion. Red is a strong colour, suitable for children's rooms only as a subtle accent tone due to the bold nature that we all associate with red.
Pink
Despite being a shade of red, soft shades of pink can also convey calmness. Pink is a traditional colour for a child's room and for good reason, as it can provide peaceful energy as well as being the right look for happy space to play in.
Grey and white
Offset these tones with a soft neutral tone, such as light grey or white rather than black. This allows you to play with fun patterns and put your own creative spin on cushions, play pens or picture frames. Classic combinations include yellow and grey or blue and white.
Stratco can provide you with a variety of interior paint as well as the tools needed to create the right environment for your child to flourish in. Applying these principles to the rest of your home can help facilitate a healthy lifestyle. This could be as simple as choosing the right colour for blinds for outdoor entertainment areas.
---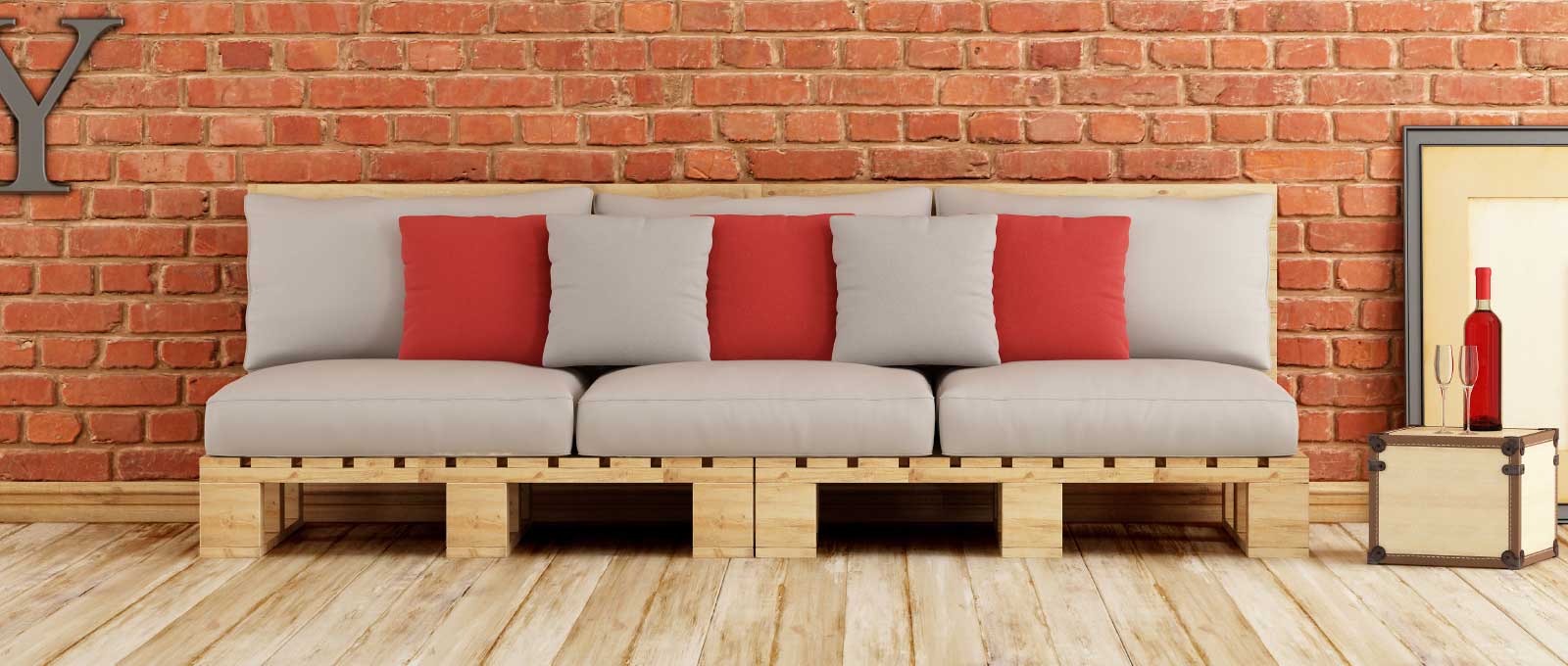 How to build your own pallet furniture
Posted on: August 24, 2015
Don't throw away those pallets just yet - with just a bit of upcycling creativity and effort, you can create some great personalised furniture for your home.
Wooden pallets: great for shipping large quantities of goods; not so useful for anything else. Or so it would seem.
Contrary to what you may believe, those boring wooden slats are the perfect building blocks for some great homemade tables, sofas, chairs and more. Are you ready to jump on the upcycling craze and make your own customised furniture?
Here's how to get started.
Find your pallets
First off, you'll need to find a number of pallets in decent condition, depending on the size of the item of furniture you want to make. Have a hunt around behind warehouses, stores and other similar places, remembering to ask the owner before taking them.
Once you've got your pallets, it's time to grab your hardware tools and get cracking!
Chop it up
The great thing about pallets is how easy it is to convert them into furniture. You can pick them apart to get the individual planks you need, or cut them into certain configurations to make specific furniture parts, such as backrests for a sofa.
Just make sure you have a high-quality handsaw at your disposal for the cleanest results and to keep yourself safe.
Put it together
With all your pieces ready to go, the next step is to put them all together to create your piece of furniture.
Using a power drill will save you heaps of time and effort and ensure your work both looks neat and is safe and sturdy.
Add the finishing touches
Now your furniture has taken its basic shape, it's time to add some last touches to make it ready for use!
Run a sander over the erstwhile pallets to get rid of splinters and make the surface smooth and comfortable. Once that's done, give it a fresh lick of paint in your favourite colours.
Personalise it!
You should now have a finished product you can install anywhere in your home, but you can always take a few extra steps to truly make it your own. If you've built a pallet sofa, for instance, you can line it with some comfy cushions (upcycled too, of course!) to create an inviting place to recline on.
If you want to get extra creative and resourceful, you may even want to use a few hinges to make your furniture more manoeuvrable. With these simple fixtures, you can create foldable, space-saving tables or built-in storage spaces, for example.
You're really only limited by your own imagination, so grab those worn-out pallets and get started on your upcycling project today!
---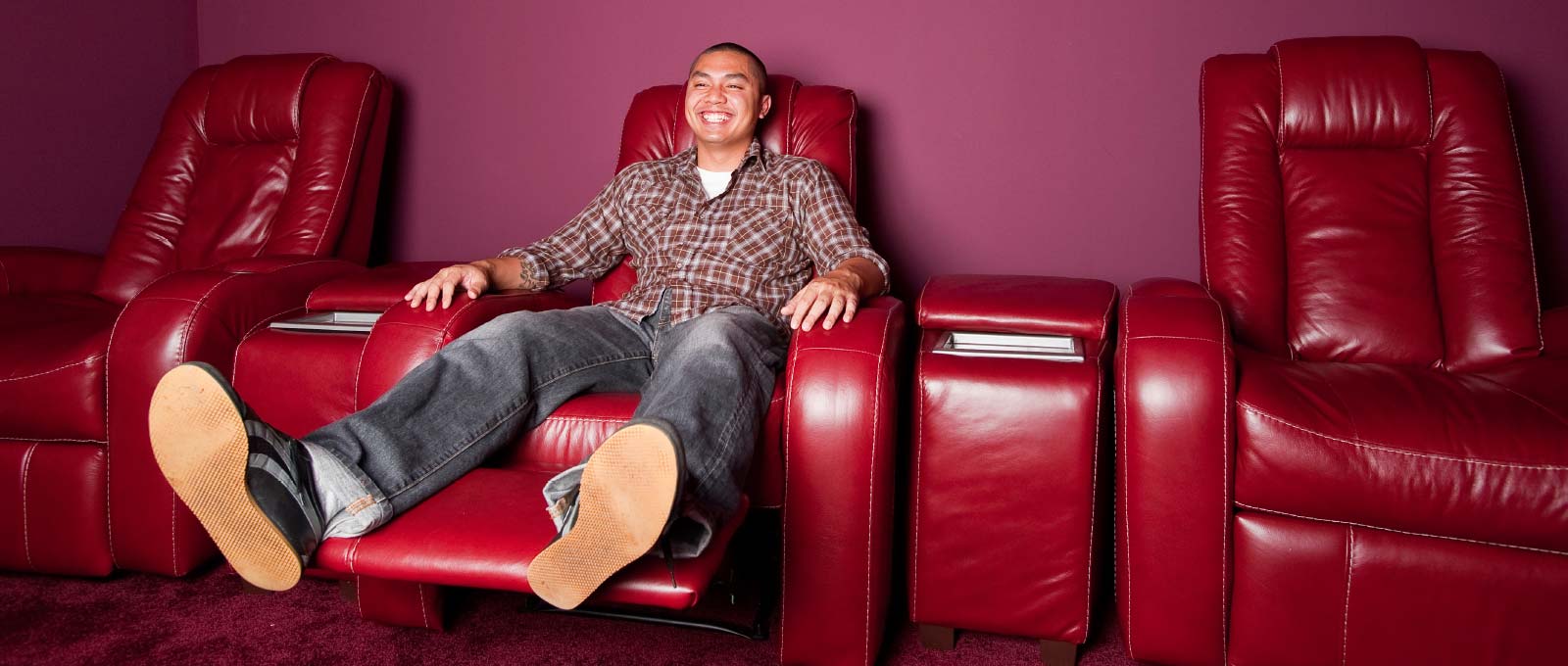 A home theatre system to make your neighbours jealous
Posted on: August 18, 2015
Installing a home theatre system can make you the envy of your neighbourhood. Here are some tips on setting up your own personal cinema.
It's one of the great social dilemmas of this day and age: is it ever acceptable to go to the movies alone?
While some see no problem with enjoying the big screen experience solo, others are adamant that the cinema is a place strictly reserved for couples or groups. Fortunately, with the increasing popularity of home theatre systems, you can now put the issue to rest and go to the movies without ever leaving your living room.
A personal cinema is usually a sizeable investment, so it pays to plan carefully before even thinking about which electrical supplies you'll need. Here are some tips on decking out your dream home theatre.
A picture's worth a thousand words
It goes without saying that the visuals are the central focus of the cinematic experience, so it's a sensible idea to shop around for a decent screen.
With so many options on the market today, from 3D TVs to those with "smart" connectivity, internet access and curved displays, your choices are limitless. Have a think about your budget and your specific needs and circumstances to decide on what to go for.
For example, if the room in which you'll base your theatre is a bit more on the compact side, there's no need to splash out on a massive screen - this will only likely to give you a headache! A medium-sized but high-definition screen should give you a good experience while not hurting your eyeballs.
A standard TV without all the bells and whistles should suffice (and be easier on your wallet) if you're not a heavy media consumer and only plan to visit your theatre a couple of times a week. However, for serial moviegoers or those who want the latest technological trimmings, consider getting a smart TV with extra functionality.
Sound check
Investing in the flashiest HDTV available today will mean little if your sound system is stuck in the early 2000s. For many, the auditory element of movie-watching is just as important as what they see on the screen, if not more so.
For the best cinematic experience, you'll want to go all-out and install a full surround sound system, which includes, as a minimum, five or six speakers, a subwoofer and an optional sound bar. Once again, the size of your overall theatre setup will dictate how many speakers you'll need, and where you should place them for the best results.
You'll also want to consider the acoustics of the room, as even the material the walls and floor are made of can impact sound quality - the sound you hear can differ depending on what type of carpet the room features. Try to make the walls as clutter-free as possible to avoid it influencing the travel of sound waves throughout the theatre.
Have a seat
Your home theatre won't feature row upon row of popcorn-strewn seats, but it's still important to configure where and how you'll want the audience to sit.
The tricky thing here is that the living areas of most homes aren't exactly set up like a cinema - after all, it'd be hard to converse with dinner guests if you're sitting in rows. Aim for a compromise that caters to both needs, for example by getting furniture that is easily moved around or manoeuvred.
Let there be light (or not)
Unlike at a cinema, you won't have to worry about the annoying glare from the mobile phone of the person sitting next to you. However, your home theatre experience could be hampered by something else: natural light.
This won't be a problem if your home theatre is based in a naturally dark room. However, for those that are a bit more open, some smart ambient blinds can provide a discreet cover against external light.
---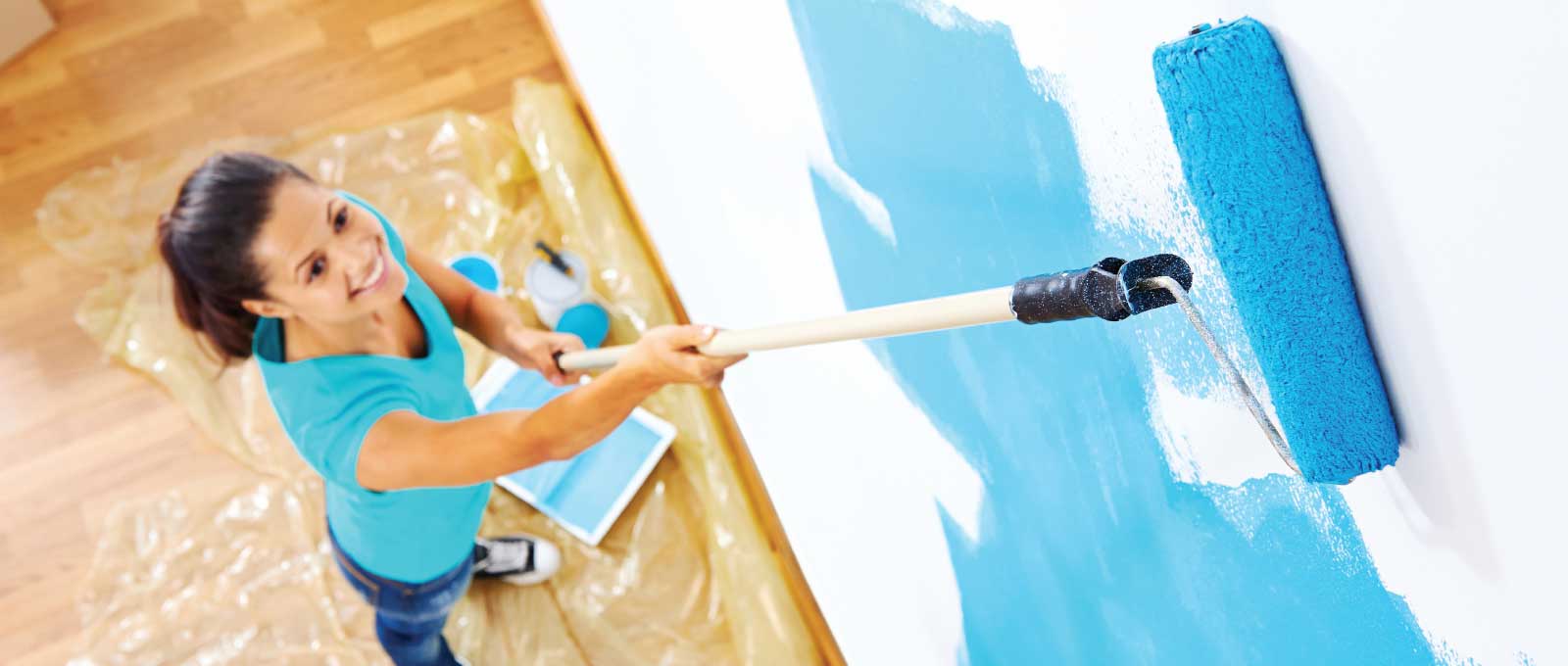 Do your interiors need a lick of paint?
Posted on: August 10, 2015
Painting a room is a great DIY project, but it can call for a little advice. Here are the five steps you need to go through to achieve a great result.
The winter months might not seem like the best time of year for a painting project. Taking on the exterior is a big no-no in the wetter seasons, which can leave you feeling a little claustrophobic in your decorating options.
Never fear though, because inside spaces are still a blank canvas where you can exercise your creativity without stepping in a single puddle. Whether you just want to breathe some fresh life into a kid's bedroom or give your whole interior a new look, a fresh coat of paint could be the ideal solution.
If you are ready to get out the old clothes, paint brushes and let your creativity run wild, here are some of the steps you'll need to go through to create a masterpiece on plasterboard.
1) Decide on the scope of your project
Just about every house in Australia has a half-finished DIY project lurking somewhere that is crying out to be completed. Painting your walls is easy to forget about, especially if you've bitten off more than you can chew.
For a weekend project, make sure you aren't committing to too much work and can complete the project quickly. A big job like painting your whole house's interior should be taken on one room at a time, rather than trying to blitz the whole thing in a few days.
It also pays to be specific about how big the project is. Boil it down to the square metres that you are looking to paint and think about any trims, skirting boards and door frames that might take longer to cover. This can also help when it comes to buying the exact quantity of paint to match an interior space.
Remember too that rough or textured surfaces will require around 20 per cent more paint than a smooth surface, something you'll need to bear in mind to prevent underordering your chosen colour.
2) Choosing your indoor paint
This is probably the most fun stage for any budding DIYer, but is also the one that can stall an ambitious plan if you can't find the right hue for your home.
White is a perennial favourite in Australia, especially if you are looking to brighten up your interior while the weather remains grey outside. Otherwise, you might want to get a bit more creative, introducing a bold orange or red to your rooms to really give them some personality.
It's also worth thinking about what you use a room for. Kid's bedrooms can definitely stand up to bold primary colours, while a spare bedroom should be relaxing and tranquil. Your colours will need to match other decorating choices like your furniture, flooring and curtains or blinds.
3) Get your equipment in order
Once you have a tin of paint in one hand, you'll then need a paintbrush for the other. Even a small room will require a number of different brushes to help you finish the job, from narrow ones to cover delicate work around windows and door frames through to a roller kit for covering expanses of wall.
As well as brushes, you need to think about any other equipment you might call upon, like ladders, scrapers and masking tape. All of these are required to effectively prepare a wall before it can be transformed to a new colour.
4) Prepare the wall
Now that you have all the equipment and paint you need, it's time to get stuck in.
The first step involves preparing the surface you are looking to cover with a new colour by thoroughly cleaning the surface. If there are holes, hair-line cracks or any other pieces of minor damage that might affect your paint, make sure to seal these using a specialised filler product.
Remember that filler will shrink as it dries so you might need to apply a second layer once the first has hardened to create a flush surface.
For a sharp finish, you should also use painter's tape around areas that aren't being painted or are being painted separately, such as skirting boards. Not only does this give you a much cleaner finish, it can take a lot of the stress out of the painting process.
5) Start painting
Once the wall is as flat and clean as possible, it's time to get out the brushes, put on your overalls and start transforming the room.
The first layer should always be a base coat. This combines paint with filler agents, helping to smooth out any tiny cracks and imperfections that you weren't able to fix the first time round. Then, apply a layer of paint, wait for it to dry and follow it up with a second. Once you have completed that second layer, see what the room looks like and, if it needs a third coat, don't be afraid to repeat the process.
If you have used tape to give a clean finish, make sure to run a knife along the painted edge before you try to remove it. That will prevent the dried paint from ripping when you try to pull it away from the wall.
By following these five steps, it won't be long before you are enjoying a fresh new room with an eye-catching design that looks great and gives your house a whole new vibe.
---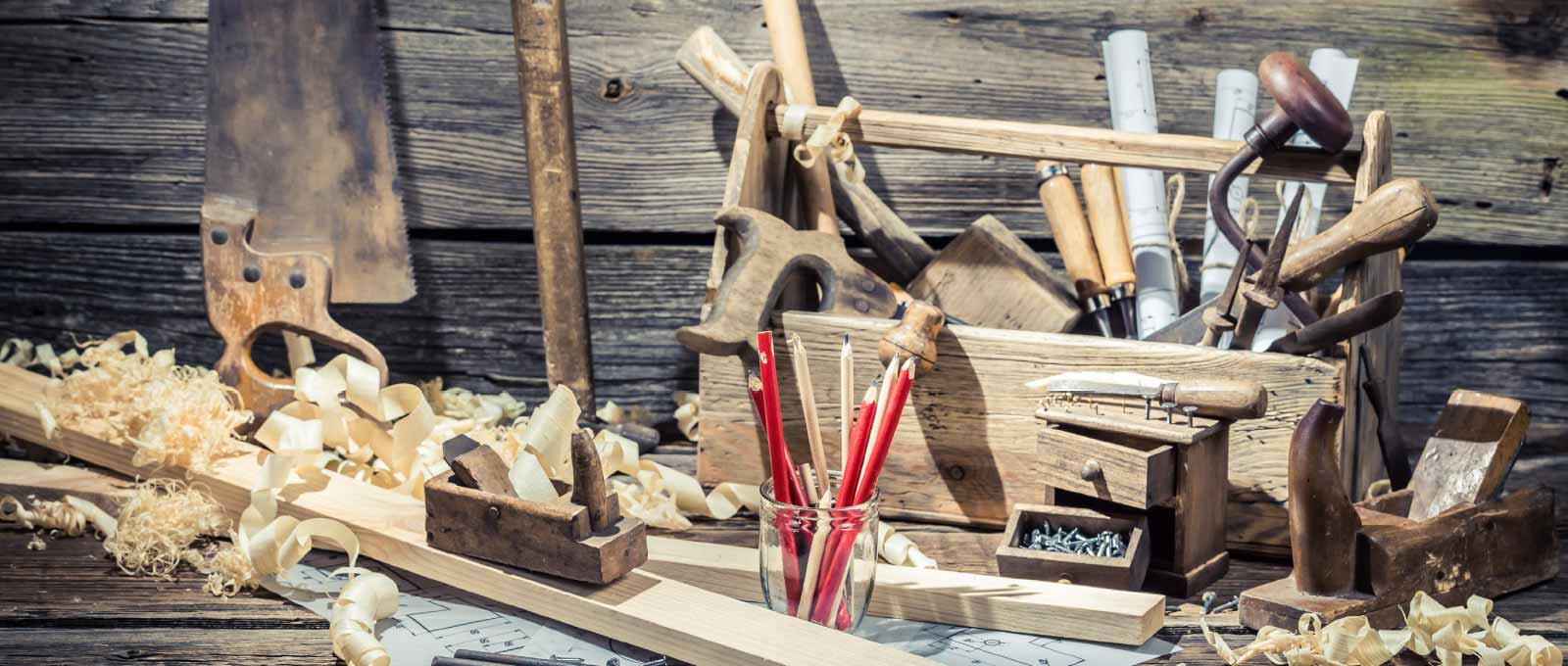 Are you ready to start upcycling?
Posted on: August 1, 2015
Upcycling items in your home can be a great way to save the planet and exercise your creativity at the same time, provided you have the right equipment.
Recycling has been with us for a long time now, but savvy homeowners are catching on to a new and far more creative trend; upcycling. Rather than simply put an item into a green bin, upcycling involves injecting a bit of creativity and fun into saving the planet.
All it takes is some imagination, a few items around your house that are ripe for a new purpose and a few DIY essentials for you to get underway with your very own upcycling project.
Before you get out the overalls though, we need to understand what upcycling is and why it has become so popular.
What is upcycling?
Upcycling refers to the process of taking items that would otherwise be thrown out and repurposing them into quality objects with a completely new lease of life. Whether you're looking at old tyres, shipping pallets and any other standardised items are great for these projects, but anything you have considered throwing out could be the foundation of a new venture.
These smaller DIY projects may not be on the same scale as some of the home improvements that Australian families go in for, but they can still provide a great weekend activity to get the family involved.
Of course, you can always go in for something bigger if you want. Once they get the taste for upcycling, many people will move on to larger pieces of furniture or elaborate decorations, all constructed from items that would otherwise be thrown out.
What you'll need to get started: The upcycling basics
Once you've decided to give upcycling a try, the first thing you will need is a project in mind. Maybe you want to create a new side table, or perhaps you just want to get more use out of your wardrobe by breaking it up with some creative storage.
If you are struggling to think of something, consider looking at the sort of things you are throwing out and how they might be repurposed. If you've just upgraded to a new ladder, maybe convert the old one into a bookshelf or similar storage solution.
Once you have a project in mind, here are a few of the general supplies you will need to really get started:
A basic hardware set
Most upcycling won't be too taxing on your DIY toolkit but you will still need to be sure you have a range of tools to finish your project in good time.
Hammers, screwdrivers and utility knives are all the sort of equipment that you will already have around the house and are a great start to your next project. A level and a quality measuring tape will also ensure your project looks great at the end.
Something more ambitious may leave you requiring a wider range of tools, from a plane to a soldering iron. These smaller items can expand your upcycling endeavours to much more creative projects.
Painting equipment
Have you noticed that everything looks better with a little paint? A drab room can be given a whole new look with a fresh coat to bring it up to date, not to mention hiding the scuff marks.
The same is true when you are upcycling. A mundane item can be completely transformed if you introduce a splash of colour, helping it to blend in seamlessly with your existing colour scheme. Even if you're going for a rustic design, some fresh paint can still make a big difference to the final product.
To do this, you'll need some basic equipment - some paint brushes and brush cleaner, along with your paint of choice and equipment to prepare a surface, like sandpaper and a paint scraper. Sample paint pots are great for upcycling projects because they will give you just enough to paint a smaller item, without committing to 10 litres of the same colour.
Knowing your limits
While DIY is something of a national institution, there are always going to be limitations to the sorts of tasks you can undertake. Working with electricity is a major hazard, so maybe steer clear of repurposing that old kettle into a customised light fixture and leave this work to the experts.
As well as limits to your own skills, it's also important to start small, at least until you really get the hang of it. Having a house scattered with unfinished projects isn't going to be very satisfying or add any real value to what you have started so far.
If your tinkering is taking over the house, it might be time to invest in a space to really exercise your upcycling creativity. A dedicated garden shed can provide a haven to pursue your passion for upcycling - you could even build your very own 'she shed' around the idea.
Upcycling is certainly a trend that has the potential to change the way you think about using and reusing items throughout your home. Once you have a project in mind and the tools in your tool belt, the only question is: What's stopping you?
---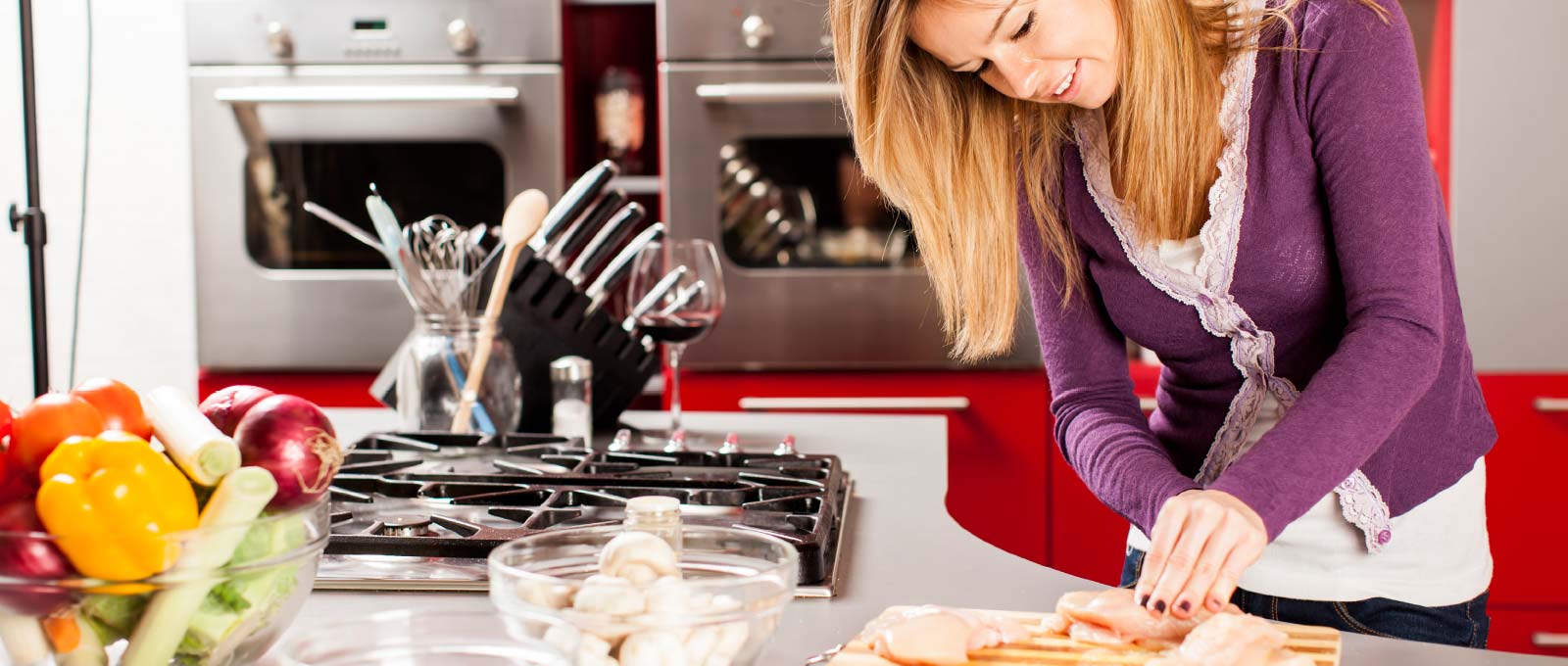 3 easy DIY projects for your kitchen
Posted on: July 30, 2015
The kitchen is one of the most important hubs of any home, and it's easy to jazz yours up with some simple DIY projects.
'The kitchen is the heart of every home, for the most part,' Debi Mazar once famously said, and few would disagree with the actress's assessment.
Whether you're there to whip up your latest Nigella Lawson-inspired creation or simply feed the kids after school, there's no denying that the kitchen is one of the most important rooms in any home. It's one of several places around the house where you can really stamp your authority and make it your own - so why not have a go at adding some of your personal touches to it?
A DIY kitchen project doesn't have to involve ripping walls and benchtops out or installing snazzy, expensive new appliances. Here are a few simpler touch-up you can try.
Nooks and crannies
For kitchens both large and small, maximising the efficiency of space is key. With so many pots, pans and utensils to fit into such a limited number of storage areas, just how do you keep everything tidy and organised?
A few small additions here and there can really boost the potential of your kitchen. Even if you don't have the spare room to accommodate an extra cabinet, a shelf or two placed strategically around the walls can give you the room to finally store your prized herb collection.
You can even make your existing storage compartments a lot more organised with some simple touches. Installing tension rods - either vertically or horizontally - in your cupboards and cabinets can keep things separate and easier to find, for example.
Let there be light
Every chef needs plenty of light to ensure they know what they're doing. If you find yourself squinting or relying on the flames from your stovetop, it's time to add a bit more light to your kitchen.
Think about some strategic places around the kitchen, such as under the upper cabinets above the benchtop, where you can fit a few discreet lights to illuminate your work area better. For something a bit more modern and unorthodox, DIY Network recommends thinking 'from the ground up' and installing lights on the floor.
Not only will you be able to work better, your family can now appreciate your creations in all its glory.
Colour makeover
The kitchen should be a place of fun and enjoyment - and nothing screams 'bland' more than a sterile white wall.
The effects that various colours can have on mood are well documented. Red, for instance, has been known to make people hungry (think of your favourite fast food restaurant logos).
If you want to add a bit of life to your kitchen, revert to your toddler self, grab a paintbrush and let your personality shine on your kitchen surfaces.
---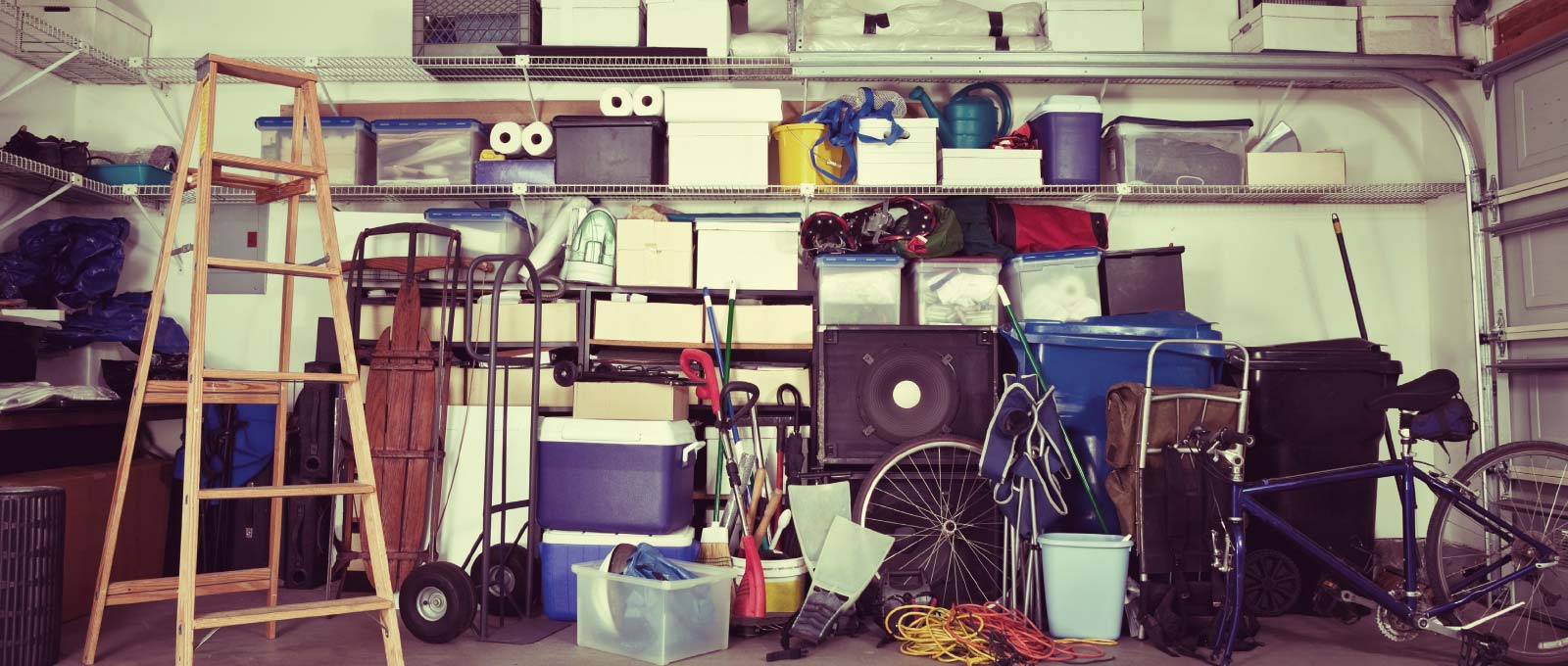 Is it time to declutter your home?
Posted on: July 28, 2015
Keeping a home clutter-free can feel like an up-hill struggle, but the answer often lies in finding a better way to organise and store your possessions.
Clutter. Junk. Detritus. It comes with many names and in many forms, but the result is always the same: a messy house and a stressed family. While it's unrealistic to have a spotless home every second of the day, that doesn't mean you shouldn't embrace the maxim that "less is more".
Maybe that's why decluttering has become one of the biggest trends in home design over the last few years. If you're facing with the prospect of a house that is bursting at the seams with stuff, maybe it's time to rethink the way you are storing useful possessions.
Is clutter all that bad?
Some people might believe that clutter is just another part of modern life. We seem to have so much stuff that it is inevitably going to find its way into every corner of our lives. You might even find yourself asking whether it's really worth decluttering at all.
Well, there are some pretty strong reasons to think again. In fact, a Princeton University Neuroscience Institute study found that clutter inhibits the ability of the brain to make decisions. Having a lot of different things competing for your attention in a small space makes it much harder to concentrate on a single task. The same study found that stress levels increase as the number of things competing for your attention rises.
It isn't just your concentration that might be suffering, either - there are many other reasons to declutter. Sports equipment and items left on the floor are an accident waiting to happen, while tools that are left out in the garden can break more easily if they aren't kept in a proper storage solution.
Where's the clutter coming from?
If you really want to get a handle on the mess around your house, the first step is to know where it's all coming from. There's never any one answer - the combination of family, a busy job, hobbies and sports over the weekend (not to mention pets) is a recipe for clutter.
While every home owner has to deal with the amount of stuff they possess, it's still important to break down which parts of your home are the messiest and look to address these first. Any big job can seem daunting if you try and approach it head-on, the trick is to start small to really understand where clutter is coming from.
The garden is a great starting point. Are you tripping over children's toys every time you step outside? Maybe that unfinished project has spread itself over half your garden? Whatever the root cause is, once you know what you are dealing with, it becomes a lot easier to really get ahead of your possessions.
A place for everything and everything in its place
The first step to decluttering is obviously to start throwing away items that aren't necessary. For small items like unused Christmas presents and old magazines, sending them straight to the bin is an easy way to get the ball rolling.
Of course, there are limitations to simply throwing stuff away. The leaf blower that doesn't fit in the garage or the slow cooker that can't be jammed into a cupboard aren't the sort of things you want to just throw out.
Storage is the solution. In many cases, the easiest way to accommodate the amount of stuff around the house is to find new ways to organise and store it when it isn't in use.
Let's go back to the leaf-blower. If there isn't room in the garage, it might be worth installing a separate garden shed on your property that can be used for all your gardening equipment. Not only is this convenient, it can give you more space in the garage to better organise the tools that really belong there.
The same goes for every room in the house. Shelving is great for children's rooms, especially if you are looking to get stuff off the floor. Likewise, more shelving units in the kitchen or pantry can ensure these spaces are much more user friendly.
Lastly, make sure to think about the way you are organising your existing storage spaces. If a cupboard only has a few shelves, think about adding a few more or putting in some clever storage devices to make the most of the space. These are sometimes the simplest DIY jobs, but they can make a big difference when trying to create a more livable home.
Decluttering doesn't have to be difficult, and it can be a breath of fresh air if you are struggling to find a home for all the different possessions you have. What's more, when you decide to move, these investments can add value to your home. After all, the new buyers are going to be just as interested in storage as you are.
---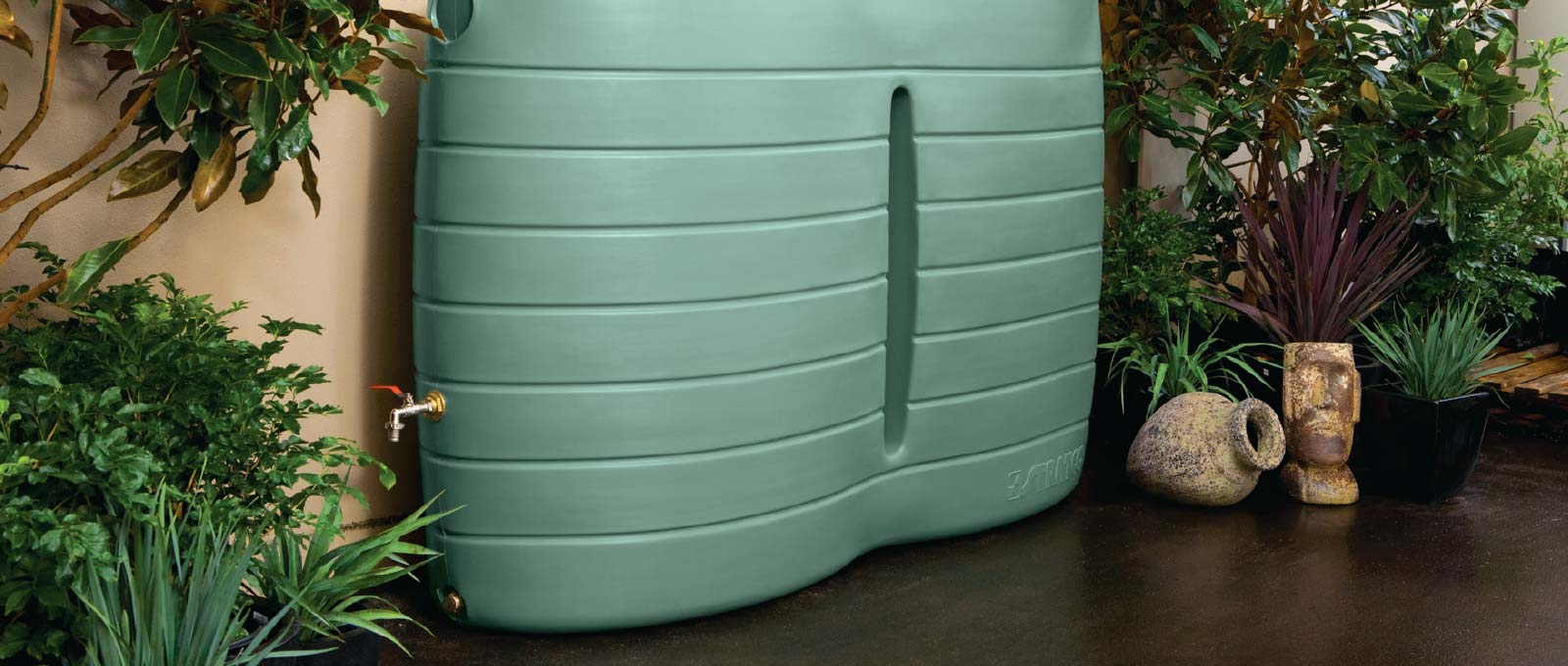 Poly vs. steel: Which rainwater tank should you get?
Posted on: July 24, 2015
A rainwater tank can be a valuable asset for any home in Australia, and it pays to know about the different types available.
With the harsh outback one of Australia's most classic icons, it's no wonder so many in the country choose to invest in a rainwater tank.
Living in a country like Australia means any household should be sensible with their water management. At the end of June this year, the Bureau of Meteorology (BOM) announced that national water storage volumes dropped last year - leading to reduced water use in rural areas.
"The National Water Account shows that ongoing dry conditions across much of Australia contributed to a reduction in storage inflows during 2013-14, placing greater demand on available water resources," stressed the BOM's Assistant Director Water Information Services, Dr Ian Prosser.
Fortunately, modern tanks have evolved from those hideous, oversized tubs to become more sophisticated and attractive vessels for storing water. Choose the right shape, size and colour and a tank can effortlessly complement your property (and help you save water) instead of being an eyesore.
All you really have left to decide is what type of material you'll want for your tank. Polyethylene (poly) and steel are two of the most popular - here is a rundown of the advantages of each.
Plastic fantastic
'Plastic' doesn't always have the best of connotations, but in the realm of rainwater tanks, it's one of the most reliable materials you'll find.
Polyethylene is specifically used to manufacture plastic water tanks as it holds a number of superior properties. It is more lightweight than other tank materials, for instance, making transportation and installation a breeze.
Don't be fooled by their weight, though - poly water tanks are incredibly durable. As the colour is also intrinsic to the material instead of being painted on, they will also retain their natural aesthetic value for much longer.
The nature of polyethylene also means it is resistant to rust or corrosion, and hence has a comparatively long life compared to many other types of tank.
Poly water tanks are typically constructed using a method called 'rotational moulding', which basically means just one (considerably large) piece of plastic is used to make it. This ensures there are no joins or seams in the tank, which can act as weak points under the pressure of the water inside the tank.
Finally, all reputable poly water tank manufacturers ensure their products meet stringent food-grade standards so they don't tarnish the quality of the water contained within.
Steel appeal
Poly water tanks have only soared in popularity fairly recently, and before that, steel water tanks were by far the go-to choice - and they have managed to retain much of their popularity.
A rainwater tank made of good-quality metal can offer you decades of sturdy use. While there have traditionally been concerns surrounding the use of steel as a tank material, modern advances in manufacturing techniques have laid most of these worries to bed.
For instance, many metal rainwater tanks on the market are made of stainless steel, tackling the obvious issue of rust and corrosion. For those that are made of other types of steel, special linings and coatings can be applied to not only combat these chemical reactions, but also ensure the tank meets food safety requirements.
Compared to concrete water tanks, for example, steel tanks are also relatively lightweight while offering a high level of durability.
Ultimately, both poly and steel water tanks boast their unique advantages, and the decision really boils down to a matter of personal preference. If you'd like more advice and recommendations on which option to buy, head into your nearest rainwater tank retailer today.
---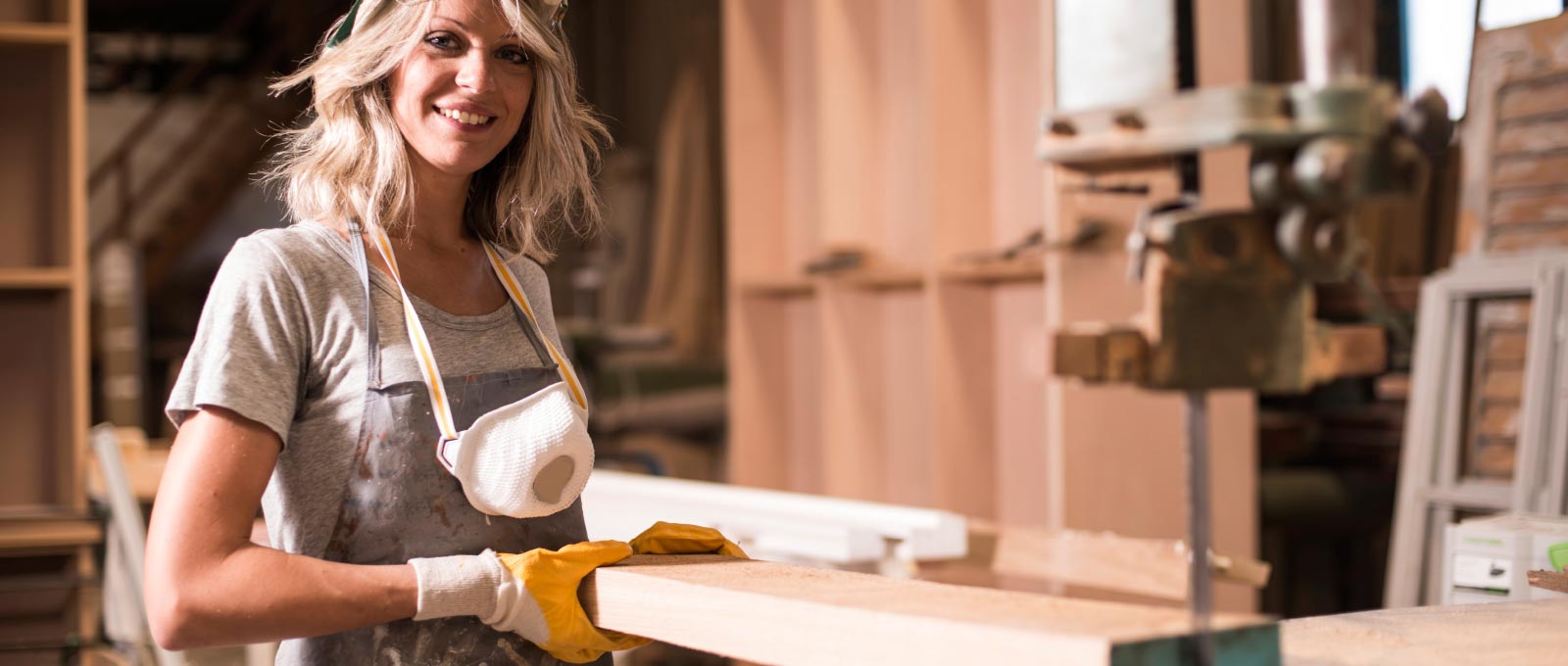 5 tips for creating your very own she shed
Posted on: July 22, 2015
You don't have to be left out in the cold when your man goes into his cave. Find out how to create your own special she shed.
Most women will be all too familiar with the man cave, that mystical place that reticent husbands often retreat to with whatever troubles may be ailing them.
That doesn't mean ladies shouldn't have their own special place to hide away in when they need some good old me-time. In fact, the female response to the man cave - the 'she shed' - is a craze that has been sweeping many countries lately.
A she shed is exactly what it says on the tin. It's your own little corner of the garden that you can personalise with whatever makes you comfortable and where you can just get away from it all.
And best of all, it's dead simple to set one up. Here are some tips on creating a shed to call your own.
Choose the right shed
First off, you'll want to select the right kind of structure in which to base your little haven.
There's a common myth that sheds are dull, lifeless grey boxes with barely enough room to fit a spade or two. Pop into a decent hardware store nowadays and you'll find a huge range of sheds in all sorts of homely shapes and sizes.
The Handi-Hertiage Shed, for instance, is one of the cuter and more charming options out there. With a classic gable roof and optional louvre windows, it can certainly make an attractive addition to your backyard.
Now that you've got the shell of your shed in place, it's time to personalise it.
Make it your own
As your own little slice of paradise, your she shed should be an accurate reflection of who you are and what you love. Instead of making it a boring hut to sit in, give it a definite purpose and embellish it with your personal touches.
Bookworms might want to install a bookshelf, a beanbag and some favourite paperbacks to make their she shed their own little reading room. If you're into arts and craft, set up an easel and plenty of canvas and paint and let your inner Frida Kahlo run wild.
Workaholics may even want to set up a desk and laptop so they can catch up on emails.
Finally, why not consider giving your shed a fresh lick of paint in your favourite hues to really make it your own?
Give it a touch of nature
Sure, your she shed might be based right in the heart of your garden, but it certainly won't hurt to bring a bit of the greenery into your own personal space.
Research over the years have attested to the various benefits - health and otherwise - of keeping plants in your working and living area. One study from Texas A&M University, for instance, found that adding plants and flowers to the office increased workers' productivity, innovation and problem-solving skills.
Decorating your she shed with a few well-chosen pot plants can therefore not only spruce it up, but also help you feel more "in the zone".
Be resourceful
Creating your own she shed doesn't have to cost a fortune. In fact, once you've set up the shed itself, it's very easy to decorate and personalise it on a shoestring.
Have a look around local markets, thrift shops and garage sales to see if you can pick up any neat and affordable furnishings. That sad sofa your neighbour has been looking to dump for months may just find a loving new home in your she shed.
One woman's trash may certainly be the treasure you need to liven up your shed.
Remember: It's all about you
At the end of the day, your she shed is yours and no one else's.
How big it is, what it will look like and what you'll do in it is entirely up to you. So head down to your local hardware store to get started on your she shed today!
---
7 steps to repair a hole in the wall
Posted on: July 20, 2015
Holes in the wall are an ugly sight but they are not difficult to fix. Find out how you can do the simple job yourself in seven easy steps.
Did it happen when little Johnny was playing with his toy truck - dragging it across the wall? Or was it when you bumped that table as you were bringing it down the stairs? You don't know how and when it happened, but now there is a dent in one of your walls and it is keeping you awake at night. Not only is it an ugly sight, it could possibly be a health hazard.
The good news is that repairing it yourself is actually not as hard as it looks. With the right tools and technique, you could have that wall looking as good as new. However, remember to make sure you check the weather before you set out because you will to use some wet materials, which will need time to dry up.
Here is a step-by-step DIY guide to repairing a damaged wall:
Step 1: Tidy up
You will need to cut around the hole or dent to remove the damaged plasterboard. Start by neatly marking around the area you need to remove, leaving a square or rectangular hole. Next, you should create a level surface by using sanding sheets.
Step 2: Get started
Now, using scrap plasterboard or wood, cut a piece that is slightly narrower, but longer than the hole you are fixing. After pushing a long nail through the centre, apply good quality adhesive on each end of the piece.
Step 3: Delicate work
Slip the piece through the wall, using the nail as a handle. Move it into position and pull it against the wall lining. Hold it long enough for the adhesive to attached to the wall and leave it for at least 60 - 90 minutes to dry completely. Carefully, push the nail back so it drops to the back of the wall.
Step 4: The end is in sight
At this stage, there are a couple of options you can use moving forward.
The first method is to use a spare piece of plasterboard, with roughly the same dimensions as the hole. Then screw it in to the piece of wood that you attached inside the wall and cover with joint compound.
The second option is to cover the hole with stopping compound directly using a broadknife. Make sure you fill the hole appropriately and remove any excess from the surrounding space before it dries. You should now leave the repair work until the compound is completely dry.
Step 5 : More sanding
Once the compound is completely dry, tidy up the spot by removing bumps and sand the area some more if needed.
Step 6: Almost there
It is advisable to apply another second coat of compound, wait until the final application is dry and repeat step five.
Step 7: Final touches
To complete the job paint over the repaired patch, make sure you select the shade carefully and match it to the rest of the wall.
There you have it, a seven step method to have your wall looking as good as new. Remember help is only as far as your nearest Stratco branch.
---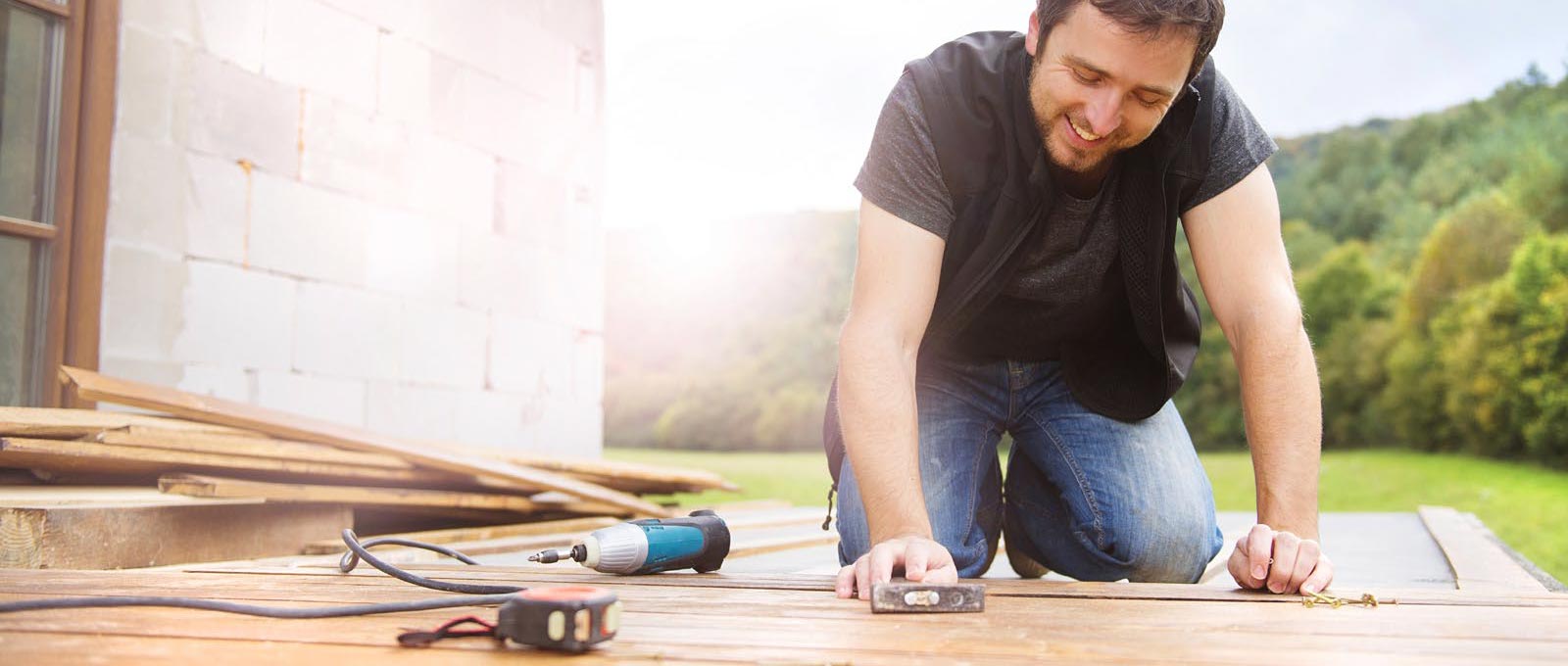 Safety first: How to stay safe during your DIY project
Posted on: July 10, 2015
Before you get started on your dream project, there is one question you must always ask yourself - is it better to get a professional to do this job?
Remember Tim Taylor from Home Improvement? The DIY buff would venture out on ambitious projects that often led to rather comical results, not to mention the unfortunate accidents he suffered along the way. His antics included getting electrocuted several times, setting fire to a music system, knocking a guest on his show with a wooden plank, falling through the roof, getting his forehead stuck to a table with super glue, a nail gun that went wild and a washing machine that spun out of control while he was working on it.
While Tim Allen's portrayal made the character come to life, the magic of television ensured that the man himself remain unharmed. However, real-life DIYers may not be so lucky, so it is important that you take responsibility for your own safety.
Before you get started on your dream project, there is one question you must always ask yourself - is it better to get a professional to do this job? Only proceed with an idea if you are completely confident that you won't suffer Tim Taylor's fate.
Here are some basic tools and tips to help you stay safe during your DIY adventures:
1. Safety goggles
Every enthusiast needs a pair of these. Protective goggles are essential when it comes to working with glass or spray paint. Also, never use tools such as power saws without appropriate eye protection.
According to Optometry Australia, the most common causes of DIY-related eye injuries occur due to factors like impact, dust, chemicals and heat.
2. Working with electricity
Doing your own electrical work if you are not appropriately qualified is not only unwise, but also illegal.
The risk involved is too high - in fact, more than 1,400 people in Australia were hospitalised as a result of an electrical injury during the two year period 2002- 2004 according to the Australian Institute of Health and Welfare. Even seemingly simple tasks can be dangerous, so it is best to contact a licenced electrician for such jobs.
3. Check your ladder
The Australian Competition and Consumer Commission states, in 2012 close to 1,700 Australians were hospitalised due to falls from ladders - alarmingly 85 per cent of these accidents happened around the home.
Before you pull out your rusty ladder or get on a chair or stool to change that bulb, consider that a good quality ladder can go a long way.
4. Slow down
You may be in a hurry to finish your project on time, or maybe you are a DIY dad eager to show off the finished product to your family - but rushing the job is likely to result in an accident. It is best to know your limits. Don't bite off more than you can chew and take it slow.
5. Keep it real
Tim Taylor had his trusty assistant Al by his side, which wasn't a bad thing considering he helped Tim Taylor stay out of hospital many times. Take a leaf out of the Home Improvement book and ask a friend or family member to help out with your project.
6. Ask the experts
As a DIYer, you would understand that excited feeling of waking up in the middle of the night with a stellar idea to transform some space in your house into a beautiful sanctuary. If you know what you want but are struggling with the tools and expertise needed to get there, it is best to visit a quality hardware store like Stratco. We have an extensive range of products and knowledgeable experts who will only be too happy to help you.
If you need ideas, help or advice for a DIY project, or simply want to understand how to take better care of your home, it is best to drop by at your nearest store for some inspiration. Keep visiting our blog for the latest home improvement tips.
---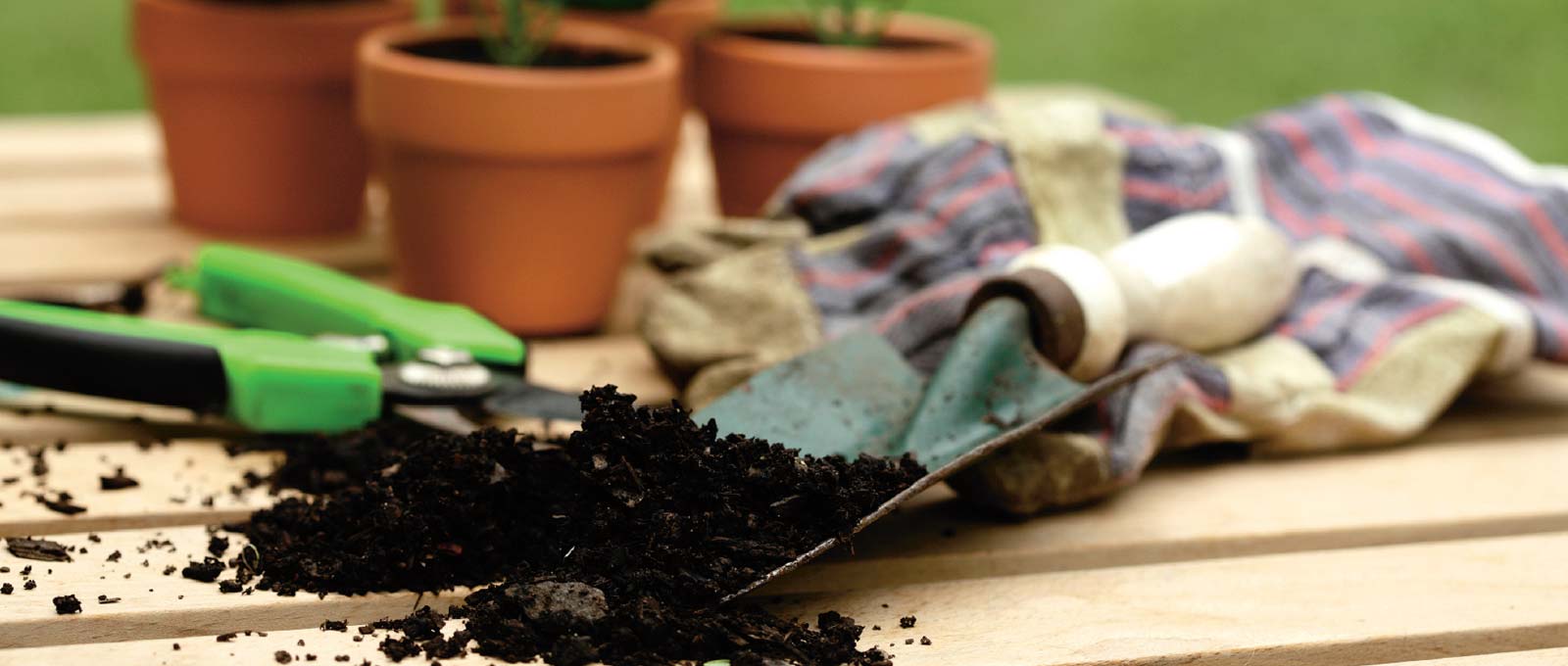 3 ways to care for your garden in winter
Posted on: June 25, 2015
Winter can take a toll on the lawn, but you don't have to neglect your plants and flowers just because the weather is harsh.
A rose by any other name would smell as sweet, said Shakespeare - and if it comes from a garden that is well taken care of, there is a chance it may look even better and be more fragrant.
The winter can take a toll on the lawn, but you don't have to neglect your plants and flowers just because the weather is harsh. In fact, the colder months are an opportunity to prepare your garden for. Doing so will ensure by the time spring comes around, you have a healthy garden anyone would be proud of.
A cold snap can seriously damage the roots of flowers (particularly roses), potted plants and herbs. So here are some tips to take care of these precious greens:
1. How can you care for roses?
Caring for these special flowers in the winter means you will be rewarded with nice plump buds as the weather starts warming up.
If you decide to add new beds, it may be advisable to raise them to allow for drainage. For the existing ones, a layer of quality fertiliser will do the trick. Remember to get rid of fallen leaves; this is very important to ensure your roses remain disease-free.
Next, it's time to pull out your trusty garden tools for some essential tidying up and pruning. A quality pair of secateurs is a good investment.
Working in the garden can sometimes lead to cuts and wounds, so make sure you are immunised for tetanus to avoid unwanted infections.
2. What is the best way to take care of potted plants?
The biggest threat to potted plants in the winter is frost. Terracotta pots are particularly vulnerable, as frost can seriously damage plant roots penetrating through the sides.
First, keep an eye on the weather forecast - if the temperature is expected to drop significantly, store them in a covered space, like a garden shed. If this is not an option, consider wrapping them with a material like bubble wrap. In case there are several pots to cover, line them against a wall use a single sheet to wrap all the plants.
Heavy rains in the winter can also be a serious issue. They lead to superfluous moisture, which causes the roots to drown, starving them of oxygen.
The easiest way to avoid this is to purchase garden containers and pots that have drainage holes. You could also visit your nearest quality garden centre for look at products designed to raise plant pots a few centimeters above the ground, allowing moisture to escape.
3. How can you help your herbs survive the winter?
Herbs can be quite sensitive to the cold; however, timing is everything to help them become acclimated to the weather.
It is important to be mindful of when you add fertilisers to annual herbs - this is because if you do it closer to the winter months, the plants will continue grow, reducing their likelihood of becoming accustomed to changes in season. The same logic applies to heavy pruning - if done at the end of summer, it encourages growth without time to mature.
Finally, remember it is just as important to water your herbs in the winter as it is in the summer.
Where can I find out more?
If you need ideas, help or advice for a garden project or simply want to understand how to take better care of your lawn, - it is best to drop by at your nearest Stratco branch for some inspiration. Keep visiting our blog for the latest home improvement and gardening tips.
---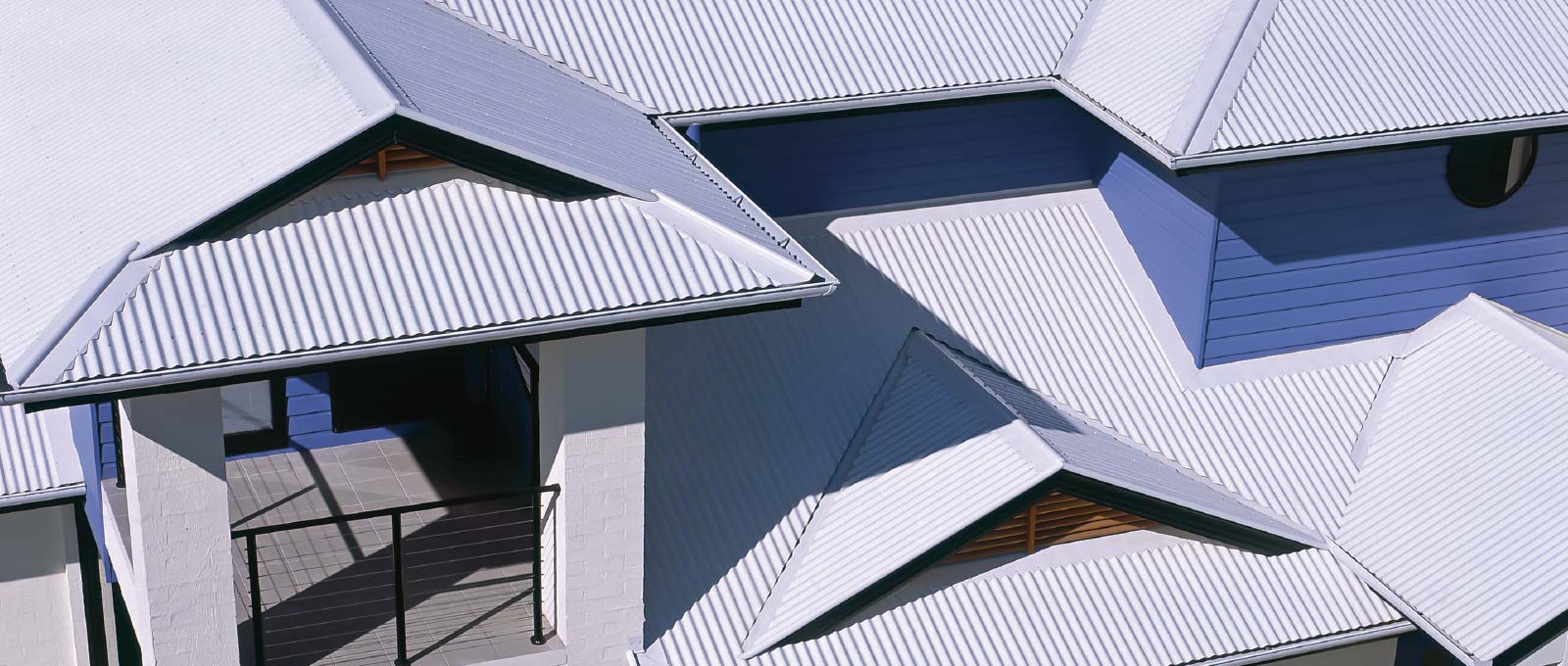 Is your roof in shipshape?
Posted on: June 24, 2015
Charged with the job of giving you and your family shelter, the roof is probably the most important structural feature in your home.
Your roof goes through a lot - from battling strong winds in winter to bearing the brunt of the Australian summer. Charged with the job of giving you and your family shelter, it is probably the most important structural feature in your home.
Inspecting your roof is a simple task and you can prevent serious damage from occuring - but how can you tell what is going on up there?
Here are some standard things you can check for:
1. The gutters
If your roof gutters are clogged, chances are there is a mess every time it rains. Apart from this, blocked drains can also lead to serious damage over.
Regular cleaning will help prevent drainage issues. However, once in a while it is best to inspect they are in top shape and have no leaks. Pick a day when its not raining and run water through the gutter, then walk around the periphery to check if any is dripping through. Use a torch for darker spots.
If there are leaks, use roofing cement or a metal repair patch kit to mend these.
Investing in good-quality rainheads or sumps can also prevent drainage problems.
2. The shingles
Look for any shingles that are bulging, have developed curled edges or are blistered. Extreme weather and poor ventilation can cause damage, leading to leakage problems in the future.
If you decide to repair these yourself, be sure you do the research and find the right tools for the job.
3. The pipes
Most pipes and roof penetrations are designed to stand the test of time. Nonetheless, carry out regular checks to ensure the seal is intact and the pipes are in a good condition.
4. The nails
Heavy winds usually cause nails in the roof to pop up - again, it is best to remedy these before any serious damage occurs.
You will need to remove the ones that have become loose and put in new ones. As with all DIY projects make sure you use the correct equipment, especially an appropriate ladder.
Although the issue does not seem very important, it can lead to leakage issues further down the track.
5. How to tell if things may be serious
There are some tell-tale signs that your roof is not in good shape. We do not advise waiting until these appear to check the health of your roof.
The following three observations are indications that everything is not well up there:
1. Leakage
If you find water is seeping into the attic or any other part of the house after it rains - there is a chance something's not right. It is extremely important to check this issue out immediately because you want to make sure there isn't a buildup of water.
2. The paint is blistering and peeling
Excessive moisture is usually the culprit when the interior and/or exterior paint starts showing signs of blistering. The bubbles are an indication that humidity is seeping through.
3. Stains, mould and mildew inside
These are tell tale signs of dampness, pointing to the fact that the roof may need repair.
A note of caution
Climbing on the roof can be a hazard and it is best to contact professionals if you feel you do not have the right equipment or skills for the task.
Need help?
Inspiration and advice are only as far as your nearest Stracto store. We have an extensive range of tools and our experts will be happy to help you select the right ones for the job.
---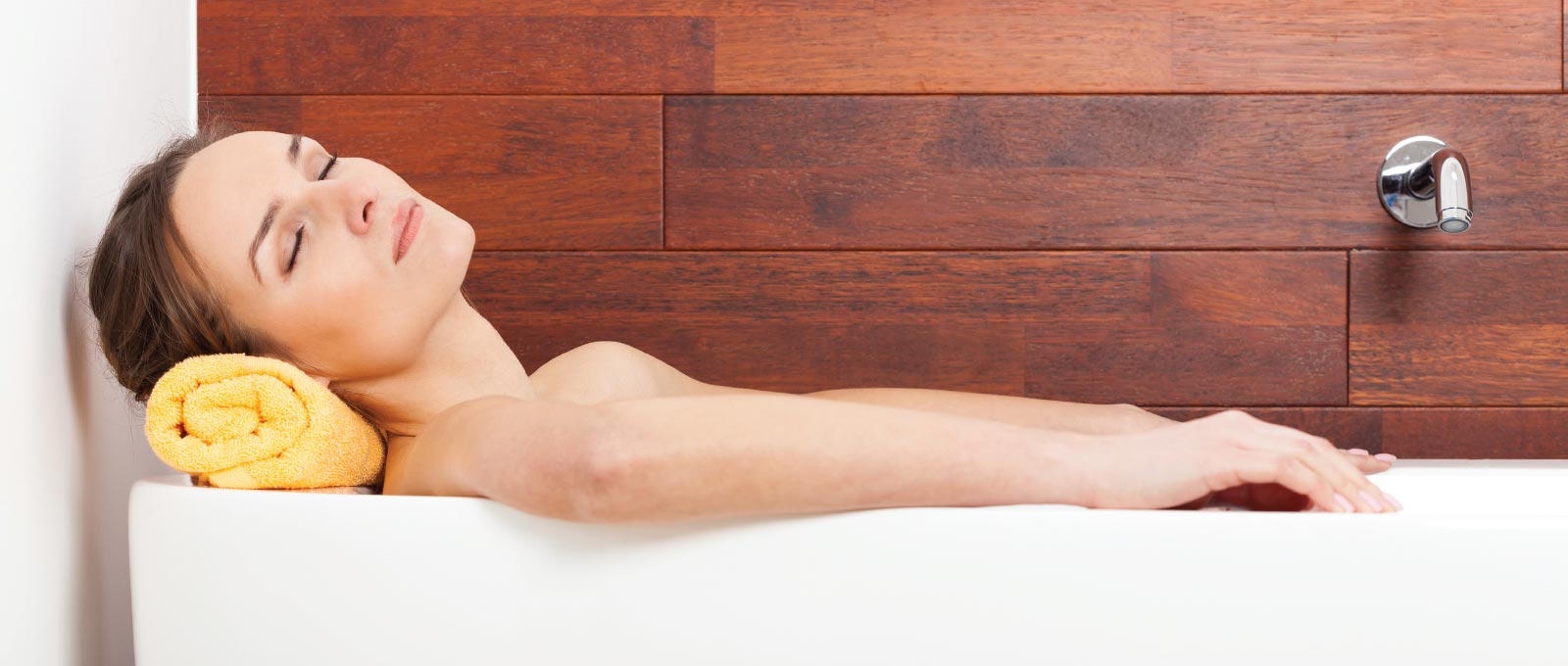 How to give your bathroom a quick makeover
Posted on: June 16, 2015
A bathroom makeover seems like a challenge at first, but don't be so quick to dismiss it. There are ways to do it without causing a mini flood.
An average person is thought to spend at least 1.5 years of their lifetime in the bathroom - that is an impressive statistic, so it is little wonder if you want it to to look nice.
At the outset a bathroom makeover may seem like an unsurmountable feat, but don't be so quick to dismiss it. There is a way to add a touch of class, without causing a deluge.
Of course, there are several ideas you can use to transform the space, but you must be mindful of others who will be using the bathroom as well. For a family with young children it may not be the best option to add fancy accessories that will succumb to the curiosity of the little ones.
In addition to this when completing a DIY project, it is easy to splurge and end up spending too much.
To help you we have come up with 10 simple and cost-effective ways to make your bathroom look beautiful:
1. A splash of colour
Sometimes all you need to do to spruce up this little room is to give it a bit of colour. Your local home improvement store is bound to have a number of supplies - choose a bright colour and the right products and you're good to go.
2. Refresh your tapware
It seems like a simple thing, but you will be amazed at how much of difference decent tapware makes. You can revitalise a dated bathroom by simply changing out the faucets.
3. A bit of green
Adding a few attractive indoor plants has to be the easiest and quickest way to turn a space from drab to chic. Feeling adventurous? Add a small removable garden bed with flowers to the exterior window sill.
4. A new vanity
If there is one thing that will make your bathroom stand out it's a brand new vanity unit. Not only does it add a storage space, but also a well-groomed new look.
5. Add a stylish frame to the mirror
To really dress up the space, add a fancy frame to the mirror. You can make your own or buy one from a retailer. Let your imagination run wild.
6. Use the right lighting
Adding light fittings can make for a striking look. Try twin spotlights above the mirror or add lighting to either side to create a classy ambience.
7. Rejuvenate the towel rail
A heated tower rail is a blessing - what more could you ask for than a warm fluffy towel ready to welcome you after a shower? If you have limited space available, you could also look at installing hooks instead, they'll take less space.
8. Take care of moss and mould
This one seems like a no-brainer, but a quick clean will make your bathroom look appealing. Since moisture is a real problem in this part of the house, moss and mould can really build up - on surfaces that are painted it usually looks black. You need to remove it quickly to stop it from destroying the layers of paint underneath. However, a good quality cleaner and some elbow grease should be enough for the job.
9. Aromatic candles
Want to create a relaxing vibe without spending a fortune? Try adding candles. If you are concerned about knocking them over, install wall mounted holders. You could also use glasses and put tea lights inside.
10. Ask an expert
Once you've got an idea about the changes you want to make to your bathroom, visit your nearest Stracto store to find the right tools for your DIY dream project.
---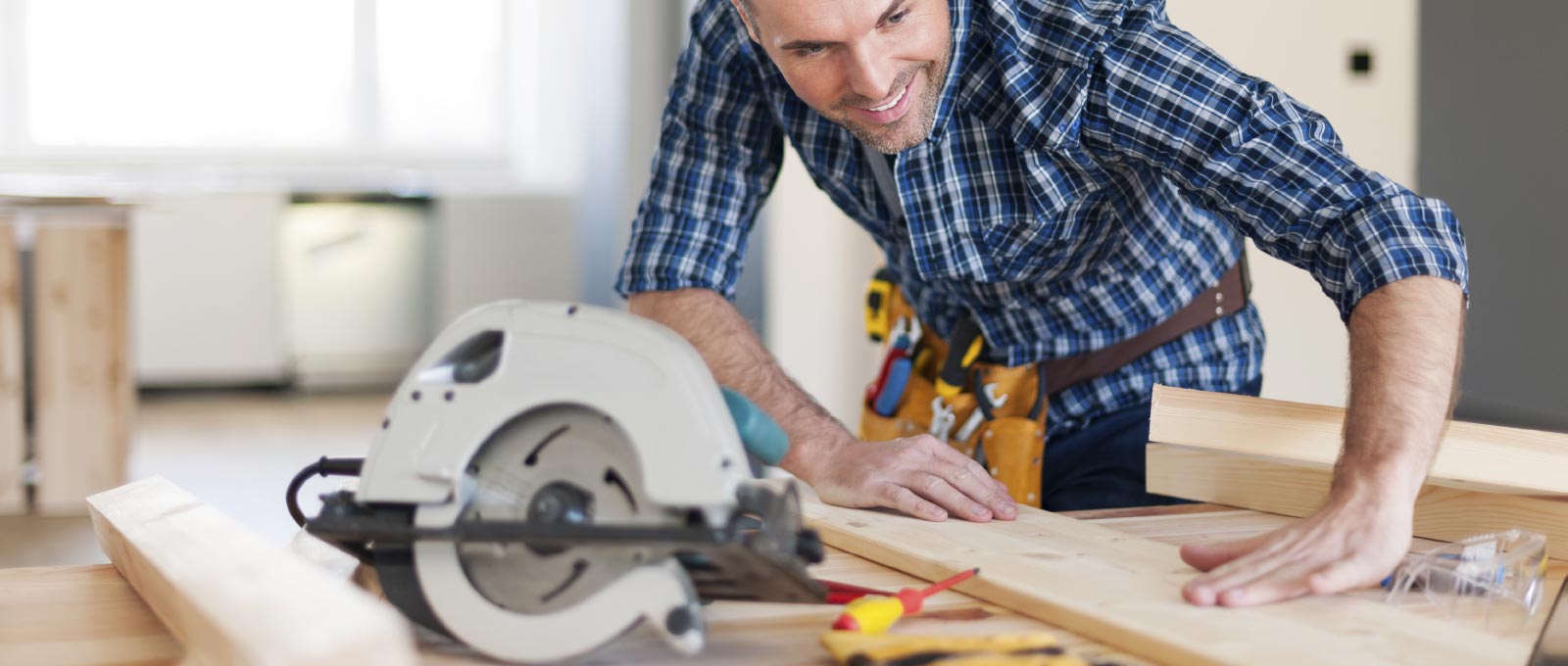 5 simple DIY tips to make life easier
Posted on: June 12, 2015
Whether you are serious about DIY or just a casual enthusiast, here are 5 simple tips that can help you do your job better.
We found five tips that the experts swear by and we're pretty darn sure you will love them too.
1. How to stop your tools from rusting
Sometimes having the right tool for the job is not enough - nothing is more frustrating than one that is not sharp.
Here's a quick fix: keep a piece of chalk in your box, especially the sections that contains metal items. By absorbing the moisture, the chalk will in turn reduce the chances of rusting.
2. Removing a stripped screw
Now here is a peeve all DIY-er hate equally. You are studiously working towards a project, getting work done and making progress until a screw gets so damaged it becomes impossible to turn.
The disfigured screw gets worse as you try all sorts of different ways to extract it.
There are several methods to get the job done, however, here's one that looks pretty reliable.
You will need a screwdriver with a tip that matches the offending screw and a hammer, lightly tap the screwdriver to set it. Now use maximum downward force to gradually back out the screw.
3. Removing screws that have been painted over
In keeping with the theme of screws that are hard to remove, here is another sore point - screws that have been painted over.
You can use the stripped screw method, or there is another more effective way of doing the job.
Heat a small piece of wire using a lighter or match (be careful not to burn your hands, you could use pliers to hold the wire). Now use the wire to melt the paint out of the screw head.
4. Measure twice cut once
Straight forward we know, but you will be surprised that even seasoned DIY-ers forget this one. Always make sure you double check measurements to avoid hassles later.
5. Get specialised advice
Always make sure you get your home improvement supplies from a reputable retailer with quality products.
If you feel that you have landed a job that you do not have the skills for, visit your nearest Stratco branch for some free advice.
---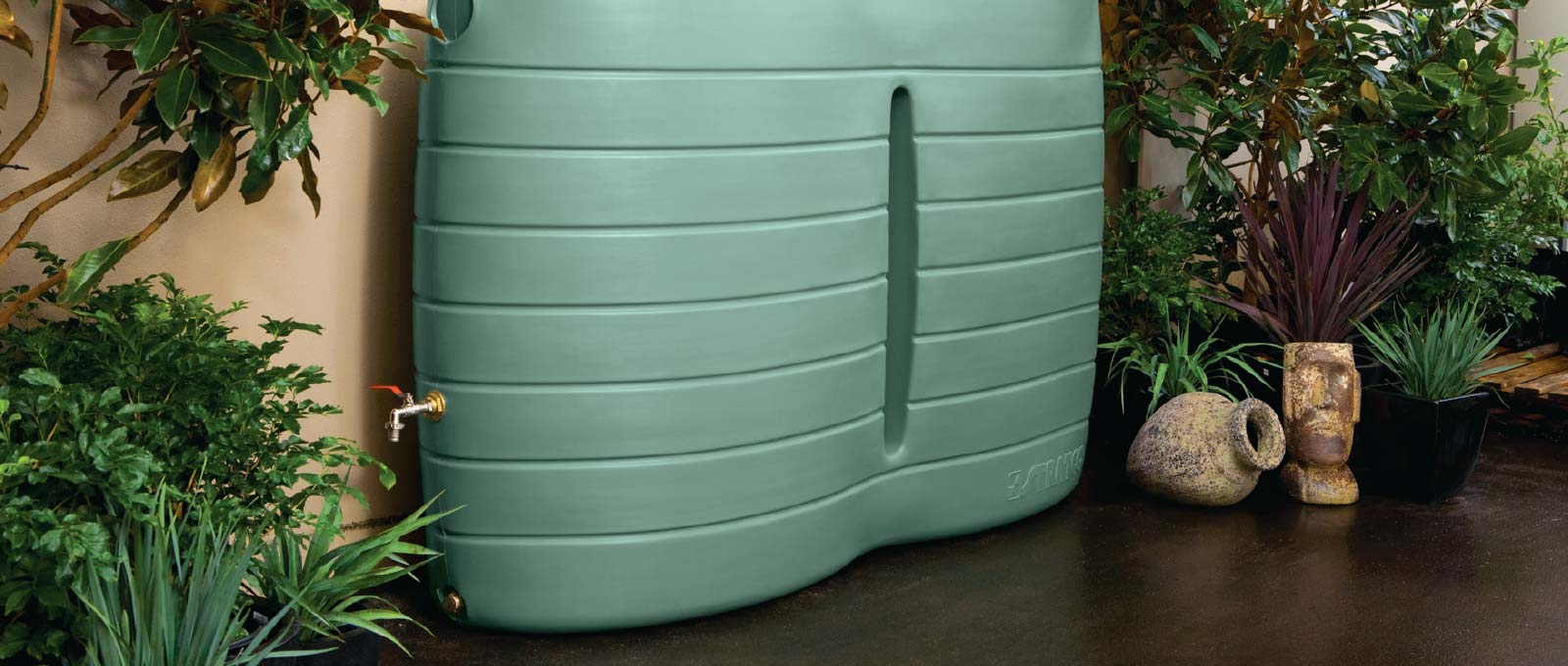 7 reasons rainwater tanks are good for you and the environment
Posted on: June 12, 2015
The simplest option to reduce your water bill, with the added perk of being kind to the planet, is to install a rainwater tank.
The earth isn't called the blue planet without good reason - 75 per cent of our home is covered with water, so it is a bit concerning that we are constantly being told to conserve the resource. This is because is that not all the water can be utilised for drinking and other home or industrial purposes.
The choice not to waste water, other than being a sustainable decision is also easy on the pocket. The simplest option to reduce your water bill, with the added perk of being kind to the planet, is to install a rainwater tank.
There are plenty of considerations to make when choosing the right solution, but once you have a water storage solution at home - there is no looking back.
Let's look at seven reasons why rainwater tanks are a smart option.
1. Rebate from the government
Let's face it, saving money is the sweetest deal and it is a welcome bonus that the federal and state governments are making concerted efforts to encourage people to use alternative sources of water to reduce operating costs.
Victorians are supported by the Living Victoria Water Rebate Program, which encourages households to purchase and install water efficient products. The state government allocated a whopping $40 million to the program and you can receive back up to $1,500 as part of the scheme.
In NSW, those who choose to take the rainwater tank approach can can earn a rebate of up to $2,170.
If you are looking to conserve water in Western Australia, then the water corporation can help you out with making the right choice.
Queensland and other states advise contacting your local council to find out the incentives for installing a tank.
2. Several non-drinking uses
Need a drink of water? Turn on the tap - but there is no need to use precious drinking water for other purposes.
Rainwater has several uses - it can be used to flush toilets, wash clothes, water the garden, wash cars etc.
An average household can save to 100,000 litres of water a year with this storage option.
3. Prevents soil erosion and reduces flooding
Uncollected rainwater collects toxins and sediment from soil erosion and is deposited into streams, lakes and ponds via our drainage systems.
Large storage tanks can also help to prevent and reduce floods in lower areas.
4. No need for water drilling
Many Australians are opting for the water bore system, however ground water is not always easy to reach and it is a depleting source.
Some areas struggle with significant scarcity and in such regions a rainwater tank is the best storage option.
5. It's good for the garden
Rainwater is often called soft water because it does has not been treated with the chemicals contained in treated water. Enthusiasts often prefer to water indoor plants with the natural variant, which is also known to have more oxygen, to give them a new lease of life.
6. Maintenance is easy
There is the one-off cost involved with installing a tank, beyond that maintenance and upkeep do not require significant time or energy.
There are a number of ways collected water can be used without the need for purifying.
7. Built to last
With an extensive range of water tank sizes and styles available on the market - you are bound to find a tank that fits your water storage needs.
You can choose a poly tank, which is made from a polyethylene that with a food grading and is resistant to harmful ultraviolet rays. Steel tanks, on the other hand are made from more durable material and the inner surface is usually coated with a grade polymer skin.
---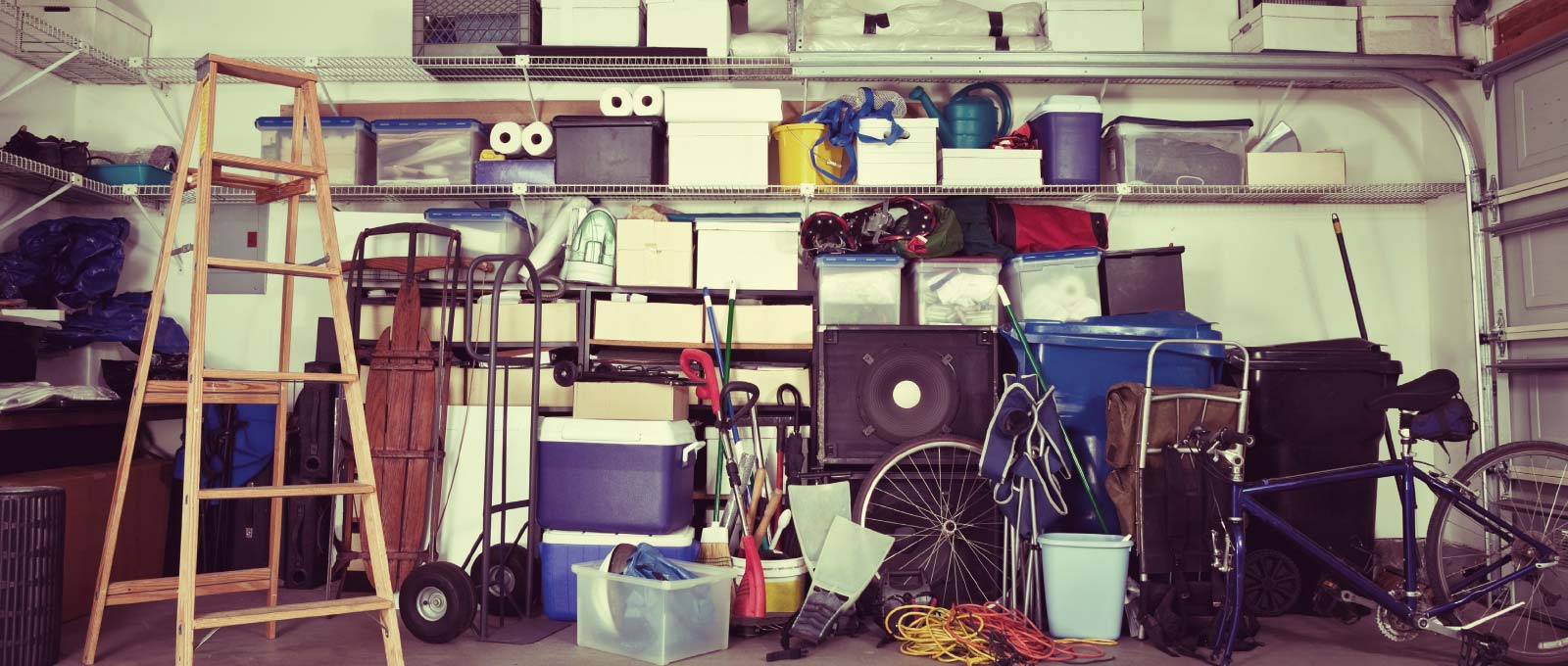 3 easy steps to make your garage look nice
Posted on: June 9, 2015
If you are tired of your garage looking like a shabby dark corner full of unwanted clutter and broken tools, perhaps it is time to tidy up.
Maybe you want to turn it into an organised space where household items don't go to die - perhaps it is time to give it a new lease on life?
It does seem like a daunting task, the thought of which may make many DIY enthusiasts break into a cold sweat - true, it is probably not as easy as painting the deck or fixing a broken door handle. However, be assured it is not that hard and it comes with a few advantages once complete. Not only will it give you plenty of storage space, but also the satisfaction (and opportunity to boast) that comes with a job well done.
So here's a painless way to organise your garage:
Step 1: De-clutter
This is probably the hardest and most painful part of the process. This is probably the reason you have been delaying it in the first place, but today is the day to go for it - Carpe Diem as they say in Latin.
If you are looking at a big job, then hire a trailer and attach it to the back of your vehicle.
Move everything out of the garage, if you have the space - this is ideal. However, if you do not have space move everything to one side.
Now decide what needs to stay and what has to go. Broken bicycle handles and other such treasures that have no use must be thrown away - be brutal and put all useless items in boxes clearly marked 'throw away'.
Next, tackle the items that you want to donate, use the same method and add these to a box labelled "donate".
Once these boxes are ready, put them in your trailer.
Step 2: Time to DIY
Now that you have earned your right to go crazy in a home improvement store (didn't we say this is a rewarding project?), decide how you will organise your space.
There are plenty of options available, you can have wall mounted storage or buy clear plastic boxes.
To avoid the whole the project turning into an exercise in futility, categorise the items you have decided to keep and store them separately - for example store Christmas lights in a box labelled "holiday decorations".
Bonus: If you really want to reward yourself install a workshop bench.
Step 2: Clean sweep
Finally it is time to add some elbow grease to the job.
Get a sturdy broom and start sweeping. This may also be an opportunity to get the whole family involved - after all it will get the job done more quickly.
---
Learn how to create your own firepit
Posted on: June 4, 2015
With winter here, we have teamed up with James Bawden to show you how to build you own firepit in the below video.
---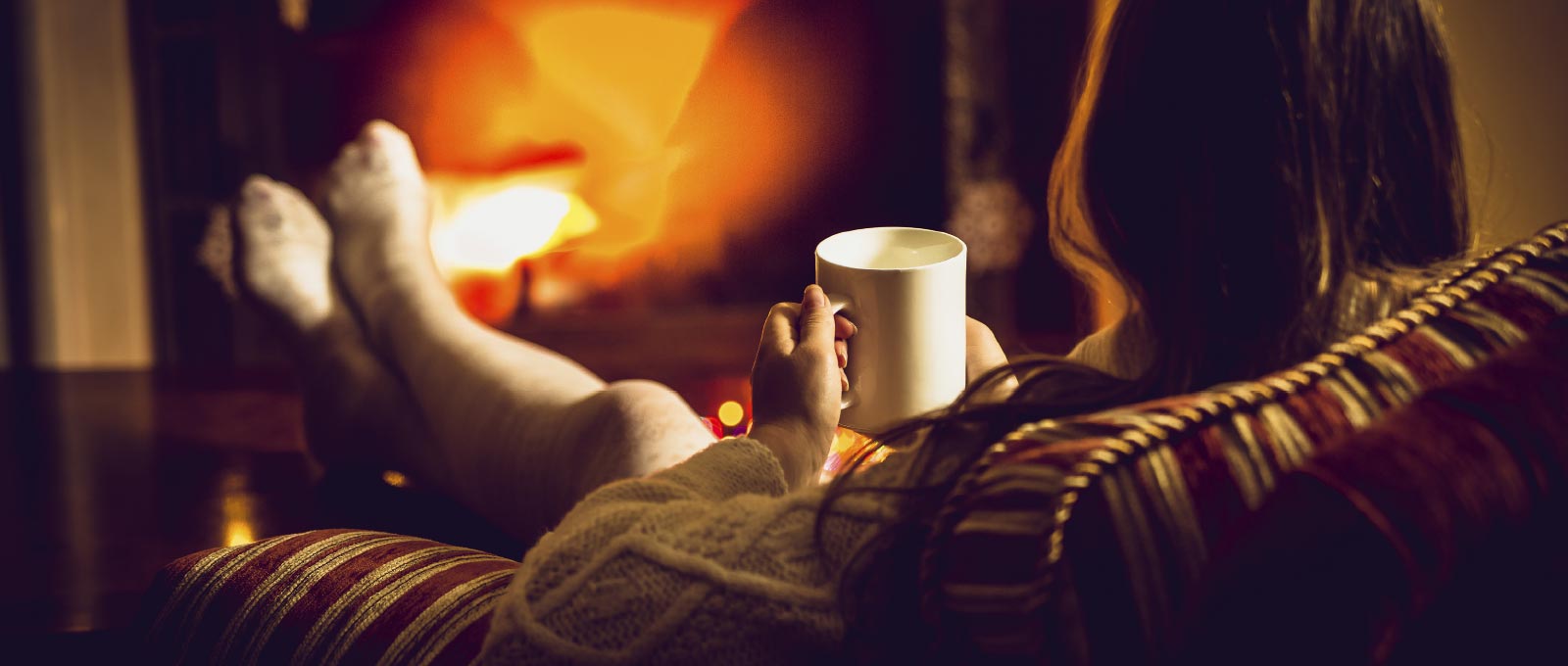 5 DIY home improvement projects to warm up your winter
Posted on: May 19, 2015
Now is the time to prepare your nest for the arrival of the cold season. Here are five DIY home improvement tips to get you started.
We may as well warm up to the fact that winter is almost here, give it a few weeks and the falling autumn leaves will blow away to welcome the cooler weather.
Windchill and single digit temperatures outside make it an ideal time to snuggle up in the cosy indoors and having lazy days. However, remember to keep an eye on that energy bill - heating can really rack up costs.
Before winter approaches spend some time preparing your nest for the arrival of the cold season. Here are five DIY home improvement tips to get you started:
1. Change the light bulbs
The days are getting shorter ,which means it will get darker much sooner than in recent months. As such, now is the time to replace your bulbs with energy-efficient ones.
According to the Department of Industry and Science, lighting accounts for 8-15 per cent of the average household electricity spend. Smarter choices and efficient technologies can cut energy costs by at least half.
Even though it sounds like an investment, spending money up-front will save you in long term.
You should also consider painting the interior walls in light colours, especially for rooms that face the south. This will help reduce the need for artificial lighting and help keep your electricity bill in check.
2. Check your heating system
If you use a heating system, make sure it is ready for the winter season. Inspect the filter and replace it if need be. If you decide to buy a new one, purchase a model that is efficiently designed to deliver improved air quality.
Gas heaters and heat pumps are an energy-efficient option and produce only one-third the greenhouse gas emissions (GHG) of electric heaters. In fact, most 5 - 6 star heat pumps emit less than 20 per cent GHGs compared to conventional electric heaters.
3. Check doors and windows
It is a good idea to make sure your windows and doors are in top condition. Fix any loose hinges and door knobs to keep the cold draft out. There are also plenty of cost-effective ways of insulating windows - consider using rubber weather sealing, insulation film, blinds and layered curtains.
Perhaps you would fancy a DIY family project, which the kids would really enjoy - if that is the case try making a 'draft snake'.
Essentially, a draft snake is a fabric tube placed on a window sill or under a door to prevent cold air from seeping indoors. To make one, sew a tube of fabric to fit the width of your window or door and fill it with dry rice.
4. Consider installing a solar hot water system
Australia gets plenty of sunshine and this makes solar energy a great way to heat water. In fact, according to the Department of of Industry and Science, a solar hot water system can cover between 50 and 90 per cent of a household's hot water needs. The exact amount depends on your region's climate and the type of solar hot water heater you install.
Just so you do not run out out of water mid-shower, these heaters come with electric or gas boosters to cater for the remainder of your hot water needs.
5. Organise your cupboards
Last but definitely not least, consider tidying up your cupboards to give them a new lease on life. You will probably spend most of your time indoors during the winter months, so start by giving yourself a clean space Take a trip to your local hardware store and check out a few key organising supplies.
---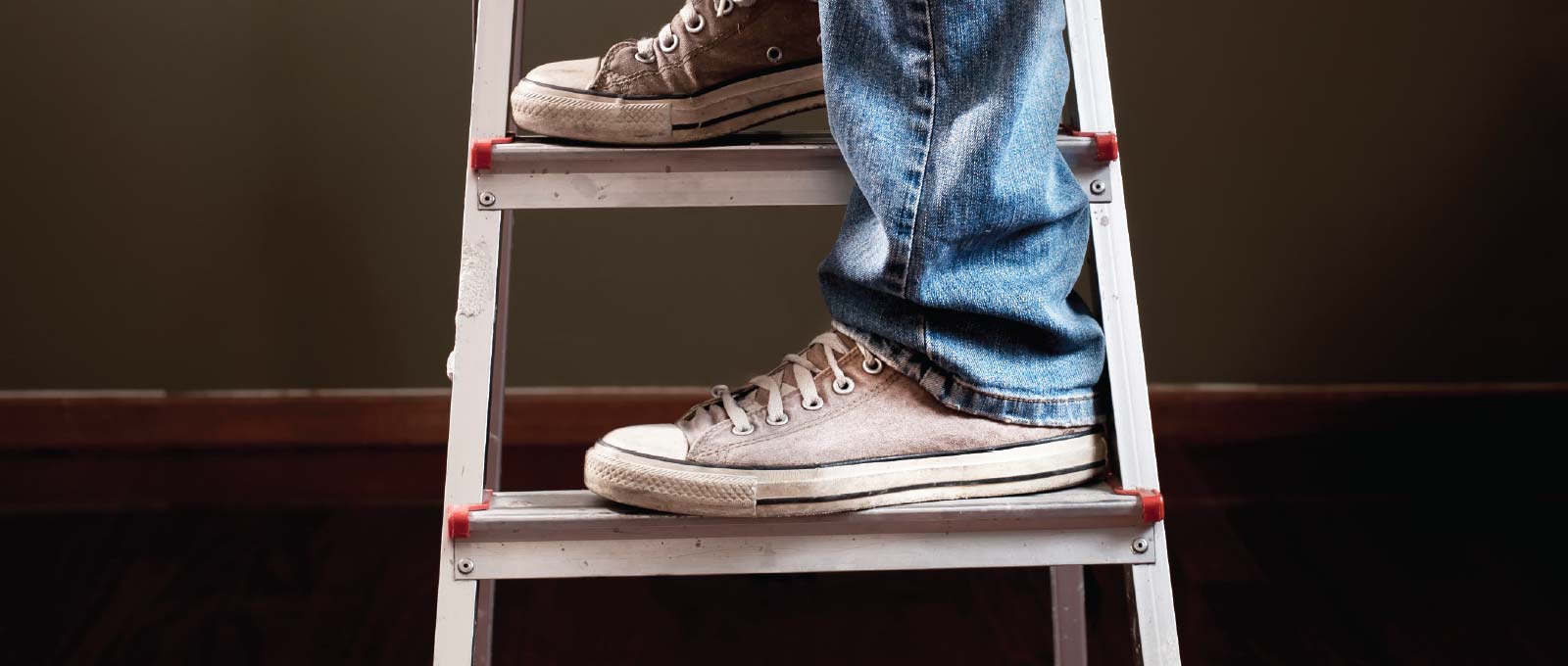 Is it time to upgrade your ladder?
Posted on: May 11, 2015
If you perform elevated work on a regular basis make sure your ladder is suited to the job. Here are a few tips to help you make the right decision.
At some point in your DIY tenure, you are sure to encounter the need to perform 'elevated work'.
Depending on the nature of the job you could stand on your tip toes, get on top of a chair or pull out your trusty ladder. However, before you set foot on the rungs consider this, 1,668 Australians were hospitalised in 2011-12 due to falls from ladders and 85 per cent of these mishaps happened when performing maintenance work around the home.
Now we are notsuggesting you live without light bulbs, or put up with dusty cob webs.By all means prune those trees, paint your ceilings and fix your roof but not without firstlytaking a long good look at your ladder - is it time you got a new one?
How to know if your ladder is safe
According to Product Safety Australia. You should not use a ladder if it has any of the following signs:
Rust, corrosion and warping
Missing rivets
Loose or cracked rungs or hinges
It does not have non-slip safety feet or they are not in good condition
Also, make sure it is the correct height for the job. When using an extension ladder make sure it can extend a minimum of one metre over the top of the resting surface.
How to choose the right ladder
If it does turn out that the ladder is not safe for use, then it is time to look at upgrading your ladder.
First, consider the nature of the work you perform - is it simple household jobs? Will you be accessing heights that a basic ladder cannot reach? Are you going to use it indoors or outdoors or both?
If you use your ladder for small and basic projects, which are mostly performed indoors thenyou should consider a domestic step ladder. These are easy to store and have a multitude of uses.
DIY enthusiasts who do a variety of jobs around the house could look at double sided ladders that provide safety and versatility.
For those who take their DIY more seriously, a work platform is the best option. With stability and a variety ofuses they are quite suitable for complicated projects.
A real challenge is working with uneven surfaces. If you usually find yourselfdealing withthese, consider an extension ladder. It will not only provide stability but also let your reach higher than your usual ladder.
---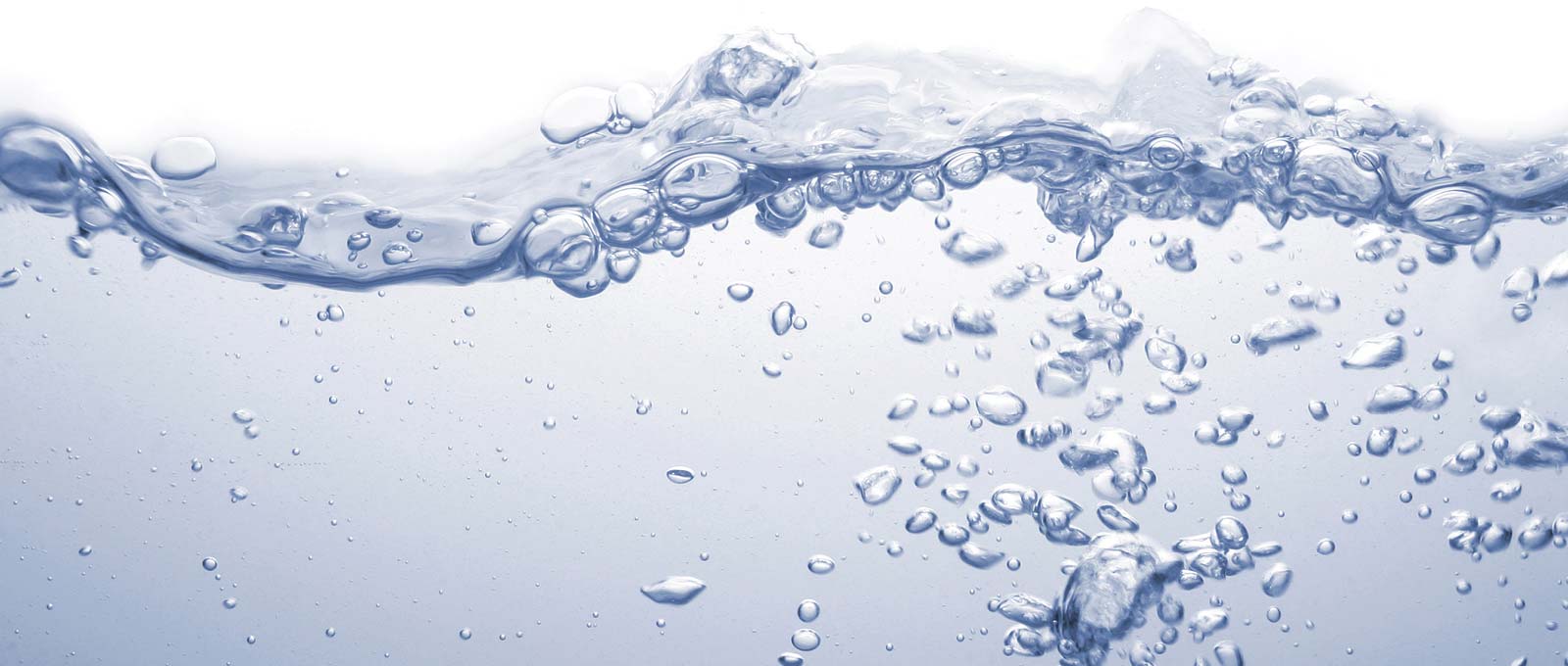 What to consider when choosing a water tank
Posted on: April 30, 2015
Autumn is one of the best times to choose a water tank - with a solid few months of rainfall ahead before the next dry spell.
While now's a great opportunity to take the plunge and buy a water tank, there are a number of things you will need to consider when it comes to finding the right tank for your needs. That way, you can be sure the final installation is going to suit your requirements.
Finding the right shape
Water tanks come in a whole range of shapes and sizes that can match your needs. This will often depend how much room you have free on your property and where you are located.
If you have a rural property, chances are there will be much more room available to install a water tank, meaning you can invest in a large round version. Many homes in regional Australia have already invested in a tank, with 44 per cent of homes outside Australia's capital cities owning one, according to the Australian Bureau of Statistics.
Of course, many city-dwellers are also investing in these systems, although they may be in different shapes. As well as a traditional round tank, homeowners with a narrow plot can choose a slim water tank that will easily fit alongside a home.
How big a tank do you need?
There are a few significant factors that will affect the volume of your water tank. These can include:
Where you live - some parts of Australia will see much higher rainfall than others and therefore can support a bigger tank.
How big your collection space is - a larger roof means more water can enter your tank. A good rule of thumb is that one millimetre of water falling on one square metre of roof will provide one litre of water.
Of course, every water tank comes with an overflow system, so there is no danger of gathering too much water. It's more about calculating out how much water you want to have on tap.
These two factors are among the most important you need to make when you look to buy a water tank. If you need some more ideas about the tank that is right for you, make sure to check out the range on offer from Stratco. Our wide selection means we can help you find the right water storage solution for your situation.
---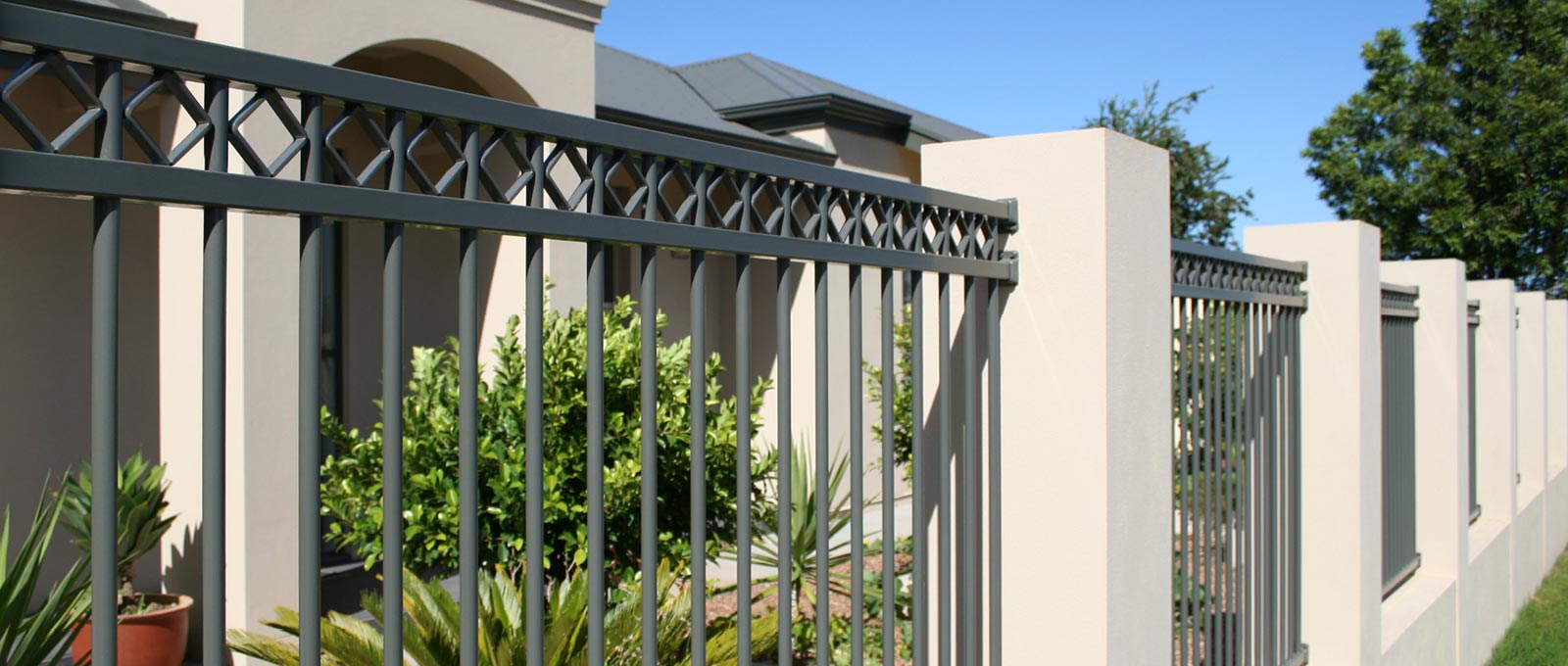 How to pick the right fence for your property
Posted on: April 29, 2015
Nothing completes an Aussie backyard quite like a good fence. Not only is a fence an attractive addition to your property, it can also help keep the kids football from going through your neighbour's window.
When it comes to installing a fence though, there are a few key questions you will need to ask yourself to be sure you are getting the right design. Some of these common questions include:
What role is my fence going to play?
If the purpose of your fence is to keep out nosy neighbours, you'll want something that is robust enough to shield your garden. In this case, a solid fence of steel sheets might be an ideal solution.
On the other hand, if you are looking to put in a fence within your garden, you'll probably want something that isn't blocking your view through to different parts of your outdoor space. A glass fence is a useful option here as it can provide a safe fencing solution while still letting you survey every detail of your own slice of paradise.
How high does my fence need to be?
Again, this will come down to what different roles your fence is going to play. If your fence is also the boundary for your children's cricket games, then higher is going to be better. On the other hand, fencing around a patio or other outdoor area can be a lot lower.
In some places, there will also be specific requirements that your fencing needs to meet. For example, a pool fence must be a minimum of 1.2 metres high.This fence also requires a non-climbable zone surrounding it of 900 millimetres to prevent children from easily clambering over.
There are also height limits in place for front, rear and side fences. These can vary though, with fences alongside main roads allowed to be higher in order to block out the noise from cars.
What design features are available for my fence?
Fences aren't just practical, they can also be used to make a beautiful outdoor space. Whether you want horizontal panels, vertical panels or screen tops for your fence, these small design features can personalise your boundary and ensure it stays in keeping with your property.
No matter what design ideas you are looking to implement, Stratco have a range of solutions that can help you achieve the look you are after. With a range of materials and design features, you can be sure you are getting a fence that meets your needs and the surroundings of your home.
---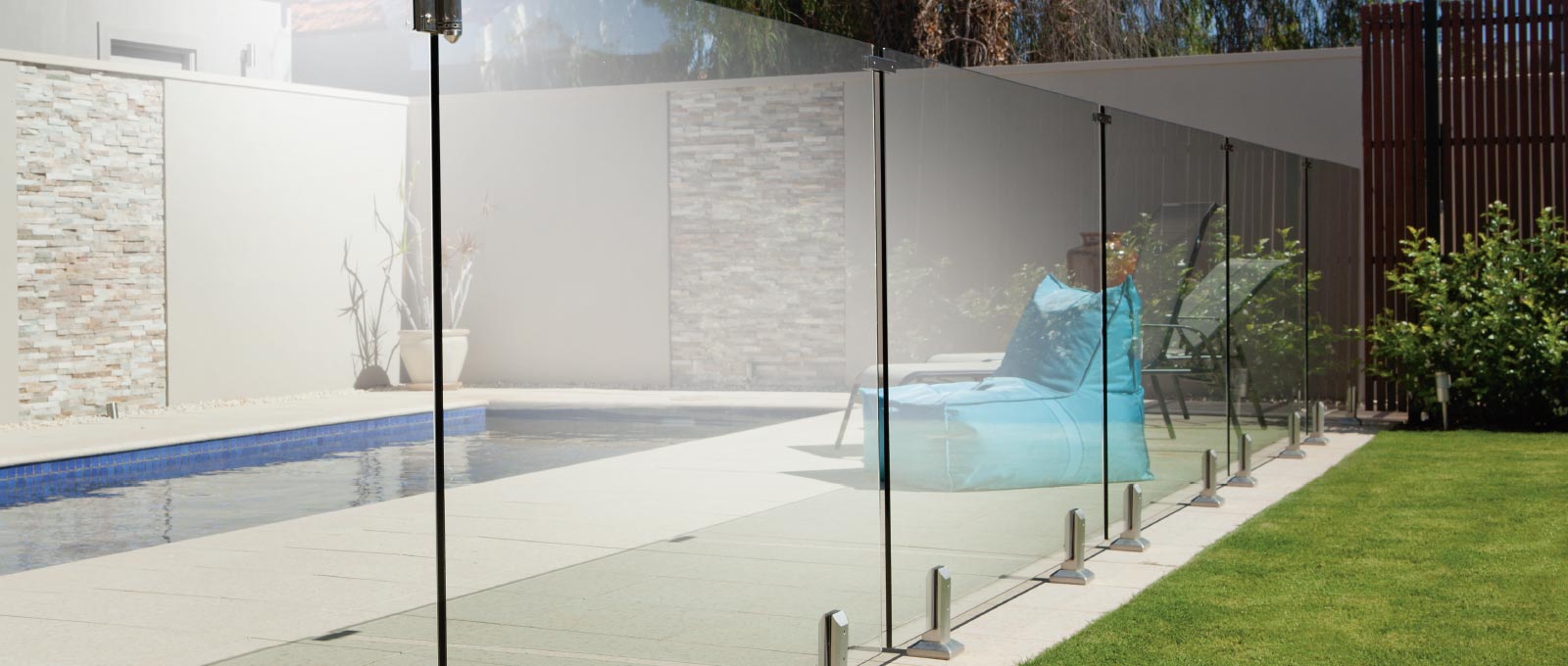 How to child-proof your home
Posted on: April 28, 2015
Having kids is one of life's biggest achievements and it also heralds some major changes in your lifestyle. Checking out your home and ensuring it is a safe environment for kids, especially as they start crawling, is just one part of this journey.
If you are looking to make a home child-proof, there are a few areas that you need to focus on. Here are some of the biggest to consider.
Store goods away wherever possible
There are many items around the house that often look harmless enough, but can be a safety obstacle for kids. Large stacks of books for example, can easily fall over, while a messy garage is likely to hold a whole range of potential threats.
While these areas might be dangerous, tidying them up doesn't need to be difficult. There are plenty of storage solutions that can keep your home and garage both child-friendly and tidy all in one go.
Keep bathroom and kitchen products out of reach
Bathrooms are among the most dangerous parts of a house but, with a little planning, they are easy to keep safe.
One of the biggest challenges in these areas is keeping hazardous chemicals and sharp objects like scissors out of reach from young hands. Storing these away from the ground in a high cupboard is a simple and very effective way to address this.
Another option is to put a child lock on cupboards and draws if the contents can't be moved out of arm's reach.
Fence your pool
Pool fencing is essential for every home, but especially when you have children around. Pools are a very real safety risk, and that's why fencing is something every pool owner should take seriously. Depending on the age of your pool, different rules will apply here too, with pools installed since 1990 likely to already require mandatory fencing.
At Stratco, we have a whole range of products that can help you to keep your children as safe as houses. As well as specific products like pool fencing, we have a variety of building supplies and equipment that can help you build a child-friendly home.
---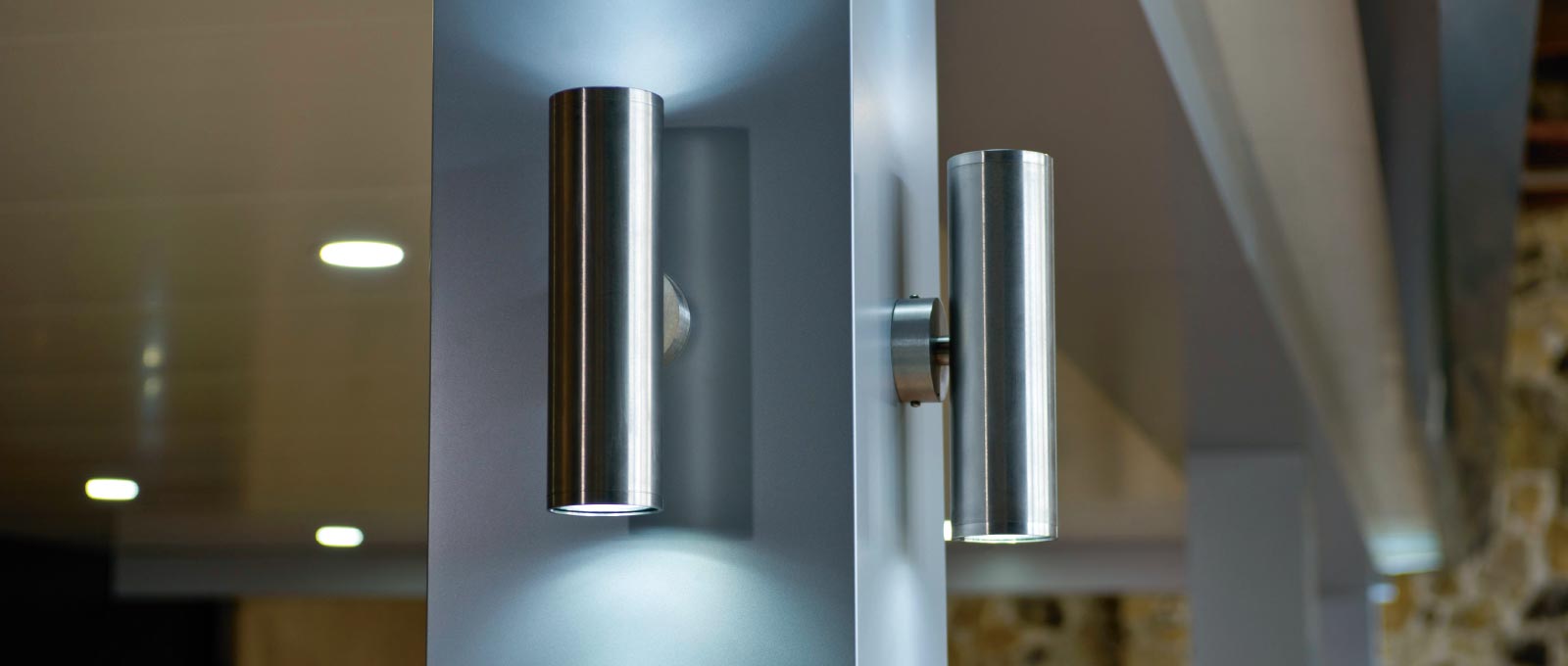 Three bright ideas for your outdoor lighting
Posted on: April 24, 2015
If you want an outdoor space that can be used at night as well as during the day, having the right lighting is going to be essential. With the days getting shorter, a well-lit garden area will help you to get the most from your outdoor spaces, no matter the time of day.
There is also a whole range of lighting solutions that can add value to your property's exterior - from motion-activated floodlights that will require an electrician to install to solar garden lamps that can just be inserted into the ground.
With lighting accounting for up to 15 per cent of your home's energy bills, according to the National Framework for Energy Efficiency, solar lamps can be an easy energy saver. It's also worth thinking about materials - homes near the sea will require sturdier lights to prevent possible corrosion from sea salt.
With such a dizzying array to choose from, it can be difficult to establish the right products for your property. To help, here are three bright ideas to get you started:
1) Think safety first
One of the biggest dangers to come from an unlit outdoor space is the lack of safety. Whether it's tripping over the kid's toys or accidently reversing the car into the fence, not having enough light on your property can be an accident waiting to happen.
The best solution here is to take a walk around your property and check out the areas that will need to be lit. Driveways, walkways and pool areas will all need to be well-lit.
A good option here can also be to install motion-sensing lighting in these areas. That way, you can be sure the areas will only be lit when they are needed.
2) Use lighting to highlight your home
Sure outdoor lighting needs to be practical, but that doesn't mean it can't be beautiful too. Think about the elements of your home that stand out - like a chimney or balcony - and then use your lighting to emphasise these.
Thinking creatively with your lighting can make sure you are highlighting the best parts of your outdoor space, creating eye-catching designs that also add value to your slice of the great outdoors. Remember that larger lights will also create bigger shadows, so you are better off choosing a number of smaller lights to get the right effect.
3) Where are people going to spend time outdoors?
Last, but certainly not least, you need to think about which outdoor spaces people are going to spend the most time in. If you have invested in a top-of-the-line barbecue, you'll want to make sure there is enough light around it so people can sit and talk well into the night. The same goes for outdoor cover like a pavilion or patio.
By mastering these three elements - safety, design and enjoyment - you will be well on the way to having an outdoor space that is well-lit and the envy of the neighbourhood.
---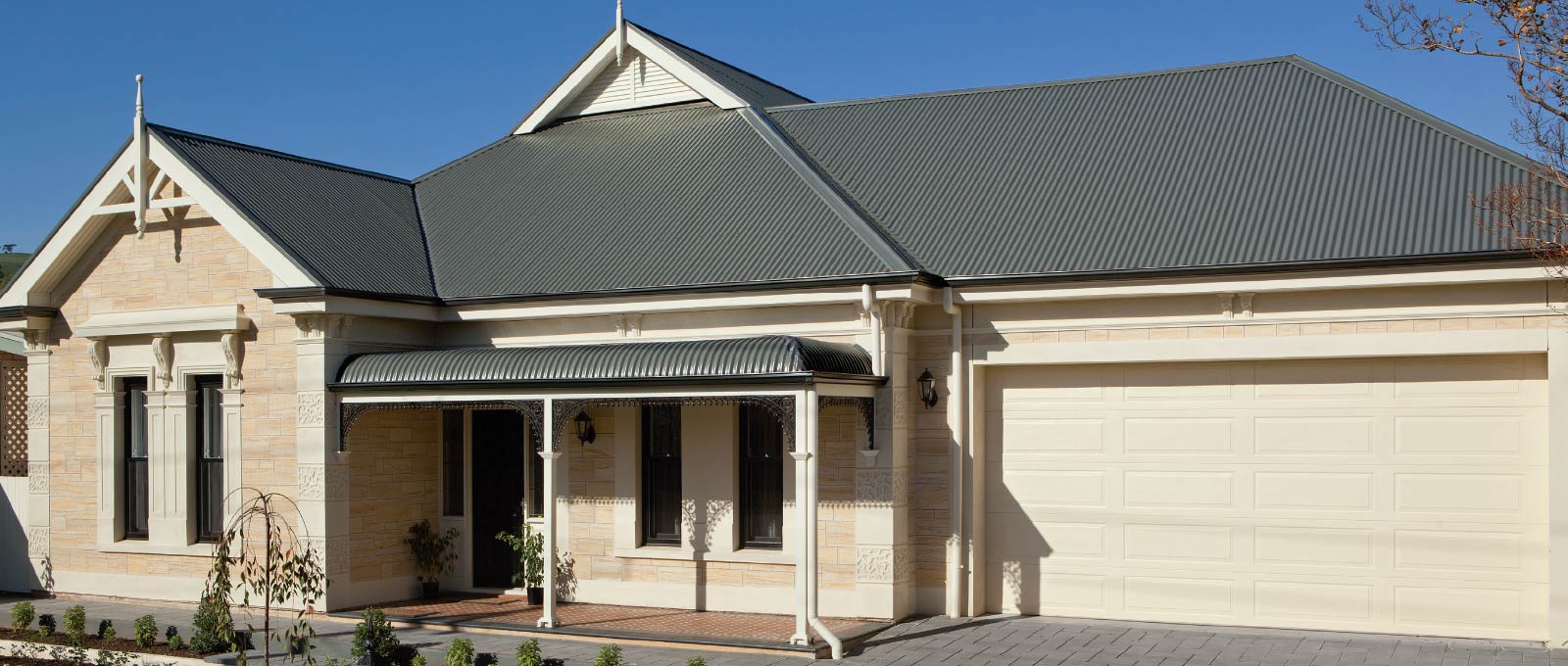 What to consider when re-roofing your home
Posted on: April 22, 2015
Now that the weather is getting colder, many people right across Australia are starting to think about how they can put their inside spaces to better use. However, while your thoughts drift inside, it's also important to consider how your roof is looking and whether it is time re-roof.
After all, Australia's long, hot summers can take their toll on any building's roof. Coupled with a wet winter, and it's fair to say your roof puts up with a lot every year.
In these conditions, you need to be sure you are getting out and inspecting your roof regularly for signs of wear and tear that might become a bigger problem. Checking the flashings around chimneys and any skylights, as well as regularly inspecting your guttering for wear and tear are easy checks that can help you spot any maintenance issues.
With the Australian Bureau of Statistics finding that almost half (45 per cent) of properties require some external maintenance work, roofing is one area home owners really need to keep an eye on.
If you do decide that it's time to replace part - or all - of your roof, there are a few things you will need to consider when choosing a new one.
Among the most important will be the material you use. Re-roofing is an opportunity to upgrade the material you use on your roof to a different solution. Steel sheeting is a popular choice here, thanks to its long life span and light weight.
Once you have chosen a material, you will also need to look at design features that can ensure your new roof is both practical and functional. For example, you may want to have a roof that is curved, or have a different cladding design for a verandah. These small design features can help to make your roof a part of your home's unique character.
Complementing your chosen roof space with the right guttering is also an important step - not only to drain your roof but also to get the right finished look.
Finally, if you have decided to re-roof and replace your guttering it may also be worth installing a water tank at the same time. By fitting a tank to your guttering, you can divert water from the roof into storage, which you can then draw on for any water needs your property has.
For all your roofing needs, make sure to check out the range of products on offer from Stratco. Our selection can help you to get the right look for your property, while also offering products that will stand up to Australia's harsh conditions.
---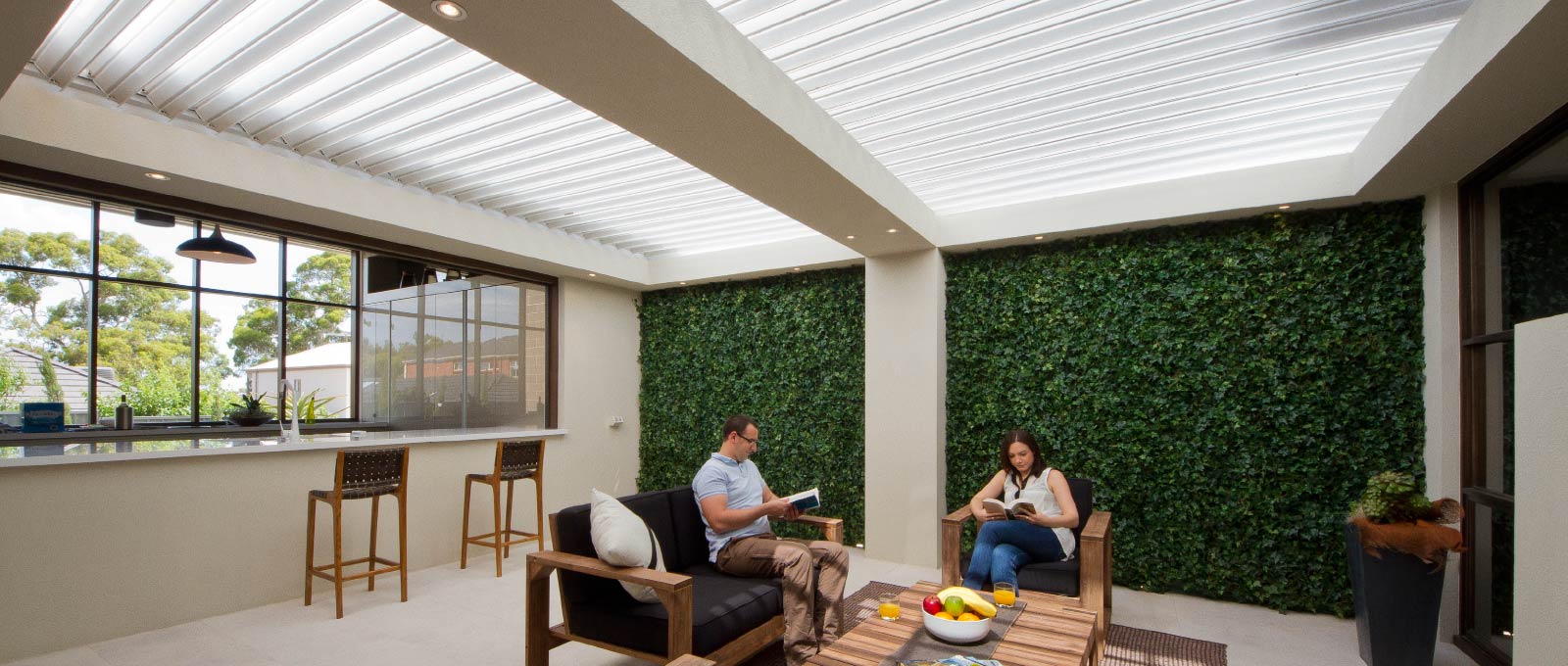 Three tips for keeping your outdoor space warm
Posted on: April 16, 2015
No one builds an outdoor space with the intention of only using it through summer - a great outdoor area is one that is usable all year round, even when the weather is less than ideal.
While Australian winters are rather mild, you still need to think about finding clever design tricks to keep your space warm and pleasant all year round.
To help you maximise your external areas over winter, here are our top three tips for getting the most out of these spaces:
1) Fence out the cold breeze
One of the biggest issues during the colder months is the wind-chill factor. While a pleasant breeze is welcome in the summer, in winter this can easily leave you scrambling for the warmth of indoors.
The Australian Bureau of Meteorology warns that on a 20 degree day, wind speeds over 10 kilometres an hour will start to lower the apparent temperature. What's more, the lower the temperature is naturally, the greater the impact wind has on how cold you feel.
As well as making it harder for your family to spend time outside, the wind can also affect other features of your property. A pool for example, will be much cooler if there is a wind constantly passing over the surface, making it cold even on a sunny day.
The solution? Invest in fencing that is sturdy enough to keep out a cold breeze. Not only will this mean you want to spend time outside, it can save swimming in your pool from becoming an arctic experience.
2) Choose the right heating equipment
Entertaining all year round also means having heating in place to keep your guests warm while they are outside. Although some people will be fine huddling round the barbecue to keep warm, there is now a whole range of heating solutions that are perfectly suited to outdoor spaces.
For a more permanent option, consider a built-in firepit for your outdoor spaces. That way, you will have a unique feature that can be used as a talking point, as well as providing warmth for your family and friends.
3) Provide cover from the rain
Nothing will put a dampener on your outdoor entertaining like a sudden downpour that catches your family unawares. Your other efforts to keep an outdoor space warm will also be quickly undone if you are forced to scramble inside as soon as dark clouds gather.
To address this, consider investing in a pavilion or roof for your verandah or patio. That way, you can be sure that your outdoor space will be kept warm, dry and usable all year round.
For a full range of solutions that can meet your outdoor area needs, make sure to check out the great range on offer from Stratco.
---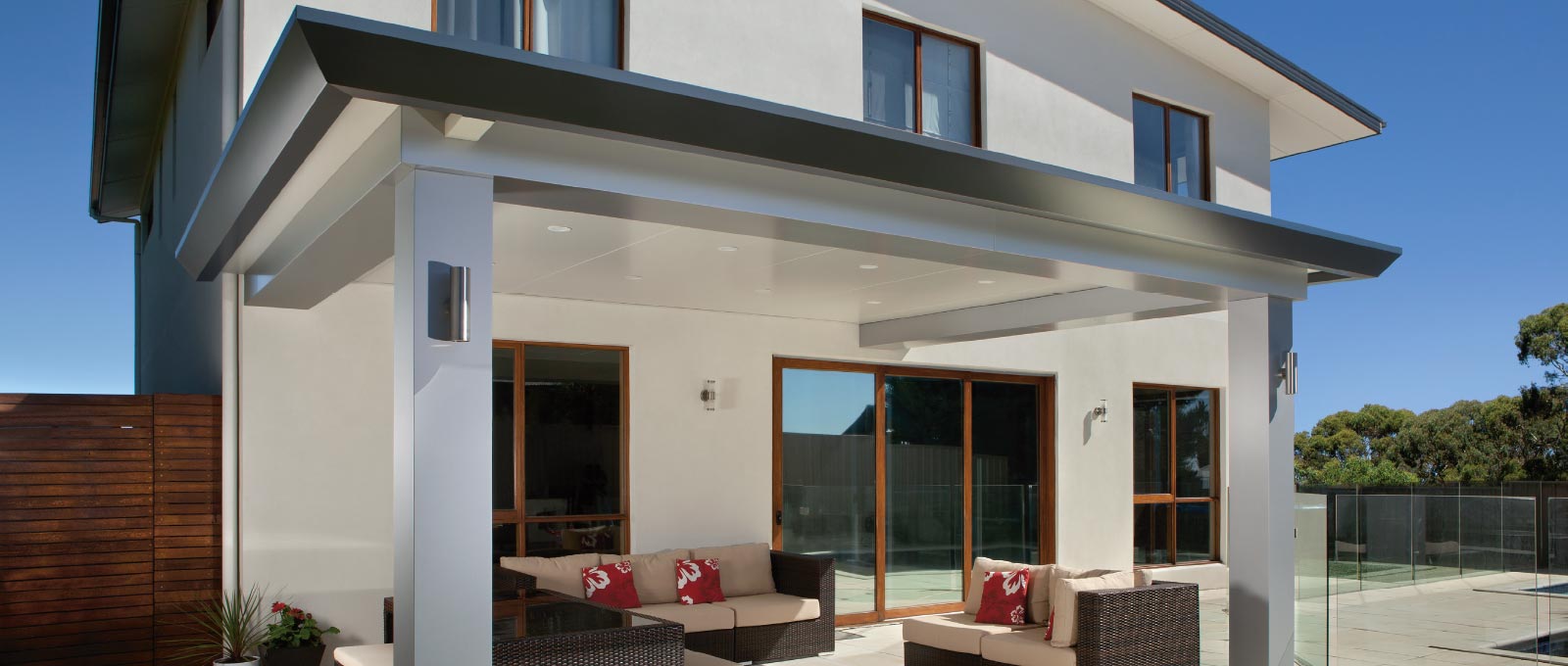 Aussies investing in their backyard spaces
Posted on: April 13, 2015
Your home may be your castle, but that doesn't mean you want to spend all day couped up behind closed doors. Having a great outdoor space is a way of life for many Aussie families, with many of us finding unique and creative ways to make the most of their slice of paradise.
Whether they are investing in a pavilion or expanding the patio so the whole family can sit outside, there are plenty of ways to make the most of an outdoor space.
One popular installation for families is to put in a pool, with many people equipping their home with its very own oasis in order to escape the hot summers. In fact, a recent study from Roy Morgan found that 12 per cent of the country's homeowners have taken the plunge and installed a pool in their back garden.
In hotter parts of the country, these numbers reach even higher. Perth dived into first place with 18 per cent of properties owning a pool. Regional Queensland also ranked highly, taking second place with 17 per cent.
Geography isn't the main reason for people to invest in a pool though - children are. For families with kids between 12 and 15, 20 per cent have a pool installed, while the six to 11 age group reached 15 per cent.
Roy Morgan did suggest that pools were less popular when families have young children because of safety concerns, making it important to install pool fencing to keep little ones safe.
With Australian families only now recovering from another long summer (the fifth-warmest on record!), many home owners will be looking for new ways to make the most of their outdoor space. For a full range of outdoor home improvement products, make sure to check out the range on offer from Stratco that you can buy online.