has been added to your cart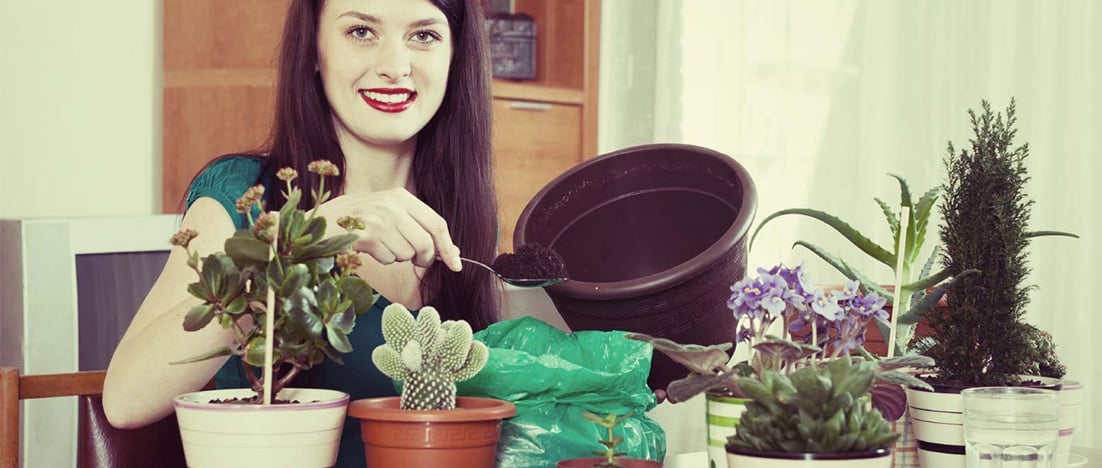 Bringing the outside in: A quick guide to greening your home
Posted on: December 10, 2015
Bringing the outside in can help every part of your home feel more inviting and inspiring. Here's three indoor areas to apply your green thumb.
There's something very satisfying about being surrounded by nature and it's certainly one of the great things about living in Australia. Even if you reside in the heart of the city, it doesn't take you long to get out of the urban jungle and be surrounded by the wide open spaces that Australia is renowned for.
Bring the outside in and make your home a true Garden of Eden.
Of course, you don't have to go far from home if you want to enjoy the restorative power of being in the great outdoors. With a little careful design, you can bring the outside in and make your home a true Garden of Eden.
Spring's also the right time to start thinking about how you can make your home a little greener. Just as you are considering how you can plant your garden ready for summer, think about how you can apply your green thumb inside to create a seamless transition between inside and out.
To help you along this journey, we've outlined three different areas where you can bring a little added greenery to your home.
The ultimate green kitchen
No, we aren't talking about your aunt's taste for lime-green cabinetry! The modern green kitchen is all about bringing in natural elements that can sit alongside the hustle and bustle of a busy family.
One of the best starting points for a greener kitchen is to think about what plants you regularly use in your cooking and then bring them indoors. No longer will you have to run out into the garden for a handful of tarragon, you can have all of your spices growing within arm's reach.
If you are in a warm climate, think about growing Mediterranean herbs along your window sill, as these need plenty of warmth and sunlight. Other ingredients like chillies can be great to have on hand in case you need to bring an extra zing to your cooking while Aloe Vera plants are a natural salve for any burns.
Introducing the outside to your living spaces
What do you associate with a living room? Peacefulness? Tranquillity? A space to relax and feel the weight of the world leave your shoulders?
For many of us, this is more of a dream than a reality. Busy family lives can make it very hard to find that Zen moment in your living room.
Just because this space is put through its paces by every member of the family doesn't mean you can't also introduce a little greenery. Living rooms are often the largest spaces in the house, so they can stand up to larger potted plants.
Of course, you also want to be sure you are positioning your greenery in the right place. If you have children, make sure only the sturdiest pot plants are within arm's reach. Smaller shrubs can be moved up high on bookshelves or shelving units so they are safe from adventurous youngsters.
If you have children, make sure only the sturdiest pot plants are within arm's reach.
Flowering plants are also great for this space, as they can bring a pop of colour and scent to your living room. Make sure you think carefully about how a certain colour will fit with your room and even consider little details like the pot you plant it in. These small choices will make all the difference to the feel of this space.
Bringing a little greenery into your office
Offices are the one part of your house which also has to give you a sense of direction and clarity of thought. Whatever its purpose, your home office needs to be a place of tranquillity and inspiration - also making it the prime location to introduce a few green features that can help you keep your focus.
In fact, a study from Human Spaces into biophilic design (the inclusion of plants and sunlight into working environments) found that natural elements can increase productivity by 6 per cent and creativity by 15 per cent. While the study was looking at big offices, there's no reason not to take the same approach with your home as well!
Also, consider whether you want an evergreen or a flowering plant. If you aren't in the room every day you might be better off picking a low-maintenance shrub or succulent that can handle a few days without watering. After all, when you do sit down in your office you'll want plants that inspire your creativity - not ones that need urgent resuscitation.
What's the next step?
While spring is in the air, make sure to think about how you can bring a little greenery into your property. You'll need a full range of plant pots and equipment like trowels if you want to craft a truly green home.
This is also the time to get a little creative. Getting out the paint brushes and customising each pot can be the perfect complement to some new-found greenery. You may even find that you need some storage for all your indoor and outdoor planting adventures, in the form of a dedicated garden shed.
Whatever your end goal, start with a trip to your local Stratco. Our team can help with every aspect of your next DIY project and our product range is second to none.