has been added to your cart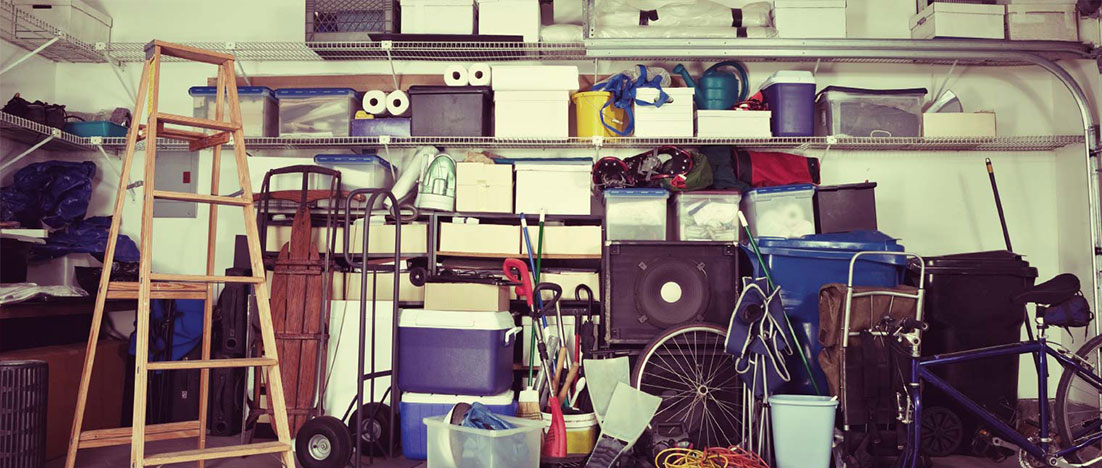 Is it Time to Declutter Your Home?
Posted on: July 28, 2015
Keeping a home clutter-free can feel like an up-hill struggle, but the answer often lies in finding a better way to organise and store your possessions.
Clutter. Junk. Detritus. It comes with many names and in many forms, but the result is always the same: a messy house and a stressed family. While it's unrealistic to have a spotless home every second of the day, that doesn't mean you shouldn't embrace the maxim that "less is more".
Maybe that's why decluttering has become one of the biggest trends in home design over the last few years. If you're facing with the prospect of a house that is bursting at the seams with stuff, maybe it's time to rethink the way you are storing useful possessions.
Is clutter all that bad?
Some people might believe that clutter is just another part of modern life. We seem to have so much stuff that it is inevitably going to find its way into every corner of our lives. You might even find yourself asking whether it's really worth decluttering at all.
Well, there are some pretty strong reasons to think again. In fact, a Princeton University Neuroscience Institute study found that clutter inhibits the ability of the brain to make decisions. Having a lot of different things competing for your attention in a small space makes it much harder to concentrate on a single task. The same study found that stress levels increase as the number of things competing for your attention rises.
It isn't just your concentration that might be suffering, either - there are many other reasons to declutter. Sports equipment and items left on the floor are an accident waiting to happen, while tools that are left out in the garden can break more easily if they aren't kept in a proper storage solution.
Where's the clutter coming from?
If you really want to get a handle on the mess around your house, the first step is to know where it's all coming from. There's never any one answer - the combination of family, a busy job, hobbies and sports over the weekend (not to mention pets) is a recipe for clutter.
While every home owner has to deal with the amount of stuff they possess, it's still important to break down which parts of your home are the messiest and look to address these first. Any big job can seem daunting if you try and approach it head-on, the trick is to start small to really understand where clutter is coming from.
The garden is a great starting point. Are you tripping over children's toys every time you step outside? Maybe that unfinished project has spread itself over half your garden? Whatever the root cause is, once you know what you are dealing with, it becomes a lot easier to really get ahead of your possessions.
A place for everything and everything in its place
The first step to decluttering is obviously to start throwing away items that aren't necessary. For small items like unused Christmas presents and old magazines, sending them straight to the bin is an easy way to get the ball rolling.
Of course, there are limitations to simply throwing stuff away. The leaf blower that doesn't fit in the garage or the slow cooker that can't be jammed into a cupboard aren't the sort of things you want to just throw out.
Storage is the solution. In many cases, the easiest way to accommodate the amount of stuff around the house is to find new ways to organise and store it when it isn't in use.
Let's go back to the leaf-blower. If there isn't room in the garage, it might be worth installing a separate garden shed on your property that can be used for all your gardening equipment. Not only is this convenient, it can give you more space in the garage to better organise the tools that really belong there.
The same goes for every room in the house. Shelving is great for children's rooms, especially if you are looking to get stuff off the floor. Likewise, more shelving units in the kitchen or pantry can ensure these spaces are much more user friendly.
Lastly, make sure to think about the way you are organising your existing storage spaces. If a cupboard only has a few shelves, think about adding a few more or putting in some clever storage devices to make the most of the space. These are sometimes the simplest DIY jobs, but they can make a big difference when trying to create a more livable home.
Decluttering doesn't have to be difficult, and it can be a breath of fresh air if you are struggling to find a home for all the different possessions you have. What's more, when you decide to move, these investments can add value to your home. After all, the new buyers are going to be just as interested in storage as you are. Make sure to check out the range of storage options Stratco has avaliable.