has been added to your cart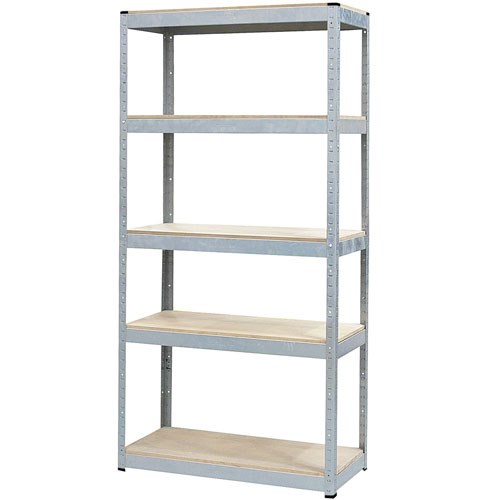 Stratco Slot-N-Lock Galvanised 5 Shelf Small
Stratco
SKU: HW-3500
About this product
Stratco Slot-N-Lock Five Shelf Units feature a sturdy construction and are made from heavy-duty galvanised steel. Each shelf holds a distributed load of 200kg.
The unit has five shelves that are finished with 12mm thick fibre board. The shelves can be adjusted to any spacing. Designed for an easy D.I.Y construction, a Stratco Slot-N-Lock Shelf Unit can be constructed using just a hammer.
Ideal for use in sheds or garages, Stratco Slot-N-Lock Shelving is the perfect storage companion. The unit can be built vertically to form shelves, or horizontally to form a work bench.
Size: 1800mm High x 900mm Wide x 400mm Deep.
PACK CONTENTS:
10 x Galvanised Long Shelf Supports
10 x Galvanised Short Shelf Supports
5 x 12mm MDF Timber Shelves
4 x 1/2" x 1/4" Bolts and Nuts
8 x Galvanised Leg Sections
8 x Plastic Floor Protectors
8 x Galvanised Leg Joiners
This kit builds either:
1 x 5 Shelf Unit or
2 x Work Benches
1800mm H x 900mm W x 400mm D
All heavy duty galvanised steel components 12mm MDF board shelves.
Assembles into either a 5 shelf unit, a workbench or a corner bench.
Supports a 350kg evenly distributed load.
Technical Specifications
Height
1800mm
Width
900mm
Depth
400mm