has been added to your cart
Experience the best of outdoor living with a Stratco Verandah, Patio, Carport, Pergola or Awning. Open your home to the outside and create a patio space that can be enjoyed throughout the year. Under a Stratco Patio you are protected from the elements, expanding your possibilities for entertaining, storage or enjoying your garden.
Stratco is the only major manufacturer of verandahs, patios and carports that has a nationwide chain of home improvement stores and a highly professional network of Authorised Dealers. So you can be sure we have your outdoor lifestyle needs covered.
Talk to Stratco when making a decision about the best verandah or patio for your home. There is a location near you with stores in every major city including Sydney, Canberra, Melbourne, Adelaide, Perth, Darwin and Brisbane. Stratco have all the design and advice to make the process easy.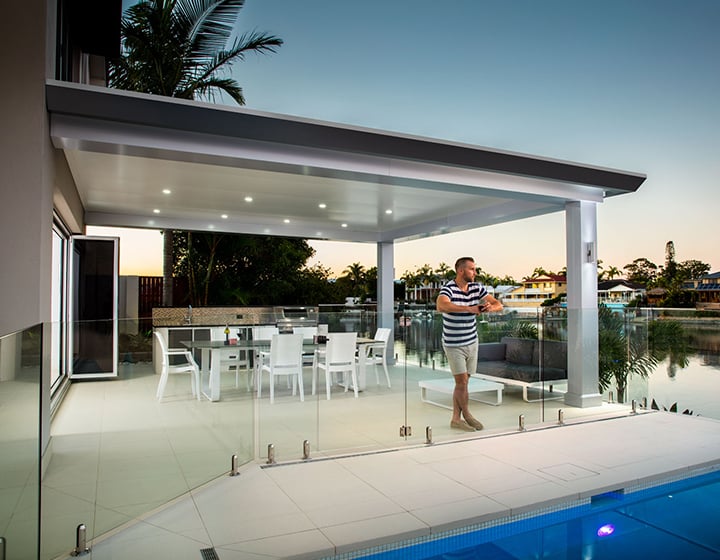 What our customers are saying about Stratco
Delivered by Darren with perfect communication and accommodated our requests for delivery. Thank you Darren!
Maraia, Saturday, December 14, 2019 3:41:00 AM
Very friendly and helpful. The drive, Can I, even spent an extra 10mins helping to move the our delivery to the backyard. Excellent service
Sharon Marx, Friday, December 13, 2019 3:54:03 AM
Steve was the best delivery person and got the truck into our back yard as close to where we need to out the fence up.
Meg, Friday, December 13, 2019 3:38:57 AM
Excellent service.
Kathy, Friday, December 13, 2019 2:28:18 AM
Steve was very helpful from start to finish of delivering my shed. He was very pleasant and put the shed packages where I told him to put it.
Jessie Mayne, Friday, December 13, 2019 2:13:29 AM
Steve was very obliging when asked where to put the delivery and said that I would like it right up the driveway. He didn't hesitate to take the items from the truck and place it were I wanted them. From the start when he rang the doorbell, he was ...
Nadia Young, Wednesday, December 11, 2019 11:14:51 PM
received leaflet in letter box, saw what I wanted, ordered and paid on line, pick up Punchbowl, ready to take. Very easy
terry cameron customer, Tuesday, December 10, 2019 11:27:48 PM
Deliveries by both Sam and Sahi were excellent. Both drivers were very helpful.
G Woolfe, Tuesday, December 10, 2019 2:11:05 AM
There was a little hiccup with click and collect for a relatively low priced item on special (I can imagine not a lot of profit for Stratco) however Stratco went out of their way to ensure the product got to us as quickly as possible and at no inconv...
Helen, Monday, December 9, 2019 8:51:24 AM
Very happy with customer service and delivery. I haven't put my wood shed up yet so i can't really coment on quality of it.
Christine White , Monday, December 9, 2019 8:05:53 AM