has been added to your cart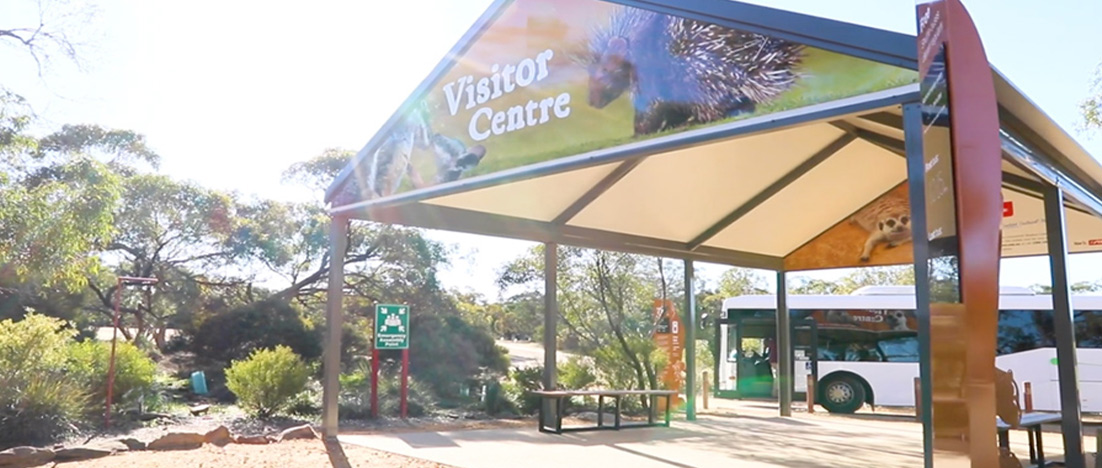 Monarto Zoo Keeps Visitors Cool With Impressive Stratco Cooldek Patios

Posted: Friday 9th August
Cool Stratco patios keeping the Aussie heat at bay for iconic SA attraction
Situated just 70 kilometers out of Adelaide, South Australia, in the picturesque Murraylands region lies one of the world's largest open-range zoos. Spanning for over 3700 acres, Monarto zoo has the ability to fit every major zoo from Australia into its grounds and still have land left over for more exciting creatures.
Home to over 50 species of native and exotic mammals, birds and reptiles and one of Australia's largest lion and giraffe families it's no wonder this zoo is top of every animal lover's bucket list. Since opening to the public in 1993, Monarto zoo has seen thousands of wildlife enthusiasts enter through their gates to experience the exciting and unique viewing experiences that these conservation experts have to offer. Whether you want to interact with the endangered African white rhinoceros, feed gigantic giraffes or encounter lions from a prey's eye view within a safe enclosure, Monarto has something for everyone.
Monarto's facilities have been exposed to many extreme conditions over the years with the blistering South Australian summer heat and cold, wet winters taking its toll. Over time, some of their facilities have experienced a natural deterioration, including Monarto's bus pickup/drop off points that see traffic from hundreds of visitors each day. As one of the first and final things people see when experiencing the zoo, Monarto felt it was time their bus stops were upgraded and sought advice from the experts at Stratco to construct a more practical and stylish patio to enrich the customer experience.
Stratco already had established and trusted relationship with Monarto's owners, having worked together on other Zoos SA projects. This successful business partnership left them in no doubt that Stratco were the right partner for the project.
After discussing their options with their local patio experts at Stratco Murray Bridge, taking into considerations the extreme heat that customers face in the venues peak season, Monarto opted for the Stratco Cooldek roofing to accompany an Outback Gable patio design. Stratco Cooldek roofing features a polystyrene core that is permanently bonded to a smooth, easy to clean coloured steel underside and a profiled, coloured steel topside. The insulating properties of Cooldek reduce the heat on those hot days which significantly increases the comfort levels of Monarto's customers seeking shade and comfort. The unique strength allows Cooldek to potentially span up to an impressive 7.2 metres unsupported. These large spans reduce the number of beams and the framework required, which has offered a more uncluttered appearance and clear views. This product compliments the strong presence and style that the Stratco Outback gable patio brings to the project. With versatile design and sizing, Stratco designed a custom made Outback Gable to Monarto's required dimensions. With the positive reviews that accompanied this Stratco product, Monarto were very pleased with the final design.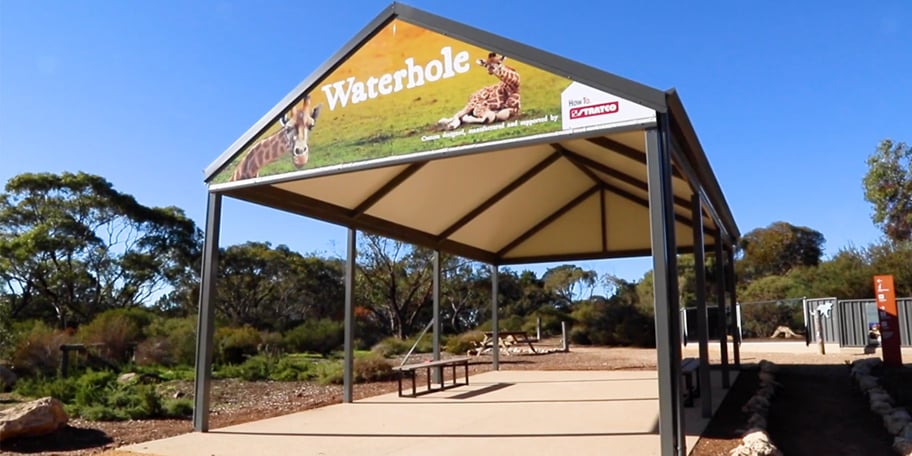 Following the installation of the first Stratco designed bus shelter, aided by trusted installation experts, the employees of Monarto could see a significant difference in both temperature and style to the previous design. The 40-degree days became manageable under the Cooldek roofing thanks to the heat reducing materials, while the fresh aesthetic of the Stratco Outback patio appeared well aligned with the Zoo's high standards in delivering outstanding customer experiences.
"We are really pleased with the product that we have from Stratco , we really look forward to working with Stratco in the future and I can only encourage more people to come and enjoy the experience we offer" – Peter Clarke (Director of Monarto Zoo)
Why not incorporate one of these amazing structures into your property? Not only is the Stratco Outback gable patio with Cooldek roofing an effective way to protect yourself from the elements, it can also bring flair to your home outdoor entertaining areas. See our full range of Stratco Outback patios or better yet, come in and talk to one of instore experts who would be happy to help get the project started for you.