has been added to your cart

With a variety of stylish and practical fire pits available, Stratco has the solution for keeping you warm outside this winter.
Some would say there is nothing better than gathering your friends and family in the backyard around a cosy fire pit. As a quintessential part of Australian living, there are many options to choose from to suit the outdoor heating needs of your backyard.
Factors to consider when choosing your fire pit include…
Size and Placement
There are two size factors to consider when making the right choice for your backyard.
1. Size
Consider how much space you have available, we offer a range of options to suit different size spaces.

2. Size and shape of the area you need to heat
Some fire pits will deliver directional heat whereas others are designed to provide 360-degree heat. Think about where you will place your heater and the direction of the area you would like to heat.

Larger fire pits may provide more heat, however, be aware the additional heat will require more fuel. Consider protecting your outdoor area with outdoor blinds for example to keep the heat in. If you can protect your outdoor living space from the cold, rain, and wind, you can reduce the amount of heat and fuel required to comfortably enjoy your outdoor living space all year round.
3. Placement
It should be positioned on gravel or a paved area with plenty of room for movement. Do not use it directly on grass as this will cause heat stress creating major damage to your lawn. If the lawn is your only option raise your fire pit on a platform using bricks or pavers to create a heat shield for the grass below, place some sand in the bottom which will act as an insulator, and water the grass a few times throughout the night or in advance to help it cool down. Remember to remove the bricks or pavers once you are done as well!
Style and Design
Outdoor heating from concrete blocks or rusty drums is long gone! We now have a wide range of stylish fire pits for consumers to choose from. Modern options add atmosphere and warmth to your outdoor area, while also creating a welcoming environment.
The right design for you will depend on the space you have available and your personal preferences. Larger backyards are perfect for statement pieces such as freestanding pits and smaller backyards are more suited to fire bowls or portable pits. There is a wide range of styles to choose from, making it easy to find one to suit your personal style and design preferences.
Fuel Choice
Consider using sustainable kindling available at Stratco to start the fire, followed by purpose pre-packed hardwood, Fire Wood Bricks (available in-store), or charcoal to keep you warm this winter.
Safety
Make sure to avoid tight, highly populated areas and keep a safe distance from the fire and ensure children & pets are supervised when your fire pit is in use. We would also recommend keeping a fire extinguisher nearby. Remember to check your surroundings and make sure there is enough distance between you and your nearby structures, trees, etc. When you are done, make sure to extinguish the fire with water and stir the contents until the ash is saturated; sand is another great option for putting out the fire.
Regulations
Before you get too excited, it is very important you check your local rules and regulations. While regulations vary between states, shires, and councils, there are a few common regulations:
Charcoal is the preferable use of fuel in metropolitan areas due to the low levels of smoke and longevity.
If you need to use the fire during the Fire Danger Period you require a permit which can vary by state and area so ensure you check this before you set alight.
If there is a Total Fire Ban fires are not permitted, however, to be sure check with your local fire service for restrictions around using fire pits during periods of Fire Ban.
Please check your local rules and regulations before purchasing a fire pit.
Seating
Comfortable outdoor furniture will be essential in creating a space where you can enjoy your warm outdoor experience with family and friends. The right outdoor furniture can help you create your dream outdoor living space. View Stratco's extensive range of Outdoor Settings to help you imagine the ambiance of your outdoor area. From large settings to camping chairs, there is an option for everyone.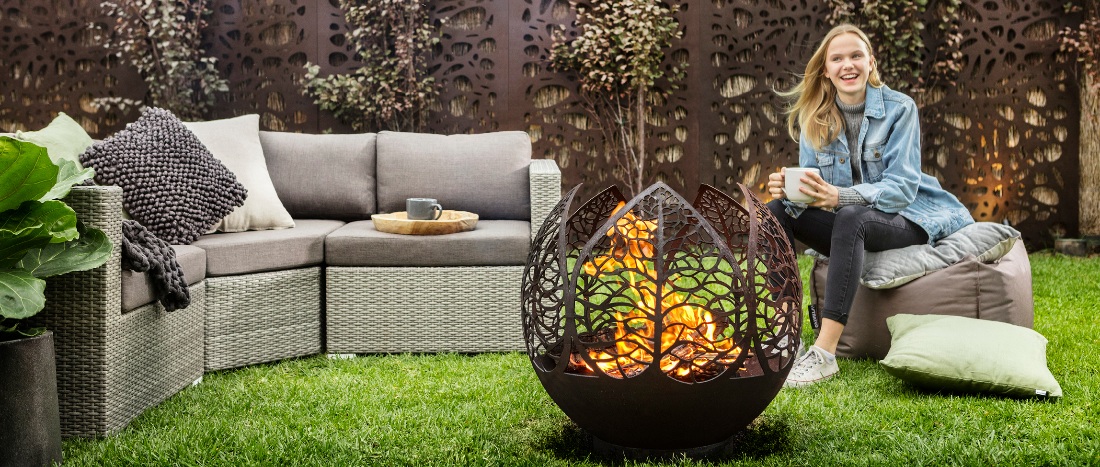 Why purchase a fire pit?
They are a great alternative to open fires as they safely contain the fire itself and can also be moved around with ease. Wood or charcoal is typically used as fuel, making them a highly cost-effective heating option.
Outdoor options can also help you to create the perfect atmosphere for any winter gathering, providing warmth and the ideal flame for roasting some marshmallows. Check out our new range of fire pits - we have something to suit every backyard:
Other outdoor heating options
In addition, Stratco also offers a range of electric and gas outdoor heating options including the very popular gas patio heaters. For more information on the benefits of fire pits Vs electric heaters Vs gas heaters, take a look at our blog post: HowTo Keep Warm And Stay Safe This Winter
Where to purchase
Stratco's range of fire pits and accessories is available both online and in-store. If you are still unsure about what style you would like to try this winter, get in contact with us or visit your local Stratco store for all the help and assistance you might need.