has been added to your cart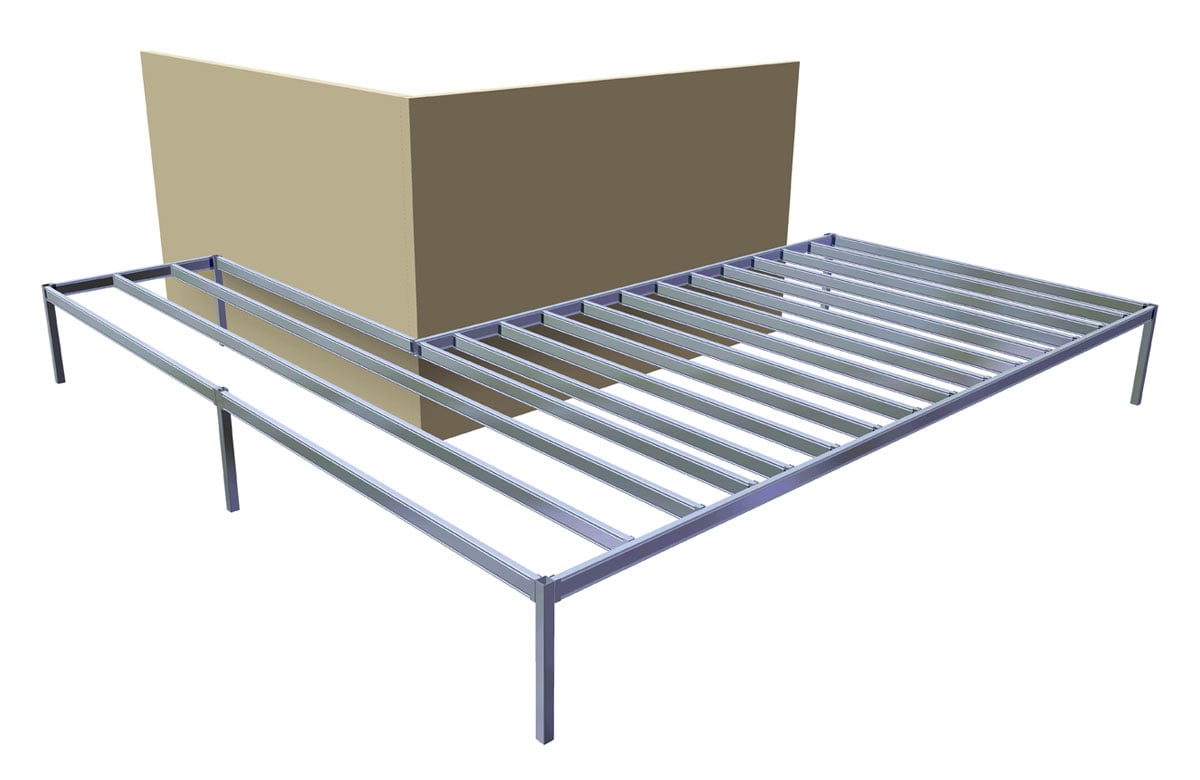 Pro-Beam® Flooring
Stratco
SKU: Pro-Beam-Flooring
You don't have to be a professional to install the Pro-Beam Flooring system. Featuring wide spans and easy to install pre-cut steel sections, Pro-Beam Steel Flooring is very quick and easy to build. Available unpainted or with an attractive pre-painted finish, this style of flooring can be ordered to suit your exact requirements. Whether you want to install it yourself or require assistance, we are here to help. Contact us for pricing and further details today.














Steel Frame Flooring Solution
You don't have to be a professional to install Pro-Beam® Steel Flooring
Stratco Pro-Beam® Steel Flooring is a structural sub-floor system that is perfect for exterior decking. Pro-Beam Flooring is very easy to install for the do-it-yourself builder. Pro-Beam is a very strong steel section, featuring a wide spanning capability that reduces the time required to install the system and provides more space for under floor storage.
Available Colours
Colours are state-specific and availability varies. Please check before ordering.
Brochures & Installation Guides
Superior Steel Flooring
When compared to timber framing, Pro-Beam Flooring is pre-cut in the factory, which means very little cutting is required on-site, and that saves you time. One simple solution replaces all of the timberwork required with traditional timber floor framing.
Pro-Beam Flooring is available unpainted or with an attractive pre-painted finish. If your building a raised deck where you can see the beams, or if your putting in a pergola, Pro-Beam Flooring with a painted finish will save you time.
Very Easy To Install
All of the Pro-Beam Flooring sections are pre-cut in the factory. The same profile is used for the bearers and joists, and the same style of bracket is used throughout the system.
Fewer footing holes to put in the sub-floor are required, because Pro-Beam Flooring has a wide spanning capability, and that means less supporting posts are needed.
As with all framing systems, the perimeter structure takes the most time to build, but once the structure is in installed, the joists fit easily into place and the job is done. All of these features make the installation of Pro-Beam Steel Flooring very quick and easy for the first time builder.
Stratco Pro-Beam®
Stratco Pro-beam® fluted beams are strong structural members providing rigid support for verandah roofing, carports and flooring. It is light yet strong, offering an economical and alternative to timber. Manufactured from hi-tensile coloured steel, Pro-beam is capable of spanning long, unsupported distances and will save you money by reducing the number of columns required.
Pro-Beam® Features
Available in two sizes giving you design flexibility.
The fluted beam design is made from hi-tensile steel making it strong, light and rigid over long spans.
One-piece roll-form construction makes it less susceptible to corrosion and separation compared to two-piece beams in the market, giving you a longer life.
Long patio spanning capabilities up to 7.2m (170 x 50mm).
Available in a range of modern high gloss colours making it easy to suit the colour scheme around your home.
Cut to length eliminating the need for on-site cutting, which makes the product easier and quicker to install.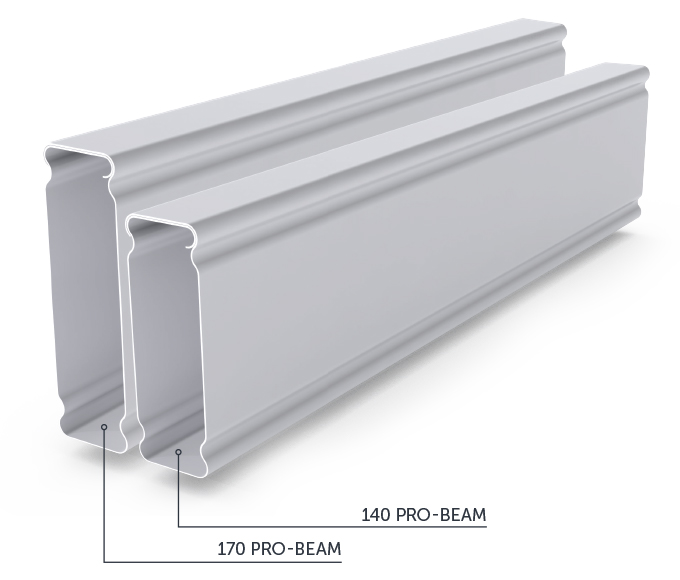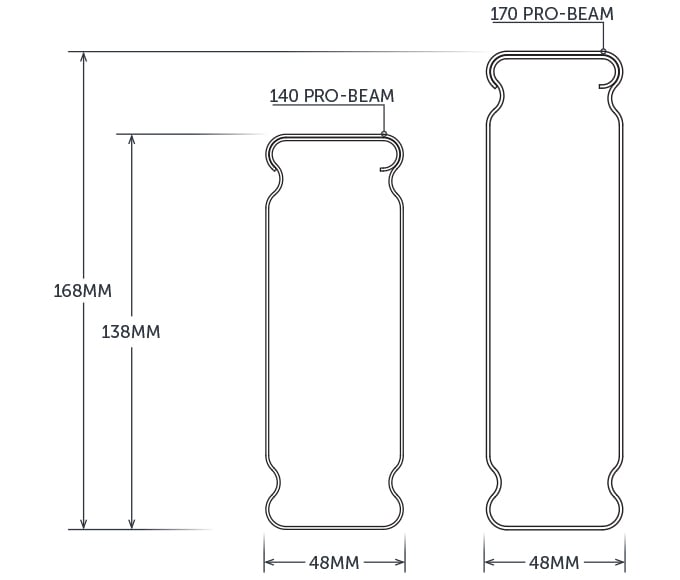 Pro-Beam® Specifications
Manufactured from hi-tensile steel, Stratco Pro-beam is engineered and tested to comply with Australian Standard 1397/G550. Major components are made from strong high tensile steel, while the fixings and brackets are galvanised for long, useable life.
Pro-Beam Specifications
140 Pro-Beam
170 Pro-Beam
Base Metal Thickness
1.0mm
1.2mm
Yield Strength
550MPa
550MPa
Mass
3.68kg/m
5.00kg/m
Refer to Stratco for further advice on Pro-Beam spanning capabilities in various applications.
Components

Beam Bracket
Fastens a beam directly to another beam or a column.

Suspension Bracket
Replaces the beam bracket when a beam is suspended from the fascia.

Beam Inline Connector
Joins beams flush to form a continuous beam.
Additional Information
Consult your nearest Stratco store and sales office for availability and lead times. Maintenance should be performed as often as possible to remove any dirt, salt and pollutants. Refer to the Stratco 'Selection, Use and Maintenance' brochure and relevant installation guides for more detailed information about the correct use and maintenance of this product.