has been added to your cart
Experience the best of outdoor living with a Stratco Verandah, Patio, Carport, Pergola or Awning. Open your home to the outside and create a patio space that can be enjoyed throughout the year. Under a Stratco Patio you are protected from the elements, expanding your possibilities for entertaining, storage or enjoying your garden.
Stratco is the only major manufacturer of verandahs, patios and carports that has a nationwide chain of home improvement stores and a highly professional network of Authorised Dealers. So you can be sure we have your outdoor lifestyle needs covered.
Talk to Stratco when making a decision about the best verandah or patio for your home. There is a location near you with stores in every major city including Sydney, Canberra, Melbourne, Adelaide, Perth, Darwin and Brisbane. Stratco have all the design and advice to make the process easy.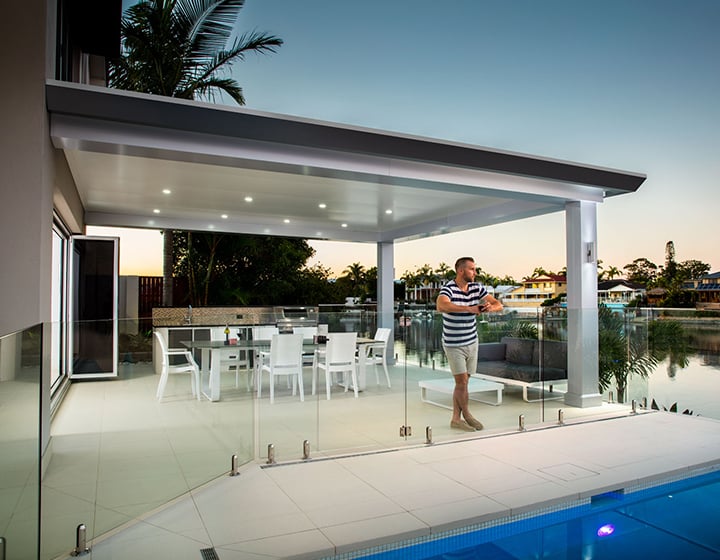 Need Some Inspiration?
Open your home to the outside and create a space that can be enjoyed throughout the year with our huge range of outdoor furniture and cooking products. From barbecues and pizza ovens to bar tables and outdoor settings we have everything you need to fit out your perfect outdoor space. For those wanting extra protection from the sun, breezes, rain and insects you'll love our Stratco Ambient Blinds.
What our customers are saying about Stratco
Staffs are very helpful and considerate. They've contacted the warehouse directly to expedite my order so I can pick it up ahead of schedule.
customer, Monday, September 21, 2020 5:36:24 AM
Everything went smoothly with our order and we were more than happy with our screens
Debbie, Sunday, September 20, 2020 11:53:07 PM
Ordering and pick up process was very easy. Shed was available to be picked up by the next day. As we were putting the garden shed together we noticed the ridge caps were missing for the roof. Contacted the customer service team and they arranged to ...
Katie, Sunday, September 20, 2020 8:50:00 AM
Quick easy and helpful delivery driver. Very happy. Cheap delivery too.
customer, Sunday, September 20, 2020 2:31:41 AM
Very impressed with the range and quality of the products, had everything we wanted and was easy to find. Store layout was roomy and un-cluttered. The checkout was easy and thanks Veronica you were so helpful.
Ian and Cheryl, Saturday, September 19, 2020 5:49:52 AM
friendly and helpful
Debbie, Friday, September 18, 2020 5:02:12 AM
Ordered 3 products on-line. Stratco manhattan sling sun lounge x 2 and a side table. Everything ready for pick up almost instantly. Quality, great value. Great service.
Rob - Queensland, Thursday, September 17, 2020 1:51:59 AM
The price of the item I bought was very reasonable but the best part was that the delivery was well before the given date. Bonus.
Sandie Irwin, Wednesday, September 16, 2020 11:59:59 AM
Very happy with my purchase - easy to put together and follow the instructions. Definitely recommend!
Eric, Wednesday, September 16, 2020 9:05:14 AM
Simplicity at its best
Angelo Blias, Wednesday, September 16, 2020 8:26:02 AM