has been added to your cart
Experience the best of outdoor living with a Stratco Verandah, Patio, Carport, Pergola or Awning. Open your home to the outside and create a patio space that can be enjoyed throughout the year. Under a Stratco Patio you are protected from the elements, expanding your possibilities for entertaining, storage or enjoying your garden.
Stratco is the only major manufacturer of verandahs, patios and carports that has a nationwide chain of home improvement stores and a highly professional network of Authorised Dealers. So you can be sure we have your outdoor lifestyle needs covered.
Talk to Stratco when making a decision about the best verandah or patio for your home. There is a location near you with stores in every major city including Sydney, Canberra, Melbourne, Adelaide, Perth, Darwin and Brisbane. Stratco have all the design and advice to make the process easy.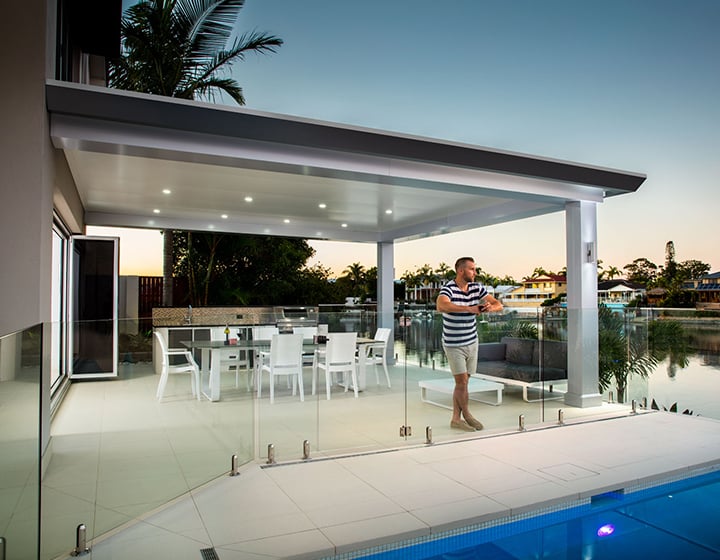 What our customers are saying about Stratco
Just finished building our new home and need lots of additions to finish it off. Have been lucky enough to deal with Troy at Stratco in Epping. Troy and his team are patient and know the products they sell. They are happy to offer advice and provid...
Victor & Mary, Wednesday, June 19, 2019 10:15:50 AM
Great driver Nigel, hi all, Nigel always delivers our product with no damaged, over the pass 6 years I have been there he is the best driver from stratco we have had, I do like having the same truck driver as they also know how I like to unload the ...
Barry Muller, Wednesday, June 19, 2019 8:24:35 AM
I would like to say a big thank you to the delivery driver Callum. Callum delivers roller doors to our business and I really can't thank him enough. Nothing is too much trouble and we really appreciate all that he does for us. He is careful to ensu...
Jerome Turner, Tuesday, June 18, 2019 5:09:55 AM
Fanastic service and help
LANCE EDWARDS, Monday, June 17, 2019 11:39:38 PM
Had great dealings with David from Pakenham. Built a side fence with gate and every visit was enjoyable. The measuring up process was so professional and everything arrived perfect to the millimeter . All staff members there at Pakenham were great....
Chris Bell, Monday, June 17, 2019 7:23:52 AM
Quick straight forward
Fermo Dottore, Monday, June 17, 2019 12:13:16 AM
The actual ordering and detail to obtain council permit ofr carports is fantastic, so helpful and easy, accepted readily by two councils I deal with without any fuss, well done Stratco. I am sure you do not want to hear you are also cheaper than Bunn...
John Edmonds, Friday, June 14, 2019 5:51:26 AM
Did my first ever click and collect order ! Staff were quick and efficient even loaded the items in my car and what I ordered was cheaper than Bunnings !!!
Jess doolandella , Friday, June 14, 2019 4:14:48 AM
Online order processed quickly and order delivered earlier than expected.
Kay, Thursday, June 13, 2019 5:06:09 AM
Took delivery of a shed I had previously ordered. The site is extremely difficult for any vehicle other than a standard car. The driver had to reverse the truck up our street. He was extremely helpful and provided ample time to carefully unload the ...
sandro A, Wednesday, June 12, 2019 8:05:09 AM